There is no denying the impact that social media has on our selfie-obsessed culture. From retouched ad campaigns to meticulously crafted Instagram posts, this constant documentation of our looks has sparked a new set of beauty ideals, and people are now more critical about their facial appearance. Unfortunately, a selfie with bad lighting can show us new lines and wrinkles that seem to appear overnight. And just the thought of facial aging or sagging skin can be anxiety-inducing, right?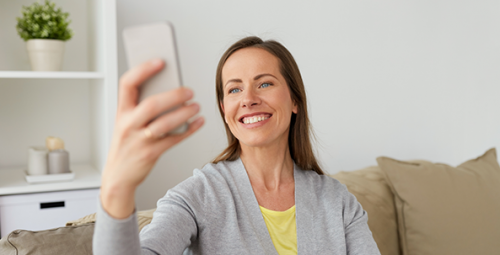 The good news is, you can take matters into your own hands. People now feel more empowered than ever to take the necessary steps to control how they age. And thanks to the availability of cosmetic dermatology treatments and technologies that have rapidly advanced over the years, turning back the clock on facial aging is possible.
At Cosmetic Laser Dermatology in San Diego, with over 50 lasers in addition to the latest injectables and skin treatments, we have unlimited combinations to help rejuvenate the face and produce youthful-looking results. With a comprehensive regimen for your face, aging skin becomes optional.
Before I get into our recommendations for your 20's, 30's and beyond, it's important to understand the more common types of aging, specifically fine lines and wrinkles. So, what is the difference between fine lines and wrinkles, anyway? And how do you treat them?
Fine Lines & Wrinkles
Fine lines are superficial. They are so small and shallow, that they may be difficult to spot initially. These expression lines most frequently develop around the eyes and mouth and tend to start to form during your twenties and early thirties.
Wrinkles form when fine lines are left untreated and begin to deepen, and often progress to deep facial folds, especially with facial muscle movements. Deeper folds usually also represent volume loss under the skin. Our facial fat and bone structure diminish over time and this results in sagging of the overlying skin.
What Causes Them?
Sun damage, genetics, and natural skin aging can contribute to the formation of facial lines. Unlike fine lines, however, wrinkles are caused by repetitive muscle motion (e.g., smiling or frowning) and gradual volume loss.
Anti-Wrinkle Treatments in Your 20's
Lip filler treatments are popular for people in their 20's. This is more for the enhancement of beauty than because of aging. For anti-aging, I recommend that women in their 20s consider getting Botox, Dysport, Jeuveau, or Xeomin for wrinkle prevention, since early signs of aging (e.g., forehead wrinkles and crow's feet) are already beginning to show. Botox, Dysport, Jeveau, and Xeomin work by blocking the signal from the nerves to the muscles. And since the injected muscle can't contract as much (or not at all), wrinkles will relax and soften. What's more, you are also preventing the formation of fine lines and the deepening of those wrinkles that you already have. Specifically, your facial muscles are "trained" not to move as strongly which weakens them, preventing wrinkles and delaying the aging process. (Of course sunscreen and antioxidant skin creams used daily are helpful). We call this "prejuvenation" in which you are both preventing future wrinkles and rejuvenating at the same time.
Anti-Wrinkle Treatments in Your 30's
Those in their 30s will, of course, have more visible lines and wrinkles. In addition to Botox, Dysport, Jeveau, and Xeomin, I recommend patients consider dermal fillers, light laser treatments, or a combination of both, to completely rejuvenate the face. The benefits of these treatments are that not only will it help you look youthful, but it will also help slow down the initial signs of aging from worsening.
Different Types of Dermal Fillers?
Dermal fillers are some of my favorite treatments. We were the lead investigators on the FDA trials to get Juvederm Voluma, Restylane, Radiesse, Sculptra and other fillers approved. We also continue to lead research with many other injectables such as Botox, Dysport, Jeaveau and more.
Dermal fillers are gel-like substances that sit under the skin to smooth lines and soften creases, restore lost volume, and enhance facial contours. There is a wide range of dermal fillers available that have varying formulations and functions. They vary by thickness and pliability with some fillers best to lift cheeks and other thin fillers for tiny wrinkles.
Hyaluronic Acid (HA) Fillers
Using Hyaluronic Acid, these injectables gently and naturally replace the lost volume in your facial areas that are prone to wrinkles or sagging. They can also treat superficial lines and moderate-to-severe wrinkles, and folds around your eyes, under-eye hollows, cheeks, nose, lips, and chin. Off the face, these fillers are excellent in the back of the hands and necklace lines of the neck. Examples include:
Calcium Hydroxylapatite (CaHA) Filler
When injected, CaHA can enhance the fullness of your cheeks as well as treat moderate-to-severe creases such as nasolabial folds, marionette lines, and mouth corners. An example of a CaHA filler is Radiesse. This is one of our best fillers for cheeks and saggy skin.
Poly-L-lactic Acid Filler (PLLA)
Poly-L-lactic acid is a biocompatible synthetic substance that stimulates your skin to produce its own new collagen, creating volume and structure to the face. Sculptra Aesthetic is an example and works to stimulate collagen production. It helps treat deep lines, folds, and creases, giving you a more youthful appearance. It restores deeper volume, which leads to wrinkle improvement. We can even use this for thin skin of the arms or chest and to create fuller buttocks.
HA fillers typically last from 6 to 18 months. Biostimulatory fillers like PLLA, on the other hand, tend to last longer since they stimulate your own collagen. A series of three treatments of Sculptra is typically done, which can last up to 24 months.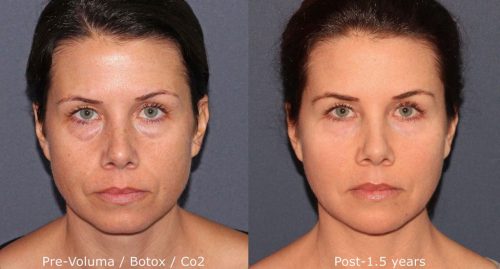 What About Laser Treatments?
Laser treatments work to resurface the topmost layers of your skin. You can expect long-term results due to collagen production and increased cellular turnover. Since the technique uses a laser (usually through a wand-like device), dermatologists have precise control over the depth of the treatment, lessening possible complications to the surrounding tissue. And because of its precision and ability to target the skin at varying depths, lasers are more effective in treating fine lines and wrinkles. Examples of lasers include:
IPL Photofacial
IPL Photofacial uses high-intensity pulses of light to penetrate the skin, triggering the body's natural healing process and resulting in smoother, healthier skin. Ideal results are noticeable after a single treatment. At Cosmetic Laser Dermatology in San Diego, the Lumenis M22 is one of our most popular IPL treatments. Our founder and medical director Mitchel P. Goldman, MD helped develop the first intense pulsed light device for treating common skin issues such as wrinkles, and each of the practice's six dermatologists has been involved in numerous research studies involving IPL, giving the team the most experience in performing IPL treatments than any other practice in the country.
Fraxel Restore and Dual
The Fraxel Dual is an example of a non-ablative laser that penetrates the deeper layers of the skin to boost collagen production. It also stimulates the skin's natural recovery process, giving your skin a more youthful look. There could be 2-3 days of skin flaking as the treated layer falls off and is replaced by a newer, softer layer of skin. The Fraxel Dual is more superficial and will treat brown blotchiness, rough skin, and even pre-cancer spots.
Anti-Wrinkle Treatments in Your 40's
Some of the common aging concerns of a 40-year-old are issues like sunspots, textural changes and skin laxity in addition to the fine lines and wrinkles, which worsen over time. To help effectively improve these concerns, I recommend a multi-pronged approach of injectables and lasers combined with skin tightening treatments like Ultherapy or ThermiRF. These treatments can be rotated over a year's time so that the different tissue levels of aging are all treated. This combination will keep you looking youthful and refreshed. Our physicians also were key investigators developing these energy devices and continue to perform cutting edge research to further enhance their results.
What is Skin Tightening?
As the skin begins to slow its collagen production, it slowly loses elasticity and begins to thin. Volume loss in fat muscle and bone means the framework holding up your skin is not giving proper support, allowing wrinkles to become deeper. Skin tightening treatments are a wonderful, noninvasive way to counteract loose skin.
Ultherapy
Ultherapy uses ultrasound technology to penetrate and heat and tighten deep underlying tissue in order to create a subtle lifting and tightening effect.
ThermiTight
ThermiTight is a minimally invasive treatment that uses radiofrequency which can effectively reduce fat as well as tighten and firm skin.
Anti-Wrinkle Treatments in Your 50's and Beyond
One of the most common desires for people in their 50's and beyond is to look as young as they feel. In addition to wrinkles, skin laxity and sunspots, this is when people may experience problem veins and more sagging with jowls and sagging of the neck. For this age group, I recommend a pro-active regimen that utilizes neuromodulators, fillers, laser resurfacing, and skin tightening 3-4 times a year that may include neck treatments.  By committing to this regimen, you will be the very definition of "aging gracefully."
At our practice, we developed what we call the Take10 treatment which is a non-surgical alternative to a facelift. We combine multiple laser treatments with fillers and neuromodulators like Botox, Dysport, Jeveau, and Xeomin to dramatically reduce the signs of aging by reducing the appearance of age spots, wrinkles, skin imperfections and sun damage on our patient's face, neck, and chest. While there is more downtime with using more aggressive lasers, we have the ability to take 10+ years off your appearance, making it a powerful facial rejuvenation treatment.
Begin Your Battle With Fine Lines and Wrinkles Today
If you'd like to rejuvenate your face without surgery, you can use a combination of injectables and laser treatments to achieve a natural-looking facelift. With over 100,000 satisfied patients in San Diego, our team of board-certified dermatologists can provide you with the best treatment plan to match your aesthetic goals. Call (858) 943-2113 to schedule an appointment.
More like this,
Know Your Injectables