Aesthetician Treatments Overview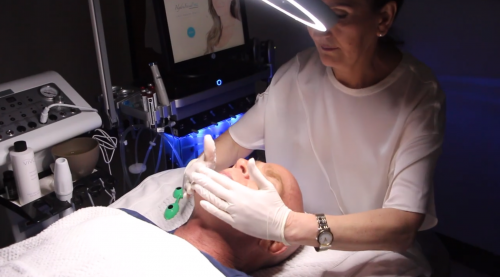 Specializing in turning the clock back on aging, Cosmetic Laser Dermatology's skin experts build personal, manageable treatment regimens using the latest aesthetic treatments to create incredible, age-defying results. From facials to chemical peels, we will create a comprehensive plan to meet all of your skin's needs.
Our doctors in San Diego confident in their ability to develop a completely customized treatment plan for each patient to address their unique goals and concerns. Contact us today to learn more about the aesthetician treatments offered at our center.
Treatment Options
At Cosmetic Laser Dermatology in San Diego, our medical aesthetician Farzaneh performs advanced and customized facial treatments to improve the appearance, tone, and texture of the skin. Some of the most common facials offered by our skincare experts include the following:
Custom Facial
Custom facial treatments can be performed to meet individual needs with little to no downtime, which includes a few different peels and explains that there will be no downtime for some. If your skin needs rejuvenation for an upcoming event, our custom facials can provide stunning results without interfering with your busy schedule.
Purifying Facial
This super-grooming, deep cleansing facial decongests the skin, working overtime to help eliminate blocked pores, milia, and hyperplasia, rapidly accelerate skin repair and neutralize impurities.
Chemical Peels
At CLDerm in San Diego, we offer the following chemical peels:
SkinMedica Vitalize Peel
SkinMedica's Vitalize Peel helps fight the effects of time, sun damage, and environmental assaults. This peel addresses various skin conditions, such as pigmentation abnormalities and post-inflammatory hyperpigmentation.
SkinMedica Rejuvenize Peel
SkinMedica Rejuvenize Peel features a built-in anti-irritant and penetration enhancer provides controlled exfoliation of the uppermost damaged layers of the skin. Effective for skin with sun damage, melasma, pigment changes and acne scarring.
Glycolic Peel
A glycolic peel is a safe process that removes a micro-thin top layer of skin. Removal of these damaged cells stimulates cell division that results in plumper, healthier, newer cells. Smoothes and softens the skin, diminishes fine lines, decreases acne, evens out discoloration, increases moisture retention.
SkinCeuticals Peel + Lactic Peel
The SkinCeuticals Peel + Lactic Peel is a resurfacing procedure that removes the top layer of dead epidermal cells, which allows the underlying layer of undamaged skin to emerge and prevent dead skin cell build up. Recommended as an alternative to microdermabrasion for patients with visible broken capillaries.
Signature Peel-Jessner
The Signature Peel-Jessner is CLDerm's specialized chemical peel. This treatments includes a cocktail of acids that will transform the skin's surface. This treatment is excellent for lightening hyperpigmentation, refining pores, and general improvement of the look and feel of the skin.
Combination Microdermabrasion & Glycolic Peels
A combination microdermabrasion and glycolic peels procedure is ideal for individuals who have fine lines, scars, brown spots, uneven surface, rough texture and more. Microdermabrasion is combined with the glycolic peel that removes a micro-thin top layer of skin.
Cellulite/Skin Tightening Treatment
The Tri-Active Laser is an FDA cleared laser treatment that to reduce the appearance of cellulite. Body areas treated can be specific such as the midriff, buttocks, thighs or abdomen. May also be combined with liposuction procedures for a tighter appearance. The Tri-Active is painless and feels like a deep, cooling massage. Expect a series of 14 sessions. With Tri-Active, your skin regains its splendor becoming velvety, smooth and radiant.
Professional Skincare
Support all your aesthetician treatments at home with professional skincare products you can use daily. We offer a wide range of top-quality, medical-grade formulations to treat every skin type and tone. We will help you customize your treatment program to reap the most benefit from your daily regimen.
We understand you want to look as young as you feel. In addition to our age-reversing treatments, we offer a full variety of laser treatments, microdermabrasion, and injectable fillers in San Diego to meet all of your aesthetic needs.
Photos
Videos
Promotions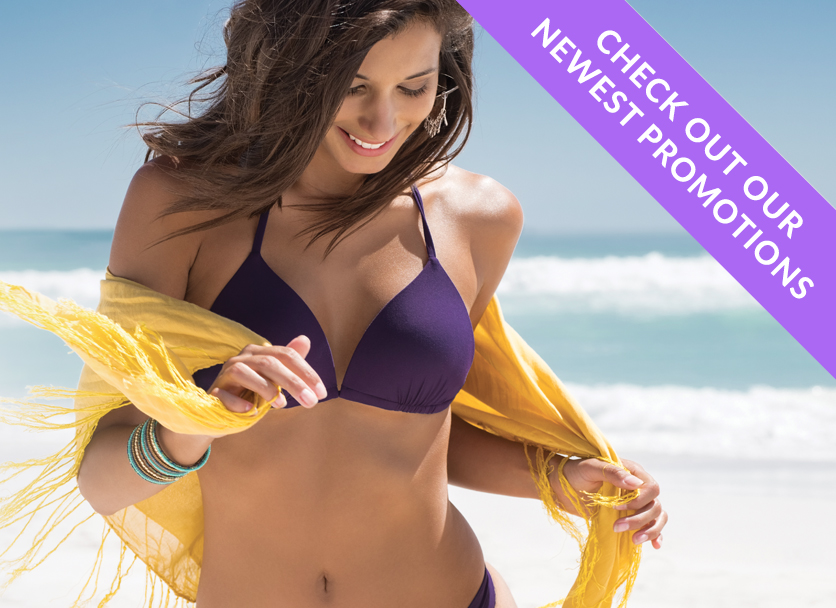 Giving Thanks With Free Chemical Peels
Spend $2,500 at CLderm in November and get a Free Vitalize chemical peel to redeem before the end of 2018. Quantities are limited!
Thankful for Skincare
Buy 3 get the 4th free with all skincare
For more information about the monthly specials offered at Cosmetic Laser Dermatology in San Diego, visit our Promotions page.
5/5 Stars
"I love and appreciate the professionalism, knowledge, warmth, and extraordinary care from the team at Cosmetic Laser Dermatology."
- Alejandro S.
5/5 Stars
"If I could give this office 10 stars I would! I've never been to such an incredible office where everyone was so sweet, helpful, and professional!"
- Jessica V.
5/5 Stars
"I had such an awesome experience for my first visit and I am referring everyone I know to this office. From the super friendly staff to the state of the art procedures, they are the cream of the crop."
- Dinah M.