ThermiSculpt Overview

ThermiSculpt³ is a proprietary treatment developed and offered exclusively at Cosmetic Laser Dermatology in San Diego. With this combination approach, our board-certified dermatologists can dramatically reshape and tighten your neck and jawline without surgery, while enhancing the chin and jawline for a balanced, proportionate appearance.
See examples of amazing nonsurgical jaw and neck re-shaping results: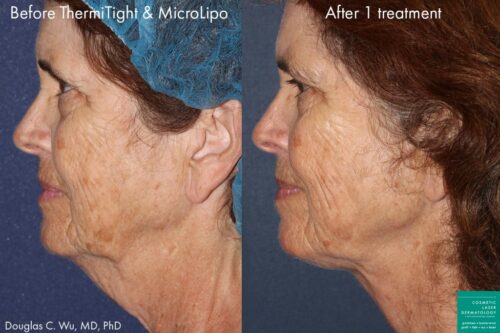 What is ThermiSculpt³?
Genetics, aging, weight gain, and a sedentary lifestyle are all factors that may contribute to having excess fat and sagging skin on the lower face, creating a less defined appearance. Fortunately, lax skin and isolated pockets of fat need not be a life sentence and you don't need to undergo surgery to reverse these concerns.
The expert dermatologists at our medical spa have perfected a nonsurgical combination body contouring treatment that dramatically tightens, contours, and enhances your chin, neck, and jawline after just one treatment. Within a month after your procedure, your chin and neck can look younger, tauter, and more defined, giving you a sleeker profile and the added confidence that goes with it. Called ThermiSculpt³, this groundbreaking procedure combines three powerful treatments: Facial liposculpture, ThermiTight, and injectable dermal fillers to remove submental fat, tighten loose skin, and define the chin and jawline.
What Can ThermiSculpt³ Treat?
ThermiSculpt³ can improve the appearance of:
A double chin
Weak or recessed chin
Sagging jowls
Fat deposits along your jawline
Loose skin around the lower face and neck
Who is a Candidate for ThermiSculpt³?
ThermiSculpt³ is a great treatment option for those seeking to smooth and lift lax skin on their neck, jawline, and chin, but are not ready to commit to the invasive nature, lengthy recovery, and expense associated with surgical procedures. An ideal candidate will be in overall good health, a nonsmoker, and have realistic expectations for the procedure's outcome.
What Makes ThermiSculpt³ the Best Treatment for Chin and Jawline Contouring?
By combining the tightening power of Thermi with the sculpting and contouring abilities of facial liposculpture and dermal fillers, we can help you attain one complete look. These treatments work together for a firmer, more naturally defined neck and jawline. The procedures work at a cellular level to stimulate a healing response in your skin that promotes further collagen and elastin production.
As your newly sculpted chin and jawline heal and adjust to less fat volume, your skin naturally tightens over the improved contour. Your neck area also visibly tightens over the next few weeks, and as the collagen remodeling process continues over the next 2-4 months, your results get better and better.
What to Expect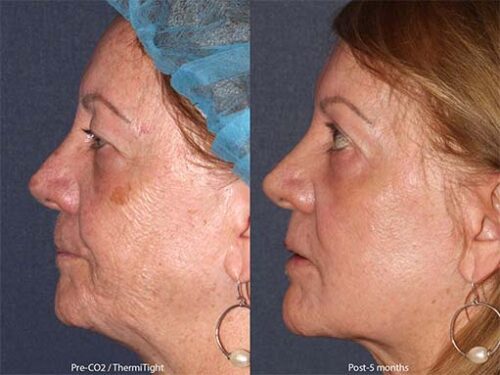 How is ThermiSculpt³ Performed?
If you're a candidate for ThermiSculpt³, the first step is preparing your skin with a ThermiTight® treatment. Your doctor will prep the treatment area by administering a local anesthetic.
After the treatment area is numb, your dermatologist inserts a super-thin probe deep into your skin. The probe delivers radiofrequency (RF) energy into the dermis, which is where your collagen and elastin matrix lies. The RF energy heats the dermis under the skin to contract collagen fibers and stimulate the development of elastic fibers.
Micro-liposuction follows the skin tightening treatment to remove excess fat that frequently accumulates under the chin due to heredity, aging and/or weight fluctuations. Using tiny cannulas that gently vacuum away fat, we can refine and contour your jawline and jowls. Because the cannulas are so small, the tiny incisions under your chin will heal with virtually no scarring and do not require any stitches.
The final step of the ThermiSculpt³ process is to create more definition along the chin and jawline. Soft tissue fillers, such as Juvderm®, Restylane® or Radiesse®, allow for significant improvements to this area. When injected beneath the skin, the filler can add instant volume to reshape and enhance the appearance of the lower face, correcting a weak, small, or recessed chin, as well as other minor imperfections and asymmetries along the jawline.
Tighten Up Skin with ThermiTight
ThermiTight is a powerful yet minimally invasive skin-tightening procedure that utilizes innovative RF energy to heat the deepest skin layers, stimulating the production of collagen – a vital building block of healthy skin. The well-controlled energy provides maximum skin-tightening benefits as it restores skin elasticity around the neck, lower jowls, and lower face in a single treatment. ThermiTight is perfect for those not yet ready for an invasive facial procedure. With its temperature-controlled capabilities and precise energy delivery, ThermiTight is a safe procedure that offers significant results with little downtime. Results improve over time and can last for many years for some patients.
Reduce Submental Fat with Facial Liposuction
The board-certified dermatologists at Cosmetic Laser Dermatology in San Diego are experts in both body and facial liposuction. The facial area is very delicate and requires a precise, skilled touch in order to achieve the best results. With facial liposuction, your procedure will be performed to contour and remove fat cells in the submental area and possibly along the jowls.
Our skincare specialists use a technique called tumescent liposculpture. This technique is ideal for the facial area, as it uses extremely small cannulas. These tiny cannulas offer a more precise result that can effectively sculpt even the most delicate areas of the face and neck with a beautifully smooth finish. Tumescent liposculpture infuses fluid that contains lidocaine to help numb the treatment area. Local anesthetic is also applied to the skin to ensure a completely comfortable procedure with fewer risks and less recovery time than general anesthesia.
Add Some Contouring with Injectable Dermal Filler
Chin contouring with dermal fillers is a non-surgical cosmetic procedure for chin augmentation. Chin contouring with soft tissue fillers helps restore a more youthful jawline while improving the contours and symmetry of the face. Unlike chin implant procedures, injectables don't require any incisions or anesthesia, so there is no recovery time or scarring after treatment. Dermal fillers like Juvederm or Resylane are made of hyaluronic acid (HA), which is a substance naturally found in the body. Radiesse is made up of calcium hydroxyapatite and collagen. When placed under the skin through a series of injections, they restore volume and enhance definition in the lower face.
Recovery after a ThermiSculpt³ Treatment from Our Medical Spa
Since ThermiTight, facial liposuction, and dermal filler treatments are all minimally invasive procedures, there is minimal downtime required after ThermiSculpt³. You may return to your regular activities within a day or two in most cases. Occasional bruising and swelling are common but usually resolve fairly quickly. ThermiSculpt³ patients are advised to avoid strenuous activities for six hours following treatment and to sleep in an elevated position for at least one night to minimize post-treatment swelling.
Photos
FAQs
Q: What are the benefits of combining these treatments?
A:
By combining the tightening power of Thermi with the sculpting abilities of liposuction and injectable treatments, we can help you attain one complete look. These treatments work together for a firmer, more sculpted neck and jawline.
Q: What is the recovery time?
A:
There is no required downtime after a procedure. You may return to your regular activities immediately after.
Q: How fast should I see results?
A:
You may start seeing results within a few days to a few weeks after your treatment. The effects of your treatment will continue to develop, and your full results may be visible 2-4 months after.
Promotions
For more information about the monthly specials offered at Cosmetic Laser Dermatology in San Diego, visit our Promotions page.