ThermiSculpt Overview


If you have loose skin under your chin and on your neck, your internet searches probably led you to posts for ineffectual creams, exercises that are "guaranteed" to get rid of excess skin, and ads for plastic surgery. As board-certified dermatologists whose primary concern is the health of your skin, our experts shy away from unnecessary, expensive, and potentially dangerous surgery. They know that your skin has awesome healing potential that — if triggered by the right combination of therapies — can reverse years of damage, and, yes, even frustrating neck sagging.
By ignoring traditional, surgical approaches to neck lifts, our very own board-certified dermatologists perfected a nonsurgical combination treatment that dramatically reshapes and tightens your neck and jawline after just one treatment. Within a month after your procedure, your neck can look younger, tauter, and healthier.
See examples of amazing nonsurgical jaw and neck re-shaping results: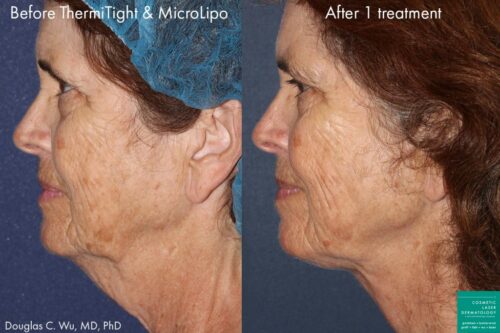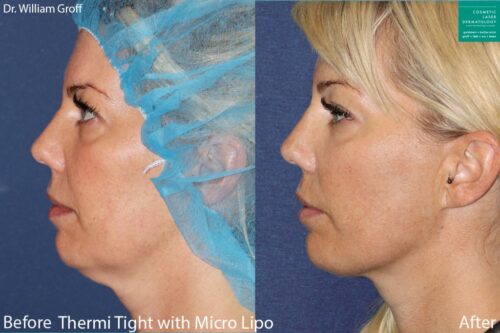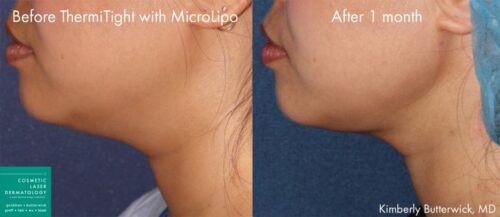 How did our dermatologists do it? They combined facial micro-liposuction  with Thermi™ radiofrequency (RF) skin tightening in one groundbreaking, paradigm-smashing treatment. The end result is a proprietary therapy known as ThermiSculpt™ or Thermi + MicroLipo — which was developed at Cosmetic Laser Dermatology.
What to Expect
First, tighten your skin
If you're a candidate for ThermiSculpt, the first step is preparing your skin with a Thermi tightening treatment. Your Cosmetic Laser Dermatology expert preps the treatment area by administering a local anesthetic. You don't need general anesthesia or even twilight anesthesia for your nonsurgical neck lift.
After the treatment area is numb, your dermatologist inserts a super-thin Thermi needle deep into your skin. The needle conducts RF energy into the dermis, which is where your collagen and elastin matrix lies. The combination of microwounds and RF energy signals your skin that it's time to rebuild itself with fresh, long strands of collagen.

Second, sculpt your jawline
Our expert dermatologists then resculpt your submentum (that's the area under your chin), jawline, and neck with micro-facial liposuction. Using tiny cannulas, which are the thin metal tubes that vacuum away fat, they're able to finely detail your jawline and jowls by removing excess fat. Because the cannulas are so small, your dermatologist only needs to make a few tiny incisions under your chin where they'll heal with nearly invisible scars.
After your facial micro-liposuction, you're finally free of the double-chin that you couldn't lose through diet and exercise. Micro-liposuction also stimulates a healing response in your skin that promotes further collagen and elastin production. As your newly sculpted chin and jawline heal and adjust to less fat volume, your skin naturally tightens.
Best of all, ThermiSculpt doesn't require long recovery or leave scars. Your tiny incisions heal with a small bandage.
As you noticed from the above before-and-after shots, a ThermiSculpt creates a tighter, more uplifted neck and jawline. Your neck area visibly tightens over the next few weeks. As the collagen remodeling process continues over the next 2-4 months, your results get better and better. To learn more about liposuction, visit ncbi.nlm.nih.gov
Don't forget the rest
While your neck may be your main concern, you could also benefit from other nonsurgical rejuvenation treatments that re-contour and lift your entire face. During your consultation, ask your dermatologist about:
Take10  — This exclusive Cosmetic Laser Dermatology speciality combines lasers with injectable fillers and Botox® to create a nonsurgical facelift that rejuvenates and lifts your skin, taking 10 years off in one treatment.
Liquid Facelift — If you're in the early stages of aging and your skin quality is still good, your dermatologist can create a liquid facelift using fillers and collagen stimulators like Sculptra and Botox in one or a few short, no-downtime procedures.
Laserlift — Another nonsurgical neck lift from Cosmetic Laser Dermatology: this one combines the power of fractional lasers with Ultherapy or Thermage.
Awake/Tumescent Lipo — Why stop sculpting at your face? If you'd like an overall reshaping and resulpting of both face and figure, tumescent liposculpture can be performed while you're awake and immediately removes unwanted fat from your body.
Photos
FAQs
Q: What are the benefits of combining these two treatments?
A: By combining the tightening power of Thermi with the sculpting abilities of MicroLiposuction, we can help you attain one complete look. These treatments work together for a firmer, more sculpted neck and jawline.
Q: What is the recovery time?
A: There is no required downtime after a procedure. You may return to your regular activities immediately after.
Q: How fast should I see results?
A: You may start seeing results within a few days to a few weeks after your treatment. The effects of your treatment will continue to develop, and your full results may be visible 2-4 months after.
Promotions
For more information about the monthly specials offered at Cosmetic Laser Dermatology in San Diego, visit our Promotions page.
5/5 Stars
"If I could give this office 10 stars I would! I've never been to such an incredible office where everyone was so sweet, helpful, and professional!"
- Jessica V.
5/5 Stars
"I had such an awesome experience for my first visit and I am referring everyone I know to this office. From the super friendly staff to the state of the art procedures, they are the cream of the crop."
- Dinah M.
5/5 Stars
"I love and appreciate the professionalism, knowledge, warmth, and extraordinary care from the team at Cosmetic Laser Dermatology."
- Alejandro S.