Pearly Penile Papules Overview
Pearly penile papules (PPP) are flesh-colored or white small, dome-shaped bumps or skin tags that form around the rim and underside of the tip of the penis. These bumps, or papules, may be skin-colored or slightly lighter than the skin. It is believed that nearly 1 out of 5 men will be affected with PPP in their lifetime. Though some men choose to leave this condition untreated, many men find their appearance to be embarrassing, causing social and emotional effects.
Dr. William Groff is a board certified dermatologist and is the leading expert in pearly penile papules treatment. Dr. Groff has also been recognized as a world renowned PPP Specialist by his peers. For over 20 years, Dr. Groff has successfully treated over 2000 men suffering from pearly penile papules and has never had any complications. These men have come from all over the USA and around the world to seek his expertise in this area. In fact, Dr. Groff has performed more laser treatments for pearly penile papules than any other dermatologist in the world. Dr. Groff's patients are universally happy with the results from Lumenis UltraPulse Encore CO2 treatment. For more information visit www.PPPTreatment.com
Treatment Options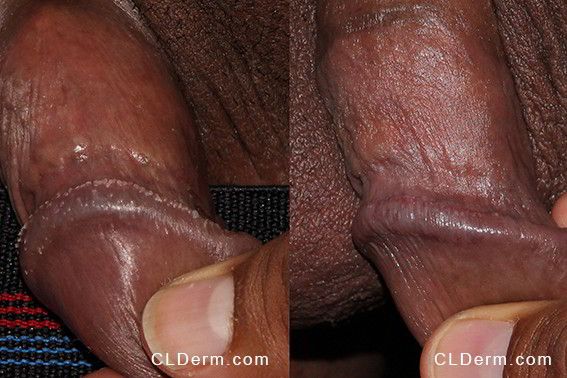 Some men choose to leave PPP untreated, as the papules are generally asymptomatic. However, many men find this condition to be embarrassing in intimate situations and suffer detrimental social and emotional effects from leaving them untreated. Treatment for pearly penile papules is typically quite simple and effective through carbon dioxide laser treatment by a qualified dermatologist. Here's what you can expect when you come in for PPP treatment.
The most effective, painless, and safest treatment for the successful removal of pearly penile papules is the Lumenis UltraPulse Encore CO2 laser. This laser provides optimal results because of its unique ability to specifically target particular areas without damaging nearby tissue in any way. Before the treatment begins, a numbing cream will be applied to the affected area. Once the cream has fully activated, Dr. William Groff will administer the laser treatment by focusing and firing the beam on each individual papule, vaporizing it instantaneously. The entire treatment takes only 20-30 minutes, requires no injections, and is completely painless.
Read our post-treatment guidelines for pearly penile papules treatment.
Do PPP Creams Work?
Though creams claiming to treat papules do exist, they are not effective and can cause undesirable side effects. The safest and most beneficial treatment is PPP removal with a CO2 laser at CLDerm.
Post-Treatment Guidelines
Beginning the evening of OR the morning after your treatment:
Wash the treated area gently in the shower, using your hand and gentle antibacterial liquid soap.
Cleansing should be done 1-2 times daily, preferably A.M. & P.M.
After Cleansing: Apply a thin layer of ointment (Aquaphor or Bacitracin). The treated area should always have ointment on it. To ensure this, check the area several times a day to be certain the ointment is in place.
Continue this regimen until the area is healed.
If you are uncircumcised make sure the foreskin is always covering the treated area.
DO NOT PICK AT OR ATTEMPT TO PEEL THE SKIN OF THE TREATED AREA
Please contact our office if you have any questions or concerns at (858)657-1002
Photos
Videos
FAQs
Q: Who is a candidate for CO2 treatment of pearly penile papules?
A: Anyone who is experiencing pearly penile papules is a candidate for PPP removal with a CO2 laser and is encouraged to contact our practice today to schedule an initial consultation.
Q: Who should administer PPP treatments?
A: PPP treatments should always be performed by a board-certified dermatologist with an extensive knowledge of laser treatments. Dr. William Groff is a leading expert in this specialized treatment, having performed over 700 PPP treatments throughout his career.
Q: Is laser PPP removal permanent?
A: Yes, treatment with a CO2 laser for PPP will bring permanent results to every patient.
Q: What are the benefits of PPP treatment?
A: PPP treatments can significantly diminish or completely remove the unsightly bumps. One of the most desirable aspects of laser PPP removal is the fact that there is virtually zero recovery time after the treatment has been performed. Patients can almost always return to work immediately, though swelling, redness, and scabbing are common during the first few days. After 1-2 weeks, a full recovery can be expected.
Q: What can I expect regarding recovery?
A: There will be some redness, swelling, crusting and scabbing, and mild stinging or discomfort for the first few to several days. Almost all patients are able to go back to work immediately. It typically takes 1-2 weeks to completely heal.
Promotions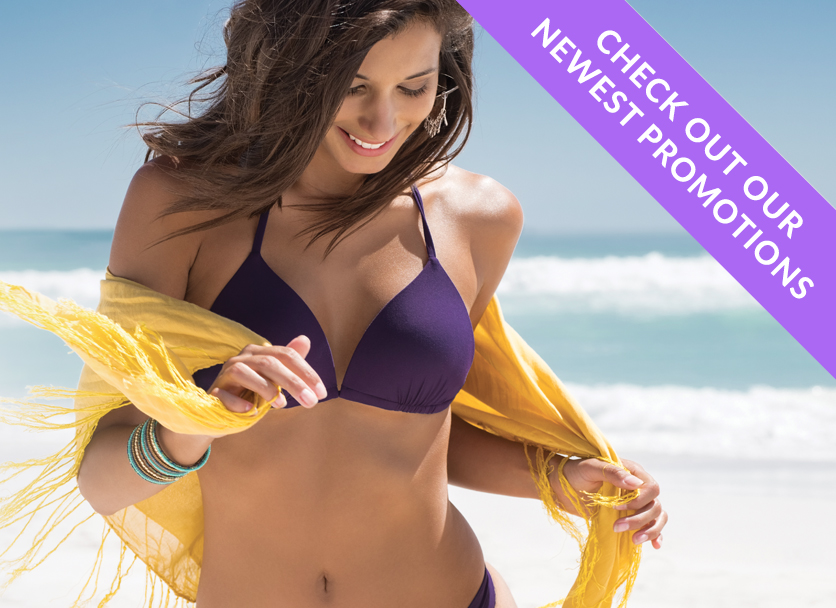 For more information about the monthly specials offered at Cosmetic Laser Dermatology, visit our Promotions page.