RESONIC San Diego Overview
Cellulite reduction procedures may sometimes fail to deliver dramatically noticeable or even sustainable results. But if you've kept a pulse on the advancements in beauty technology, you know innovative face and body treatments are booming. A new dual-platform device called RESONIC aims to revolutionize cellulite reduction with the science of sound. By utilizing high-power sound waves, RESONIC provides patients with a completely non-invasive treatment that effectively reduces cellulite in just one session. The RESONIC device's high-pressure shockwaves can also break up body ink to help remove unwanted tattoos in as few as 3 sessions. We believe that this technology may enhance existing technologies to help treat BOTH cellulite and tattoos.
With over 50+ laser, light, and energy devices, as well as our own research center, Cosmetic Laser Dermatology combines major cosmetic breakthroughs in science and medicine to bring our patients the ultimate rejuvenation. We are proud to offer the new RESONIC device in our San Diego, CA medical spa for patients who want the latest, most advanced treatment option for cellulite.
What is Cellulite?
Do you notice lumpy skin on your thighs or buttocks? This may be a sign of cellulite. Most people assume excess fat is the primary culprit, but cellulite is actually more of a structural issue. The abundance of connective tissue anchoring skin to muscle contributes to cellulite formation. When these tissues, called septae, constrict and pull the skin downward, it results in an uneven surface that resembles dimples or the characteristic "cottage cheese" look that appears on the skin. Learn more about cellulite by visiting medlineplus.gov.
How Does RESONIC Work on Cellulite?
In the past, only surgical procedures could cut the septae bands, and this would require downtime and recovery. Other treatments are now available that focus on softening the fibrous banding, but RESONIC is the first to use sound waves to do so. RESONIC changes that by providing a non-invasive approach that effectively releases those bands without incisions, bruising, or a long recovery time. RESONIC is a rapid acoustic pulse (RAP) device developed by Soliton, Inc. that utilizes an innovative, rapid pulse of shockwaves to break apart the fibrous septae bands beneath the skin that cause cellulite. The RAP technology is completely different from other cellulite devices because it can deliver rapid, high-pressure shockwaves at a rate of up to 100 pulses per second. The sound waves go through the skin and physically disrupt the fibrous bands, releasing them without damaging the outer dermal tissue. This results in a smoother appearance with long-lasting results.
What to Expect from Resonic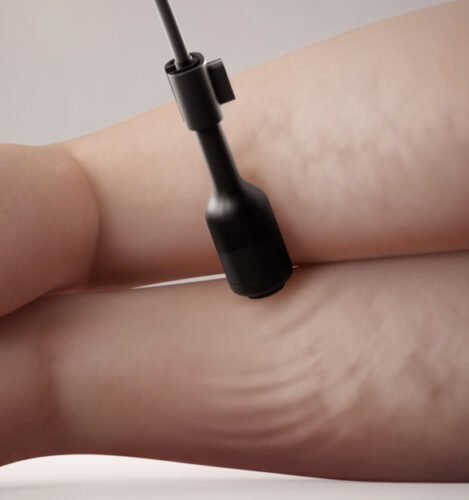 RESONIC treatments are typically not painful. However, you may experience slight discomfort during the first few minutes of the procedure. The high-pressure shockwaves pass harmlessly through your epidermis without damaging the skin. It is calibrated to only target the fibrous connective tissue bands that cause cellulite, and it does not generate any micro-injuries that need healing. As such, the treatment itself is comfortable and very well-tolerated. If you experience any side effects, they will most likely be mild redness and discomfort in the treatment area. The standard procedure time on the thigh and buttock area is less than an hour.
Recovery and Results From a RESONIC Treatment at our Medical Spa
Patients have virtually no downtime after a RESONIC treatment. The procedures do not cause any bruising, swelling, or bleeding. You may resume your normal activities immediately after your treatment session.
RESONIC may provide efficient results in a single 20-minute procedure. You will see immediate results, but the full results will most likely become evident in the weeks following the treatment. Based on current research, clinical improvements were seen for up to 12 months, and more studies are being conducted to determine if those results can last even longer.
Resonic FAQs
Q: How common is cellulite?
A: Cellulite is much more common in women than in men. In fact, it affects up to 90% of women. This is because women's fat is typically distributed in the thighs, hips, and buttocks (common cellulite areas). Women of all shapes and sizes can have cellulite. While genetics, hormones, and weight fluctuations are factors that contribute to the extent of cellulite, it is also more common with aging, when the skin loses elasticity.
Q: What makes RESONIC an effective cellulite treatment?
A: Typically, providers who perform non-invasive cellulite reduction procedures use radiofrequency to temporarily tighten the skin. This often requires multiple sessions to achieve and maintain results. On the other hand, when dermatologists surgically treat cellulite, they can improve the dimples' appearance but cannot generate an overall smoothing effect. Furthermore, surgery means significant downtime along with possible risks and side effects. RESONIC makes for an effective cellulite treatment because it is the only FDA-cleared device that offers similar benefits from both approaches. It can emit powerful, high-frequency sound waves that can physically change the septa that contribute to cellulite, while also helping to restore smoothness to the skin. Providers can produce results using RESONIC after just one session that lasts less than an hour. When it comes to cellulite treatment, RESONIC is a game-changer as it achieves positive outcomes with little to no unwanted side effects, discomfort, or downtime.
Q: Does a Soliton RESONIC treatment hurt?
A: RESONIC treatments are well-tolerated, with an average pain score of 2.4 out of 10. It is a non-invasive treatment that requires no anesthesia.
Q: Is there any downtime after my RESONIC procedure?
A: Patients have virtually no downtime after a RESONIC treatment. You may resume your normal activities after treatment.
Q: How many treatments will I need?
A: Most patients only require a single RESONIC treatment for a noticeable improvement in their cellulite.
Q: How long will results last?
A: Based on research, clinical improvements were seen for up to 12 months, and more studies are being conducted to determine if those results can last even longer.
Resonic Alternatives
In addition to RESONIC, there are great alternatives for cellulite treatment in San Diego, CA. Cellulite treatment options at our medical spa include the following:
Cellfina – A minimally-invasive procedure that automates the subcision procedure using a small rapidly vibrating blade to effectively snap the septae bands. As a result, the skin springs back to shape and smooths out the cellulite dimples.
Qwo – The first and only FDA-approved injectable for moderate to severe cellulite in the buttocks of adult women. It is made from enzymes called collagenase, which release the fibrous bands connecting skin to muscle and redistribute fat cells, allowing the skin to smooth out.
Watch this video by Sabrina Fabi, MD, to learn more about all of our cellulite treatment options.
Promotions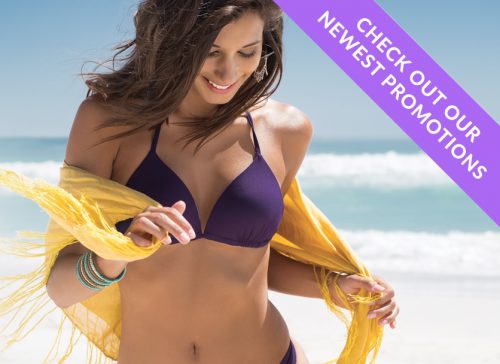 For more information about the monthly specials offered at Cosmetic Laser Dermatology in San Diego, visit our Promotions page