JetPeel Overview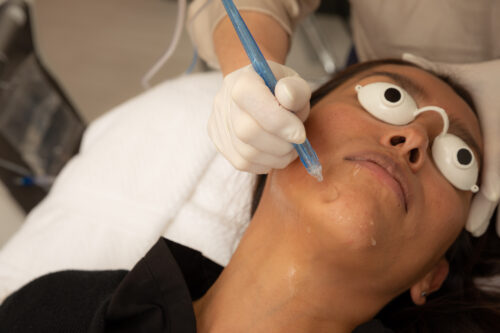 Are you looking for a medical spa procedure that combines the rejuvenating powers of a facial and a peel while delivering extra benefits to your skin? JetPeel, a multi-step dermal infusion system, is one of the latest breakthroughs in aesthetic skincare. By cleansing, exfoliating, and infusing vitamins, skin stabilizers and growth factors into the skin, this non-invasive treatment can deliver immediate results with little to no downtime.
A JetPeel treatment at Cosmetic Laser Dermatology in San Diego with our medical aesthetician, Farzaneh Momeni-Salami, can give you bright, glowing skin to refresh your appearance. With her more than 30 years of experience treating the skin, she can create a custom aesthetician treatment plan for your needs and goals.
What is the JetPeel?
Simply put, the JetPeel is like a mini pressure washer for your face. It combines oxygen and saline to deep clean the skin by generating pressurized gas to accelerate a jet stream of micro-droplets. These jet streams travel at high velocity from a handpiece actually developed by a rocket scientist to the skin. The constant jet streams exfoliate the epidermal layer, gently stretching the skin's surface.
With maximum comfort (no skin breakage needed), the jet streams open up microchannels to the deeper skin layers. As the stream reaches the dermal layers, the jet delivers moisture and nutrients to the skin without touching its surface and without the use of needles. In effect, a JetPeel cleanses the skin and stimulates collagen production, all while hydrating and nourishing on a cellular level. All you feel is a cooling sensation. For more information on JetPeel facial rejuvenation, you can watch our JetPeel webinar here, or visit pubmed.gov.
Who is a Candidate for the JetPeel?
Dermatologists recommend the JetPeel for all skin types and tones because it is gentle enough even for those with sensitive skin or skin conditions like acne or rosacea. It improves overall skin health and can treat the following:
Fine lines and wrinkles

Uneven skin tone

Dry skin

Dark circles

Under-eye bags

Sun damage

Loose skin

Enlarged pores

Congested pores

Signs of aging

Acne

Blackheads

Oily skin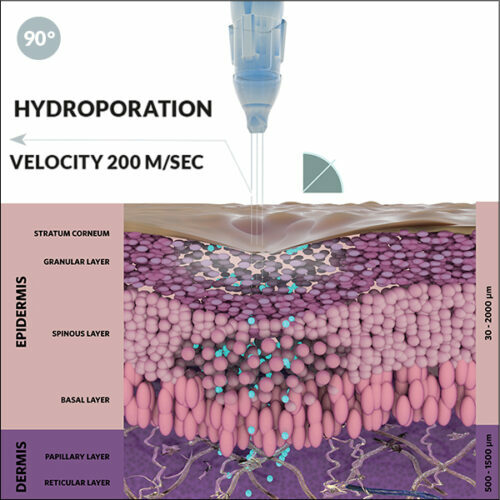 What to Expect
How does the JetPeel Compare to Other Aesthetic Treatments at Our Medical Spa?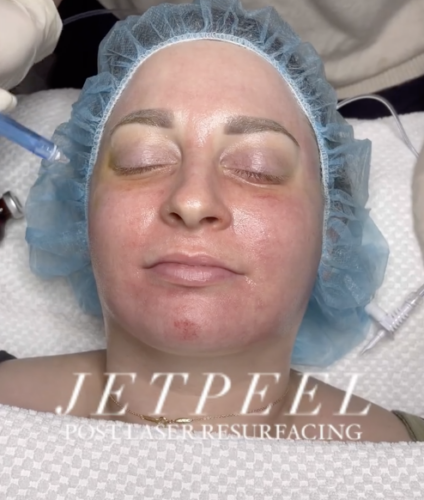 A JetPeel treatment in our San Diego medical spa shares similarities with our other non-invasive treatments and can enhance results from other procedures. Both the JetPeel and microneedling may help rejuvenate the skin by triggering collagen formation. Microneedling involves using tiny needles to create microscopic injuries in the skin to stimulate collagen and elastin production. The JetPeel, however, cleanses, exfoliates, and renews the skin in a much gentler fashion, using jet streams instead of needles to target the skin's deeper layers, infusing it with hydration and nutrients. 
The HydraFacial also delivers nutrients to the skin. A gentler type of microdermabrasion, HydraFacial uses the suction method to remove impurities. Exfoliation comes first, followed by skin infusion. The JetPeel, on the other hand, removes skin impurities while simultaneously nourishing the skin's deep layers with nutrients.
Farzaneh will select the best treatment for you based on your precise needs and goals. In some cases, a combination approach may be the most effective for you.
JetPeel Benefits
This non-invasive treatment can produce healthy and refreshed skin by:
Revealing glowing, bright skin

Tightening and lifting loose skin

Hydrating skin

Improving circulation

Exfoliating dead skin

Reducing the appearance of pores

Improving the appearance of fine lines and wrinkles

"De-puffing" the eyes and brightening the eye area



What Should I Expect from my JetPeel Treatment?
Farzaneh performs the JetPeel treatment in three steps:
Jet Lymphatic Drainage:

A high-pressure stream of oxygen and saline gently cleanses and exfoliates the skin. Massage-like motions help oxygenate the skin while stimulating micro-circulation.

Jet Exfoliation:

The JetPeel handpiece is then used to infuse glycolic acid, aloe vera, and other vitamins and skin healing agents deep into the skin to produce a gentle but powerful peel without the scaling and flaking typically associated with a traditional chemical peel. Superficial dead skin layers peel away from the skin's surface.
Jet Infusion: Depending on the skin concern being addressed, different serum types with active ingredients such as hyaluronic acid, Vitamins A and E, Vitamin C, Vitamin B5, growth factors, bio-peptides, hexapeptides, and pentapeptides are infused through the jet stream into the skin's dermal layer. In addition to anti-aging formulations, Farzaneh offers ATX-NAT (offers a similar result to Botox without the injections), Whitening Complex for pigmentation and dull skin tone, Acne Complex, Sweatless to reduce excess sweating, and Scalp and Hair Care Complex.
JetPeel Recovery and Results
Immediately after your JetPeel treatment, your face will likely look and feel refreshed. You may notice smoother, hydrated skin with a bright and glowing radiance. For most people, there is no downtime, but if you have sensitive skin, you may experience minimal redness which should resolve on its own within an hour. Farzaneh may recommend avoiding washing your face or wearing makeup for about six hours post-treatment to allow the skin to fully absorb the serums.
Photos
Videos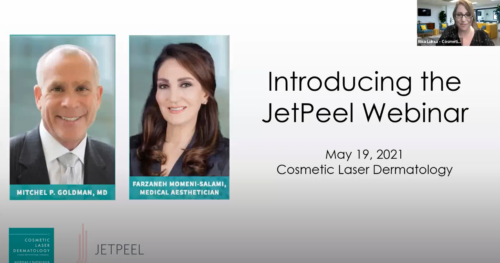 JetPeel Webinar by Mitchel Goldman, MD & Medical Aesthetician Farzaneh Momeni-Salami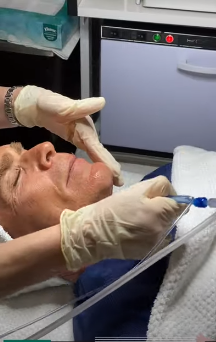 Comfortably Lift & Firm Your Skin With A JetPeel Facial At Cosmetic Laser Dermatology
FAQs
Q: What makes the JetPeel unique?
A:
Based on jet aviation engineering, JetPeel's technology combines oxygen and saline to create a pressurized jet stream of micro-droplets. The jet power reaches a velocity of up to 600 ft/sec and penetrates the skin to a depth of up to 4.5 mm (3/16″), producing a powerful yet gentle stream that effectively exfoliates the skin without causing irritation. This non-invasive, multipurpose skincare system provides a customizable approach to rejuvenating all skin types and most skin conditions.
Q: Does the JetPeel treatment hurt?
A:
Most patients experience no pain during a JetPeel treatment. A cooling sensation is most often described. The lymphatic drainage step feels relaxing, similar to a facial/neck massage.
Q: Can other treatments be performed at the same time as my JetPeel?
A:
Yes, we can combine the JetPeel with other aesthetic treatments such as facials, microneedling, and laser procedures.
Q: When will I see results from my JetPeel treatment?
A:
Your skin will most likely look bright, refreshed, and glowing immediately after your treatment.
Q: How many treatments will I need?
A:
JetPeel results are temporary. You will need maintenance treatments to see continuous results. Depending on your skin concern, we recommend between 3-6 treatments at 2-4 week intervals. While you will most likely already see an immediate improvement in your skin after just one session, we recommend at least 3 treatments to achieve optimal results.
Promotions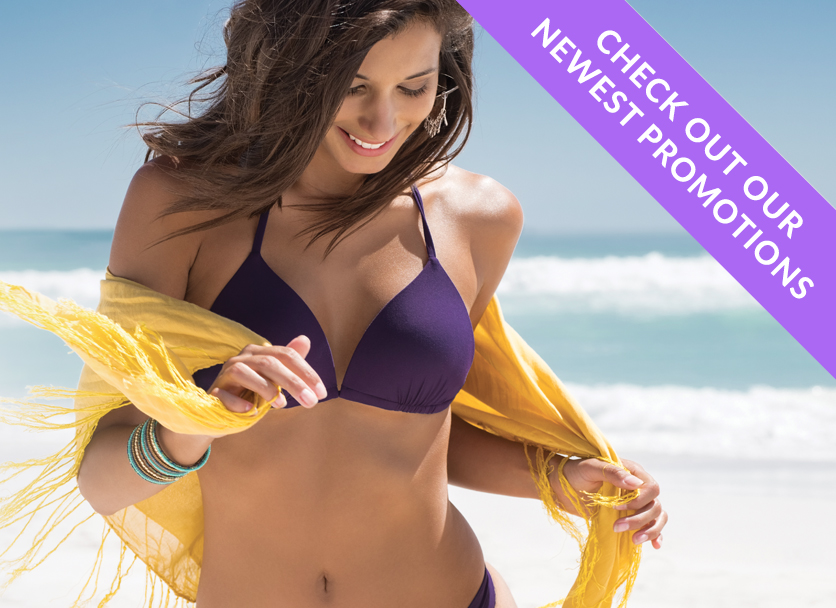 For more information about the monthly specials offered at Cosmetic Laser Dermatology in San Diego, visit our Promotions page.