Microneedling Radiofrequency (RF) Overview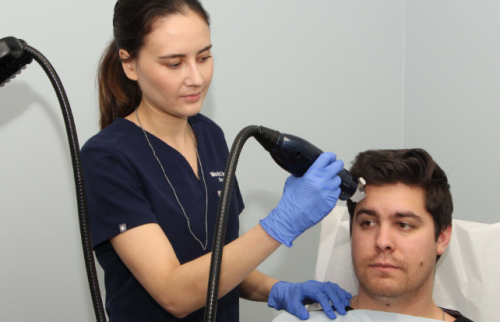 Microneedling with radiofrequency (RF) is an innovative cosmetic laser treatment that tightens your sagging skin, reduces the appearance of wrinkles, and improves your skin texture.
By using advanced technology that penetrates deep beneath your skin, it can produce new collagen. Collagen is an integral part of your skin's support system that effectively revitalizes your skin when it is restored.
  Microneedling RF is especially good for ethnic skin tones as it has fewer side effects and potential complications than some laser devices.
At Cosmetic Laser Dermatology in San Diego, we offer treatment options that will help you stop the clock on aging. We can combine microneedling RF procedures such as Potenza, INTRAcel, and Secret with lasers and fillers for comprehensive skin rejuvenation or a non-surgical facelift.
Our medical spa now offers easy online booking to make scheduling quick and easy for our patients!
Which Skin Conditions Does Microneedling RF Treat?
Microneedling RF is effective for tightening the skin and minimizing imperfections. Your skin texture will also significantly improve, giving you a more radiant and youthful glow. Microneedling RF is an effective treatment for the following concerns:
Fine lines and wrinkles

Sagging skin

Acne and acne scars

Skin tone and texture
What to Expect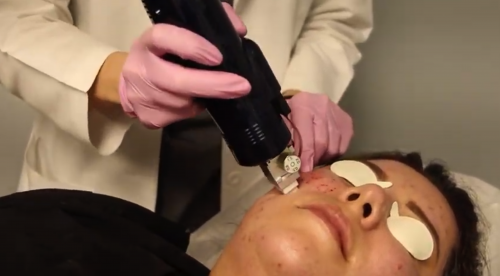 At Cosmetic Laser Dermatology in San Diego, we focus on natural and beautiful results without surgery.
Microneedling RF uses a combination of microneedling and radiofrequency technology to precisely target problem areas and tighten the skin to reduce the appearance of wrinkles, dimpling, and scarring.
It is a quick, non-invasive procedure with minimal risk or pain, and works for all skin types.
How Does Microneedling RF Work?
The Microneedling RF system uses fractional micro-needles and non-invasive electrodes to deliver heat energy deep into the middle layer of the skin (dermis). The controlled damage produced by the tiny microscopic energy points triggers the body's repair mechanism which stimulates elastin and collagen production.
The radiofrequency energy also reduces the production of bacteria and sebum, aiding in acne treatment. The entire process naturally rebuilds the treatment areas, creating tighter, firmer, and thicker skin while minimizing the appearance of wrinkles, cellulite, and acne scarring.
Downtime tends to be minimal and tolerable.
Read our pre/post-treatment guidelines for Intracel RF Microneedling.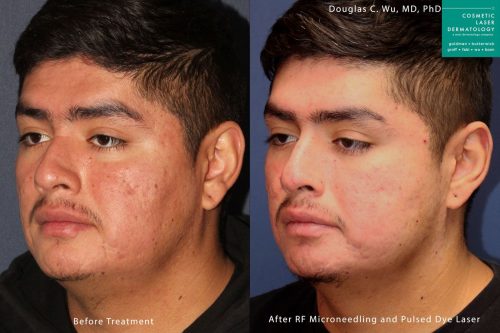 The microneedling treatment technology uses very fine needles to deliver the necessary energy to precise, predetermined depths.
Instead of working from the outside in, the flow needle technology starts inside the second layer of your skin, the dermis. This is where your skin's support system lies, including the building blocks of collagen necessary for skin tightening.
When RF heat energy is delivered at the targeted 60-65° C, collagen growth is stimulated and tissue is tightened at precise depths.
Typically, one session for your face lasts about 45 minutes. If you have your neck treated, as well, this adds about another 15 minutes. Treatment for the buttocks is about 45-60 minutes. This highly effective treatment is performed only by our doctors, ensuring that you receive experienced care for your unique needs.
Areas Treated with Microneedling RF
Many parts of your body can be effectively treated with radiofrequency skin treatment. Most of our patients undergo this procedure to address wrinkles, scars, skin laxity, and skin texture on your face.
Infini can also address loose skin on the neck, as well as the "crepey" look from lost volume and hydration. It can be an effective way to rejuvenate your décolletage, another area that frequently shows the effects of aging.
Patients may also undergo radiofrequency microneedling for skin laxity on the arms, scars on the stomach or knee, or cellulite and stretch marks. The variable settings and depths of this device allow any part of your body to be treated safely and effectively.
Safe for All Skin Types
This unique process boasts a lower risk of post-treatment skin pigment changes than other devices. This direct addressing of your dermis – the layer under your skin surface – means that all skin types are excellent candidates for treatment. We often use this treatment on African-American, Asian, or Hispanic patients.
Pain, Downtime, and Side Effects
Patients typically report little discomfort during the procedure. You may experience a mild stinging or tingling sensation as the needles do their job. For those who are averse to needles or want to ensure their comfort during the procedure, a topical numbing agent can be applied to your skin prior to the session.
Side effects are common after the procedure, although they usually are mild and temporary (disappearing within 72 hours). The most common side effects are:
   Bruising
   Redness
   Inflammation
   Itchiness
   Sandpaper-like skin texture
There is very little, if any, downtime. The vast majority of our patients go right back to their daily routine following a session.
How Many Treatments are Needed?
The number of treatments depends on several factors, including your treatment goals and the overall condition of your skin. Normally, however, you can expect two to four sessions, each spaced about a month apart.
We can help you design a home treatment program, using professional skincare available right in our office, to help you maintain the health and beauty of your skin between treatment sessions.
If you want to use microneedling RF as a preventative treatment, one session a year should be sufficient. However, if you're undergoing Microneedling RF for a specific condition like acne scarring, a series of 5-6 treatments may be needed to produce an optimal outcome.
Treatment Guidelines
During your procedure:
Topical numbing cream will be applied to the area being treated for 30-60 min prior to treatment. In some cases, your doctor may inject lidocaine into the skin in lieu of numbing cream.
There will be multiple passes made over the treatment area with the handpiece.
You will feel some slight discomfort similar to a mild sting or snap.
After your procedure:
A serum, moisturizer, and/or sunscreen may be applied to the treated area after your procedure.
The sensation of heat/intense sunburn (will subside throughout the day). It is OK to take Tylenol or Ibuprofen.
Redness and mild swelling will occur immediately after treatment. Swelling typically peaks at 48-72 hours and should subside in 5-7 days. Sleeping with your head slightly elevated at night for the first 3 nights will help minimize swelling.
You may experience mild crusting of the skin approximately 1-5 days after treatment. Crusts will disappear naturally in approximately 7 days. Soaking the skin in a warm shower for 10-15 minutes and massaging gently with the fingertips can help with the sloughing.
The use of ice packs (20. min on, 20 min. off) day of the procedure and the following day will help reduce the sensation of heat and help to minimize swelling.
NO RUBBING, PICKING OR WIPING TREATMENT AREA.
Gentle cleansing is fine (SkinMedica Gentle Cleanser or Cetaphil Cleanser is recommended).
Avoid harsh topical products or alcohol-based toners for 2 weeks, otherwise, you may resume your normal skincare regimen as directed by your physician 24 hours after treatment.
DO NOT use a washcloth or the Clarisonic to cleanse.
Avoid sun exposure on the day of treatment. Apply sunscreen with Zinc Oxide and/or Titanium Dioxide and SPF daily (minimum SPF 30). Protect the treated area from the sun both indoors and outdoors (hat, sunglasses, sunscreen). *UVA rays will penetrate through windows.
DO NOT apply make-up until you have peeled or you have been instructed by your physician.
Follow any additional specific post-treatment instructions from your physician.
Please contact our office if you have any questions or concerns at (858) 943-2113.
Photos
FAQ
Q: What Is The Treatment Process?
A:
The procedure takes around 30-60 minutes. Before your session, a topical anesthetic will be applied to the treatment area for added comfort. A handpiece will be placed over your skin then RF microneedles will penetrate your skin and will transmit RF energy through the needles. The microneedles retract after emission and the handpiece is moved along the treatment area to repeat the process.
Q: Will It Hurt?
A:
You will feel a prickling sensation as well as heat as the handpiece is passed over your skin. This will increase with the number of passes, but the skin is cooled during treatment, making it completely tolerable.
Q: What Is The Recovery Process? Any Side Effects?
A:
Initially, there will be tiny pinpoint bleeding on the treatment area but should settle in a few minutes. Skin will stay red for up to a day. For a few hours, you will feel as if you've got a mild sunburn. Swelling is also minimal (usually around the eye area) and typically resolves in 1-2 days. A small bruise may also occur. Full skin recovery may take up to 6 days.
You may immediately resume normal activities after treatment, but it is important to protect your skin at all times. Wear sunscreen along with the other aftercare products that your dermatologist will recommend. This will assist in healing your skin and avoiding complications.
Q: What Parts Of The Body Can You Use Microneedling RF On?
A:
Skin tightening and wrinkle production can be performed around the eyes, the top lip, around the mouth, the jowls, neck, chest, hands, abdomen, thighs, knees, and buttocks.
Q: How Soon Will I See Results?
A:
After just one treatment, your skin will already start to feel smoother and tighter, with visible results showing after two more sessions.
Q: How Many Treatments Will I Need?
A:
2-5 treatments are normally required. At Cosmetic Laser Dermatology, our board-certified dermatologists will provide you with a treatment plan defined by your desired results and skin condition. Treatments are usually spaced 4-6 weeks apart but are relatively flexible
Q: How Long Will Results Last?
A:
Results will vary depending on your original skin quality and extent of the damage. Normally, Microneedling RF results will continue to improve your skin for up to six months.
Q: Is Microneedling RF Suitable For Me?
A:
You are not a candidate for Microneedling RF if you are pregnant, have skin infections, bleeding disorders, keloid constitution, skin malignancy, a pacemaker, or use anticoagulant drugs.
Other Options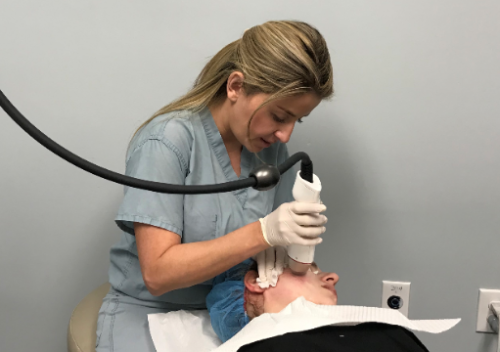 In addition to INTRAcel and Secret RF, Cosmetic Laser Dermatology in San Diego offers microdermabrasion and laser treatments to help improve your skin's texture and tone. Examples are:
Promotions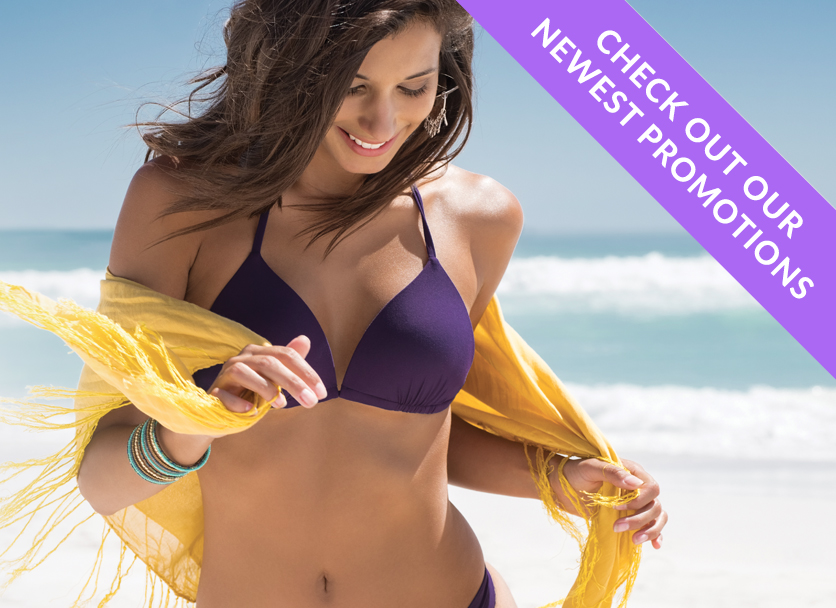 For more information about the monthly specials offered at Cosmetic Laser Dermatology, visit our Promotions page.