Fine Lines & Wrinkles Overview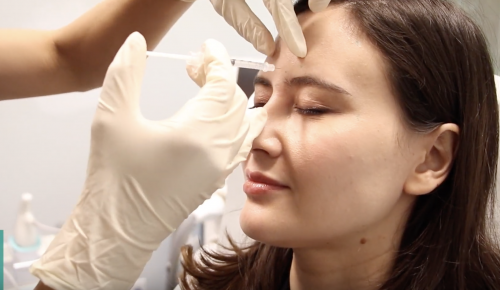 Fine lines and wrinkles develop with age, frequent sun exposure, and/or regular facial expressions (smiling, laughing, frowning, etc.). Common types of lines and wrinkles include:
Laugh lines around the mouth
Worry lines on the forehead
Frown lines between the eyebrows
Lip lines
Crow's feet around the eyes
Chest wrinkles
Left untreated, wrinkles can deepen, dulling your skin in the process and giving you an older, tired-looking appearance. If you have any fine lines or wrinkles—or if you want to take some preventative steps to stop them from forming in the first place— a treatment plan consisting of non-surgical wrinkle removal procedures at our San Diego office can be the solution. The result will be a smoother and rejuvenated appearance!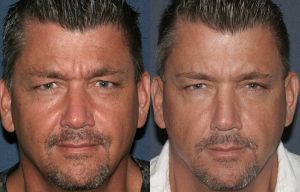 At Cosmetic Laser Dermatology, our San Diego dermatologists and wrinkle removal experts have well over 100 years of combined experience in bringing you natural-looking results that revitalize an aging appearance. We have a vast array of options to minimize your wrinkles and help you achieve smoother, healthier-looking skin, including the following:
Just as they have with more than 100,000 of your neighbors in the La Jolla and San Diego areas, our specialists will listen to you explain your concerns and/or aesthetic goals and then create the right treatment plan for you. To learn more, schedule a consultation today at Cosmetic Laser Dermatology.
Treatment Options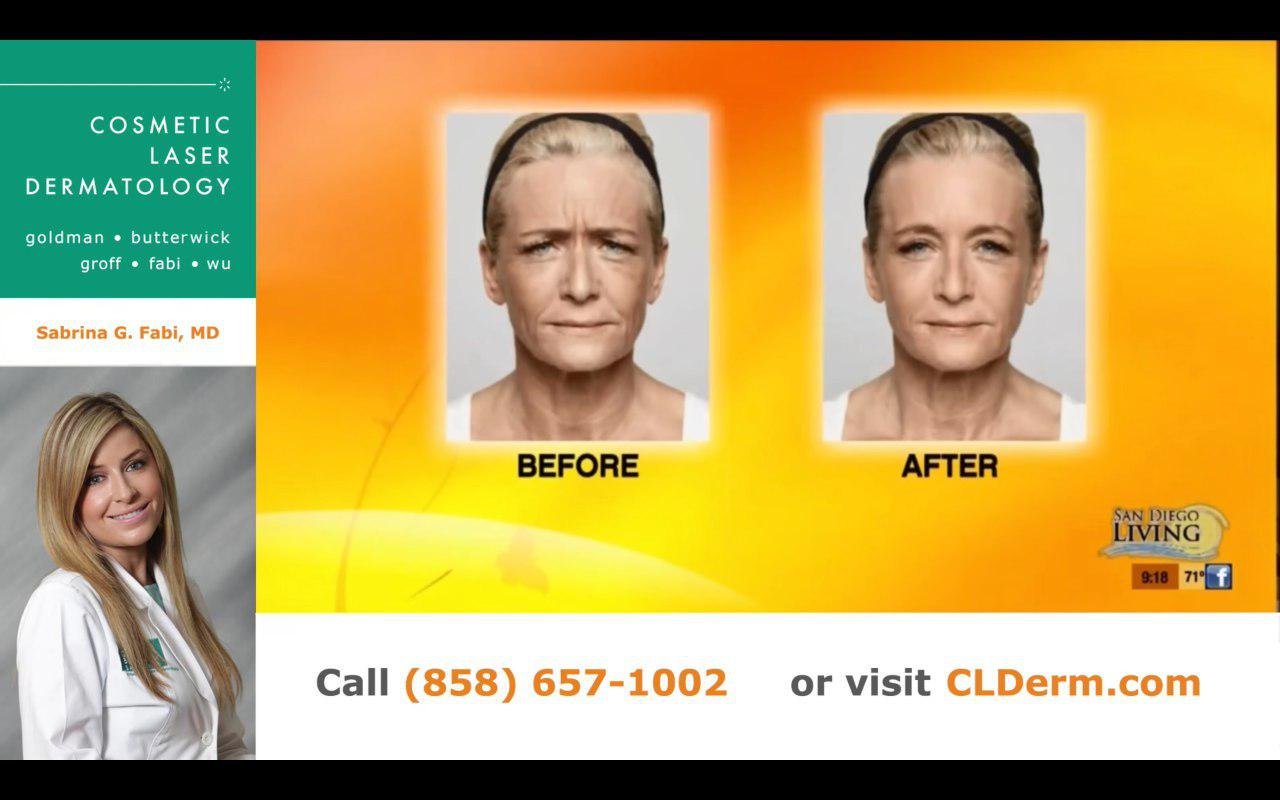 Cosmetic Laser Dermatology in San Diego is proud to offer a variety of treatment options for fine lines and wrinkles, ranging from lasers, to fillers, to Thermage, Fractionated radiofrequency microneedling, Ultherapy, and more. Even better, these treatment options can be combined together for a comprehensive rejuvenation/non-surgical facelift:
Neuromodulators
Botox Cosmetic, Dysport, and Xeomin are effective wrinkle treatments offered at CLDerm. These neuromodulators minimize the effects of wrinkles like crow's feet and worry lines by temporarily relaxing the underlying muscles, smoothing the skin and reducing the appearance of age lines. These treatments are nearly painless and don't require any downtime, partly because of the ultrafine needles used to inject the neuromodulator (they are, in fact, similar to the needles used during acupuncture).
Dermal Fillers
Facial fillers, such as Belotero and the Juvéderm and Restylane line of fillers, are injectables that use hyaluronic acid, the moisturizing substance responsible for helping skin stay plump and hydrated. These dermal fillers replace lost volume "filling in" fine lines, giving the skin a healthy, youthful look.
Other fillers, such as Sculptra and Radiesse, are comprised of substances that not only provide volume but also stimulate the skin's production of collagen, resulting in longer-lasting, natural-looking results. Bellafill, on the other hand, is made with non-reabsorbable polymethylmethacrylate, which provides volume and structural support to the skin.
Our full selection of dermal fillers includes: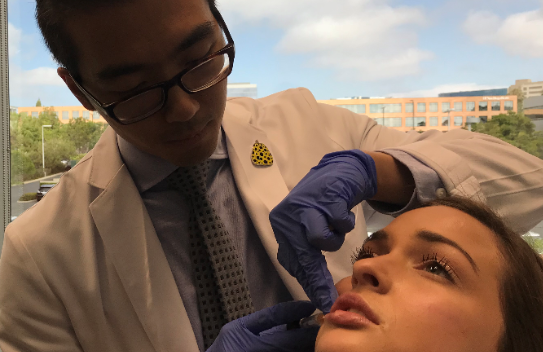 These neuromodulator and dermal filler treatments are non-invasive and quick enough to be lunchtime procedures, so you can get back to your day without skipping a beat.
To learn more about dermal fillers, visit fda.gov
Laser Treatments
At Cosmetic Laser Dermatology in San Diego, we have over 45 different lasers available for a variety of procedures, and many of these lasers are specifically designed to minimize the appearance of fine lines and treat deep wrinkles.
Laser skin resurfacing is one of the top treatments when it comes to treating wrinkles, pigmentation issues, and erasing skin damage caused by sun exposure, scarring, and stress. MedlinePlus.gov has more information on wrinkle treatments.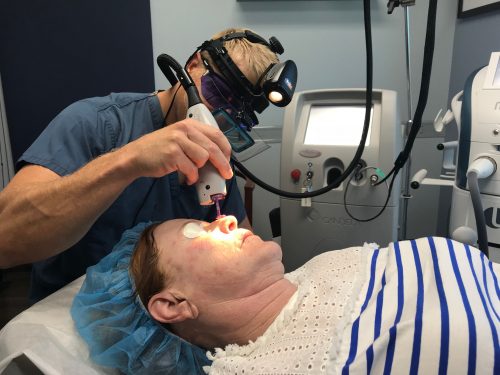 After undergoing fractional laser skin resurfacing, you'll enjoy a balanced skin tone, smoother skin texture, firmer skin, and diminished facial wrinkles.
The wide variety of lasers at Cosmetic Laser Dermatology allows us to provide gentle treatment and excellent results without damaging adjacent tissue. Depending on your condition and aesthetic goals, you may need a series of treatments for full results to achieve the smoother, more resilient, rejuvenated skin you want. One of the best combinations for fine lines and wrinkles is the Lumenis UltraPulse Encore which can be used with the Sciton Erbium laser for a combination laser resurfacing treatment that provides significant improvement for diverse issues like fine lines, pigmentation, sun damage, etc.
Chemical Peels
Chemical peels are a great way to reduce the appearance of superficial lines and wrinkles. When you come in for a consultation, our cosmetic dermatology specialists will assess your skin to determine which peel is best for your unique skin type. We offer a variety of chemical peels to treat individuals of any skin type!
Professional Skincare
No matter what treatment you choose, always follow up your procedure with professional skincare products you can use at home. We have hand-selected the best brands and products to ensure you enjoy healthy, radiant skin every day. We will assess your skin and recommend a personalized skincare program that meets your needs best. No appointment needed!
Photos
Videos
FAQs
Q: What is the best treatment to help reduce the appearance of wrinkles?
A:
The "best" wrinkle treatment varies from person to person, as what works for one individual may not be as effective for someone else. For example, while you may only need minimal treatment for the lower part of your face, someone else may need treatment for the upper part of their face. The best way to determine whether you need a minimally invasive filler treatment like Restylane or Juvéderm, fractional laser resurfacing, or an energy treatment like Thermage or Ultherapy is to schedule a consultation with our team of expert dermatologists.
Q: Which type of doctor should perform treatments for the effects of aging on the face?
A:
To get the safest, most effective results possible without putting yourself in harm's way, you should always have a board-certified dermatologist or cosmetic surgeon perform your non-invasive wrinkle treatment. The specialists at San Diego's Cosmetic Laser Dermatology have the training, skill, and knowledge to help you achieve the aesthetic results you're looking for.
Q: How much are Botox/Dysport treatments at Cosmetic Laser Dermatology?
A:
Because Botox treatments are customized to meet your unique condition, the cost depends on factors such as the area(s) being treated, your aesthetic goals, and the number of units necessary to achieve your goals. Your initial consultation with our team of experts will help determine the cost.
Q: What can I expect from fine lines and wrinkles treatment?
A:
At Cosmetic Laser Dermatology, our team of experts work with you to find the best treatment for your skin. Your dermatologist will perform a complete facial assessment to create a custom treatment plan that addresses your concerns, reduces fine lines and wrinkles, and helps improve the quality of your skin.
Q: Do I have options other than Botox/Dysport to treat fine lines and wrinkles?
A:
Cosmetic Laser Dermatology is home to the latest wrinkle reduction treatments, including Botox, Dysport, Xeomin, Jeuveau, and a broad selection of popular dermal fillers. Our state-of-the-art cosmetic dermatology center also has more than 50 lasers and energy-based devices. Your dermatologist can create a personalized treatment plan that transforms your skin.
Promotions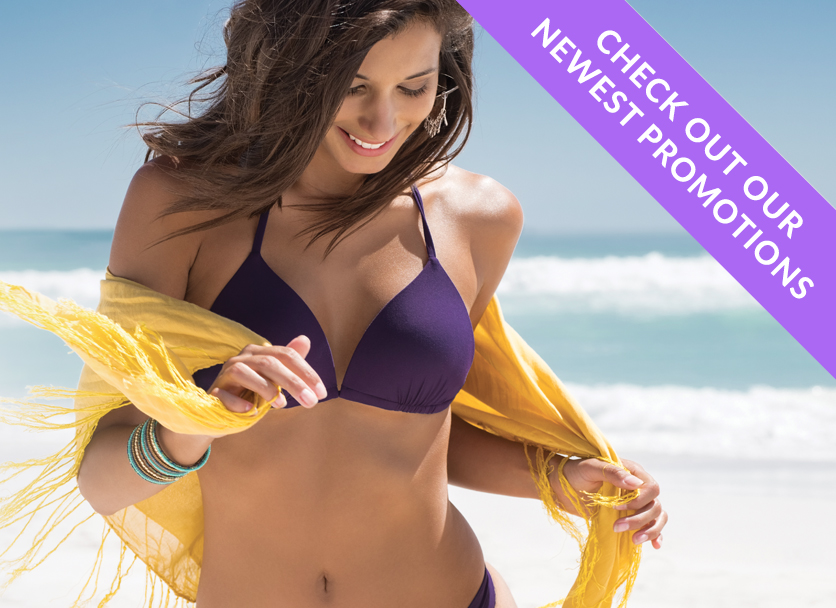 For more information about the monthly specials offered at Cosmetic Laser Dermatology San Diego, visit our Promotions page.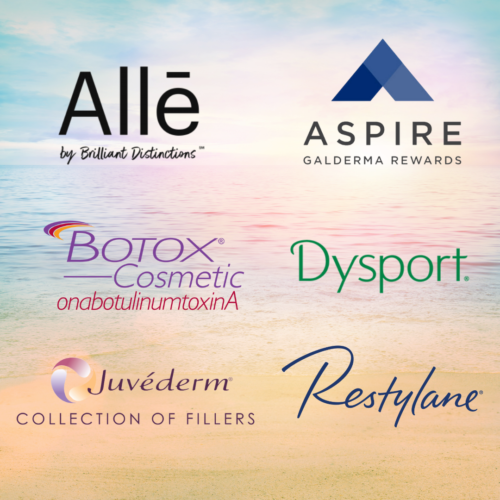 Earn rewards on your Botox Cosmetic, Dysport, Juvéderm, or Restylane treatments and apply your earned points to your next visit to save big. Visit our Rewards Program page for more information.