Laser Hair Removal Overview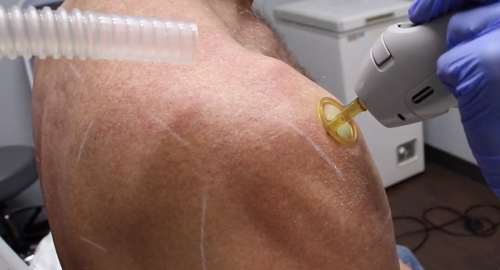 It's no secret that unwanted hair affects both men and women. Common solutions have typically included shaving, tweezing, or waxing, but these options aren't always effective or long-lasting and can cause irritating skin burns, bumps, or nicks.
If you suffer from unwanted hair, you should consider laser hair removal, one of the most frequently performed procedures at Cosmetic Laser Dermatology.
Cosmetic Laser Dermatology was recently named one of the Best Laser Hair Removal Services in San Diego, with an A+ reputation.
A simple, safe, and effective way to remove unwanted hair, laser hair removal can be used almost anywhere on the body.
Face

Neck

Bikini area

Chest

Abdomen

Upper lip

Arms

Underarms

Back

Legs
The benefits of laser hair removal are numerous. These include silky smooth skin, long-lasting results, and fast treatment, but the biggest benefits of laser hair removal include the following:
The ability to treat multiple areas of the body

Precisely clears large areas of unwanted hair

Selectively targets dark hair (while leaving surrounding skin untouched and undamaged)
During laser hair removal, a laser targets the pigment found at the base and the stem cell rich bulge of the follicles during cycles of hair growth. These pigments absorb the laser's energy, inhibiting follicle growth and resulting in the removal of unwanted hair.
Laser Hair Removal for All Skin Types

In the past, it was difficult to remove hair from individuals with darker skin types, since the laser devices struggled with the additional skin pigmentation. However, at Cosmetic Laser Dermatology we have over 50 different laser devices, which means that we can treat ANY skin type and also reduce the risk of hypopigmentation. Regardless of your skin type – from lighter skins like those of Caucasian or Asian descent to the darker tones like those of Indian or African heritage – CLDerm in San Diego, CA will help you achieve the great results you're looking for. Since the laser targets pigment, darker skin types are harder to treat because it has more pigment. Therefore, you should trust your laser hair removal only to the experts in order to avoid hypopigmentation.
Among our 50+ lasers, we have the latest devices with state-of-the-art technology that makes them the best of the best, including:
Cynosure Apogee Elite

Gentlemax Pro

Lumenis M22 IPL

Lumenis One IPL

Lightsheer Duet
Contact Cosmetic Laser Dermatology Today!
If you're suffering from an excess of unwanted hair, look no further than Cosmetic Laser Dermatology! Not only do our laser hair removal specialists have over 100 years of combined dermatological experience, but our San Diego center offers more than 50 lasers, which makes us your go-to experts in cosmetic dermatology and research.
We've treated more than 100,000 satisfied patients for a wide range of skin and hair conditions, so we have the knowledge, experience, and solutions you deserve. To find out more, schedule a consultation today at Cosmetic Laser Dermatology.
What to Expect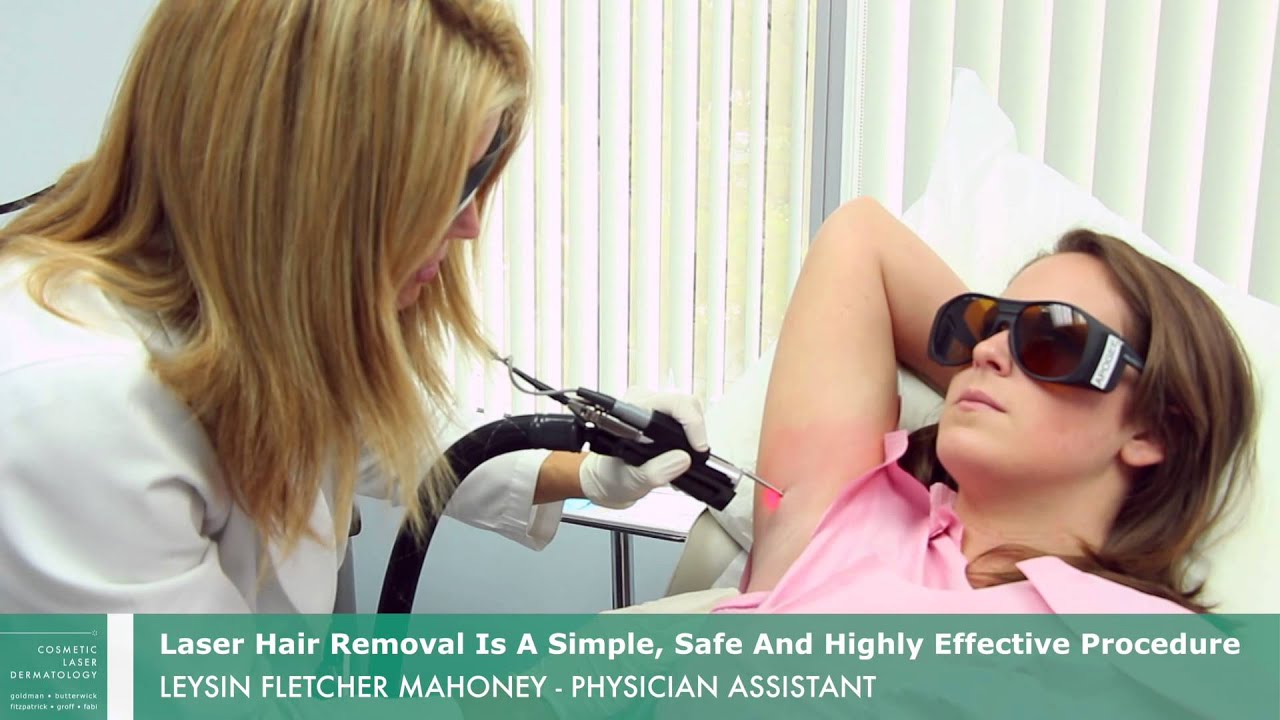 At Cosmetic Laser Dermatology in San Diego, we offer laser hair removal for permanent hair reduction. Leysin is our Physician Assistant and she does the majority of our laser hair removal procedures to help give you the smooth, hairless skin you want.
The laser hair removal procedure targets hair follicles with an intense pulsating beam of light, selectively zeroing in on melanin, a dark pigment found in the hair. In doing so, the laser finds its way into the follicle, heating it up until it is destroyed. The concentrated laser energy is effective yet leaves surrounding skin undamaged.
Read our pre/post-treatment guidelines for laser hair removal.
Are you worried about potential discomfort? You shouldn't be. Laser hair removal is minimally painful. You can expect a sensation like the snapping of a rubber band against your skin, but overall, this procedure is well-tolerated.  We also use cooling techniques (cool air and ice) as well as numbing cream to keep you comfortable!
In most cases, you can return to your daily routine immediately after the procedure. You may experience side effects like inflammation, swelling, stinging or tingling (like with a sunburn), some redness around the hair follicles and tenderness, but these side effects are generally mild and should subside within a week. We recommend that you avoid the sun for the first 3-4 days after treatment and apply ice bags, compresses, topical antibiotics, or anti-inflammatory lotions to reduce the risks of blistering and to relieve discomfort.
In 2-4 weeks, you should have skin that's hair-free and silky-smooth. Visit science.gov to learn more about laser hair removal.
Treatment Guidelines
Before your treatment:
Avoid waxing, plucking, tweezing, and threading for 4 weeks prior to treatment.
No sun tanning, self-tanner or spray tanning 4 weeks prior to treatment.
The treatment area must be clean-shaven.
Remove all makeup and/or lotions.
During your procedure:
Topical numbing cream is optional. If you wish to utilize topical numbing please inform us when you schedule your appointment and we will apply it for 30 minutes prior to treatment.
Cold air or cryogen spray will be utilized during treatment for your comfort.
After your procedure:
It is normal to feel a sensation of heat for a few minutes after treatment.
It is normal to have mild to moderate redness for 4-6 hours after treatment. ​You can use over the counter hydrocortisone cream twice daily to the treated area to alleviate these symptoms.
You may develop darkening/superficial crusting of brown spots for a few days after treatment.
Do not rub, pick, or wipe the treatment area.
You can wear deodorant immediately after treatment.
You can wear makeup immediately after treatment.
Apply sunscreen daily.
Follow up with your physician in ______ days/weeks, or as needed.
 Please contact our office if you have any questions or concerns at (858)657-1002.
Photos
Videos
FAQs
Q: What is laser hair removal?
A: Laser hair removal is an exciting procedure that eliminates the need for regular shaving and/or waxing. By targeting individual hair in the follicles, laser hair removal can treat large areas in just one session, leaving your skin looking and feeling smooth.
Q: How does it work?
A: Our hair removal lasers target the dark pigment in a hair follicle to inhibit future hair growth. By targeting the follicles during the growth cycle, the laser slows the ability of the hair to grow. Multiple sessions are usually required because not all hair follicles have the same growth cycle.
Q: I'm worried that my hair will grow back darker. Is this possible?
A: This is a common myth about laser hair removal. The truth is, instead of your hair growing back thicker and darker, it will grow back slower, lighter colored and thinner than before treatment. It's important to remember that while laser hair removal doesn't result in the permanent removal of hair, it drastically reduces hair growth.
Q: How many treatment sessions will I need?
A: Most likely, you'll need at least 3-5 sessions to get the significant results you want. There are 3 stages of growth – anagen, catagen, and telogen – and the best time to destroy the follicle is when melanin content is highest, which is during the anagen stage. Therefore, sessions spaced 4-6 weeks are optimal for ensuring that all follicles are zapped during the correct phase of growth. A consultation with our hair removal experts to assess your hair type and skin is the best way to know the ideal way to space your treatments apart. Trying to remove hair during the wrong stage of growth is much less effective.
Q: What should I expect after laser hair removal treatment?
A: You can expect to return to your normal daily activities immediately after treatment. We do recommend that you apply sunscreen for the first 48-72 hours on treated areas that are exposed to the sun.
Q: Is laser hair removal safe?
A: Having been the subject of many clinical trials and studies, and having been used for nearly 20 years across the country and world, laser hair removal is consistently found to be a safe procedure that incurs only a few mild side effects, including swelling, redness or irritation, itchiness, and discoloration. However, these typically subside in 7-10 days, if not sooner.
Q: Does laser hair removal cause pain and/or significant downtime?
A: Generally speaking, laser hair removal is not painful. You may feel what seems like a rubber band snapping against your skin when the pulses of laser light penetrate your skin, but this is typically not painful enough to cause serious discomfort.
Q: How long does the treatment take?
A: The length of treatment sessions required varies, depending on the size of the treatment area. Small areas, like the lip, can take only 15-30 minutes, where as larger areas, like the back, can take over an hour.
Q: How much does laser hair removal cost at Cosmetic Laser Dermatology San Diego?
A: Cost depends on the area or areas you want to have treated. If you're having treatment on your lips or chin, for example, the cost will be less than if you're having treatment over your entire back. When you see our doctors for a consultation, they will create a customized treatment plan based on your needs, at which time you'll be able to know the treatment cost for your unique case.
Q: Am I a good candidate for laser hair removal treatment?
A: We have over 50 lasers to choose from, so we can treat almost every hair type. However, if you have light skin and dark hair, you are generally considered the best candidate. We've found that if you have gray hair, fine blonde hair, or red hair, the effects are not as consistent or effective due to the lack of melanin content in hairs of these colors. With our range of laser and light therapy devices, we can provide the hair removal treatment for all skin types to help you avoid hypopigmentation.
Q: Do I need to prepare for treatment in any special way?
A: In general, you should undergo treatment with the palest skin possible. We recommend avoiding unnecessary sun exposure and tanning beds in the 2-4 weeks prior to the procedure. You should also not have your skin plucked, waxed, or have electrolysis performed on the area treated for at least 2 weeks prior. Also, we advise shaving the targeted area 1-2 days beforehand.
Other Options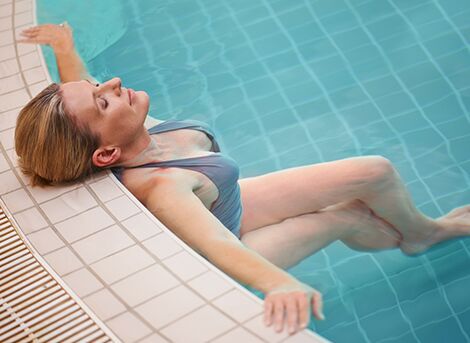 For patients at Cosmetic Laser Dermatology in San Diego, California who want to know about other options for hair removal, shaving, waxing, plucking, or electrolysis are available.  However laser hair removal really is the goal standard and best option! Contact our hair removal experts today to find out which treatment is right for you.
Promotions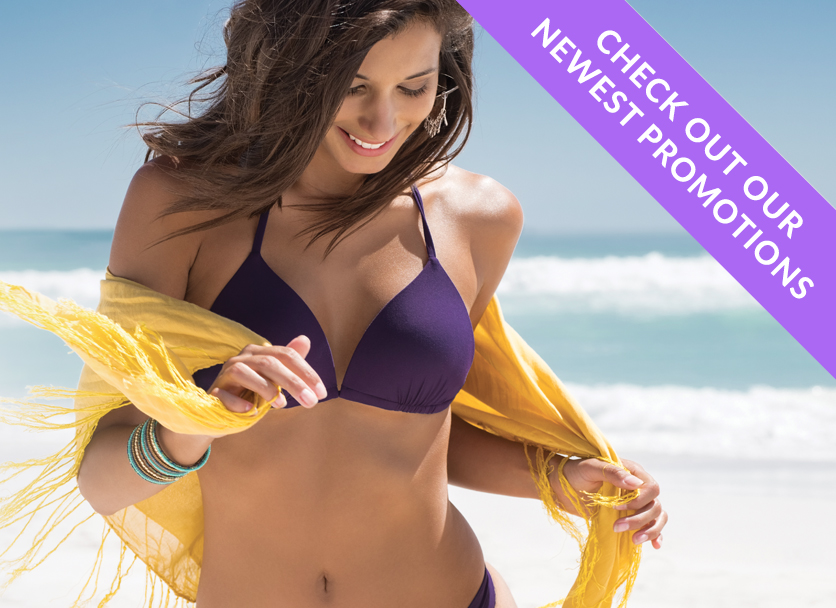 For more information about the monthly specials offered at Cosmetic Laser Dermatology, visit our Promotions page.