Dysport Overview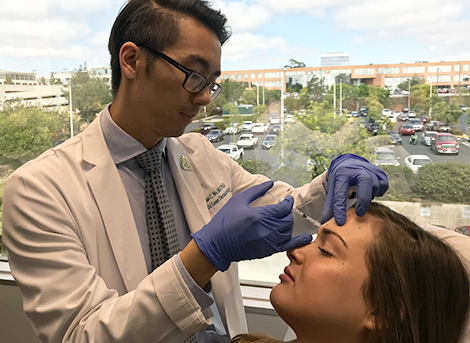 As we age, wrinkles begin to appear as the underlying collagen and elastin fibers break down and wear out in the skin. Additionally, wrinkles appear over time due to repeated movements of the facial skin, most commonly around the eyebrows, mouth, and eyes. At Cosmetic Laser Dermatology in San Diego, our skin specialists use neuromodulator injections to help prevent new wrinkles from appearing. Dysport is one such treatment.
Dysport is particularly effective for treating dynamic facial wrinkles that develop as a result of facial expressions and muscles movements, such as when talking, smiling, or frowning. This treatment is used for correcting the following issues:
Forehead lines
Crow's feet
Glabellar lines (also known as frown lines or the "11s")
Chin dimples
Lip Lines
Bunny Lines
Gummy smile
Drooping brow line
TMJ
Enlarged masseter muscle
Neck bands
How Long is a Dysport Treatment Session?:
Due to the expertise of our board-certified dermatologists, an appointment for Dysport injections only takes about 30 minutes to 1 hour. As a result, patients can come in for a cosmetic injectable treatment on their lunch break!
Is There Anesthesia?:
No anesthesia is required, because the injections come with little to no pain.
In/Outpatient?:
Dysport injections are performed on an outpatient basis.
Side Effects:
Common, but temporary, side effects include:
Slight pain
Numbness
Headaches
Recovery:
There is no downtime associated with Dysport injections, and patients can apply makeup immediately after treatment.
What Areas of the Face is Dysport Used to Treat?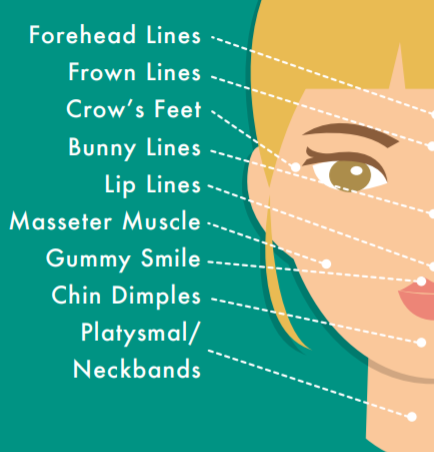 Dysport can be used on various parts of the face in order to reduce facial lines and wrinkles by relaxing the muscles that cause wrinkles. These sections of the face include:
Forehead lines
Frown lines
Crow's feet
Bunny lines
Lip lines
Masseter muscle
Gumy smile
Chin dimples
Platysmal/neckbands
What Demographic is Dysport Made For?
Wrinkles are not only age-related. Frown lines are "dynamic" – they happen because of the way a person's face moves.  Because frown lines are created by facial movements such as frowning or squinting, they may develop even in younger adults. Neuromodulators are used to treat moderate to severe frown lines in adult patients less than 65 years of age. Additionally, Dysport isn't just for women. Statistics show that between the years of 2000-2014, the number of men who have used Dysport increased fourfold.
To learn more about Dysport, visit fda.gov
Schedule Your Free Dysport Consultation at Our San Diego Medical Spa
To learn more about Dysport or to schedule a consultation with our board-certified dermatologists, feel free to contact us through our online form.
What to Expect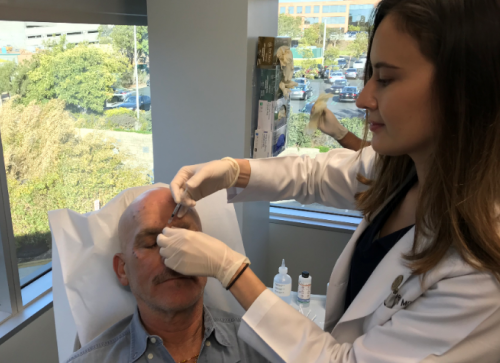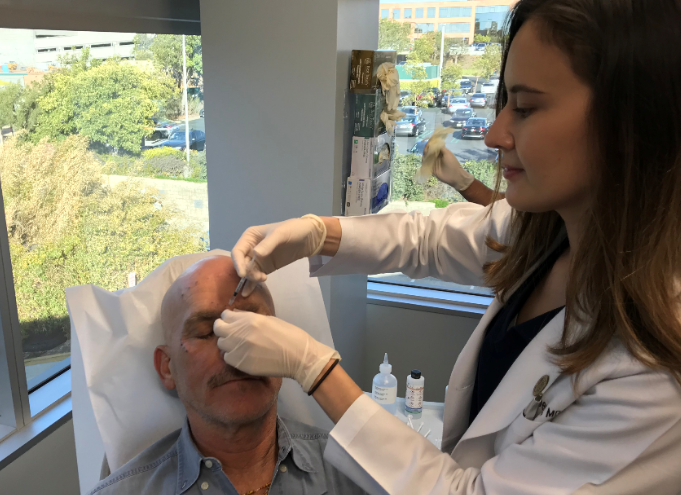 At Cosmetic Laser Dermatology in San Diego, our skilled injectors have decades of experience using Dysport to address unwanted facial lines and wrinkles using a skilled hand and artistic eye. The results are subtle and natural-looking.
Dysport is injected directly into the muscles that cause facial wrinkles, temporarily relaxing them. It stops the nerve signals to the muscles, ultimately resulting in a reduction of muscle activity and temporarily preventing contraction of the muscles that cause frown lines.  Relaxing these muscles will decrease the tension that they place on the skin, allowing the wrinkles to flatten out. After treatment, the overlying skin remains smooth and unwrinkled.
The untreated facial muscles continue to contract normally, leaving your normal facial expression unaffected. The results generally last 4 – 6 months.
In most cases, patients experience minimal to no side effects as a result of Dysport injections. As with most injectable cosmetic procedures, Dysport can cause localized swelling, tenderness, redness, bruising, swelling, or inflammation.  If you do experience any of these side effects, don't worry, they will go away within a few days.
Treatment Guidelines
During your procedure:
An assessment will be made by your physician to determine appropriate dosage and product.
Multiple injections will be administered to treated areas.
You may feel a mild cooling and crunching sensation to the areas where product is being injected.
Immediately after injections you may see a small bump. This is the product and it usually subsides in about 20-30 minutes.
You may have a very small amount of pinpoint bleeding where the needle was inserted. This usually subsides in a few minutes.
After your procedure:
You may use your regular skin care products and make-up.
You may get a bruise from the injections. If so, you are welcome to come into the office the following day and have the bruise(s) treated with a laser to assist in clearing up the bruise, at no charge.
You may also take Arnica pills before and/or after the treatment to decrease risk of bruising and to help any bruises you have to subside faster. We have Arnica available for purchase.
It takes anywhere from 1-7 days to see the effects of your treatment, maximum onset is at about 2 weeks and results last about 3-4 months.
Follow any specific post treatment instructions from your physician.
Follow up with your physician in ______ days/weeks, or as needed.
 Please contact our office if you have any questions or concerns at (858)657-1002
Photos
Videos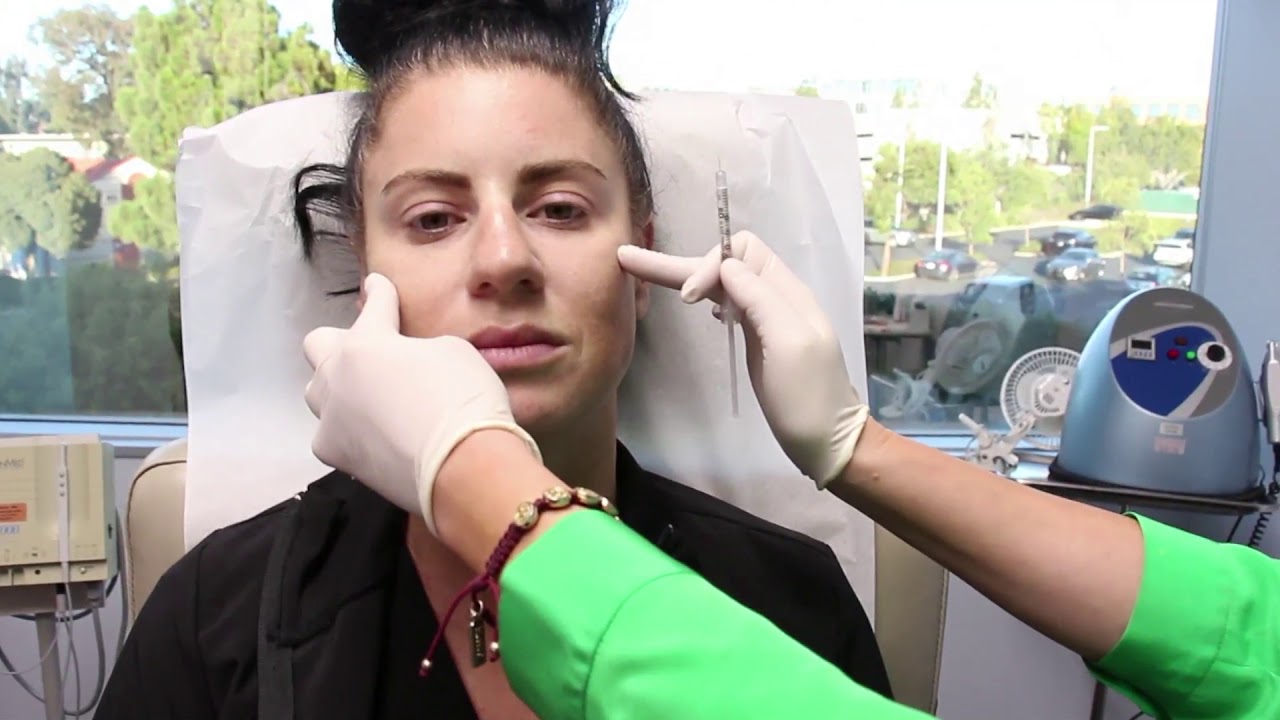 Dysport to Slim the Lower Face (2:19)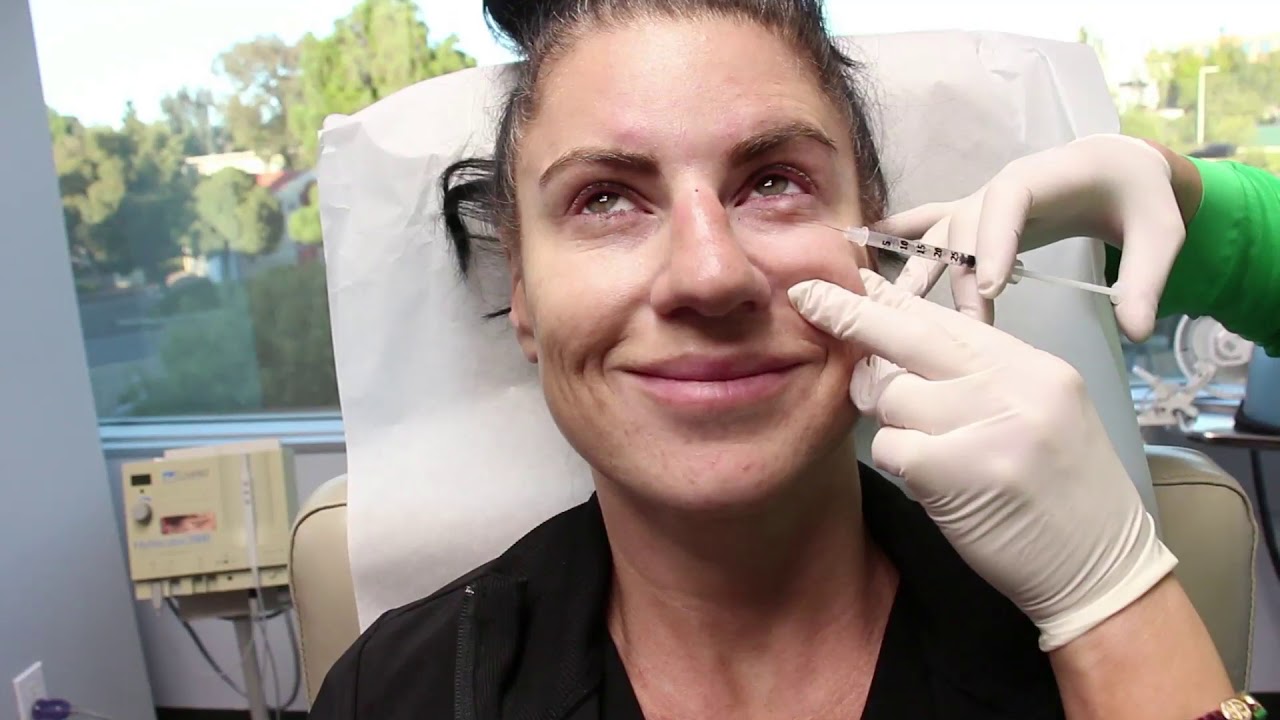 Dysport Injections to the Glabella, Crow's Feet and Bunny Lines (4:11)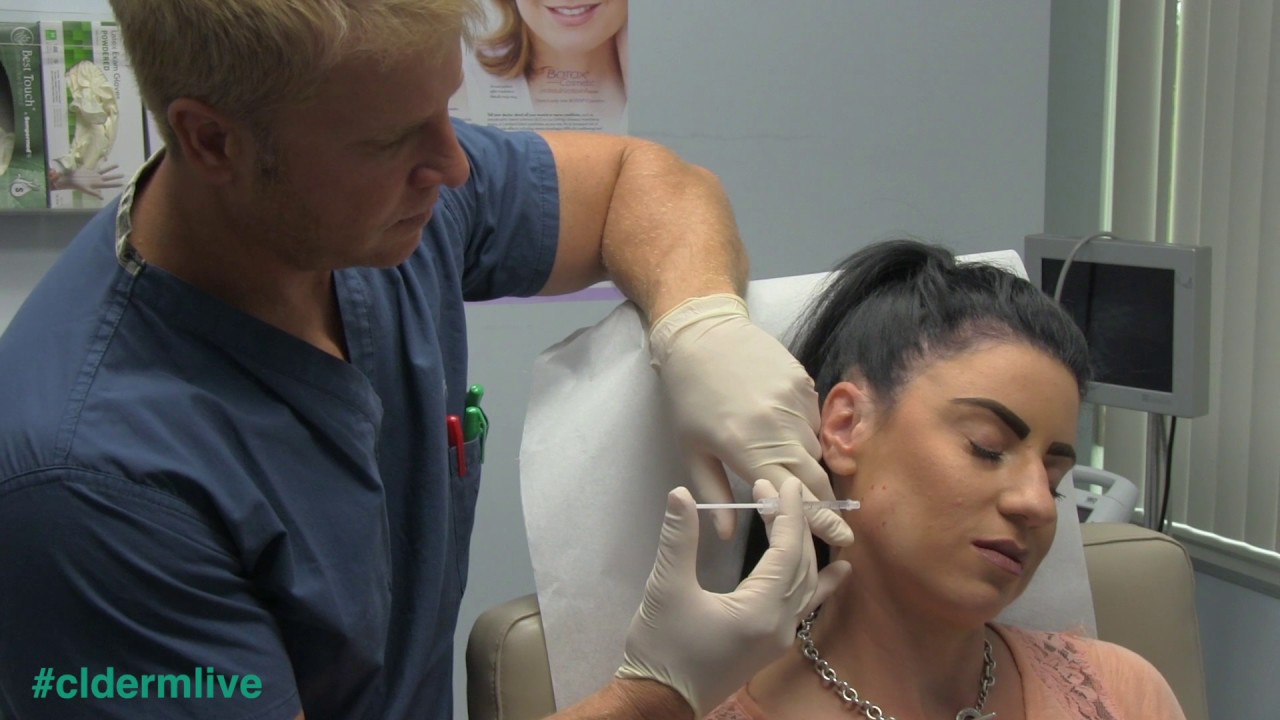 Slimming the Jawline with Dysport (1:31)
FAQs
Q: What is Dysport?
A: This neuromodulator can be used to treat frown lines, crows feet and forehead furrows. It blocks nerve impulses, relaxing the underlying muscles. This stops the muscles from contracting and allows the wrinkles to relax. These injections result in smooth, wrinkle-free skin. Learn more about Dysport at dysportusa.com.
Q: How many treatments are recommended for optimal results?
A: Usually only one treatment is necessary. However, once it wears off, it is safe to come back for another round of injections.
Q: When will I start seeing results?
A: Full results will be visible within one week.
Q: How much recovery time is needed?
A: There is no downtime. You can return to your daily activities and apply makeup immediately following Dysport injections.
Q: How much does it cost?
A: Each patient's needs are unique and therefore cost varies among patients. On average, the cost of Dysport is normally $300-$450 to get rid of frown lines. Call our office and schedule a consultation with any of our doctors at our San Diego office to see how much your personalized treatment will cost.
Q: Do Dysport injections hurt?
A: Generally, the injections are painless. However, if the patient wants, a topical anesthetic may be applied before the procedure to minimize discomfort.
Other Options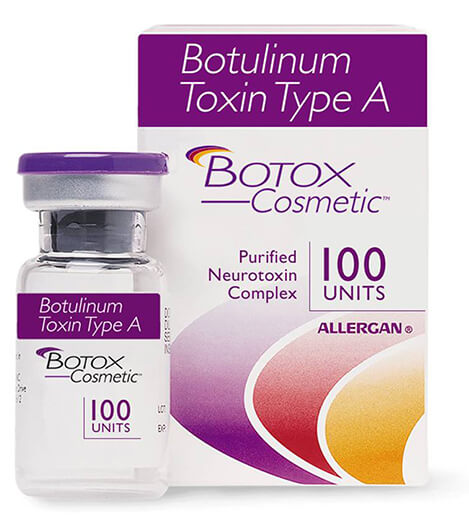 Promotions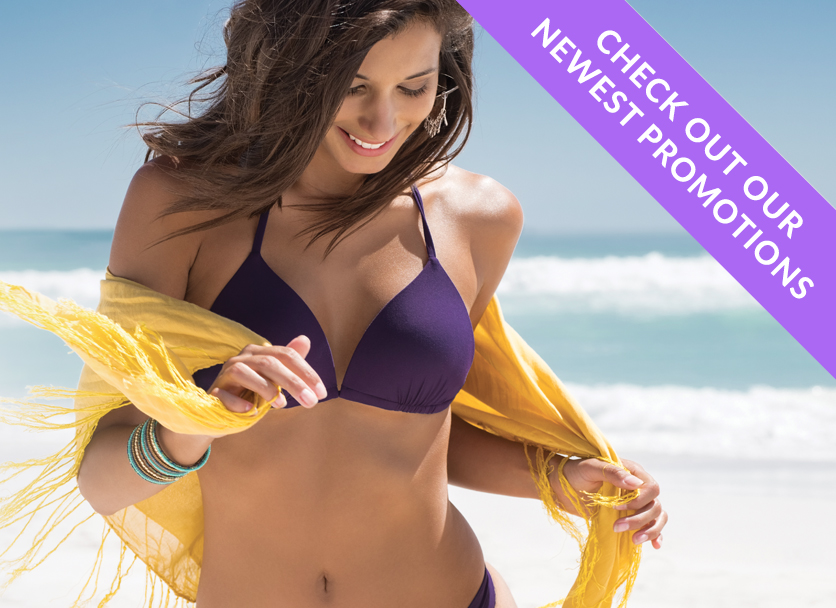 For more information about the monthly specials offered at Cosmetic Laser Dermatology San Diego, visit our Promotions page.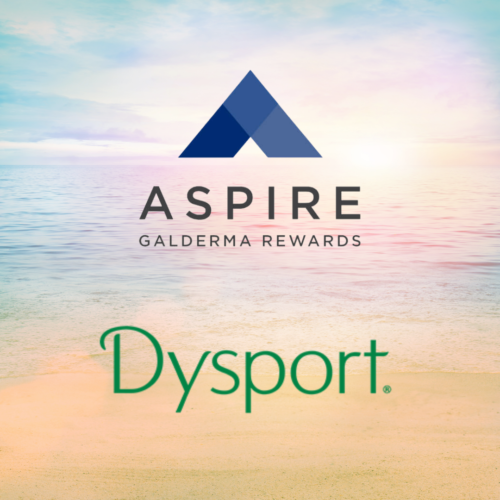 Earn rewards on your Dysport treatment and apply your earned points to your next visit to save big. Visit our Rewards Program page for more information.