Clear + Brilliant Overview
Clear + Brilliant is a laser skin resurfacing treatment that combats the signs of aging by providing a smoother skin tone and texture. Seen as a less invasive and gentler alternative to traditional fractional laser resurfacing, the Clear + Brilliant treatment system is an innovative procedure that gives patients noticeable results without damaging the skin. Patients with uneven pigmentation, sun damage, brown spots, and large pores can undergo a Clear + Brilliant treatment in order to give the face a fresh and rejuvenated appearance.
Clear + Brilliant treatment uses focused and precise laser energy to help minimize and refine the pores and reduce the appearance of fine lines and wrinkles. Unlike other aesthetic and skin resurfacing treatments, Clear + Brilliant has minimal risk of side effects, and is so gentle and non-invasive that most patients can go straight from the dermatologist's office back to work, or on to a night out on the town immediately following a treatment in San Diego!
Benefits
Combined with professional skincare products, Clear + Brilliant treatments can be part of a comprehensive plan to keep the skin looking smooth, blemish free, and youthful. Some of the many benefits of the procedure include:
   Non-surgical and non-invasive
   No scarring or downtime
   Little to no side effects in most cases
   Compliments patient's existing skin care program and routine
   Visibly reduces the appearance of pores, fine lines, and wrinkles
   Milder than other skin resurfacing procedures and chemical peels
Clear + Brilliant Permea
Clear + Brilliant Permea helps aid the absorption of topical serums into the skin, allowing greater permeability and increased effectiveness of topical serums. Using Clear + Brilliant Permea before application of topical antioxidant serum results in a more uniform tone and brightness to the skin following application, and patients who use this treatment report a significant overall improvement in skin tone and texture.
Another benefit of Clear + Brilliant Permea is that it is effective on darker skin tones. With Permea, there is no risk of post-inflammatory hyperpigmentation, making it one of the safest choices for those with darker skin tones. Often, darker-skinned men and women have difficulty finding laser treatments that work safely and effectively on their skin, but Clear + Brilliant Permea provides a solution! Dark-skinned men and women now have a means of taking advantage of laser technology to smooth and rejuvenate their skin. Try Clear + Brilliant Permea in San Diego and watch your skin transform!
Are You a Good Candidate for Clear + Brilliant Treatments?
Due to its gentle, non-invasive nature, Clear+Brilliant is a good option for people of all skin types looking for a mild procedure that can effectively reduce fine lines and wrinkles and maintain their skin's healthy, youthful appearance. Many people with healthy skin and a skincare routine that works begin to notice the signs of aging by way of fine lines and wrinkles, generally around the eyes and mouth. Enlarged, prominent pores are also reduced and refined with Clear+Brilliant treatments.
Even with a regular skincare routine, the skin can become susceptible to buildup from products, dirt, and dead surface skin cells over time, making it more difficult for moisturizers and creams to be absorbed by the skin, making it more susceptible to breakouts, dryness, and aging. Clear+Brilliant laser treatments are designed for people who are mostly satisfied with the general appearance of their skin and are looking for an advanced treatment to boost the effectiveness of their current routine and to maintain their skin's health, texture, and youthful glow.
Speak to a board-certified dermatologist at Cosmetic Laser Dermatology in San Diego for a comprehensive examination and recommendation for the most appropriate treatment to rejuvenate and restore the skin's vitality.
What to Expect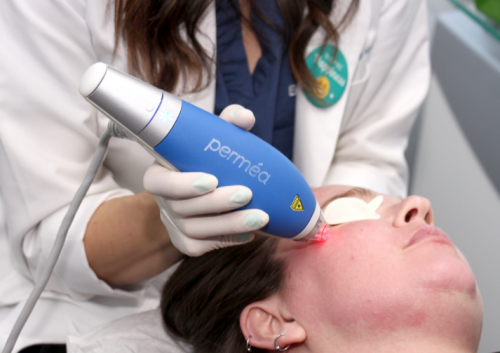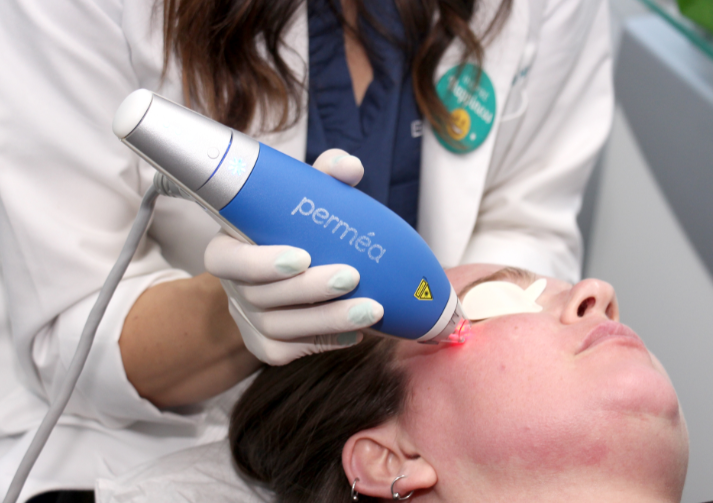 The Clear + Brilliant procedure is a great option for men and women looking for a comfortable, non-invasive treatment to correct minor skin imperfections and the most common signs of aging. Practicing healthy lifestyle habits like abstaining from smoking, limiting alcohol consumption, eating a balanced, healthy diet, getting enough sleep and regular exercise, and maintaining a good daily skincare routine will help to keep the skin looking clear, and help to keep the effects of aging at bay.
In order to keep the skin looking as smooth, clear, and youthful as possible, professional cosmetic laser treatments and a regular at-home skincare regime should be complemented with healthy lifestyle and wellness habits.
Read our pre/post treatment guidelines for Clear + Brilliant.
As with overall health and disease prevention in the body, one of the most important factors in keeping the face and neck looking healthy and youthful are drinking sufficient amounts of water every day, and eating a balanced diet rich in fruit and vegetables and low in refined sugars and highly processed foods. Minimizing alcohol consumption and avoiding tobacco are also critical in order to preserve the skin's appearance and health.
Protecting the skin from sun exposure and getting enough sleep on a consistent basis is also essential to preventing damage and slowing down the aging process. Even with the best skin care routine, bad habits and overexposure to the sun can lead to irreparable skin damage and premature aging. clearandbrilliant.com explains how this laser is an important factor in looking younger and healthier.
Treatment Guidelines
During your procedure:
Topical numbing cream will be applied to the area being treated for 30-60 min prior to
treatment.
Your eyes will be protected.
There will be multiple passes made over the treatment area with the handpiece.
Cold air will be applied directly to the skin surface as treatment is being performed to
help decrease sensation of heat and to protect the surface layer of your skin.
After your procedure:
You will feel a sensation of heat/sunburn that will subside within a few minutes. It is ok
to take Tylenol or Ibuprofen.
Redness and very mild swelling may occur and last for a few hours.
Your skin will feel rough to the touch, like fine sandpaper for a few days.
You may develop darkening/superficial crusting of brown spots for a few days after
treatment.
Apply sunscreen with Zinc Oxide and/or Titanium Dioxide daily. Please be aware UVA
rays penetrate through windows.
DO NOT RUB, PICK OR WIPE THE TREATMENT AREA.
OK to shower day of procedure.
You can wear make-up (unless instructed otherwise by your physician) as long as you
are not rubbing, picking or wiping off the skin surface of skin when applying or removing
make-up.
Gentle cleansing with the fingertips is fine.
DO NOT use a washcloth or the Clarisonic to cleanse until the skin returns to normal
(3-5 days).
Follow any additional specific post-treatment instructions from your physician.
Please contact our office if you have any questions or concerns at (858)657-1002.
Photos
Videos
FAQs
Q: What is the Clear + Brilliant laser treatment?
A: Clear + Brilliant is a laser system that reduces the signs of aging and provides patients with a glowing, even skin tone and texture. It is a less invasive and gentler option than fractional laser treatments such as Fraxel Re:Pair.
Q: Is Clear + Brilliant safe?
A: Clear + Brilliant is very safe and does not damage the skin in any way. Clear + Brilliant is so gentle that it is even safe for darker skin tones! It is seen as a great alternative for patients who do not want to undergo more invasive laser treatments.
Q: Is Clear + Brilliant painful?
A: The procedure is virtually painless, however our skincare experts will take necessary measures to ensure each patient is completely comfortable during the procedure.
Q: Is there any downtime required after a Clear + Brilliant treatment session?
A: There is no downtime required after the treatment session is completed and patients can resume their normal daily activities with no recovery period necessary. This is similar to the IPL Photofacial treatment, which also requires minimal downtime and has little side effects.
Q: Are there side effects from Clear + Brilliant?
A: The day after the treatment, the patient's face may appear slightly red as if sunburned. However, this can be covered up with makeup. There is no scabbing, peeling, or crustiness after a Clear + Brilliant treatment.
Q: How do I know if I am a good candidate for Clear + Brilliant?
A: During your initial consultation with one of our expert dermatologists, they will be able to determine if the Clear + Brilliant treatment is ideal for your skincare needs. Clear + Brilliant is recommended for patients who are looking for a gentle, yet effective laser treatment to reduce the signs of aging or sun damage.
Other Options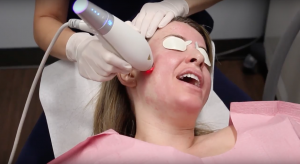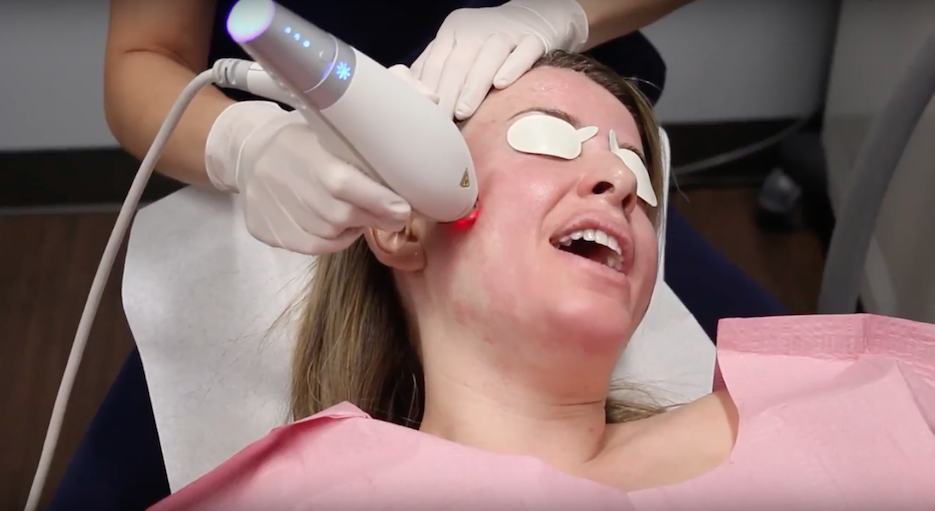 Cosmetic Laser Dermatology in San Diego offers advanced treatments for all skin types and problems, from resurfacing and aesthetic treatments to dermal fillers, vein treatments, and liquid facelifts. Some of the many state-of-the-art cosmetic treatments available in San Diego include:
Refresh the youthful appearance of your skin with the innovative Clear + Brilliant laser treatment system or an IPL photofacial which also offers complete facial rejuvenation with little downtime! Let the skin care specialists at Cosmetic Laser Dermatology help you rejuvenate your skin for a healthy and vibrant glow!
Don't wait to contact our San Diego laser experts to learn how you can significantly diminish the signs of aging with these cutting-edge age-reversing treatments. Call us at 858-943-2113 today!
Promotions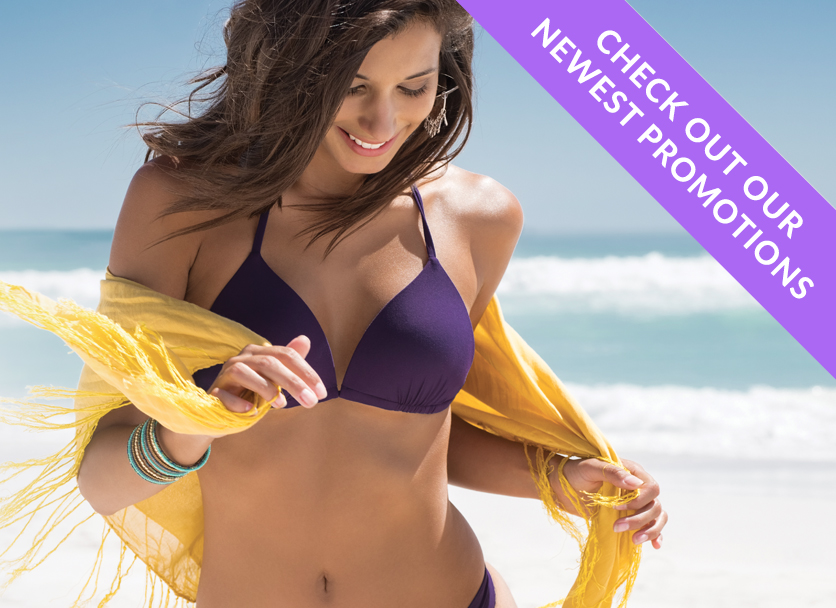 For more information about the monthly specials offered at Cosmetic Laser Dermatology in San Diego, visit our Promotions page.
5/5 Stars
"I love and appreciate the professionalism, knowledge, warmth, and extraordinary care from the team at Cosmetic Laser Dermatology."
- Alejandro S.
5/5 Stars
"If I could give this office 10 stars I would! I've never been to such an incredible office where everyone was so sweet, helpful, and professional!"
- Jessica V.
5/5 Stars
"I had such an awesome experience for my first visit and I am referring everyone I know to this office. From the super friendly staff to the state of the art procedures, they are the cream of the crop."
- Dinah M.