Fraxel Re:store Dual Overview
Fraxel Re:store Dual is is a fantastic  laser treatment for reducing the appearance of unsightly brown spots on the skin. In fact, our dermatology experts have completed more Fraxel Re:store Dual procedures than any other medical practice in the world. If you are looking for treatment for brown spots in San Diego, look no further than the offices of Cosmetic Laser Dermatology!
What is a Fraxel Laser?
Fraxel lasers are fractional laser devices that work by creating micro injuries in the skin to trigger the body to regenerate cells and boost collagen production. This healing process results in skin that is clearer, smoother, and more youthful as sun damage and pigmentation irregularities are addressed. Fractional lasers offer the advantage of working deeply into the dermal structure while leaving surrounding skin and tissue intact. The result is dramatic improvement to the skin with little or no downtime after treatment.
Re:store Dual  is the latest generation of the Fraxel laser. This device uses two different wavelengths to address more severe skin concerns. The Erbium 1550 nm wavelength has been updated from earlier versions and is faster and more effective.  The Thulium laser is a superficial laser that is more efficient than the Erbium. It also has a 1927 nm wavelength, allowing for more precision when targeting troublesome areas, leaving more surrounding tissue unharmed.
To make the skin resurfacing procedure even safer and more comfortable, the Fraxel Dual has a focal cooling technique that limits burning or pain during the procedure.
This dual Fraxel laser is gentle and safe enough for both the face and the body, and both wavelengths can be combined into one treatment session. Treatment is very tolerable – many patients in San Diego don't require a topical numbing agent, although it is available for any patient who wants to ensure a comfortable, virtually painless session.
The Differences Between Re:store Dual and Re:store
The differences between Fraxel Re:store and Fraxel Re:store Dual might seem small, but they are noticeable and significant. Simply put, the two capabilities of the Dual offer a more thorough treatment for more advanced skin issues than the single laser of the Re:store, including the following:
Improved Erbium 1550 nm laser means fewer treatments
Integrated cooling for the Thulium 1927 nm laser creates a more comfortable experience for patients
Treatment is more precise for better elimination of brown spots
Versatility to treat multiple conditions at one time, including acne scars, surgery, or injury
Dual lasers combine for deeper treatment to stimulate more collagen production
Quicker procedure (15 minutes or less to treat the face)
Balanced application of the laser leads to smoother skin texture and tone
The combination of two lasers often produces more swelling and redness than with each laser by itself. For many patients, this results in 2-3 days of social downtime, but the dramatic results are worth it. For mild skin complaints or a more gradual treatment plan, the Fraxel Re:store laser is often recommended. Our doctors will help you understand the differences between the treatments to ensure you choose the best Fraxel laser treatment for you.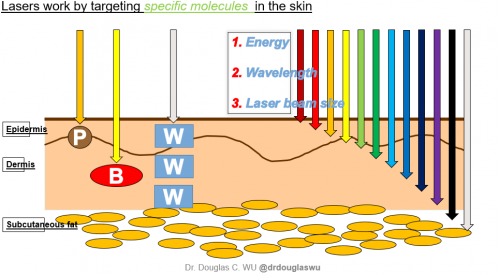 Fraxel Dual For Asian Skin
Did you know that Asian skin is more prone to a skin condition called melasma? Melasma causes patchy brown spots to appear on the face. The dermatology experts at Cosmetic Laser Dermatology can use the Fraxel Dual treatment to penetrate deep into the skin and help Asian patients eliminate the effects of melasma without damaging the skin further.
Schedule a Fraxel Dual consultation at our San Diego medical spa
Our board-certified dermatologists are currently accepting new patients and would be happy to discuss whether Fraxel Dual is the right treatment for you. Trust your skin to the dermatology experts.
What to Expect
Treatment
A Fraxel Re:store Dual treatment is quick with minimal discomfort involved. Patients worried about their comfort level during the procedure can request a topical numbing cream. A handheld applicator is rolled across the skin's surface to deliver the laser energy into the dermal layers. Multiple passes ensure the skin is treated evenly to produce a consistent result. Integrated cooling keeps skin at a comfortable level throughout.
Read our pre/post guidelines for Fraxel Re:store Dual.
Recovery
Recovery typically involves redness and swelling during the first 2-3 days, followed by 2-3 days of skin flaking. You may want to take 2-3 days of social downtime until the appearance of your skin improves, although this varies from patient to patient. We will recommend professional skin care products to use at home that will promote healing and enhance your results.
Results
One treatment in our San Diego office can result in noticeably clearer skin within 7-10 days. The duration of a patient's results depends on the extent of the skin problem and the patient's goals, as well as sun protection habits and hormone activity.
Treatment Guidelines
During your procedure:
There will be multiple passes made over the treatment area with the handpiece.
The handpiece is "rolled" on the surface of the skin.
The sensation of heat (similar to grease "splattering") increases as the treatment
continues.
Cold air is applied directly to skin surface as it is being treated to help decrease
sensation of heat.
After your procedure:
You will have a sensation of heat/deep sunburn that will subside gradually after the
procedure. You can take Tylenol 500-1000mg or Ibuprofen 400-600mg to address any discomfort.
You will also experience redness and mild swelling.
Apply sunscreen with zinc oxide or titanium dioxide daily. Protect the treated area from
the sun with a hat, sunglasses and sunscreen. *UVA rays will penetrate
through windows, so protect your skin even when you are indoors.
Apply ice packs (20 min. on, 20 min. off) the day of your procedure and the following day to reduce the sensation of heat and minimize swelling. Protect the skin with a gauze pad or handkerchief before applying ice to skin to avoid ice burn.
Swelling typically peaks between 48 and 72 hours after the procedure. Sleeping with your head elevated on 2 to 3 pillows for the first 3 nights will help minimize swelling.
NO RUBBING, PICKING OR WIPING TREATMENT AREA.
You may shower the day of your procedure.
Gentle cleansing is fine—we have skincare productshttps://clderm.com/procedure/skincare/ you can purchase or you
can use Cetaphil cleanser (over the counter in the pharmacy).
A superficial, grainy crust and redness is a normal development after the treatment, which could last up to 1 week.
Apply moisturizer as often as needed to help with dryness. Our staff can advise you on which moisturizer is most effective.
You can wear make-up if approved by your physician. However, avoid rubbing,
picking or wiping off the surface of the skin when applying or removing make-up.

[/half_content]
Photos
Videos
FAQs
Q: Who Is A Good Candidate For The Fraxel Re:store Dual Treatment?
A: Candidates for Fraxel Re:store Dual in San Diego include people who want to diminish the appearance of brown pigmentation and hyperpigmentation on their skin using a minimally invasive procedure that requires little to no downtime. The Fraxel Re:store Dual treatment requires multiple treatment sessions, however, the process yields results that can be seen both instantly and gradually over time.
Q: How Does The Fraxel Re:store Dual Treatment Work?
A: The Fraxel Re:store Dual is a unique and revolutionary laser treatment that combines two lasers into one! The Fraxel Dual contains an additional laser wavelength that is extremely effective in reducing the appearance of brown spots and hyperpigmentation. The laser treatment goes deep into the skin to promote new and healthy skin cell growth. Fraxel Re:store Dual is a fractional treatment, meaning that the laser targets one portion of skin tissue at a time and does not affect the surrounding tissue. Unlike other methods to treat brown spots, Fraxel Re:store Dual for brown spots is a less invasive procedure that requires little to no downtime for recovery!
Q: How Long Will My Procedure Take?
A: The amount of treatment time will depend on the size of your treatment area and whether you choose to have numbing cream applied before your procedure. Most patients are in and out of our office within one hour or less.
Q: How Many Treatments Will I Need?
A: Patients often see best results after a series of treatment sessions. However, the right plan for you will depend on the severity of your skin issues and the results you hope to achieve. Improvement occurs after every session.
Q: When Will I See Results?
A: Patients often see improvement in their skin once the side effects subside. However, your full outcome may not be apparent for up to six months as the skin continues to heal itself at a cellular level and collagen levels increase.
Other Options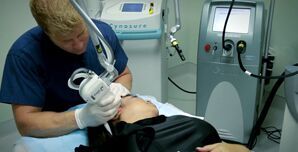 Our world-renowned team of dermatology specialists at Cosmetic Laser Dermatology in San Diego can provide more information about alternatives for Fraxel Re:store Dual, such as microdermabrasion and IPL treatments that can also treat your unsightly and embarrassing brown spots and hyperpigmentation.
Promotions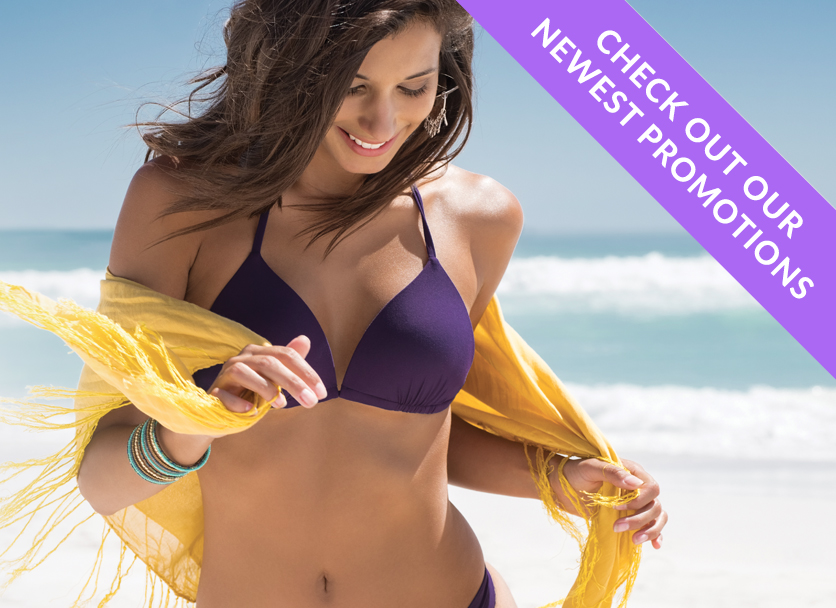 For more information about the monthly specials offered at Cosmetic Laser Dermatology in San Diego, visit our Promotions page.
5/5 Stars
"If I could give this office 10 stars I would! I've never been to such an incredible office where everyone was so sweet, helpful, and professional!"
- Jessica V.
5/5 Stars
"I love and appreciate the professionalism, knowledge, warmth, and extraordinary care from the team at Cosmetic Laser Dermatology."
- Alejandro S.
5/5 Stars
"I had such an awesome experience for my first visit and I am referring everyone I know to this office. From the super friendly staff to the state of the art procedures, they are the cream of the crop."
- Dinah M.