Ultherapy Overview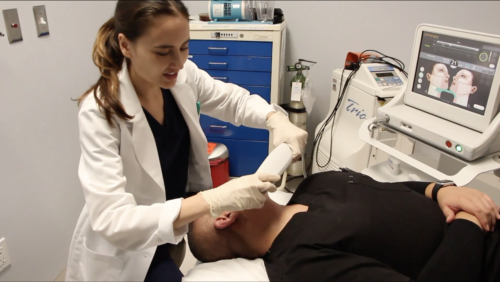 Aging and sun exposure causes the skin to lose both its firmness and elasticity, which leads to laxity and sagging. For a long time, the only way to address loose skin was through surgery, which entailed pain and discomfort, significant downtime, and even scarring.
Not anymore. Lax skin can now be treated non-invasively with Ultherapy at our San Diego office!
And nowhere can you get the results you want than from the board-certified dermatologists at Cosmetic Laser Dermatology in San Diego, California. In fact, our experts were among the first practices in San Diego to offer this cutting-edge, non-surgical skin-lifting procedure, having participated in the clinical trials necessary to receive FDA approval for the device. We remain committed to rejuvenating your appearance with safe, effective treatments like Ultherapy.
The Secret to Ultherapy
Ultherapy is a noninvasive procedure that uses the safe and gentle effects of focused ultrasound to tighten facial and neck skin. The focused ultrasound energy targets the deep layers of tissue traditionally targeted in surgical facelifts.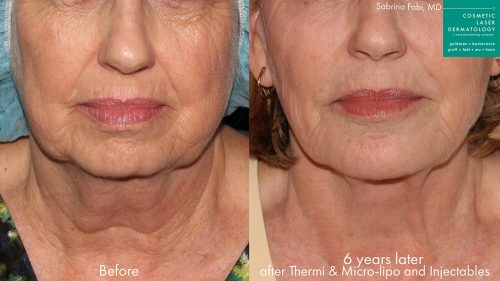 Without incisions or damage to your skin, Ultherapy's ultrasound waves deliver focused heat to a targeted
specified depth, which stimulates the production of collagen, resulting in an increased amount of collagen in the skin. As your skin gradually firms and tightens, you end up with a firmer appearance that looks natural.
Ultherapy is the ONLY device with both an indication for "lift" AND an indication for the neck and submentum. What does this mean? Your skin is lifted and tightened by the gentle heat that the tissue absorbs without cutting or disrupting the skin. Furthermore, as new collagen is created, your skin retains its youthfulness.
In 2015, Cosmetic Laser Dermatology earned the classification of Ultra Premier Treatment Provider for Ultherapy. Our skin-tightening and -lifting experts are elite providers for this cutting-edge treatment,  putting us among the top 10% in the country.
Ultherapy Non-Surgical Neck Lift
Time and gravity can cause noticeable lines (platysmal bands) and saggy skin to develop around the neck, eventually creating the dreaded jowls and 'turkey neck.' While a surgical neck lift is a viable option for restoring tighter, firmer skin along the neck, Ultherapy is a revolutionary non-surgical procedure that helps lift and tighten loose neck skin for a more youthful appearance.
Our expert dermatologists use Ultherapy to strategically target the loose skin and folds along your neck and jawline to meet your unique needs and goals. The treatment is customizable and can be combined with additional anti-aging treatments, such as Kybella, Botox/Dysport/Xeomin, and a variety of facial fillers for total facial rejuvenation.
Ultherapy Eye and Brow Lift
One of the most noticeable signs of aging is drooping, sagging skin that develops around the eyes. As the facial skin loses volume, the eyelids and brows may gradually droop lower, crow's feet wrinkles become more prominent around the corners of the eyes, and under eye bags can grow puffier. Fortunately, Ultherapy is a non-invasive method for tightening the skin and even the muscles around the eyes, producing a "micro-lift" effect on the eyelids and eyebrows, softening fines lines and wrinkles, and lifting and tightening baggy under eyes.
At Cosmetic Laser Dermatology in San Diego, our skilled and versatile dermatologists can combine Ultherapy with additional anti-aging treatments, such as Botox/Dysport/Xeomin and dermal fillers, to refresh and revitalize the eyes without surgery.
Ultherapy Lip Lift
With each passing decade, we lose collagen and fatty tissue in our lips, which can cause our lips to sag and look thinner.
Like most people looking to create a fuller lip, you don't want it to look fake or overdone. That's why, at Cosmetic Laser Dermatology in San Diego, we use the revolutionary Ultherapy treatment to provide you with a non-invasive lip lift.
To help you get the youthful and full lips you want, our expert dermatologists use Ultherapy to target the muscle and skin around your mouth to stimulate collagen production. The muscles and skin contract, which gives your lips a lift that looks natural.
Ultherapy Knee Lift
Even with diet and exercise, as people age, the skin around the knees can start to sag and wrinkle. If you feel that your days of wearing shorts, skirts, or dresses are over because you are too self-conscious about your knees, Ultherapy is an excellent solution. The non-invasive ultrasound energy triggers collagen production in the skin to gradually and naturally tone and tighten the knees.
For smoother, firmer skin around your knees,
Ultherapy Butt Lift
As with other areas, aging often causes the skin around the buttocks and upper legs to become less toned and firm. These two areas can be stubborn and difficult to change with only diet and exercise.
Surgical butt lift options are available, but if you're not ready to make a surgical change, the body contouring experts at Cosmetic Laser Dermatology are happy to provide you with a non-invasive butt lift procedure using the revolutionary Ultherapy treatment. By tightening and firming the skin, along with stimulating the production of new collagen, your buttocks and upper legs look naturally lifted and more toned. We often combine this procedure with other collagen stimulators like Sculptra for even better results. Newly FDA-approved Cooltone can also be added to Ultherapy, in order to define muscles in the buttocks. 
Experience Revolutionary Neck Skincare with LaserLift
If you have neck skin that is sagging and affecting your overall appearance, we offer another combination treatment at Cosmetic Laser Dermatology: the LaserLift, which combines Ultherapy with laser skin resurfacing. The unique LaserLift gives you a visibly firmer and younger-looking neck that looks fantastic.
Talk to our experienced dermatologists to see how this combo treatment can benefit your appearance.
Ultherapy for Excessive Sweating
If you're one of the millions who suffer from hyperhidrosis or excessive sweating, the versatile Ultherapy treatment could be the non-invasive solution you've been looking for.
Traditionally, this excessive sweating has been managed by certain medications, antiperspirants, Botox, and even surgery. However, Cosmetic Laser Dermatology is proud to offer Ultherapy to manage axillary (underarm) hyperhidrosis.
The gentle ultrasound energy is targeted into the layer of skin where your perspiration glands are located. These glands are heated until they are destroyed, which reduces the sweating that can both affect your social life and damage your clothes.
Chest  Rejuvenation with Ultherapy
Breast rejuvenation or augmentation usually brings to mind invasive surgery with incisions, resulting scars, and painful healing. This is indeed an ideal option if you want dramatic breast enhancement.
However, because we know many patients who are considering breast rejuvenation neither need nor want such a solution, we have another one – a combo treatment of Utherapy and Radiesse or Sculptra.
We combine the skin-tightening, collagen-building properties of Ultherapy with the volumizing and collagen-building benefits of Radiesse or Sculptra for much less invasive breast lift and rejuvenation. There is no need for surgery, which means you endure no incisions or scars.
What you enjoy is improved breast shape and perkiness.
Ultherapy for Minor Breast Sagging
For minor breast ptosis (sagging), Ultherapy is a great option. By stimulating collagen production safely and non-invasively, the natural healing properties of your body kick into gear to tighten and firm your skin. Because the ultrasound energy penetrates deep into the layers of structural support, the results can improve the appearance and perkiness of the breasts.
At Cosmetic Laser Dermatology, Ultherapy is one of many minimally- and non-invasive treatments in which we specialize. With more than 100+ years of combined experience, we have the experience and knowledge to help you reach your aesthetic goals. Our warm, compassionate practitioners answer your questions and address your concerns so that we can develop the treatment plan that best helps you achieve the results you want.
Contact the Ultherapy specialists at Cosmetic Laser Dermatology in San Diego today to find out the many ways that this revolutionary procedure can benefit your life.
What to Expect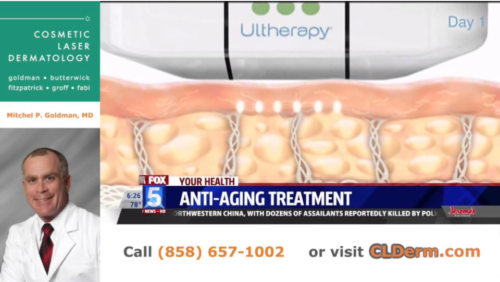 Ultherapy is an excellent method of safely counteracting the effects of gravity and time by lifting, tightening, and toning loose skin. Depending on the area(s) you want to have treated, Ultherapy takes 30-90 minutes to tighten and improve the look of your skin while employing the body's own subtle healing mechanisms to gently, gradually, and reliably restore support to the skin and its underlying tissues.
With Ultherapy, you don't need any special recuperation or preparation, and you typically can get a visible, meaningful response after only a single treatment. You likely will enjoy initial results immediately following the procedure, but the ultimate lifting effects will take 2–3 months, as tired collagen is rejuvenated and supplemented with new, stronger collagen. Multiple treatments provide even better results.
While it's true that the effects are not as dramatic as those of surgery, Ultherapy is an attractive, viable alternative if you're looking for a natural, non-surgical, 'no downtime' approach to noticeably improved lax skin.
Results and Side Effects
If you're a busy person, one of the major benefits of Ultherapy is that there is no downtime. Most patients we see at our San Diego practice tolerate the treatment well. If you prefer to ensure optimal comfort, you can choose to have nitrous oxide and/or intramuscular or oral anesthesia. Side effects such as redness, itching, and tingling might last for several days, but it should be mild and not interfere with your life.
The skin tightening effects are noticeable almost immediately and then gradually improve for several months before delivering the effects you want for another 12-18 months.
For more about Ultherapy, visit Ultherapy.com or contact us at our San Diego office today.
To learn more about how our skin experts at Cosmetic Laser Dermatology can best utilize Ultherapy to meet your needs, contact our warm, compassionate staff today. Once your concerns and questions are addressed, a personalized treatment will be crafted for you.
Treatment Guidelines
After treatment:
Your skin may appear red or slightly swollen in specific areas, which may last up to two hours or
longer.
There may be slight tenderness and tingling in an area for a few hours after treatment, as well as
some tenderness to the touch for a few weeks.
Unlikely, but potential temporary effects may include, but are not limited to, bruising, pigmentation
changes or reduced sensitivity to touch. These are mild in nature and should resolve in a few weeks.
Driving is not permitted the day of your procedure if you were medicated.
You may resume your normal skin care regimen after the procedure, and you may shower.
Medications:
If needed, you may take acetaminophen (Tylenol) for pain.
Avoid taking aspirin or NSAIDs for 24 hours after procedure.
Diet:
You may resume your normal diet.
Avoid drinking alcoholic beverages for 24 hours.
Please contact our office if you have any questions or concerns at (858) 657-1002
Photos
Videos
FAQs
Q: What does Ultherapy do?
A:
Ultherapy not only addresses the skin's top layers to tighten the skin but also goes deep to target your skin's structure to strengthen it at its foundation. It helps stop collagen breakdown and restores your body's collagen production. The result is tighter, smoother, firmer, and healthier-looking skin.
Q: How do I know if Ultherapy is right for me?
A:
Most likely, you're a good candidate for the ultra-versatile Ultherapy if you want to enhance your appearance in the following ways without surgery:
Minimize facial wrinkles and lines
Tighten sagging eyelids
Smooth and tighten loose jowls or a wrinkled neck
Tone your buttocks and upper legs
Improve the appearance and fullness of your lips
Reduce excess sweating
To know for sure, schedule a consultation with our experts so you can share your concerns and ask questions to find out if Ultherapy suits you.
Q: Is Ultherapy painful?
A:
Because Ultherapy is not a surgical procedure, it is minimally painful. The skin tightening and toning procedure may cause you to feel mild stinging while undergoing treatment that can be further minimized with medication.
Q: Can I return to normal activities after the procedure?
A:
Typically, yes, although results can vary. For example, non-invasive Ultherapy for a butt lift or for excess sweating incurs little to no downtime, meaning there should be no interruption in your routine schedule.
Q: How long does an Ultherapy session last?
A:
The length of a single session depends on the area being treated and the extent of the condition. Typically, treatment for the torso/chest takes about 30 minutes while one for both face and neck takes 60-90 minutes (if you're having a standalone face or neck therapy, then it could take 30-45 minutes).
Q: When will I see results?
A:
It depends on the condition being treated. For example, a butt lift with Ultherapy should give you the results you want in 3-6 months, although you may begin to see results much quicker. Because Ultherapy stimulates your body's rate of collagen production, however, results are gradual and natural-looking.
Q: How many sessions will I need?
A:
It depends on the condition that is being treated. For example, to reduce sweating, you may need several treatments, but once your sweating is under control, you should need only regular maintenance treatments to ensure optimal results continue. Consult with one of our Ultherapy specialists about your specific condition to know for sure how many sessions you need.
Q: How long will my results last?
A:
Typically, results can last for 1-2 years, although this varies from person to person because of how your body naturally ages and how you take care of yourself. You can also have touch-up sessions once a year or so to maintain the effects.
Q: How much are Ultherapy treatments at Cosmetic Laser Dermatology?
A:
Because your needs and goals are unique, and we customize your treatment to suit you, the cost varies. It depends on factors like what is being treated, how extensive your condition is, what your aesthetic goals are, and more. The only way to know for sure is to schedule an initial consultation with our experts to discuss all of the above.
Q: Is Ultherapy safe?
A:
Yes! Because it's a non-invasive procedure without any anesthesia or incisions, it's a safe treatment. Also, ultrasound technology has a proven track record of safety and success for over 50 years both in practical applications and in clinical research trials. And, because your healthy skin is our passion at Cosmetic Laser Dermatology, we specialize in minimally-invasive solutions for your condition.
Other Options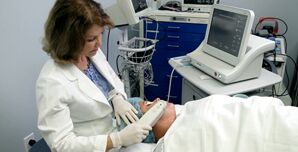 At Cosmetic Laser Dermatology, we offer other skin-tightening procedures such as Cooltone, Thermage, Thermi or various laser therapies (we have over 45 to choose from!) as alternatives to Ultherapy. For excess sweating, Botox is an effective alternative, as well.
To know more, schedule a consultation with our San Diego doctors.
Promotions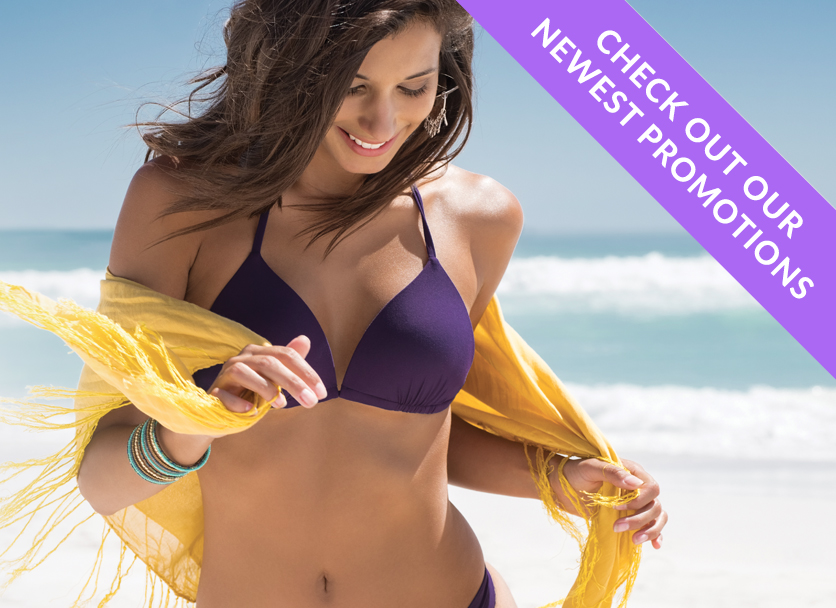 For more information about the monthly specials offered at Cosmetic Laser Dermatology, visit our Promotions page.