Overview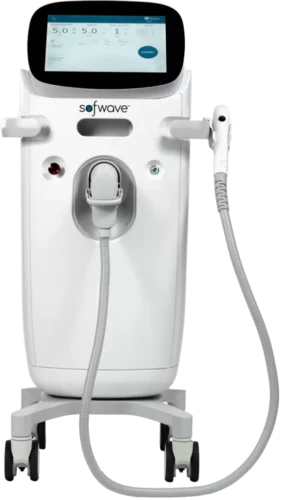 Sofwave is a skin-tightening device that uses ground-breaking ultrasound technology to improve the appearance of fine lines and wrinkles. FDA-approved Sofwave also addresses mild to moderate skin laxity by stimulating collagen production in the skin.
When collagen production starts to break down in our 20s, fine lines and wrinkles begin to develop, but you may not notice them right away. Sofwave uses ultrasound energy to increase collagen production, restoring your smooth, youthful appearance once again. Results from the procedure appear over time, with improvement that is both natural and long-lasting.
Cosmetic Laser Dermatology of San Diego features a team of board-certified cosmetic dermatologists who have the expert knowledge and experience to address all of your aesthetic needs. With 100 years of combined experience and more than 50 laser,  light and energy devices, we use both science and art to create the best version of you.
 What is Sofwave?
Sofwave is a revolutionary, state-of-the-art cosmetic dermatology procedure that uses ultrasound energy to stimulate collagen production deep in the dermal layers. Collagen is an essential protein in our bodies. In youth, plenty of collagen is found in our skin, giving it a soft, supple texture.
However, over time, our bodies produce less collagen, resulting in skin laxity and the formation of lines and wrinkles. By restoring collagen levels, Sofwave may help reverse some signs of aging to create a more youthful, vibrant appearance.
How does Sofwave work?
Sofwave sends ultrasound energy to targeted areas to gently heat the tissue under the skin's surface. The heat creates controlled damage to the tissue, which stimulates the healing response in the body, resulting in collagen production. Over time, fine lines and wrinkles appear to decrease, and skin becomes tighter, firmer and smoother.
What does Sofwave treat?
Sofwave may treat mild to moderate laxity of the forehead, neck, submental tissue under the chin, as well as fine lines and wrinkles.
Safe and effective for all skin types, Sofwave may be recommended instead of laser and light-based treatments for some of our patients. Laser and light-based therapies may not be as safe or effective for patients with darker skin, but the Sofwave treatment is appropriate for all skin tones.
Benefits of Sofwave
In a single treatment session that lasts 30-45 minutes, you can reduce the appearance of fine lines and wrinkles and tighten the skin using Sofwave. The benefits of Sofwave include:
Improvements after a single treatment

FDA-approved for treating fine lines and wrinkles, lifting the eyebrow, and smoothing the neck and jawline

No downtime after treatment
Both safe and effective, you can have the Sofwave procedure done in the comfort of our San Diego medical spa. All of our procedures are performed by one of our board-certified cosmetic dermatologists or physician assistant.
Schedule Your Consultation at Our Medical Spa to Find Out if Sofwave is Right for You
People who seek cosmetic dermatology procedures to improve their appearance are all different. But, the results they desire are all the same – tighter, firmer, and youthful-looking skin. To more about motivations behind seeking cosmetic dermatology procedures, please visit ncbi.gov.
Our highly experienced cosmetic dermatologists in San Diego will discuss your specific concerns and goals to determine the right treatment plan for you. If you are interested in Sofwave or any of our other non-surgical treatments, contact Cosmetic Laser Dermatology to learn more.
What to Expect
Depending on the areas you are treating, a Sofwave treatment session can take 30-45 minutes. We begin the procedure by applying a topical anesthetic cream to the treatment areas. Once you are numb, your doctor will apply an ultrasound conductive gel.
As your doctor moves the Sofwave wand over your skin's surface, the ultrasound energy will move throughout your skin. You will feel a little warmth, but you should be comfortable with the cooling mechanism and anesthetic. Our medical spa also offers nitrous oxide (laughing has) and light sedation with oral medication.
Recovery After a Sofwave Treatment
There is virtually no recovery time after a Sofwave treatment. You will be able to return to your regular activities right after your treatment. There may be some mild swelling or redness immediately following the procedure, but it will not prevent you from applying makeup and resuming your daily schedule.
Sofwave Results
Skin will be tighter for one week after your Sofwave treatment. Visible improvement can be appreciated as soon as one month post-procedure. You will gradually notice fine lines and wrinkles diminishing each day. The results of a Sofwave procedure get better over time, and your skin should develop a smoother, firmer, and more youthful appearance in the treated areas. You should see continued improvement in the appearance of your skin for three to six months.
Sofwave vs. Ultherapy vs. Thermage
At Cosmetic Laser Dermatology, we offer both Sofwave and Ultherapy treatments as well as Thermage to our patients. Sofwave and Ulthera use focused ultrasound and Thermage uses radiofrequency energy to firm and tighten skin without affecting the outermost dermal layer.
The difference between these is in the depth of the procedure. For some patients we recommend a combination of these devices with or without neuromodulators like Botox, Dysport, Xeomin or Juveau, biostimulators like Sculptra or Radiesse and/or fillers like Juvederm, Restylane and RHA.
Your provider will determine the best treatment for you based on the extent of your skin laxity and your specific goals.