Juvéderm® San Diego Overview

Juvéderm is a smooth gel injectable dermal filler that improves skin elasticity by supplementing your body's hyaluronic acid –a naturally-occurring substance in the body that keeps skin plump and hydrated.
Juvéderm is used by our injection experts in San Diego to not only effectively soften deep folds and lines that develop over time in the face but to also shape the face with new contours and definition by restoring lost volume without surgery.
Officially approved by the FDA for the treatment of nasolabial folds in the face (also known as "smile lines"), Juvéderm is also commonly used to give you fuller, plumper lips that look and feel natural.
Juvederm Information
Treats: Sunken cheeks, thin lips, wrinkles, and fine lines
Length: 15-30 minutes
Anesthesia: None needed
In/Outpatient: Outpatient
Side Effects: Localized pain, inflammation, redness, minor bruising, swelling
Risks: Minimal risk is involved when performed by an expert injector
Recovery: Little to no downtime at all
Duration of Results: Approximately 1 year
Current Available Brands
Juvéderm brands include: Juvéderm XC, Voluma XC, Volbella XC, Volux XC, Vollure XC, Ultra XC, and Ultra Plus XC.
Juvéderm Voluma
Our medical spa also offers patients Juvederm Voluma, which is an FDA-approved treatment to restore lost volume to the mid-face, cheek, cheekbone, and chin area without surgery. Ask our dermatologists which type of treatment for Juvéderm is right for you!
Juvéderm Vollure XC
Juvéderm's latest hyaluronic acid dermal filler is called Vollure XC, which received FDA approval in 2016. Vollure is a game-changing dermal filler treatment that is formulated specifically to correct moderate to severe facial wrinkles and lines, particularly the nasolabial folds around the nose and mouth.
The HA gel dermal filler has a thicker consistency that is perfectly suited to lift and support creases and folds from deep in the skin, achieving improved volume and an overall more youthful appearance.
Juvéderm Volbella
Juvéderm Volbella uses a new, patented hyaluronic acid (HA) formula called Vycross that absorbs less water, resulting in reduced swelling compared to other HA products without this revolutionary technology. Volbella dermal filler is incredibly smooth and soft, which makes it ideal for lip augmentation as well as treating the delicate under-eye area, reducing dark circles, hollows, and under-eye bags.
Volbella also contains the numbing agent lidocaine, which helps reduce the mild tingling or stinging sensation that many patients experience with each lip enhancement or wrinkle-smoothing treatment.
Juvéderm Volux
Juvederm Volux offers a non-surgical option for restoring volume and enhancing contours of the jawline and chin. Thicker and denser than other Juvederm fillers, Juvederm Volux is the perfect product for sculpting, lifting, and adding structure to the lower face. It creates smooth contours along the jawline, reduces the appearance of jowls, and creates a more refined definition between the jaw and neck, resulting in a more youthful appearance.
Juvéderm SKINVIVE
SKINVIVE™ is the first and only FDA-approved hyaluronic acid (HA) injectable to improve skin quality in the cheeks by increasing hydration and smoothing the skin. It is the first in the new category of fillers designed to smooth rather than volumize the skin, leaving it looking healthier and more hydrated with a radiant glow.
For more information about Juvederm treatments, visit the official website.
Where can Juvéderm be injected?
Juvéderm injections can be used to improve the following areas of the face without surgery:
Marionette lines

Corners of the mouth (smoker's lines)

Superficial forehead lines

Lip borders and vertical lip lines

Smile lines (nasolabial folds)

Nose shaping

Cheek definition

Under-eye circles, tear troughs

Facial symmetry  
Benefits of Getting Juvederm in San Diego
Lip Augmentation Juvéderm Treatment
As one of the most attractive features on the face, the lips can greatly enhance your overall appearance. Thinning lips and frown lines, however, can make your face look older and unhappy. Juvéderm is one of your best treatment options for non-surgical lip augmentation. Its HA composition is well suited for the lips, specifically, it can provide benefits for those who have:
Thin or flat lips

Small lips

Drooping lips

Asymmetrical lips

Wrinkles around the mouth
The goal of dermal fillers for the lips is to add volume and hydration to the lips without surgery, giving them a fuller appearance with fewer lines and no downtime. Many patients enjoy getting instant plump lips (without distorting the natural lip lines and borders, as well as facial proportions), natural hydration of the lips from within, and fewer wrinkles around the mouth.
Juvéderm Under The Eyes
Juvéderm is a great no surgery choice for treating the tear trough and orbital hollowing. A series of injections will be placed under your eyes, simulating the appearance of thicker pads beneath your skin.
Facial Shaping With Juvéderm
Juvéderm can alter the contours and definition of your face through precise injections placed in the cheekbones, chin, and jawline. It can also add volume to hollow temples or reshape the eyes and nose without any surgery.
Jawline Contouring With Juvéderm
The accurate placement of Juvéderm at the mandibular angle, the peri-jowl region, and chin can recreate a youthful and structured jawline.
Juvéderm For Chin Augmentation
The chin is one of the face's defining features, creating a more prominent shape to the face and neck. But with aging, the chin tends to lose projection. Juvéderm can treat this by adding volume beneath the skin and modestly enhancing the chin without the need for any implants or surgery.
Non-Surgical Nose Job With Juvéderm
Juvéderm can give you many of the desired results of a traditional rhinoplasty, without the pain, surgery, or downtime that comes with the surgical procedure. A non-surgical rhinoplasty is performed using a series of injections made at the bridge, mid-point, and tip of the nose to correct bumps, lumps, and curves, making your nose look smaller and instantly transforming your entire profile.
Juvéderm vs. Botox
Although both Botox and Juvéderm produce excellent rejuvenating results without the need for surgery, each treatment works in a different way. While Botox works to relax muscle movement that may cause wrinkles, Juvéderm fills in fine lines and wrinkles by replacing lost hyaluronic acid.
Therefore, Juvéderm allows your dermatologist to simultaneously reduce lines in the skin while restoring a full, youthful appearance to the face. And while Botox takes 1-7 days to see full effects that can last approximately 3-4 months, Juvéderm results are immediate and can last 6 months up to 2 years.
Juvéderm and Botox are often used together to create a liquid facelift, or as part of a comprehensive rejuvenation program that can include laser and light-based treatments for the face. The best way to determine the best injectable for you is to schedule a consultation with a board-certified dermatologist. 
Know Your Injectables

Our Medical Spa in San Diego is Offering Complimentary Juvéderm Consultations
The skin experts at our medical spa in San Diego will guide you through our selection of treatments based on your desired results. Contact us for your complimentary Juvéderm consultation. We currently have self-online scheduling available.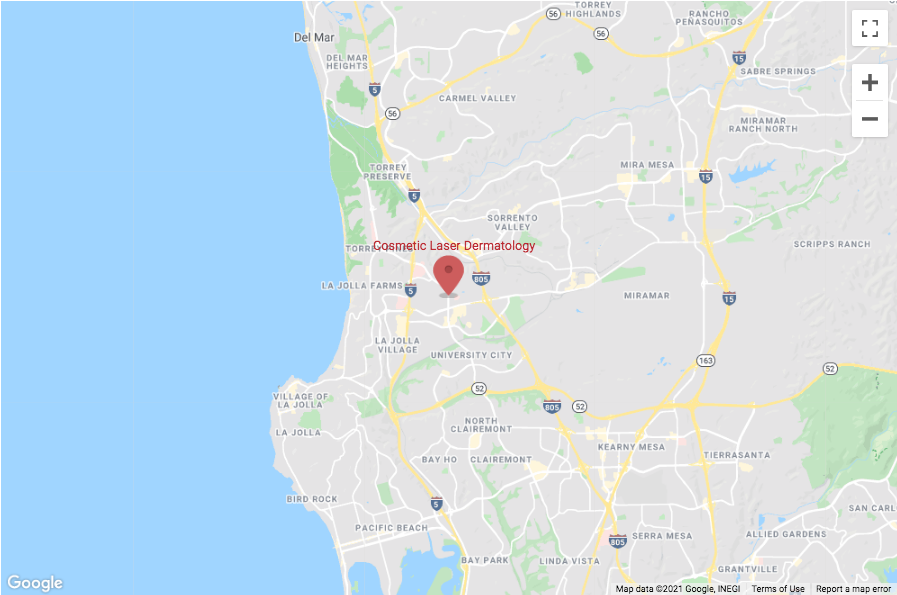 What to Expect From Juvéderm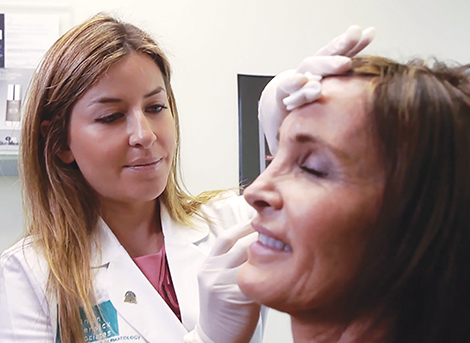 Sun exposure and aging are just some of the factors that reduce the quantity of hyaluronic acid (HA) in our skin. A shortage of HA causes the face to lose structure and volume, resulting in folds and facial wrinkles.
A dermal filler treatment like Juvéderm is a safe and effective treatment for replacing the lost HA in your skin without any surgery. Using a very fine needle, with minimal to no discomfort, our board-certified dermatologists will inject small amounts of the Juvéderm dermal filler into the mid to deep dermis of the areas where results are desired.
The smooth consistency of the filler will easily fill in and soften folds and wrinkles while restoring fullness in areas of diminished volume.
Read our pre/post-treatment guidelines for Juvederm.
What to Expect from Your Procedure In San Diego
Topical numbing cream is available before your Juvederm injections for more sensitive areas, but almost all of our patients don't require any numbing since the procedure is relatively quick and comfortable. The filler formulation also includes the anesthetic, lidocaine, to minimize discomfort during treatment. 
Our board-certified dermatologists will inject small amounts of the Juvéderm dermal filler into the mid to deep dermis in the areas where improvements are desired using a very fine needle. The entire procedure takes just a few minutes to complete, although the total visit could be longer if you have other injectables or procedures at the same time. 
The smooth consistency of the filler will easily fill in and soften folds and wrinkles while restoring fullness in areas of diminished volume. Results are evident as soon as you leave our office but will continue to improve in the days following treatment. 
After Your Juvederm Treatment In San Diego
Our patients typically return to regular activities right after treatment, making Juvederm the perfect lunchtime procedure. After your Juvéderm dermal filler injections, you may experience minor side effects including: 
Swelling

Tenderness

Redness

Bruising 

Small lumps around the injection sites 
These symptoms tend to be more noticeable in sensitive areas like the lips and around the mouth. The good news is that side effects usually subside within hours, although some may persist for a day or two. We are happy to treat any post-treatment bruising with a complimentary laser treatment the next day if necessary.
Improvements after your Juvederm treatment are temporary, as the hyaluronic acid in the filler will be metabolized by the body over time. Most patients see their results last for 6-12 months. Regular treatment sessions can help you maintain your improvements over the long term. 
Juvéderm Treatment Guidelines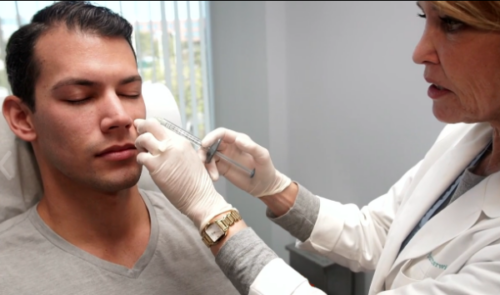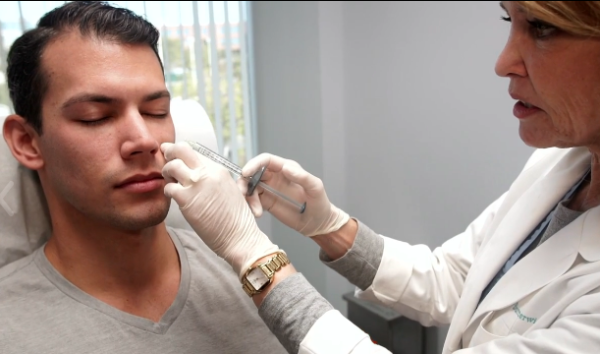 During your Juvederm procedure:
An assessment will be made by your physician in San Diego to determine the type of product and
appropriate amount needed for your face
Multiple Juvéderm injections will be administered to treatment areas of the face
The dermal filler contains lidocaine, however, some physicians may decide to use a topical
numbing agent or local anesthesia injections prior to filler injections.
You may have a very small amount of pinpoint bleeding where the needle was
inserted. This usually subsides in a few minutes.
After your Juvederm procedure:
You may use your regular skincare products and make-up.
You can apply ice packs to ease tenderness and swelling in the face
Do NOT manipulate, rub, massage, apply pressure, etc. to treated areas or lay face
down after treatment.
Immediately after the treatment you will experience swelling which can last 1 – 3 days. The
above mentioned fillers are made from hyaluronic acid (which is a substance your body
normally produces) and it attracts water to it which causes the swelling.
You may feel lumps where the dermal filler was injected. This is also swelling and they will
subside in about 3 – 5 days and are usually not visible.
You may get a bruise from the injections. If so, you are welcome to come into the office
the following day and have the bruise(s) treated with a laser at no charge.
You may also take Arnica pills before and/or after the treatment to decrease risk of
bruising and to help any bruises you have to subside faster. We have Arnica available
for purchase.
Results are immediate but due to the swelling, the expected end result can be seen
between 7 – 10 days.
Follow any additional specific post-treatment instructions from your physician.
It is always a possibility that you may not get the desired result after one treatment.
Additional treatments may be necessary to achieve optimal desired results.
Follow up with your physician in ______ days/weeks, or as needed.
Please contact our office if you have any questions or concerns at (858) 657-1002.
Photos
Videos
Juvederm FAQs
Q: How does Juvéderm treatment work?
A:
Juvéderm treatment is made of a natural hyaluronic acid, which adds volume back to facial tissue, resulting in a rejuvenated appearance. Learn more about Juvéderm lip injection treatment on juvederm.com.
Q: How soon will I see results from Juvéderm dermal fillers?
A:
You will see the full results of the injections immediately after the procedure. Although, you may have some swelling right after the Juvéderm treatment, so your face will appear to more volumized. Within a few days, the swelling will go down and you will be able to see the true results.
Q: How many Juvederm filler treatments will I need?
A:
Treatments for Juvéderm vary among patients, however, some patients may need 2-3 treatment sessions, each 4 weeks apart, to experience the best results.
Q: How long does the anti-wrinkle treatment last?
A:
Generally, the effects last for about a year, but this varies slightly from patient to patient. Once the effects wear off, it is safe to repeat the Juvéderm injections as necessary.
Q: How much downtime is required?
A:
There is very little social downtime after a treatment for Juvederm. You may have some swelling, numbness, and redness for a few hours following the Juvéderm procedure, but you will be able to go back about your daily activities as soon as you feel comfortable with how you look.
Q: Do Juvéderm filler injections hurt?
A:
When injecting the Juvéderm dermal filler, our doctors use a very thin needle to reduce pain or discomfort. Additionally, a topical anesthetic can be applied before the procedure to further minimize discomfort, but this is usually not necessary.
Q: What are the side effects of Juvéderm dermal fillers?
A:
The side effects are minimal, but common side effects can include localized pain, inflammation, redness, itching, bruising and/or swelling. These are all normal side effects and disappear within a few days.
Q: How much does Juvéderm cost?
A:
Each patient's needs are different, so there is not one base cost of Juvederm. We will assess your personal needs and let you know how much your Juvéderm treatment will cost. Call our San Diego office to schedule a consultation with any of our dermal filler specialists.
Q: I am 58 and have a botched nose job which left a dent, can Juvéderm dermal fillers fix this?
A:
A board-certified dermatologist who is an expert at performing nonsurgical nose jobs with hyaluronic-acid based fillers such as Juvéderm can disguise your bump and dent. Juvéderm or Restylane are good choices for injectable rhinoplasty. Because there's not a lot of motion in your nose, the fillers could last for six months or even longer. Be sure to consult a board-certified dermatologist who can show you beautiful before-and-after results from nonsurgical rhinoplasty.
Q: I have had dermal filler in the tear trough area 2 months ago. I wanted to have botox also to correct my frown lines & crows feet, but was recommended to have cheek fillers 1st and then botox. Does it matter which order I get this done?
A:
Your doctor may have advised getting a dermal filler in your cheeks first because it will lift your skin at the sides of your eyes slightly and may improve your crow's feet. However, if your crow's feet are deep, it really wouldn't make much of a difference. You can get the Botox first, the fillers first, or both on the same day. It's your choice. Please consult a board-certified dermatologist who is an expert at rejuvenating the face with Botox and fillers.
Q: Unhappy with lip injections. Want to avoid the duck lips and have them plump and fuller but natural looking.
A:
From your photos, it seems that your injector chose the wrong area to treat. Lip augmentation with dermal fillers should look soft and natural, not overdone or "duckish." Take the time to find a top-notch, board-certified dermatologist who is an expert at lip augmentation and make sure you check out their before-and-after photos. The filler you have now can be dissolved with hyaluronidase and a new filler such as Volbella correctly placed to give you the fuller, natural-looking lips you want.
Q: Seven years ago, I suffered an injury causing one of my tooth to fall out and a cut to the lining of my upper lip which required stitching preformed at the A&E. Due to the stitching, I have a very lob-sided appearance on my upper lip, rough lip texture and a stone like lump in my lip.
A:
Sorry for your troubles. The lopsided appearance of your lips can be rectified with Volbella or another hyaluronic-acid based dermal filler. An expert can insert the filler in such a way that it reveals more of your lip's natural vermillion (red part), to make both lips look symmetrical. The texture of your lips can be improved with microneedling to stimulate more collagen. Consulting with a board-certified dermatologist will allow your lips to be evaluated in person and the best remedies are chosen.
Q: Can fillers improve my close-set eyes?
A:
You can use injectable hyaluronic-acid based fillers to widen the bridge of your nose. I'm not sure that this would create the illusion of wider-set eyes for the average viewer, but if you liked the look when your nose was swollen, then I say give it a try. Be sure to consult a board-certified dermatologist who is an expert with dermal fillers, as injecting near the eyes requires skill and knowledge of anatomy.
Q: Hi, i am thinking to do a nose filler injection, but my family is very old fashioned and we stay together, will they notice if i have done my nose job?
A:
Your family is very familiar with your face and will undoubtedly notice if you make a change, such as getting a nonsurgical rhinoplasty with dermal fillers. One way you can sometimes hide/deflect a cosmetic change like that is to get a haircut the same day. Sometimes the new style convinces your friends and coworkers that your hair accounts for the undefinable improvement in your appearance. The only way you can know for sure is to try it, as long as you are over 18 and can make these decisions for yourself. Be sure to consult a board-certified dermatologist who is an expert with injectable fillers to perform your nonsurgical rhinoplasty.
Q: Can I achieve these results without surgery? Non surgical nose job? Fillers? Jawline contouring?
A:
Nonsurgical facelifts can dramatically improve the look and contours of your face: Botox to slim the masseters and make your face more heart-shaped, Voluma to create more lift and definition in the midface, Juvederm to smooth out the crookedness in your nose and add volume to your lips. Botox to raise the nose tip. The results may not be exactly like your ideal, but they could be close. Be sure to consult a board-certified dermatologist who is an expert at contouring and reshaping the face with fillers and Botox.
Q: Can't smile fully? Basically my lips are really small and thin.
A:
It's normal for the lips to thin out during a smile. If your lips are thin to begin with, they can almost seem to disappear. You can get a big improvement on the shape and volume of your lips by using a hyaluronic-acid based dermal filler such as Restylane, Juvederm, or Volbella. As for your smile itself, you may be over-clenching muscles that could be relaxed with a little Botox. Consulting with a board-certified dermatologist will allow you to get a full evaluation of your lips and smile and receive the remedies that will make you feel better and smile more confidently.
Q: My lips have always been slightly uneven. But they have gotten worse over time what can be done to make them normal? Also larger.
A:
You could get a lovely improvement in the shape, symmetry, and volume of your lips with a hyaluronic-acid based dermal filler, such as Volbella (most subtle and lovely), Restylane Silk or Juvederm (added volume). One plus of adding volume to your lips is that it makes your entire face look younger. Consulting with a board-certified dermatologist will help you decide just how much fuller you want to go.
Q: What's the cost of a liquid face lift?
A:
Liquid facelifts have no definitive cost because they are tailored to your individual needs. You may need Botox and various dermal fillers including Sculptra, Voluma, Juvederm, and Restylane. You should start consulting board-certified dermatologists who can evaluate your needs in person and give you an estimate.
Q: Kylie Jenner Lips filler goals - how much filler?
A:
You need a significant amount of volume to mimic Kylie Jenner's overfilled look. I'd suggest starting slow, with just a syringe of Juvederm or another thicker filler like that. Once a month, you return to your dermatologist til you get the look you want. When you reach your goal, you maintain it with another syringe or two every several months. Consulting with a board-certified dermatologist will give you a better idea of what it will take to reach your goal. You can also discuss in more depth the kind of lips that would look best on you — not Kylie.
Q: Will doctors provide allergy tests for Voluma, Sculptura, Restylane Defyne/Refyne, Juvederm?
A:
The ingredients in dermal fillers are nonirritating and biocompatible. Hyaluronic acid is the main ingredient in all of the Juvederm and Restylane products, and it's found in our own bodies naturally. Sculptra uses microparticles made of a biocompatible material. If you're highly allergic or easily irritated, you could always request the equivalent of a patch test. Be sure to consult a board-certified dermatologist who has expert injection technique.
Q: Physician advises against dissolving lip fillers saying it could make my lips worse. Is that true?
A:
Using hyaluronidase to dissolve lip filler, if done correctly, will not make your lips look worse although sometimes multiple treatments are required to achieve the desired reduction. However, once it's all dissolved, your lips return to their natural shape. If you're not getting the results or answers you need from your current injector, I'd suggest finding a board-certified dermatologist who has a lot of experience with lip augmentation and gets good results from hyaluronidase, too.
Q: I got a terrible lip injections and now I don't know what to do. My upper lip is massive.
A:
Just as it may take some time to find the perfect hairstylist, so it may take time to find a board-certified dermatologist who can get you the results you want. Before rushing to a new injector, I'd recommend spending some time interviewing the best dermatologists in your area, looking at their before-and-after photos, and talking to current clients. I often see patients who have had an unsatisfying experience with lip filler at other practices and in many cases, the problem can be solved with an injection to dissolve the unwanted filler. Finding the right practitioner makes all the difference between happy and unhappy results.
Q: I have been injected in my cheeks and folds on either side of my nose with other juvederm products. I rememebr feeling the bumps, with my fingers, under my skin, but they were not visible when I was at rest. I'm not sure when BUT those bumps/masses/pillows under my skin, eventually just went away. So what exactly happened there? These fillers go in the skin as a mass of gel, stay uniform, and then break apart after a week or two?
A:
The lumps and bumps you may feel after having a treatment with a hyaluronic-acid based filler such as Volbella, Juvederm, Restylane, or Belotero, is almost always because of swelling due to the injections themselves. When your skin is broken by a needle or cannula, your body's immune system rushes in to repair the tiny wound. That swelling resolves pretty quickly. The product is administered so that it is already in the correct places at the correct degree of thickness — if it was administered by an expert board-certified dermatologist.
Q: I am thinking of getting a liquid facelift. Are injectables painful?
A:
Pain thresholds vary by patient, but most men and women do not find injectable dermal fillers, such as Restylane, Juvederm, and Volbella, to be particularly painful. We try and perform injection techniques that minimize any pain as well as the number of needle sticks. Almost all injectable dermal fillers contain the anesthetic lidocaine in the formulation that makes the injections less uncomfortable. If you are getting a liquid facelift and have a low pain threshold — or are just nervous about the procedure — your doctor can apply a numbing cream to your skin. We also offer nitrous oxide treatment at an additional cost if it is necessary but find that 99% of our patients do just fine. Please consult a board-certified dermatologist who is an expert at liquid facelifts and bring up your concerns about pain during your meeting. He or she will find you the right solution so you can get the nonsurgical rejuvenation you want without any undue discomfort.
Q: I want to get my lips fixed to correct their uneven shape and get them augmented because when I smile, they curl inwards and disappear. What do you suggest I should get done on them and how much would it cost me?
A:
Your lips can definitely be augmented in a very natural and beautiful way with hyaluronic acid-based fillers. For volumization, I recommend Juvederm. Consulting with a board-certified dermatologist will allow you to get clearer about how much volume you want. Fillers last anywhere from 6 months to 18 months.
Q: Lip injections for African American woman? I would like my upper lip - not only to be more symmetrical - but also a bit fuller.
A:
The hyaluronic-acid based dermal fillers, such as Juvederm, Restylane Silk, and Volbella can help you achieve the symmetry and volume you desire. Depending on where you want the most volume and where the least, you could sculpt your upper lip by layering different fillers, as they have different properties. Volbella and Restylane Silk are best for restoring symmetry and making subtle changes. Juvederm adds a more dramatic volume. Consulting with a board-certified dermatologist will let you achieve the look you want.
Q: What would you do to fix lower face issues? Will princess Voluma or Juvederm, Radiesse etc help?
A:
It looks like you have some skin laxity issues on your skin. If you'd like to improve your neck and lower face, the most effective treatment would be something we call ThermiSculpture — a combination of liposuction of the chin with ThermiTight, which tightens the skin using radiofrequency energy. If you want to wait until you've lost more weight, you can create a mini-lift in the upper face in the meantime that will help lift the lower face, too. Using dermal fillers and collagen stimulators, such as Sculptra, Voluma, and Juvederm can create a liquid facelift that may raise your mood as well as your face. It won't be as dramatic a change as surgery, but it does freshen up your look and give you a confidence boost. Be sure to consult a board-certified dermatologist who has experience rejuvenating the face nonsurgically to get the most satisfying results.
Q: I would like my lip to be even when I smile. Is there anything I can do about this as it is making my face look long?
A:
Plumping up your lips will create a shorter visual distance between the top of your upper lip and the bottom of your nose. Just a little extra volume in the lips using hyaluronic-acid based fillers such as Belotero, Juvederm, Restylane, Restylane Silk and Volbella can light up your entire face. Consulting with a board-certified dermatologist will help you make the improvements you desire.
Q: What's wrong with my lips and how can I fix them? How much will they cost me?
A:
Your bottom lip is disproportionately large in comparison to your top lip (the ideal ratio is 3:2), and you have slight asymmetry. These can be corrected with hyaluronic acid-based dermal fillers such as Volbella, Juvederm, Belotero ,and Restylane. They can last between 6 months and a year or more, depending on which you choose and how much of a change you would like to make. Consulting with a board-certified dermatologist will allow you to get the answers you need.
Q: What type of lip injections do you recommend? Would like to get rid of cupid's bow?
A:
Your cupid's bow is not particularly pronounced. Any of the dermal fillers we commonly use for lip augmentation, such as Volbella, Juvederm, or Restylane could beautifully reshape your upper lip. Volbella lasts the longest — up to a year or more — but gives the most subtle results. Consulting with a board-certified dermatologist will help you decide which to use.
Q: What are the longest lasting and best lip dermal fillers if I aim to increase lip size?
A:
My personal favorite dermal filler for lip augmentation is Volbella, simply because it is very natural looking and feeling, plus it lasts up to a year or more. However, if you're looking for more dramatic volume, then Belotero, Juvederm, Restylane or Restylane Silk may be better choices. These will last about 6 months each. Consulting with a board-certified dermatologist will allow you to explore more about the benefits of each of these fillers so you can choose the one that will give you the effect you want.
Q: What should I do to get rid of the deep parentheses lines on the sides of my mouth?
A:
You would do well with hyaluronic-acid fillers, such as Juvederm and Restylane, to fill in your parentheses lines. To keep your skin looking good over the long term, you might also consider regular chemical peels or resurfacing with Fraxel or another laser. These procedures stimulate the production of new collagen and elastin, which will help keep your skin healthy and strong. Be sure to consult a board-certified dermatologist who has a number of anti-aging modalities to offer you.
Q: I have almost no top lip with kind of hang. When I press down right below my nose the rest of my top lip pops out and it's beautiful! I had a filler done years ago but it didn't help.
A:
I'm not sure why dermal fillers didn't help plump up your top lip the last time you got them. They should. You need to spend time finding an expert, though, to be sure you receive the right filler, the right amount, and injected in the right places. I never recommend surgery for the lips; it rarely looks natural. A hyaluronic-acid based filler such as Belotero could give you a big improvement. Consulting with a board-certified dermatologist is the first step toward getting the lips you want.
Q: Can Juvederm and Botox be used together?
A:
Yes. The mechanism of action for Juvederm is different than Botox because Juvederm adds back volume whereas Botox Cosmetic simply stops muscle contraction. These very different methods yield different results. However, these popular facial injections are often used together to give you greater results. We use Botox to prevent new wrinkles from forming and Juvederm treatment to fill the ones that you already have. Additionally, studies have shown that by combining these two the results of the treatment for Juvederm will last longer. By minimizing muscle contractions with a neuromodulator, the effects of a filler last longer. During your consultation, our doctors will let you know if this combination Juvederm treatment will work for you.
Alternatives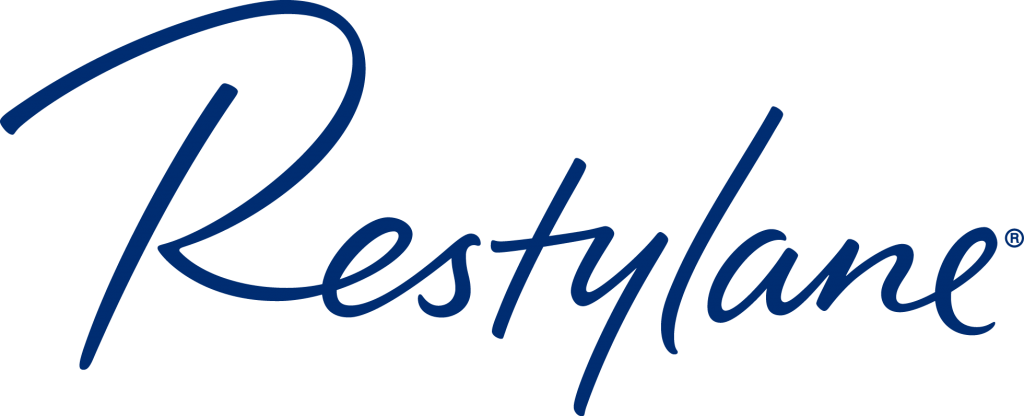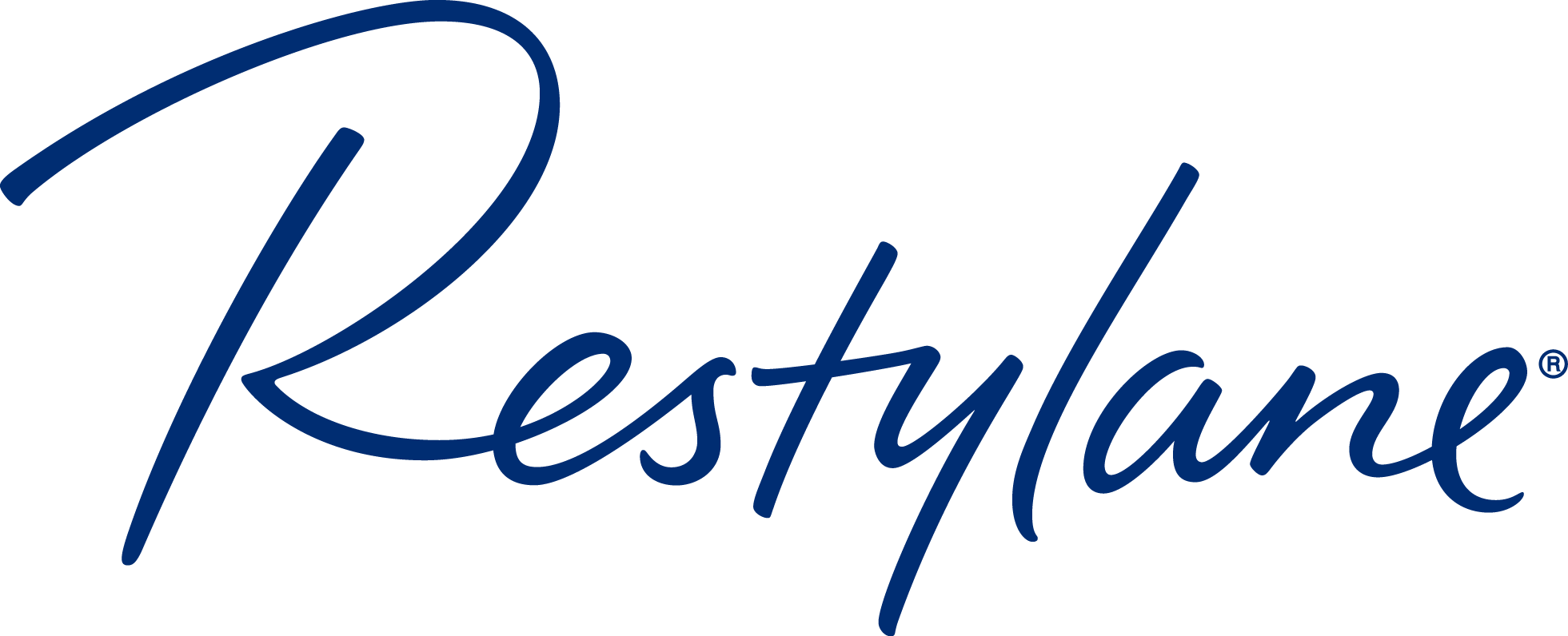 In addition to Juvederm, our medical spa in San Diego offers a wide variety of dermal fillers, including Restylane and its family of products (Restylane-L®, Restylane® Silk, REFYNE®, DEFYNE®, and LYFT®), Radiesse, Belotero, and collagen-boosters like Sculptra to help improve volume loss and smooth away early signs of aging.
Promotions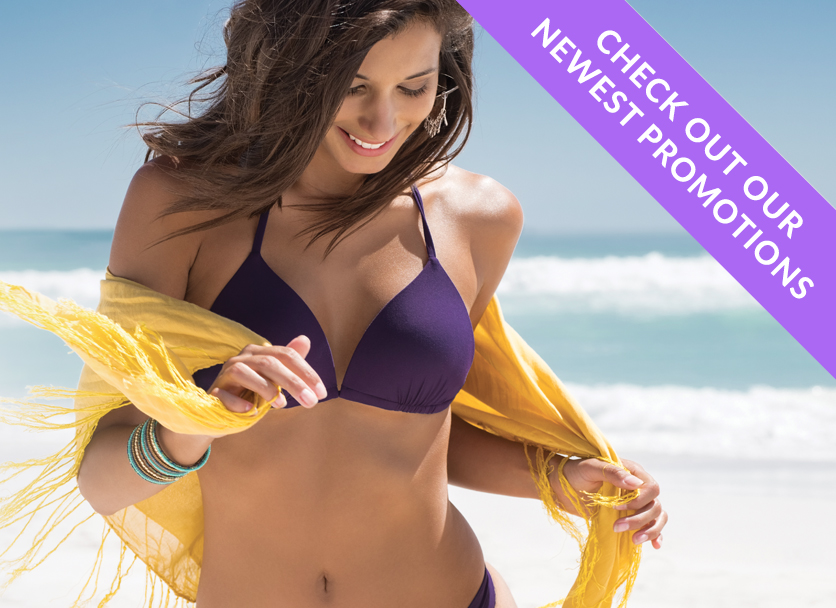 For more information about the monthly specials offered at Cosmetic Laser Dermatology San Diego, visit our Promotions page.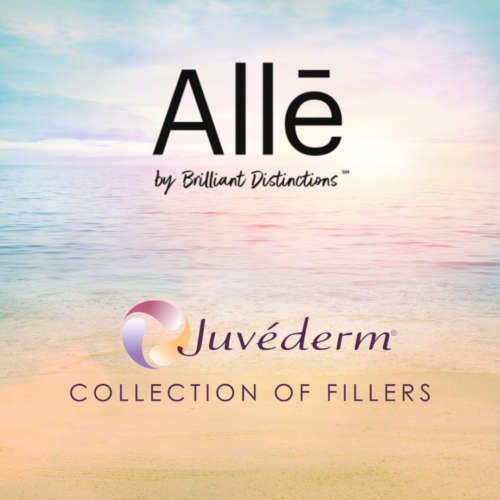 Earn rewards on your Juvéderm treatment and apply your earned points to your next visit to save big. Visit our Rewards Program page for more information.