Vbeam Prima Overview

Are you feeling less than your best because your skin has begun to look less than its best? Whether you're trying to treat visible vessels, diffuse redness, or a birthmark, the Vbeam Prima may be the right solution for you.
At Cosmetic Laser Dermatology in San Diego, California, our board-certified dermatologists have more than 50 laser, light, and energy devices available to provide skincare treatments that meet the unique needs of every patient. Vbeam Prima is just one tool in our arsenal for treating a variety of vascular concerns. 
What is the Vbeam Prima?
Vbeam Prima is a pulse dye laser that uses a single wavelength of light to treat vascular concerns like visible veins, redness caused by skin conditions like rosacea, and some birthmarks. Vbeam Prima laser treatments at our medical spa are quick and effective and downtime after the procedure is minimal. 
Vbeam Prima vs. Vbeam Perfecta
Vbeam Prima and Vbeam Perfecta are FDA-cleared and deliver similar results on a wide range of vascular concerns. However, the smaller treatment area of the Prima makes it ideal for treating smaller and more delicate areas, such as visible veins that often appear around the eyes. 
What is a Vascular Laser?
A vascular laser is a type of laser that can treat visible blood vessels, including spider and varicose veins. These lasers work by emitting a beam of light that is absorbed by the hemoglobin in the blood vessels.
This allows the laser to target blood underneath the skin's surface, eliminating visible veins and reducing diffuse redness without damaging surrounding skin and tissue. Treated veins are reabsorbed by the body, leaving clearer skin behind. 
Learn more about lasers for vascular lesions by visiting pubmed.gov.
Conditions Treated with the Vbeam Prima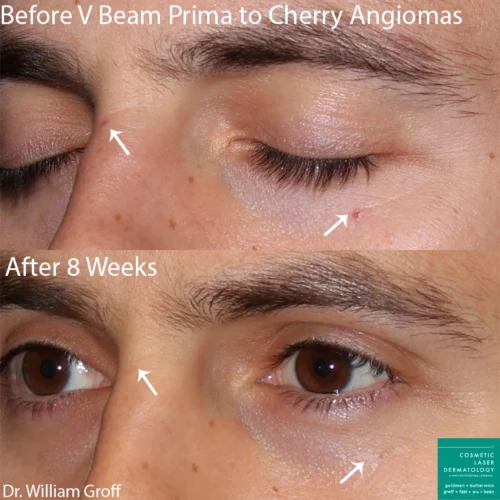 A pulse dye laser (PDL) like the Vbeam Prima can treat:
Visible spider veins 

Dilated capillaries

of the face, neck, chest, and legs

Diffuse redness due to

rosacea

and other skin conditions

Acne and acne scars
Some scars and stretch marks

Some types of hyperpigmentation
Most side effects of a PDL treatment are minor, such as swelling, bruising and redness at the treatment site. 
Schedule Your Consultation at Our San Diego Medical Spa Today
The board certified dermatologists at Cosmetic Laser Dermatology are dedicated to making your Vbeam Prima procedure a success. Contact us or call our medical spa today to schedule your appointment. 
What to Expect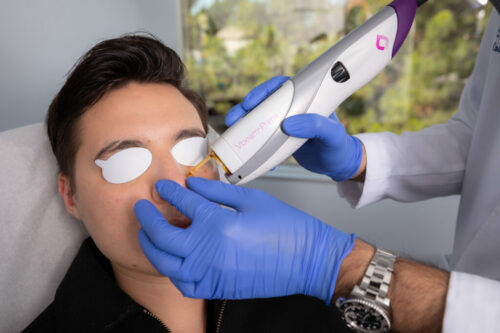 During a Vbeam Prima procedure, eye protection will be provided. Some patients report feeling a slight sting or sensation of heat during the process. 
The Vbeam Prima comes with two different cooling systems to protect skin and maintain your comfort. Ice packs applied immediately following the process will also quickly alleviate any discomfort and minimize post-treatment swelling.
The treatment takes 30 minutes or less, depending on number of areas treated and passes used.
If multiple treatments are needed to attain your goals, they may be spaced about 4 weeks apart to allow your skin to heal between treatments. 
Recovery After a Vbeam Prima Treatment
Because your Vbeam Prima procedure is non-invasive, you can resume your normal activities immediately, although you may wish to schedule some social downtime as your skin heals. 
After your procedure:
You'll experience a brief sensation of heat/sunburn immediately following treatment and possible redness and mild swelling for 1-2 days afterward.

Swelling varies by patient and the size and location of the treated area—typically reaching a peak between 12-48 hours after treatment. 

Bruising may occur immediately after the procedure or within 1-2 days afterward. If bruising does occur, it usually resolves within 3-10 days but can sometimes last up to 2-3 weeks.

On the day of the procedure, you may use ice packs (20 minutes on, 20 minutes off) to help reduce the sensation of heat and swelling.

Use sun protection outdoors and indoors since UVA rays pass through windows. Apply a sunscreen containing zinc oxide or titanium dioxide to the treated areas daily, and wear a hat and sunglasses. 

You may use acetaminophen or Ibuprofen to alleviate any discomfort. 
DO NOT RUB, PICK, OR WIPE THE TREATMENT AREA. 
Showering on the day of your procedure and cleansing gently with your fingertips is acceptable.

Scabbing/crusting may occur. You may apply an ointment until the crusting/scabbing resolves (typically within 5-10 days).

As the skin renews itself, you'll start to see a noticeable difference in its texture and tone. Results will appear within two weeks and will continue to improve over the next few months.

You may wear makeup (unless your physician instructs you not to) as long as you avoid rubbing or picking at the skin's surface when applying or removing cosmetics.
Vbeam Prima Results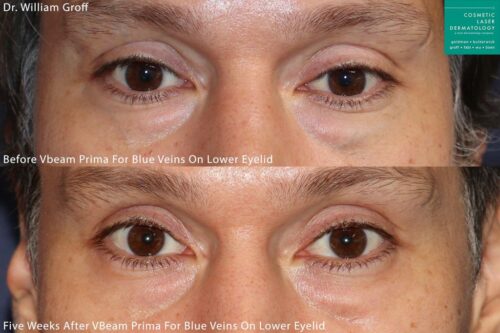 The Vbeam Prima procedure is designed to improve the appearance of visible veins, redness, and discoloration. Over time, you will see improvement to your skin as treated vessels are reabsorbed by the body.
You may notice that your skin looks more youthful after just one treatment. Patients may continue with additional treatments if they feel their skin could benefit.
Professional skincare products used daily can extend your results by maintaining the health of your skin.
CLDerm offers products in our skincare store for every need, and our experts will be happy to help you design a program customized for your skin.
At CLDerm, we're proud to be at the forefront of laser and cosmetic surgery research. If you're eligible, you could receive free treatment or compensation for participating in one of our studies. Contact us at 858.943.2113 for more information.
Photos
FAQs
Q: What Can the Vbeam Prima Treat?
A: The VBeam Prima uses pulse dye light (PDL) to emit laser energy into your skin. This type of laser is effective for correcting a variety of skin conditions, such as visible spider veins, acne and acne scars, scars and stretch marks, rosacea, birthmarks and port wine stains, and nose veins/dilated capillaries.
Q: Does a PDL treatment hurt?
A: Some patients may feel a slight stinging or a sensation of heat, but PDL treatments are generally painless and require little to no downtime.
Q: Is PDL treatment safe?
A: The VBeam Prima is very safe and equipped with two different cooling systems to protect your skin and keep you comfortable.
Q: Will my results be permanent?
A: Each patient's response to Vbeam Prima laser treatment is unique and depends on skin type, condition, and quality of the skincare regimen following treatment. Speak with our dermatologists during your consultation about the expected longevity of your treatment results.