Overview
Salt is a humectant that draws and locks in moisture at a cellular level. It is naturally antibacterial and antimicrobial, anti-inflammatory, non-toxic, and exfoliating. With its natural healing and detoxifying abilities, salt, combined with ultrasound energy and LED light therapy, creates a relaxing yet powerful treatment designed to restore, replenish, and rejuvenate the skin. 
The SaltFacial is more than a facial. It is a corrective treatment that works from the surface of the skin down to the dermis to dramatically improve skin, giving it a radiant glow. We use it both as a way to maintain beautiful skin and prevent issues from occurring. 
At Cosmetic Laser Dermatology, our medical spa is committed to providing the best skin care services in San Diego, CA. We do this by offering state-of-the-art, cutting-edge treatments for a variety of skin issues and concerns. SaltFacial Skin Renewal Therapy complements our 50+ laser, light, and energy devices, allowing us to focus on natural and beautiful results without surgery. 
Farzaneh Momeni-Salami is our professional medical aesthetician with over 30 years of experience treating the skin with the most innovative and effective techniques in both Germany and the United States. She creates customized skincare plans, either using each SaltFacial step individually or as part of a combination procedure plan to deliver even more amazing results.
What is SaltFacial?
SaltFacial uses three steps to enhance the skin: 
Step 1: Sea Salt Skin Resurfacing to RESTORE Skin
At a precise angle, a patented handpiece will evenly exfoliate the skin using organic sea salt to cleanse, purify, and evenly remove the outermost layer of the skin.
With its positive pressure system, you can achieve maximum exfoliation that is gentle enough not to cause swelling or unwanted side effects.
The sea salt formulation also provides hydration to the deep layers of the skin, preparing for serums, moisturizers, and antioxidants to penetrate deeper for optimal results.
Step 2: Cavitation Ultrasound to REPLENISH Skin with Hydrating Antioxidants
With the sea salt resurfacing complete, the skin is now ready for the replacement of vital nutrients that have been lost due to sun damage, aging, and environmental conditions.
Ultrasound technology will open the cells to safely deliver hydrating and enriching topical formulations deep into the skin. In addition to boosting topical delivery, ultrasound increases oxygen production for skin health and promotes blood circulation for accelerated healing. 
Step 3: LED Phototherapy to REJUVENATE the Skin
For the last step, medical-grade phototherapy will be used to deliver unmatched skin renewal. The light panel emits 4 distinct wavelength options to treat acne, reduce redness and inflammation, improve the appearance of vascular and pigmented lesions, and promote collagen production. 
Who is a candidate for SaltFacial?
Ideal candidates for SaltFacial are those who have early signs of aging, uneven skin tone and texture, acne, scars, stretch marks, and age spots. We also recommend it for patients who desire youthful-looking, rejuvenated skin but don't have the time for a lengthy recovery process and prefer a non-invasive approach to skin care.
Without any harsh chemicals involved, SaltFacial is safe and appropriate for all skin types, including sensitive skin.
How does SaltFacial compare to other aesthetic treatments at our medical spa?
SalftFacial therapy belongs to a completely different category of aesthetic treatments for skin rejuvenation. While the HydraFacial uses water to exfoliate the skin and prepare it for treatment-focused serums, SaltFacial's innovative platform comes with a unique handpiece that is designed to gently resurface the skin.
Sea salt is combined with cutting-edge ultrasound energy and high-powered LED phototherapy to deliver a skin-renewing treatment like no other. 
Natural, organic sea salt is finer and softer compared to the crystals used in microdermabrasion, making it suitable for all skin types, even those with sensitive skin and broken capillaries. Microdermabrasion is not safe for those with broken capillaries or rosacea. 
SaltFacial uses a closed-loop of pressure with no suction. This makes it less traumatic than chemical peels (which means no downtime) and offers more benefits than mechanical exfoliation techniques alone. It treats multiple layers of skin for a healthy glow, maximizes the penetration of skincare products, and can treat virtually any part of the body.
SaltFacial benefits
All-natural sea salt contains no harmful chemicals and acts as a natural antiseptic, killing bacteria responsible for acne and breakouts. Salt also has anti-inflammatory properties, helping to reduce redness and provide relief for dry, itchy skin. 
SaltFacial offers numerous benefits including: 
Offers a safe treatment for all skin types

Detoxifies, hydrates, nurtures, and promotes healing in just one treatment, making it an ideal complementary treatment to a wide range of cosmetic procedures

Improves oxygen production in the skin, producing a dewy and fresh appearance

Boosts collagen production

Produces skin that is smoother, clearer, and healthier

Treats any area of the body, including hands and feet

Produces immediate results 

Requires no downtime
What to Expect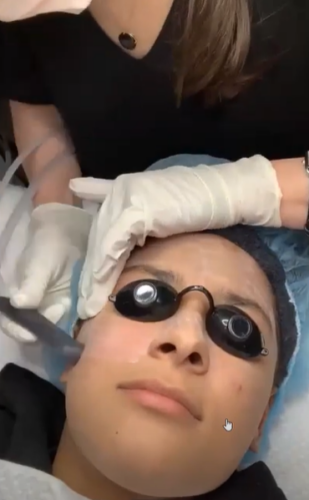 Farzaneh begins SaltFacial treatment at our medical spa using a wand to trace your treatment area in a grid pattern. All-natural sea salt will gently exfoliate your skin to purify and even out your skin. 
After the sea salt skin resurfacing, an ultrasound module will help nourish your skin with essential nutrients.
Ultrasound energy will open up your cells, preparing them to accept and absorb hydration and topical products into the skin tissue.
This replenishing step will promote healthier skin and stimulate collagen remodeling, making the skin tighter and firmer. 
After absorbing nutrients, the last of the 3-step treatment is LED light therapy to boost collagen production, kill bacteria, and reduce inflammation.
The entire procedure will take 45-60 minutes to complete.
SaltFacial recovery and results
There is no downtime after this all-natural, non-invasive treatment. A refreshed and rejuvenated complexion will be immediately noticeable following the procedure.
The skin may have mild redness after treatment, but this should dissipate within a few hours. Most patients report noticing softness and a radiant glow the next day. 
This treatment reduces fine lines, age spots, sun damage, acne, and other skin conditions, replacing them with clean, hydrated, and healthy-looking skin. The results last for approximately two weeks. Using sun protection will help prolong your results.
Multiple treatments are necessary to optimize and maintain results. Your customized treatment plan will be discussed during your consultation. 
Rejuvenate your skin with a SaltFacial in San Diego
Our highly-trusted medical aesthetician is currently accepting new patients and will be happy to meet with you to discuss whether SaltFacial is the right skin rejuvenating treatment for you. To schedule an appointment, call us at (858) 943-2113. Alternatively, you can schedule an appointment online via our contact form.
Photos
FAQs
Q: What makes SaltFacial unique?
A:
Not every facial delivers excellent results without harsh chemicals, restrictions, or limited use. Unlike other skin rejuvenating treatments, SaltFacial is an all-natural procedure that is safe for any skin type. Its 3-step process delivers unmatched versatility in skin renewal therapy, offering you a powerful treatment tailored to your unique needs and goals.
SaltFacial works on superficial and deeper skin layers, improving the skin's protective properties. In effect, the treatment provides both healing and cosmetic results. Salt therapy stimulates the restorative and regenerative processes in the skin, normalizes skin pH, and improves circulation at a cellular level – all with insignificant risks.
The innovative system gives patients the flexibility to work with our skin experts to design a comprehensive and customizable skincare plan for the best results.
Q: What does SaltFacial treat?
A:
SaltFacial addresses condition like:
Uneven skin tone
Enlarged pores
Fine lines and wrinkles
Sun damage
Collagen reformation
Acne
Acne scars
Skin lightening
Age spots and pigment variation
Post-surgery healing
Q: Does SaltFacial treatment hurt?
A:
SaltFacial treatments are virtually pain-free. Most patients only report a scratching sensation, especially on more sensitive areas of the face or where the skin is thinner (e.g., around the eyes).
Q: What treatments are recommended with SaltFacial?
A:
SaltFacial system is incredibly versatile. It can be used as a trifecta (3-step) system or each step can be used separately to complement any kind of device, laser, or injectable, in our San Diego, CA, medical spa.
Patients who desire more aggressive facial rejuvenation make excellent candidates for SaltFacial because it can serve as a complementary treatment for laser, radiofrequency, or microneedling treatments. SaltFacial also pairs well with chemical peel treatments and dermal filler procedures.
To determine the best procedure plan, as well as the appropriate intervals between procedures according to your needs and aesthetic goals, schedule a consultation at Cosmetic Laser Dermatology today.
Q: How many treatments will I need?
A:
While most patients achieve exceptional results after one treatment, regular and consistent therapy sessions are recommended to maintain results. We will work with you to design an appropriate procedure plan according to your needs and goals.
Q: When will I see results from my SaltFacial?
A:
The results of SaltFacial begin to show immediately. Post-treatment skin is left nourished, hydrated, and plump. Most patients report having softer skin with a radiant glow the following day and experience clearer and more toned skin that continues to improve with each therapy session. A maintenance treatment plan is recommended to maintain and optimize results.