Bellafill Overview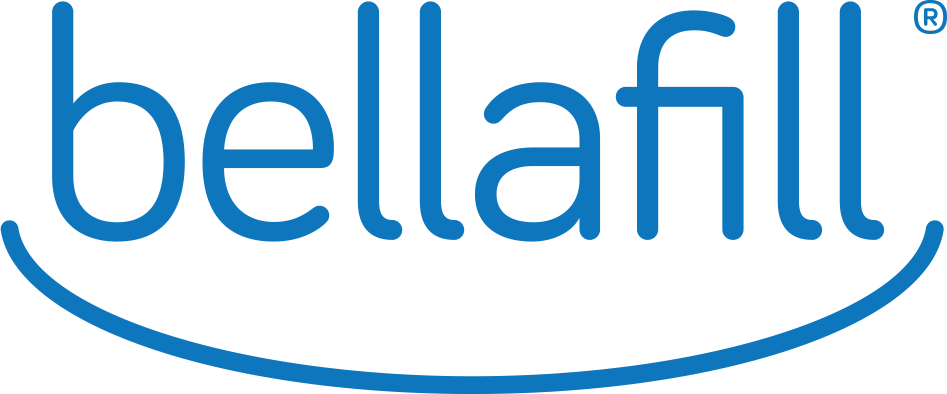 Bellafill is an FDA-approved dermal filler that's used to correct depressed acne scars and nasolabial folds, commonly known as smile lines. Effective for both men and women as well as for all skin types, Bellafill is a safe permanent filler for moderate or severe facial wrinkles, lines, and creases.
Bellafill is unlike many other dermal fillers on the market in San Diego. First, it is non-resorbable. This means that the body doesn't eventually absorb the filler, ensuring that injections are not required to maintain the final results. Second, Bellafill is permanently implanted into the skin to correct unsightly lines and creases around the mouth and acne scars on the cheeks.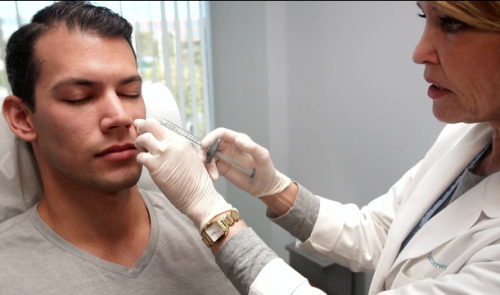 Bellafill is a permanent solution to wrinkle problems using a mixture of enhanced bovine collagen and the topical anesthetic lidocaine, which is made from microspheres of a synthetic material called polymethylmethacrylate (PMMA).
As a result, patients are required to undergo an allergy skin test before their first Bellafill dermal filler injection to make sure they are not allergic to the lidocaine or collagen. About four weeks later, once the test results confirm that the patient is not allergic to the Bellafill ingredients, he or she can undergo this anti-wrinkle treatment.
What to Expect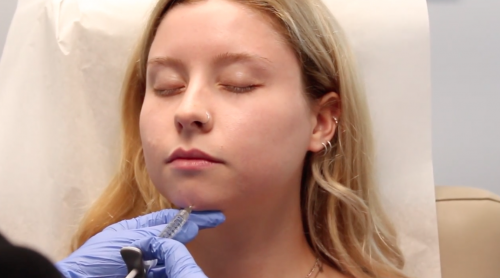 The dermatology specialists at Cosmetic Laser Dermatology in San Diego use an ultra-fine needle to inject Bellafill into the skin. The very first treatment immediately gives plumpness and volume to the skin, helping to reduce the appearance of wrinkles and acne scarring.
Although the microspheres of polymethylmethacrylate (PMMA) in Bellafill are not absorbed into the body, the collagen is, which provides instant volume for your face. The PMMA remains permanently in place and creates a foundation that results in smooth skin. This allows for the dermal filler treatment to last longer than most other micro needling procedures.
The Bellafill procedure is simple and short and requires almost no downtime. Patients can drive themselves home or back to work and resume their normal daily activities on the same day they receive this dermal filler treatment in San Diego.
For both acne scars and nasolabial folds, Bellafill results have been proven to last indefinitely thanks to its unique structure. Unlike other dermal filler products, Bellafill will not need consistent touch-ups. ncbi.nlm.nih.gov explains how Bellafill can treat acne scars.
Treatment Guidelines
Before your procedure: 
An assessment will be made by your physician to determine the amount of product needed.
A skin test will be performed 4 weeks prior to your first Bellafill treatment to rule out any skin sensitivities to the ingredients in Bellafill. A small amount will be injected into your forearm; if you should see any reaction to this, inform your doctor.
During your procedure:
Bellafill contains lidocaine to minimize treatment discomfort.
Multiple injections will be administered to treated areas.
You may have a very small amount of pinpoint bleeding where the needle was inserted. This usually subsides in a few minutes.
After your procedure:
You may use your regular skincare products and make-up.
You may feel some soreness around treated areas. Ice packs may be used to ease tenderness and swelling and you can take Tylenol for any discomfort.
Immediately after the treatment you will experience swelling which can last up to 3-7 days.
You may feel lumps where the filler was injected, which is typically related to swelling and will subside in about 3-7 days
Results are immediate but due to the swelling, the expected end result can be seen between 7-10 days.
Do NOT manipulate, rub, massage, apply pressure, etc. to treated areas or lay face down after treatment.
You may get a bruise from the injections. If so, you are welcome to come into the office the following day and have the bruise(s) treated with a laser to assist in clearing up the bruise, at no charge.
You may also take Arnica pills before and/or after the treatment to decrease the risk of bruising and to help any bruises you have to subside faster. We have Arnica available for purchase at the office.
It is always a possibility that you may not get the desired result after one treatment. Additional treatments may be necessary to achieve optimal desired results.
Follow any additional specific post-treatment instructions from your physician.
 Please contact our office if you have any questions or concerns at (858)657-1002
Photos
FAQs
Q: Is Bellafill Safe?
A:
According to the manufacturer Suneva Medical, Bellafill was found to be exceptionally safe through five years of testing during the largest, longest dermal filler study ever conducted.
Q: Is Bellafill Right for All Types of Wrinkles?
A:
It is well known that Bellafill effectively treats acne scarring and deep nasolabial wrinkles. However, many patients ask if the permanent dermal filler is also effective for treating wrinkles caused by repetitive movement, as well.
For dynamic wrinkles – those caused by repeated facial movements, such as frowning or squinting – Bellafill is not recommended. Instead, it is a better treatment for those suffering from wrinkles or folds due to volume loss from aging.
For patients who want a longer-lasting solution to their facial wrinkling or scarring, Bellafill is the safe, effective treatment many patients have been looking for. Some more information can be found at bellafill.com.
Q: How Long Does Bellafill Last?
A:
Bellafill is designed to do more than just "fill" in the open spaces beneath your skin. Instead, it restores your face's natural fullness and volume. Therefore, results are more effective and longer lasting than those produced by other dermal fillers.
Q: Are There Any Side Effects With Bellafill?
A:
Within the first 24 hours of treatment, patients normally experience redness and mild swelling around the injection site, but this usually recedes within a day or two. Patients also may experience bruising, pain or soreness, tenderness, and itching, but they are all usually mild and disappear within a week.
Less common side effects include lumps, granulomas, and persistent redness or swelling at the site. Some patients have also reported developing a rash and itchiness more than 48 hours after treatment.
Other Options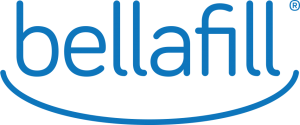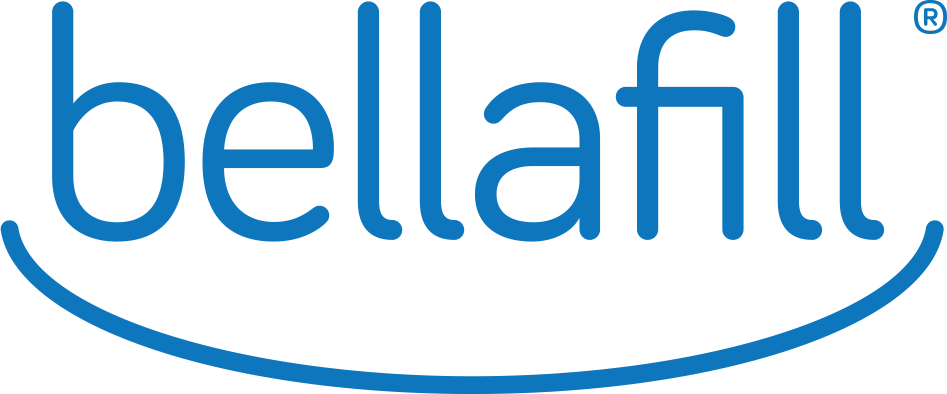 Promotions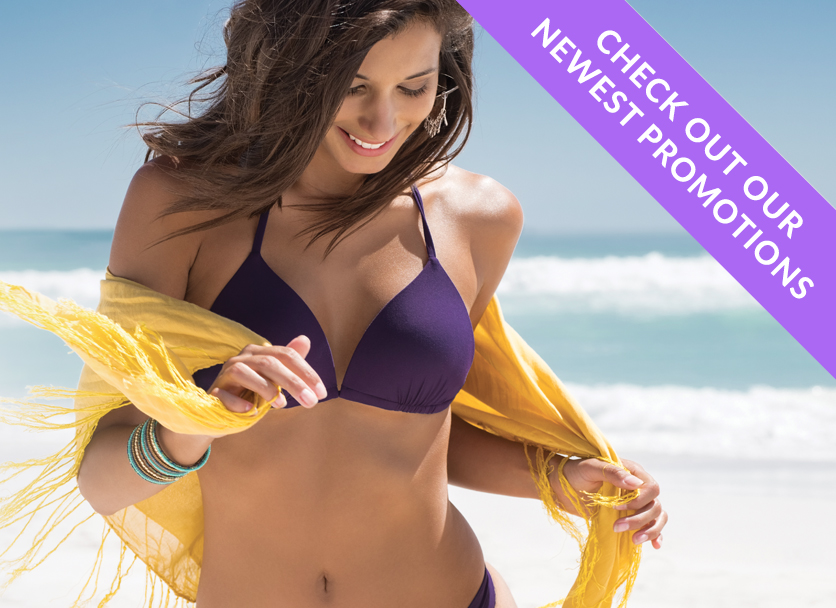 For more information about the monthly specials offered at Cosmetic Laser Dermatology in San Diego, visit our Promotions page.