The world-renowned dermatologists at Cosmetic Laser Dermatology combined major cosmetic breakthroughs in science and medicine to bring our patients the ultimate in rejuvenation. Our landmark dermatology center in San Diego offers patients customized care including the most innovative laser, injectables, body sculpting, and vein treatments available.
Cosmetic Laser Dermatology, a West Dermatology company, combines the major cosmetic breakthroughs of science and medicine with the art of vision, creativity, and skill to bring our patients the ultimate in rejuvenation, and personalized attention, in a warm social environment of approachable luxury.
Why Choose Cosmetic Laser Dermatology?
Cosmetic Laser Dermatology offers an environment staffed by dedicated medical authorities, ensuring the highest quality of care is administered to each and every client. We offer a variety of payment options to ensure that our patients have access to the dermatologic care they need to achieve their goals. Our staff strives to meet the needs of all of our patients by accommodating out of town patients and speaking five languages including Spanish, Italian, Farsi, Portuguese, and Tagalog.
We're pleased to be an accredited institution by the Institute for Medical Quality in California, an organization dedicated to improving medical care. Cosmetic Laser Dermatology is IMQ accredited because we want to make sure that all of our patients receive the best possible care in the safest and most advanced surgery center and office. CLDerm is also proud of the charitable works that we provide to our San Diego community.
Our Board-Certified Dermatology Experts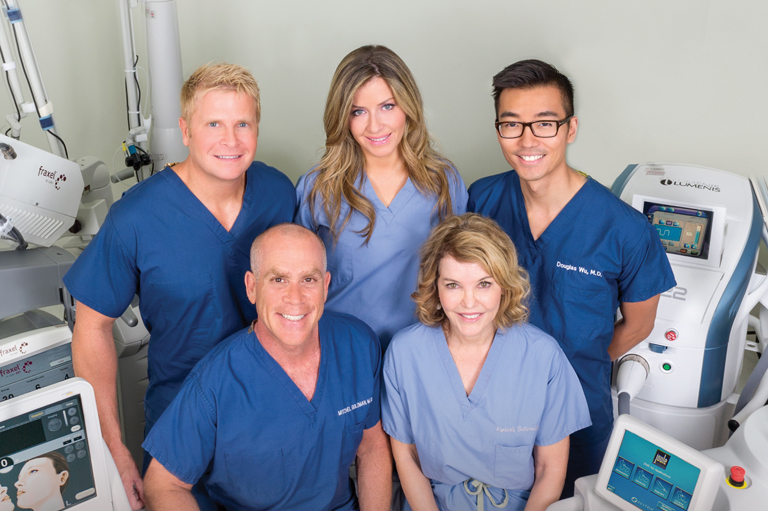 We are proud to have the most renowned board-certified dermatologists in the world:
Our Skin Care Specialists
Our Cosmetic Dermatology Services
Cosmetic Laser Dermatology is committed to providing the best skin care services in San Diego. We do this by offering state-of-the-art, cutting-edge treatments for a variety of skin issues and concerns. Some of the most popular procedures and conditions treated at our center include the following:
For a full list of our dermatology services, please visit our Procedures page.
CLDerm in the Media
The board-certified doctors at Cosmetic Laser Dermatology have been featured in many television news programs, both local and national, as well as in prominent print magazines. They are a well-known and trusted source of cosmetic dermatology information and are the leading skin care practice in San Diego.
Helpful Information for Patients
Are you interested in scheduling a consultation at Cosmetic Laser Dermatology? Below you will find a list of patient forms and information for our out of town patients:
Take a Virtual Tour of Our Office!
Schedule a Consultation at Cosmetic Laser Dermatology Today
Contact CLDerm today to schedule a consultation with San Diego's best dermatologists.
Next, learn more about the procedures offered by our skin care experts.