Sclerotherapy Overview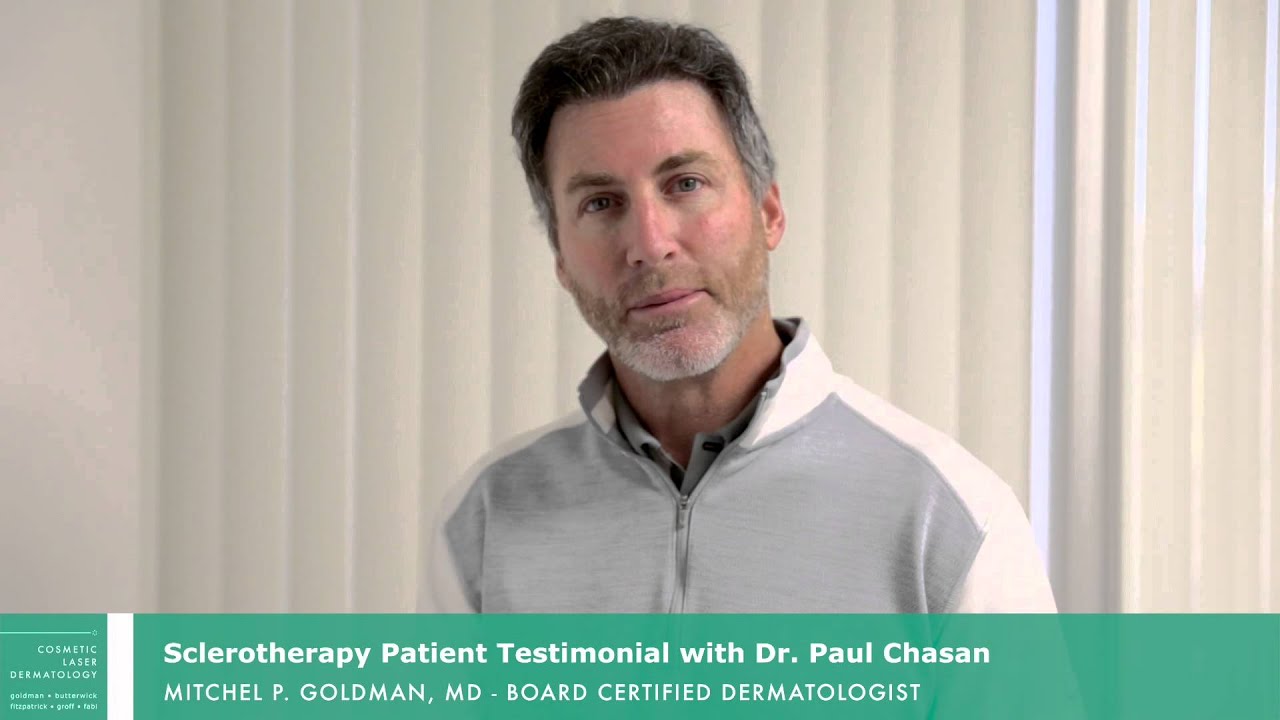 Sclerotherapy is a safe, effective way to eliminate unwanted spider or varicose veins, which can form on the legs. The procedure involves a series of injections into the vein with a sclerosing agent. Through the skill and technique of our board-certified dermatologists, sclerotherapy safely and effectively cuts off the blood supply to the feeder vein. By wearing compression stockings, the blood supply remains cut off in the targeted vein, causing it to dissolve over a few weeks.
At Cosmetic Laser Dermatology in San Diego, California, we are proud to have several of the country's leading experts in the treatment of visible, enlarged, or even painful spider or varicose veins. Our very own medical director Dr. Mitchel Goldman is a pioneer and leading authority in the field of veins and sclerotherapy treatments – he's actually considered the godfather of sclerotherapy.
He has founded and was President of the American College of Phlebology, national society of over 20,000 physicians who treat leg veins and has written and lectured extensively on these and related vascular topics, publishing multiple medical textbooks on the subject in 5 languages, some of which are now in their 6th edition.
As leading experts in the latest dermatologic procedures, Cosmetic Laser Dermatology frequently conducts clinical trials to advance the field of cosmetic and laser dermatology treatments.
Candidates for Sclerotherapy Vein Treatment
Sclerotherapy is an ideal treatment option if you are currently experiencing the following problems: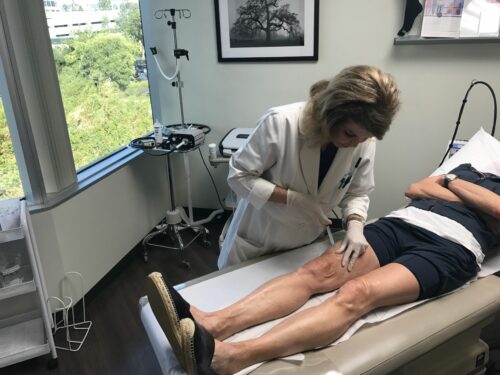 Leg Veins
Chest Veins
Hand veins
During a consultation at our San Diego office, we will examine your veins and address your concerns to develop a customized treatment plan to meet your needs.
If it's determined that you're not a candidate for sclerotherapy, you may fare better with a different vein treatment, including:
Vascular Surgery (Phlebectomy)
Laser Treatment
Endovenous vein ablation, CTEV
Benefits of Sclerotherapy
Sclerotherapy is a safe, minimally invasive treatment option that helps eliminate unsightly spider or varicose veins, allowing you to feel comfortable wearing shorts, skirts, and other clothing that shows your legs.
Other benefits include:
Clear, smooth skin
No more pain or discomfort
Visible results within 2 months
Optimal results in 3-4 months
Furthermore, sclerotherapy does not cause many side effects. In some cases, patients may experience minor swelling, discoloration, and/or bruising, although these normally dissipate in 7-10 days.
With sclerotherapy, you can have successful vein removal without surgery, anesthesia, or downtime. And because our vein reduction specialists perform the procedure themselves, you'll be getting the best treatment and results possible.
Schedule Your Sclerotherapy Procedure With A Dermatologist At Our San Diego Medical Spa Today
If you're ready to learn more about this safe, effective procedure, contact Cosmetic Laser Dermatology at our San Diego office today.

What to Expect
Our vein specialists at Cosmetic Laser Dermatology have performed more successful sclerotherapy procedures than anyone else in the San Diego area. When you come to our skin care center, you're in the hands of the foremost sclerotherapy experts anywhere who put your comfort and individual needs first.
Sclerotherapy is a highly effective treatment, eliminating over 90% of an injected vein in a single session, which typically takes no more than 15 minutes. It is important to note that results vary and depend on each patient's unique vein issues and overall health. In some cases, 2 – 3 sessions are recommended to achieve the best possible results.
Please read our pre/post-treatment guidelines for sclerotherapy and sclerotherapy for hands.
Pre/Post Treatment Guidelines
Before Your Procedure:
If you are taking Coumadin (Warfarin), Plavix (Clopidogrel), Motrin (Ibuprofen), Aleve
(Naproxen), Aspirin or other supplements like fish oil, Vitamin E, flax, etc., please let
your physician know before your procedure, as these medications can cause bruising.
DO NOT STOP any prescribed medication unless your primary care doctor approves it.
Please be aware some medications must be stopped 1-2 weeks before the procedure
to minimize bleeding or bruising.
Avoid self-tanners and spray tans 2 weeks prior to treatment.
During your procedure:
You will be given disposable shorts to wear.
During the injections you will be lying flat on a bed.
Multiple injections will be administered.
Your physician will determine if he/she is able to treat both legs in one visit. If only one
leg can be treated, you may schedule as soon as the next day to have the other leg
treated.
During sclerotherapy for the hands:
1-4 injections will be administered on each hand.
The treated hand is wrapped in an ace bandage for 24 hours. We suggest treating
your hands a day apart so they are both not wrapped up at the same time.
After your procedure:
You will need to wear a 30-40 mmHg, thigh-high, graduated compression medical
stocking (available at our office) 24 hours a day for 1 full week, including when you
shower, exercise and while you sleep. You will be measured in our office for appropriate
size stockings.
Walking as much as possible is recommended after treatment (mild to moderate
exercise is also okay).
Tenderness, soreness, itching and mild discomfort may be experienced for a few days.
Once you remove the stocking, your leg veins may look worse.
Bruising, tenderness, soreness and darkening of the veins are normal.
2 weeks after your treatment you may experience a coagulum (a small collection of
blood that is trapped within the vein but is NOT a blood clot). Coagulum may be tender
and sore. We advise that you come in for a follow up and have your physician drain the
coagulum. Draining the coagulum will help relieve tenderness and soreness and minimize brown staining of the skin. Ibuprofen 400mg (OTC) 2-3 times a day can be taken to help relieve inflammation.
On average, it takes 6-8 weeks to notice full improvement.
Patients may need more than 1 treatment. If so, we recommend that you wait 2 months
before retreating.
Hyperpigmentation (brown staining) of the skin located over the treated veins may
persist for weeks to months prior to resolving. All of these symptoms are temporary and
will subside naturally over time.
If your symptoms worsen over time, please contact our office at (858) 657-1002.
To learn more about how we can help you overcome your problem veins, we encourage you to contact our team of experts today, as our warm, compassionate physicians will address your concerns and listen to aesthetic goals so that you can get the best, most customized treatment possible.
To know more, visit ncbi.nlm.nih.gov/ or contact our body sculpting experts at Cosmetic Laser Dermatology.
Photos
Videos
FAQs
Q: Is sclerotherapy safe?
A:
Yes, when performed by an expert injector, sclerotherapy is extremely safe. It's very important to visit a board-certified dermatologist with extensive knowledge in vein removal treatments to ensure that you receive the safest and most effective treatments possible. Cosmetic Laser Dermatology in San Diego, California is home to expert vein injectors who are board-certified dermatologists and diplomats of the American Board of Cosmetic Surgery.
Q: Who should perform sclerotherapy injections?
A:
It's crucial to visit a doctor who has been trained uniquely in sclerotherapy and has the versatile training and experience to provide the appropriate treatment for your unique needs. Dr. Mitchel P. Goldman, medical director of Cosmetic Laser Dermatology, is a pioneer of the treatment. This means that Dr. Goldman has the highest level of skill and knowledge when it comes to performing sclerotherapy treatments as well as phlebectomy, CTEV, and other vascular procedures.
Unlike a vein clinic, each of the dermatologists at Cosmetic Laser Dermatology can expertly perform a range of safe, effective treatments for unsightly, problem veins and can create a custom treatment plan to achieve the results you are looking for.
Q: When can I see results after my sclerotherapy injections?
A:
Though the results vary from person to person, it is possible to notice an improvement right away. In many cases, you'll visibly see veins disappear in front of your eyes. However, over the course of the next several weeks, your veins will continue to resolve, therefore improving results. If you have additional questions about sclerotherapy, please contact us today!
Q: What are varicose veins?
A:
Varicose veins can develop for a number of reasons, including pregnancy, genetic factors, sun exposure, wearing high heeled shoes or due to age. These bulging veins can occur when the blood in the vessels begins to flow backward as a result of blocked passageways. These veins can be safely removed without affecting blood flow in the treated area. In fact, removing damaged visible veins will result in an improved circulation.
.
Q: Will I need multiple treatments?
A:
This depends on your specific situation. Sometimes, a person may require 2-3 treatments at our San Diego center to see optimal results, though many will see excellent results after just one session. During your consultation, our doctors will be able to better address this question for you in person.
Q: Is there any downtime following sclerotherapy in San Diego?
A:
There is very minimal downtime following sclerotherapy. You're encouraged to walk and continue with normal activities, however, you must wear graduated compression stockings non-stop for the first week. After that, the stockings can be removed to shower. This helps ensure optimal results.
Q: Are the compression socks needed for the best long-term results from sclerotherapy or mainly to manage the swelling or circulation?
A:
You should wear your compression stockings for 24 hours a day for 7 days, even in the shower and during sleep. Then just during the day for another week or two. It is important for you to wear the compression stockings because it will decrease any adverse effects and makes the procedure more effective.
Q: Why would itching occur after sclerotherapy? How often does it occur in patients?
A:
Local itching at sites where sclerotherapy was performed can be common after the procedure. As the point of the procedure is to induce a local inflammatory reaction in the vessel, that can result in histamine release, which causes an itching sensation. This is typically why in our practice we apply a topical steroid to the legs immediately after sclerotherapy to mitigate this reaction.
Although rare, if you are having itching beyond the areas of injection (rest of your body), you should notify your treating physician as this may be a sign of an allergic reaction, especially if it is accompanied by a rash. An allergic reaction is EXTREMELY rare and in fact has never occured in our practice in over 30 years with over 30,000 treatments.
Q: Sclerotherapy was performed just days ago, and now I have a swollen leg and toes. Is this normal?
A:
After undergoing sclerotherapy treatment for leg veins, it's very common to experience leg swelling, especially if you don't continue wearing the compression garment and/or do not walk as advised. Typically, compression garments should be worn around the clock for the first several days. Not compression dressings but graduated compression stockings. If a compression dressing is not properly applied with the correct bandage, it can make things worse.
Q: Is sclerotherapy recommended for tiny veins on the cheeks?
A:
While sclerotherapy is a very effective treatment for unwanted veins, facial veins are best treated with laser treatments. We offer multiple laser treatments in order to eliminate unwanted facial veins. Using IPL, Pulse Dye Laser, and CoolTouch Varia laser systems, facial veins are safely and effectively diminished.
Q: How many weeks post-sclerotherapy is it advisable to do medium to high-intensity exercise?
A:
You should consult with your treating physician regarding their recommended protocol, as everyone's may vary. Typically, we urge you to resume walking that same day and then resume medium to high-intensity workouts (avoiding as much abdominal recruitment) within 3 days of treatment. Of course, you should also wear compression hosiery 24 hours a day, 7 days a week after treatment (showering in them and blow drying them afterward).
Other Options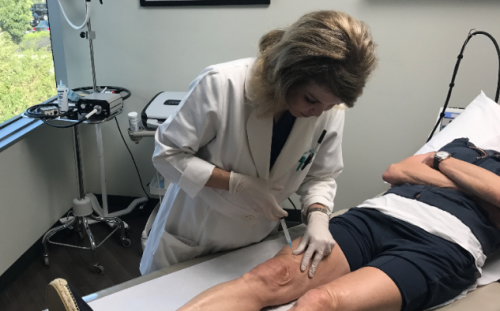 Promotions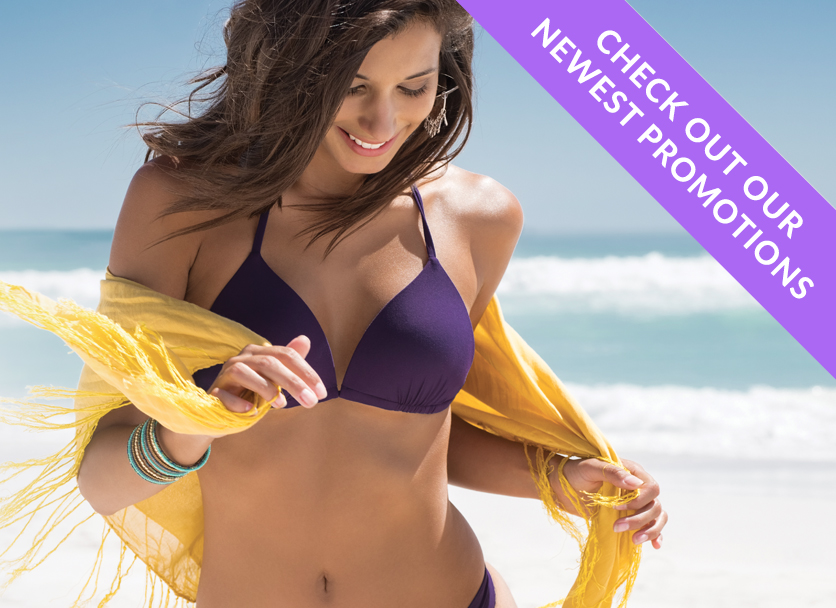 For more information about the monthly specials offered at Cosmetic Laser Dermatology, visit our Promotions page.