50
Years of combined experience
Overview
Aging makes many people stop wearing their favorite shorts, skirts, and even swimsuits due to the formation of unsightly leg veins. If unwanted leg veins are affecting your self-esteem and confidence to wear clothes that reveal your legs or are causing you leg pain we have a treatment that can be customized just for you!
Unwanted leg veins include those large, protruding veins that often appear on the legs. Called varicose veins, they are often harmless, though they can be uncomfortable, even painful. Living with leg veins can negatively affect your self-esteem and limit your desire to wear clothing that exposes your legs.
Varicose veins the size of your finger while mostly benign and unsightly can also cause a number of medical problems such as thrombophlebitis, deep vein thrombosis and skin ulceration. But, there are a variety of vein removal methods that we use depending on the type of vein we are treating. At Cosmetic Laser Dermatology, our very own Dr. Mitchel Goldman, founder and medical director of our practice, is considered a world authority on vein treatments.

Dr. Goldman has published 6 textbooks (one in its 5th edition) and lectured around the world on his advanced vein removal techniques in addition to having written hundreds of peer-review medical papers. With his expertise in vein treatments, as well as the expertise of the other doctors trained by him in our practice, you can be certain that your expectations for removal will be met.
What Causes Unwanted or Problem Leg Veins?
Varicose veins, as well as other unwanted leg veins like spider veins, are considered cosmetically undesirable because they can be unattractive and cause an unhealthy-looking appearance. It's widely thought that problem leg veins like varicose veins and spider veins develop solely due to aging. While this can be a cause, genetics and sun exposure are also key factors.
Spider veins and varicose veins are different types of vein conditions, yet they share similarities. One is that they are more common in women. Other similarities include why or how they develop, including:
Hormonal changes
Trauma or injury
Chronic sun exposure
Obesity
Previous surgery
Occupations that require continuous standing, such as retail, teaching or nursing, are also common contributing factors.
Varicose veins are often swollen and appear raised on the surface of the skin while twisting painfully just below the surface. They swell due to a reversal of blood flow that increases the pressure inside the vessel.
These veins can cause cosmetic dissatisfaction and make you feel self-conscious about exposing your legs. They can even complicate your health since the unhealthy veins are taking blood from surrounding healthy veins and delaying blood return to the heart.
On the other hand, spider veins are smaller and typically appear as red, blue, or purplish veins snaking crookedly but visibly just below the skin. Although smaller, they are also considered undesirable.
The removal of spider veins or varicose veins will actually improve your circulation and prevent new veins for appearing as you age – besides resulting in clear, smooth skin.
Because of the experience and expertise of Dr. Goldman and the rest of our world-class board-certified dermatologists, our practice offers a variety of cutting-edge, safe, and highly effective vein treatment options to eliminate unwanted veins. In fact, our doctors combine over 100 years of dermatologic experience at our San Diego office. Since the practice was founded, we have treated more than 150,000 patients for a vast array of skin conditions.
When you visit our La Jolla office, our experts will address your concerns and learn your aesthetic goals before creating the right leg vein treatment plan for you. To see how we can help you, schedule a consultation today at Cosmetic Laser Dermatology.
Treatment Options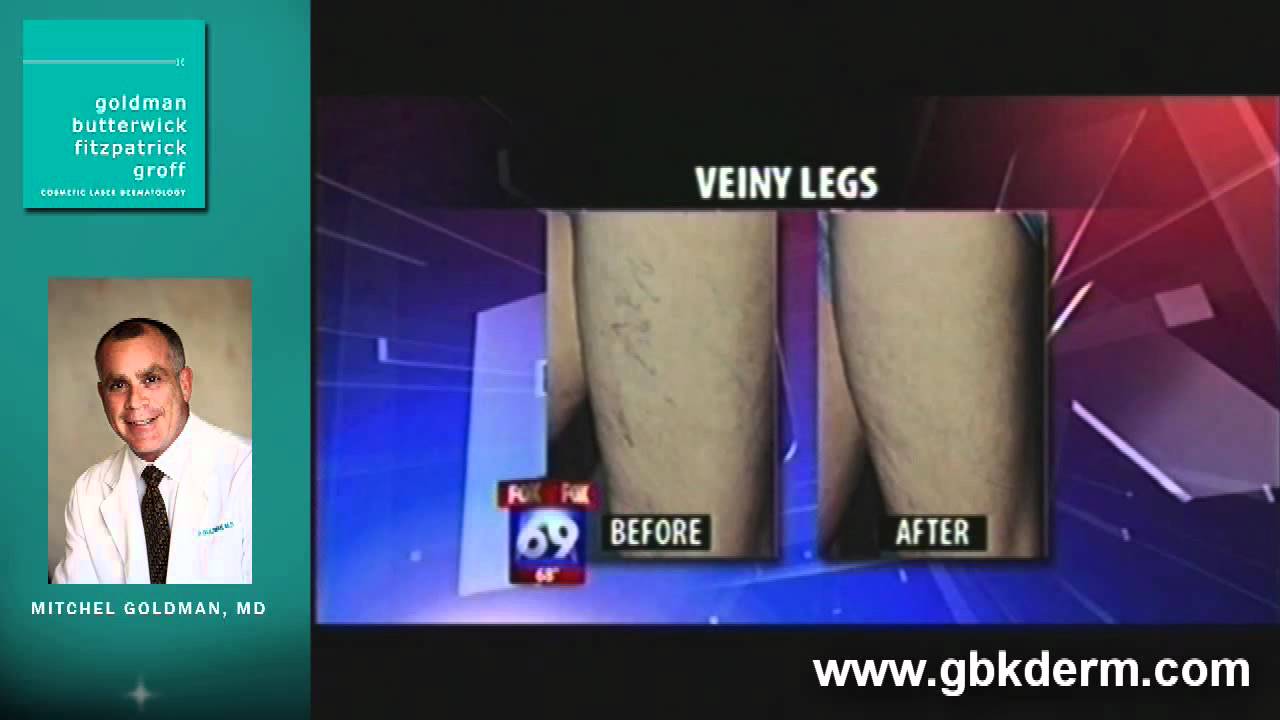 Cosmetic Laser Dermatology is proud to offer you a variety of vein removal treatment methods, which include the following:
Sclerotherapy
Sclerotherapy is the first line of treatment for all non-varicose leg veins. In fact, 99% of leg vein removal treatments are done successfully with sclerotherapy. The procedure is simple, quick, and effective. A tiny needle is used to inject the problem vein with a sclerosing (hardening) agent, in either foam or liquid form, nearly painlessly, which causes the vein to collapse and the veins to disappear.
Cosmetic Laser Dermatology is one of the leading centers in the country for sclerotherapy, as we have several nationally-recognized experts, including our medical director Dr. Mitchel Goldman, a pioneer and leading authority in the field of veins and sclerotherapy treatments.
Minimally-invasive sclerotherapy is a safe, effective solution for eliminating unsightly spider or varicose veins, giving you the confidence to wear shorts, skirts, and other clothing that shows your legs.
Phlebectomy

Phlebectomy is the surgical removal of unattractive varicose veins that are larger than the size of a finger. Tiny incisions are made into the skin, under local anesthesia, to remove the problem veins. After a phlebectomy procedure, there is no downtime and you are able to walk right out of the office.

Laser Treatments

Laser vein treatments are typically used to treat veins that have not been completely erased with sclerotherapy, although this is usually not necessary. Our approach to laser therapy for vein removal is different from other offices, which may use lasers to reduce leg veins if they are not confident or comfortable using sclerotherapy.

CoolTouch CTEV Treatments

Another type of laser treatment for veins is CoolTouch CTEV. This is an endovenous ablation using a special laser fiber and an infrared 1320 nm wavelength device to treat unwanted veins which was developed by Dr. Goldman and is now standard of care worldwide. This procedure has replaced the need for a "ligation and stripping" procedure which was commonly used in the past. It targets water within the walls of the veins instead of hemoglobin, which helps deliver effective, long-lasting vein removal results without invasive surgery. It's ideal if you have unwanted leg veins in the following areas:

VenaSeal Vein Closure System

Cosmetic Laser Dermatology is one of the practices that participated in the FDA clinical trials for the approval of the VenaSeal vein closure system. The VenaSeal system is a unique method of treating varicose veins because it does not require anesthesia or compression garments during recovery. It differs from other vein treatments in that it uses medical glue to close the vein making it a less invasive option. There is no downtime and you can leave the office immediately following a treatment. For most patients, there is generally no need to wear compression garments.

Contact the Vein Treatment Experts at Cosmetic Laser Dermatology TODAY

At Cosmetic Laser Dermatology, we are committed to helping you maintain the healthy appearance of your legs as well as your overall body. Our board-certified dermatologists are pioneers in leg vein treatment and research in the dermatologic industry.

Schedule a consultation today by calling (858) 943-2113. Our warm, friendly staff will address your concerns and help you attain the youthful appearance you desire. Contact Cosmetic Laser Dermatology today to find out which vein removal treatment best suits you.
Photos
Videos
Promotions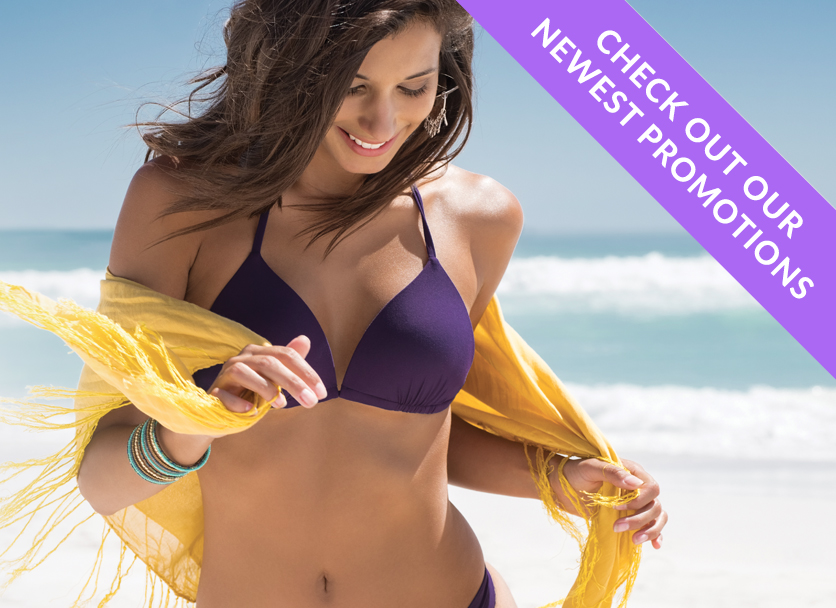 For more information about the monthly specials offered at Cosmetic Laser Dermatology, visit our Promotions page.
FAQ
Q: How many sessions will I need?
A: This depends on the procedure and the extent of your vein problem. For example, one session typically eliminates 80% of problem veins, though results do vary. Usually, though, you can expect 2-3 total sessions to get your desired results in improving the appearance of the problem veins.
Q: When will I see results?
A: It depends on the procedure and the extent of your condition. For example, with sclerotherapy, you can start to see results with spider veins within 6-8 weeks although optimal results could take longer. With the larger varicose veins, results are commonly visible in 2-3 months, with maximum improvement usually coming several weeks after. However, results depend on the severity of the problem veins and your overall health and effort in expediting recovery.
Q: How much downtime can I expect?
A: While it can vary, there is typically no downtime. In fact, we encourage you not to stop your daily routine and urge you to walk every day, so you can encourage good blood flow to help mitigate any risk of blockage and keep swelling down. You'll be required to wear graduated compression stockings (which we provide) 24/7 for the first week to ensure proper and quick healing, and then for another week except for bathing or showering. If you undergo the VenaSeal procedure, you may not even require compression garments.
Q: Are there any side effects?
A: Generally speaking, our vein removal treatments cause little or no pain. Side effects are generally mild and may include redness, bruising, swelling, and itching. These should subside within a week. Talk to our experts to find out more about the possible side effects associated with your chosen vein removal treatment.
Q: I'm barely in my 30s, yet I have prominent leg veins – I thought they were caused only by aging?
A: While it's true that aging does play a huge role in the formation of varicose and spider veins on the legs, other factors include genetics, hormone changes, leg injury, obesity, chronic sun overexposure, and trauma. This means that it's not uncommon to have leg veins in your 30s or in some cases your 20s.
Q: As a teacher, I'm on my feet nearly all day. Does this have an impact on leg veins?
A: Yes. Jobs such as nursing, teaching, and others that require long hours of standing can also be a major factor in the development of leg veins.
Q: Are leg veins a risk to my health?
A: It depends. Typically, leg veins cause nothing more than dissatisfaction with the appearance of your legs and/or make you feel self-conscious about them. However, if left untreated, they could compromise your health because the unhealthy veins are taking blood from surrounding healthy veins and may lead to skin ulceration, phlebitis and deep vein thrombosis (DVT).
Q: What's the difference between spider veins and varicose veins?
A: Spider veins commonly appear on the face and legs, while varicose veins almost always form on the legs. Spider veins are normally small and appear blue, red, or purplish crooked thin veins appearing just beneath the surface of the skin. On the other hand, varicose veins are raised, swollen veins on the skin surface that twist beneath the skin due to blockages in the vein.
Q: What is the best treatment to help reduce or even remove leg veins?
A: For most patients, sclerotherapy remains the gold standard for a quick, simple, and effective procedure for completely removing problem veins. However, we also offer phlebectomy, laser therapy, and the VenaSeal vein closure.
Q: Who should perform leg vein removal treatments?
A: A trusted professional dermatologist who has experience and expertise performing all of the above procedures. If you want to have treatment from pioneers in the field of sclerotherapy, who have written and lectured extensively about the procedure, then you should visit Cosmetic Laser Dermatology for an appointment to see our world-class staff, including Dr. Mitchel Goldman and the physicians at Cosmetic Laser Dermatology all of whom are widely renowned by doctors and patients alike for their expertise in the field of veins and vein treatments.
5/5 Stars
"If I could give this office 10 stars I would! I've never been to such an incredible office where everyone was so sweet, helpful, and professional!"
- Jessica V.
5/5 Stars
"I had such an awesome experience for my first visit and I am referring everyone I know to this office. From the super friendly staff to the state of the art procedures, they are the cream of the crop."
- Dinah M.
5/5 Stars
"I love and appreciate the professionalism, knowledge, warmth, and extraordinary care from the team at Cosmetic Laser Dermatology."
- Alejandro S.