Overview
What is Potenza RF microneedling?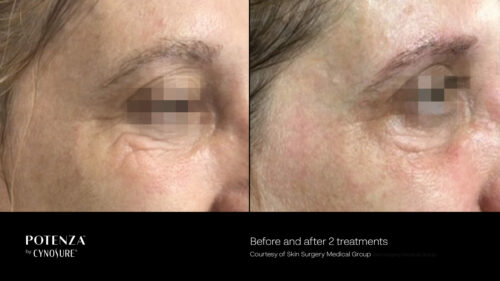 Potenza™ is a radiofrequency microneedling treatment for the face and body. Using ultrafine needles and radiofrequency energy, Potenza is designed to reduce fine lines and wrinkles, tighten and firm the skin, diminish scars, minimize pores, and improve skin tone and texture, resulting in healthier and younger-looking skin.
With four different RF modes and enhanced penetration, Potenza reaches deeper into the skin to trigger the body's natural healing response and regenerate new collagen and elastin. These essential proteins are vital for the skin to maintain its firmness, elasticity, and smoothness.
At Cosmetic Laser Dermatology in San Diego, we offer procedures like Potenza RF microneedling to help you turn back the clock on aging. With Potenza's versatile system, we can customize each treatment based on your specific needs and goals or combine it with other anti-aging procedures, such as laser therapy, for a more comprehensive approach to skin rejuvenation.
Benefits of Potenza RF Microneedling in San Diego
Potenza combined with medical-grade skincare products can create a comprehensive beauty regimen to maintain skin that is smooth, clear, and youthful. 
Potenza RF microneedling offers the following benefits:
Treatment for a wide variety of skin concerns on the face and body (signs of aging and sun damage, acne scars, stretch marks, skin irregularities, and enlarged pores)

Customizable treatment depending on the patient's specific needs and goals

Minimal downtime (faster healing time than traditional microneedling)

Safe for all skin types and tones, and any area of the body
Are you a good candidate for Potenza RF microneedling?
Potenza radiofrequency microneedling is an ideal treatment for anyone who wants to address signs of aging, such as lines and wrinkles, textural irregularities, blemishes, sun damage, acne scars, and stretch marks. It is best for those who desire to rejuvenate the skin with a minimally-invasive approach.
What to Expect
What to Expect from Your Potenza Treatment
Before your session, topical numbing cream is applied to the treatment areas. A handpiece is placed over the skin and ultrafine needles and radiofrequency energy penetrate the skin to stimulate new collagen production. The number of passes varies depending on the severity of the skin concern and the size of the treatment area.
Patients may feel light pressure during treatment. Pinpoint bleeding is also common but will subside before you leave our office.
Treatment times vary between patients and the number and size of treatment areas, but most Potenza treatments are typically performed within one hour. Multiple treatment sessions are recommended for optimal results. 
Recovery After Potenza RF Microneedling
Downtime tends to be minimal and tolerable. You may experience redness, swelling, or tenderness, which typically resolves within 2-3 days. Full skin recovery may take up to 5 days.
You may immediately return to your normal activities after treatment, but you must protect your skin as it heals. Always wear sunscreen and follow your dermatologist's aftercare instructions to avoid complications and ensure the best possible results.
Potenza Radiofrequency Microneedling Results
Collagen remodeling typically takes place 4-6 weeks after treatment, with optimal results seen between 2-6 months after the last treatment.
FAQs
Q: Is Potenza RF microneedling safe?
A: Potenza microneedling is FDA-approved and considered a very safe and effective treatment for people of all skin types when performed by certified and experienced providers.
Q: Is the treatment painful?
A: Most patients find the treatment to be very tolerable. To ensure a more comfortable treatment experience, topical numbing cream is applied before the procedure.
Q: What can the Potenza device treat?
A: Potenza RF microneedling is an effective treatment for tightening the skin and reducing imperfections. Potenza can treat the following concerns: Signs of aging and sun damage (fine lines and wrinkles), uneven skin tone and texture, scarring (including acne scarring), mild skin laxity, and stretch marks.
Q: Are there side effects after a Potenza RF microneedling treatment?
A: Potential side effects include temporary redness, swelling, or tenderness, which resolve within 2-3 days.
Q: How long will my results last?
A: Results can be long-lasting. We recommend scheduling follow-up treatments to maintain the best results.
Q: How do I know if Potenza microneedling is right for me?
A: If you desire skin that is firmer, smoother, and clearer, you may want to consider Potenza microneedling. It is safe for all skin types and tones. The board-certified dermatologists at Cosmetic Laser Dermatology are experts in a wide range of laser and energy devices, including RF microneedling. With years of experience, more than 50 devices, and participation in numerous research studies, patients can rest assured they will receive the highest level of care and the best possible results when they choose our center. The best way to determine if Potenza RF microneedling is right for you is to schedule a consultation with our board-certified dermatologists. Contact Cosmetic Laser Dermatology in San Diego to schedule a consultation.