TotalTat³ - Tattoo Removal Overview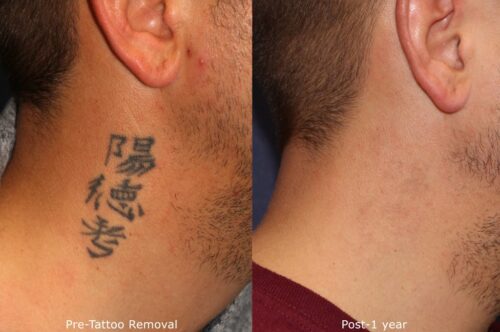 TotalTat³™ is the proprietary procedure for laser tattoo removal developed by Cosmetic Laser Dermatology's board-certified dermatologists. The TotalTat³ system is designed to remove tattoos of any size, color, from any body part, regardless of skin tone.
Lasers are a safe and effective way to get rid of unwanted skin art. Cosmetic Laser Dermatology helped develop the first laser specifically for tattoo removal over 30 years ago and has remained at the forefront of this technology ever since.
Since we have multiple lasers we can use for tattoo removal, we can effectively remove or fade ink of almost every color from black to red, green, and blue on any part of the body. 
Cosmetic Laser Dermatology now offers easy online booking to make scheduling quick and easy for our patients!
The TotalTat³ procedure is also an effective treatment for removing lip blushing pigment. Lip blushing is a popular medical spa treatment that promises to enhance the pigment of your lips. Unfortunately, the tattoo ink that lip blushing uses is not FDA-approved, leaving you vulnerable to infection and lip deformities.
At CLDerm, the board-certified dermatologists have extensive experience in removing pigment from lip blushing gone wrong.
The type of laser used depends on the color of the ink. We combine lasers for our revolutionary TotalTat³ treatment, which allows us to remove even stubborn ink colors more thoroughly and with fewer treatment sessions.
In addition, our lasers can treat any skin tone, so even patients with darker skin can have unwanted tattoos safely and effectively removed in our San Diego medical spa. To learn more about laser tattoo removal, please visit ncbi.nlm.nih.gov. 
Which lasers are used for tattoo removal?
Cosmetic Laser Dermatology is pleased to house a variety of lasers so we can effectively remove any type of tattoo ink with our proprietary TotalTat³ technique.
These cutting-edge systems are the most advanced available, producing amazing results in fewer treatments!
PicoSure Laser

 

PicoWay Laser

PiQo4

Q-switched Alexandrite

Q-switched Ruby

Q-switched Nd: YAG

Fractionated Accupulse CO2 Laser
The PicoSure, PicoWay, and Accupulse are the three lasers we combine to create our TotalTat³ treatment. We can also add one of our Q-switched lasers if necessary to ensure all our patients enjoy the best possible results in the fewest number of treatment sessions. 
We can eliminate most tattoos in just 3-5 sessions. The number of treatments needed depends on the size, color, type of ink used, location, and skin tone.
Laser treatments are spaced out every 4-6 weeks to ensure total healing between procedures and maximum results.
We use our TotalTat³ technique whether your tattoo is created with black ink or color, so you can be sure you will receive the best possible care no matter what.
Free Radiation Marker Tattoo Removal
If you have undergone radiation therapy for cancer, Cosmetic Laser Dermatology will be happy to remove your radiation marker tattoos free of charge.
Many people find that the removal of those small dots helps them to close a chapter in their life and move forward without the constant reminder on their skin. If you have tattoos from radiation therapy that you would like removed, don't hesitate to contact our medical spa today.
What to Expect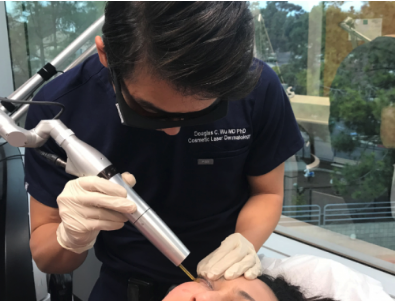 Tattoo removal is performed in our San Diego medical spa. Most patients find the treatment to be quite tolerable. We can use intralesional local anesthesia with lidocaine for patients concerned about their comfort level. Eye shields are also used to protect your eyes from the laser light.
The time for your treatment will vary based on the size of the tattoo. You may feel a brief sensation of heat (similar to grease "splattering" or a rubber band snapping against your skin). We will apply cold air to the skin's surface as the tattoo is treated to maintain a comfortable temperature on your skin.
After your treatment, you may experience mild skin redness and swelling in the treatment area. Some patients also experience pigment changes, which are usually temporary and resolve on their own over time. We recommend that you keep your treated areas out of direct sunlight and wear sunscreen daily to protect the skin from damage in the weeks following your procedure. 
We can repeat your TotalTat³ treatment in 4-6 weeks. Most patients require 3-5 treatment sessions to achieve the best possible result, which is much fewer treatments than other tattoo removal methods require.
Please read our treatment guidelines here.
During your tattoo removal procedure
To make you more comfortable, we may apply topical numbing ointment or provide local

anesthesia prior to your procedure.

Eye shields will be used to protect your eyes.

You may feel a brief sensation of heat (similar to grease "splattering" or rubber band

"snapping" against your skin).

Cold air may be applied directly to the skin surface as your tattoo is being treated to

help decrease the sensation of heat.
After your tattoo removal procedure:
You may have a sensation of heat/intense sunburn, which will subside throughout the

day. It is okay to take Tylenol or Ibuprofen.

You may notice a "white frosting" appearance over the treated area. This will subside

shortly after treatment.

It is possible to develop pinpoint bleeding, redness, and mild swelling.

We will apply ointment and a bandage over your tattoo after the procedure to protect

the surface of the skin.

If needed, apply ice packs (20 min. on and 20 min. off) the day of the procedure. This

will help reduce the sensation of heat and help minimize swelling.

Swelling typically peaks at 48-72 hours. If the laser treatment is being performed on

your face, sleeping with your head slightly elevated at night on two or three pillows for the first 2-3 nights will help minimize swelling. If the laser treatment is being done on the lower extremities (arms or legs), elevating these areas throughout the day and when sleeping at night for the first 3-5 nights will help minimize swelling.

Swelling may vary from patient to patient and from treatment to treatment.

NO RUBBING, PICKING, OR WIPING THE TREATED AREA.

It is okay to shower the day of the procedure.

Gentle cleansing with the fingertips is okay.

Crusting/scabbing may occur (allow to come off naturally, do not try to remove).

Apply antibiotic ointment daily until the surface has healed (typically 1-2 weeks).

Cover treated area with a bandage if it is in a location that will be rubbed or irritated by clothing.
Photos
Videos
FAQs
Q: How does tattoo removal work?
A:
Laser energy is directed at the art, passing harmlessly through the outer layers of the skin and directly targeting the ink. The ink is disrupted, allowing your body to absorb it, break it down naturally, and remove the tattoo.
Q: What types of tattoos can be removed?
A:
We are able to remove any type because we have various lasers. Different treatments are able to remove different colors. Our office is fully equipped with everything needed to remove all colors, shapes, and sizes.
Q: Are certain colors easier to remove than others?
A:
Yes, certain colors respond quicker to elimination. For example, black, red, dark orange, and dark blue are the easiest and fastest to remove. Green, purple, brown, light orange, and light blue may require more visits. The depth of the tattoo will also determine how many treatments are needed, as well as the type of ink used. Lastly, your skin tone will play a part in how fast the laser works. Lighter skin tones typically have a higher success rate.
Q: How many treatments will I need?
A:
During your consultation, one of our board-certified dermatologists will estimate the number of treatments you will need. As every person is unique, every tattoo is unique, but most take between 3-5 treatments to remove, each 4-6 weeks apart.
Q: Will the tattoo completely disappear?
A:
In most cases, yes, it will completely disappear. The ability to completely remove body art depends on several factors, including size, location, how long you have had it for, etc.
Q: How much downtime is required?
A:
The aftercare is minimal. You are able to return to your daily activities immediately after the treatment. However, you should keep the treated areas out of the sun for a few days and wear a good sunscreen.
Q: Will I have scars?
A:
After the removal of a tattoo most patients will not scar, however scarring is possible with any medical procedure. Compliance with our detailed after-care instructions will reduce your chances of scarring.
Q: Can I remove only part of a tattoo?
A:
Yes, our lasers are very accurate so we can remove just a portion if you wish.
Q: Can I remove permanent make-up?
A:
Yes. Cosmetic ink is different than the ink used in body tattoos, but we have the correct lasers to effectively remove permanent make-up. Our TotalTat³ procedure can also remove cosmetic ink from lip blushing. While lip blushing promises to enhance the pigment of the lips, it can also lead to infection and deformities. Unfortunately, the ink used for lip blushing is not FDA-approved, so removal is often necessary to preserve the shape and color of the lips. Our board-certified dermatologists have extensive experience in ink removal from lip blushing.
Q: Is it painful?
A:
The pain associated with removing a tattoo is very tolerable. Most patients describe the feeling as similar to a rubber band snapping on the skin. A numbing cream can be applied prior to the treatment. When our San Diego dermatologists treat a sensitive area, a local anesthetic may be used.
Q: Are there any side effects of laser tattoo removal?
A:
Laser tattoo removal side effects are generally very minimal but may include hyperpigmentation (an abundance of color in the skin around the treatment site) or hypopigmentation (treatment area becomes lighter than your normal skin color).
Q: How much does it cost?
A:
Prices vary from patient to patient and depend on the size, color, and location of the tattoo. To find out how much the cost of laser tattoo removal in San Diego will be for you, schedule a consultation with one of our cosmetic dermatologists.
Promotions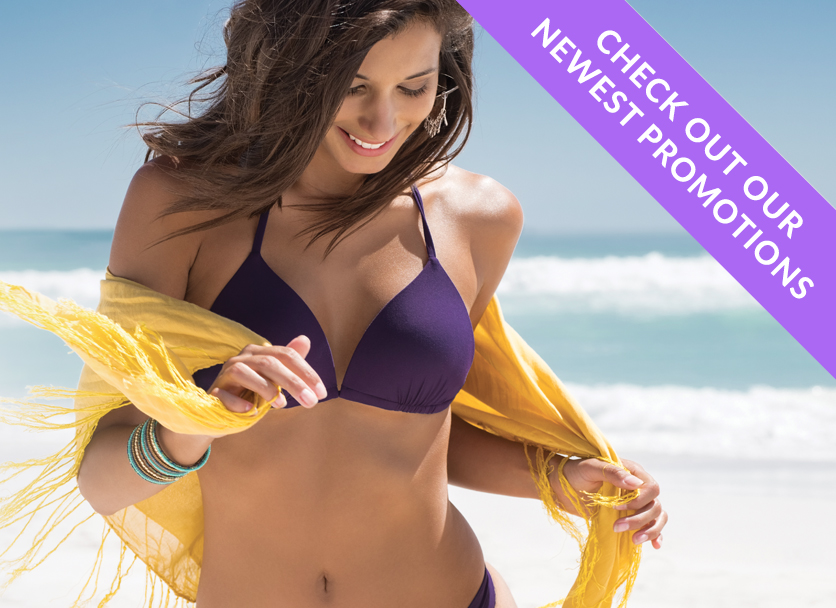 For more information about the monthly specials offered at Cosmetic Laser Dermatology, visit our Promotions page.