Overview
Accure laser is a new and innovative treatment that brings a new level of precision to energy-based devices targeting acne. This device selectively targets sebaceous glands to reduce oil production and significantly decrease skin breakouts. It can be used as a stand-alone procedure or in conjunction with other acne treatments as recommended by your dermatologist. 
What is the Accure laser?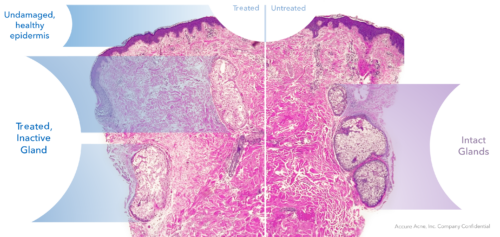 Accure laser is a light-based platform for treating mild to severe inflammatory acne. It uses a 1726nm laser to target sebaceous glands, which are the glands responsible for the production of sebum – a substance that makes the skin oily and contributes to breakouts. The Accure laser is the only acne system that uses a temperature-driven technology to ensure safety and efficacy.
What does the Accure laser treat?
Accure laser treats mild to severe inflammatory acne, typically on the face. Your board-certified dermatologist can determine whether it might be helpful on other areas of the body like the back.
Benefits of the Accure Laser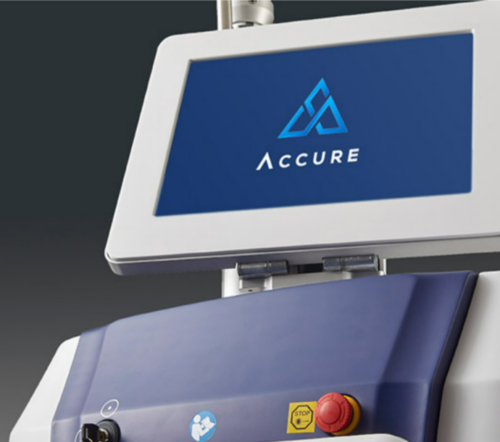 Combined with medical-grade skincare products, Accure laser treatments can be part of a comprehensive regimen to keep the skin clear, smooth, healthy, and youthful. Benefits of the laser include:
Non-invasive

Little to no downtime

No scarring

None of the side effects of some medications

No regular blood test requirement

Used with other skin rejuvenating procedures when recommended

Sebaceous glands are affected without damaging surrounding skin and tissue

Gentler than other skin resurfacing procedures and chemical peels

Safe for all skin types
What to Expect
What to Expect from Your Accure Treatment
Your skin will be washed and cleaned before the treatment. A handpiece is applied directly to acne-affected areas to deliver pulses of light, which may cause a slight snapping and warming sensation on your skin as the laser delivers laser energy directly to the sebaceous glands.
Patients may receive topical numbing before the procedure to ensure their comfort throughout. The Accure laser is also equipped with cooling technology and built-in temperature monitoring for a more pleasant treatment experience.
Is there downtime after an Accure laser treatment?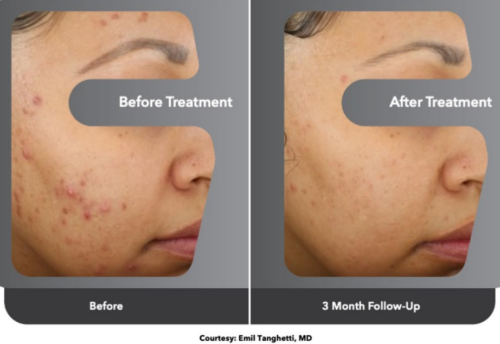 There's little to no downtime with the Accure laser. Apply sunscreen to protect skin that is more vulnerable to damage immediately following treatment. You can resume your normal activities when you leave your session.
When will I see results and how long will they last?
Multiple sessions are usually required to achieve optimal results. Accure patients typically undergo a series of three treatments spaced out at 3-4-week intervals. After the round of treatments (approximately 2-3 months), you will see significant improvement in your skin's appearance, and results should continue to improve over time. Not only does Accure laser clear active breakouts, but it prevents new breakouts indefinitely.
Read our pre/post-treatment guidelines here.
Get Your Accure Laser Treatment in San Diego
Cosmetic Laser Dermatology is staffed by seven board-certified dermatologists who bring more than 125 years of experience to their treatments. Our center also features a full research center that gives us access to cutting-edge treatments before other offices in our area. We are one of the first to provide the Accure laser to our San Diego patients. 
To best determine if an Accure laser treatment is right for you, schedule your consultation with one of our board-certified dermatologists at Cosmetic Laser Dermatology in San Diego today. 
FAQs
Q: Is an Accure laser treatment painful?
A:
You may notice a mild snapping and warming sensation while the laser is passed over your skin. Topical numbing before the procedure ensures your comfort throughout. Accure laser also comes with a cooling technology to help the skin maintain a comfortable temperature during the treatment.
Q: How long do treatments take?
A:
Each Accure laser treatment session should take about 30 minutes. You can return to your regular routine immediately afterward in most cases.
Q: Will I need more than one treatment session?
A:
As with many laser procedures, multiple sessions deliver significantly better results than a single session. Your dermatologist will recommend the best treatment plan according to your specific skin needs and goals.
Q: Are there side effects after an Accure laser treatment?
A:
Accure laser is a safe and effective treatment with minimal risks. Patients might notice slight swelling and redness, which are common after many of these types of treatments. These side effects are mild and should resolve within a few hours or by the following day.
Q: Is the Accure laser the right device for me?
A:
Accure laser is designed to treat mild to severe acne vulgaris, so virtually anyone struggling with acne can benefit from the laser treatment. It is ideal for those who desire a non-invasive, safe, and effective solution to their acne problems.