Overview

The VI Peel consists of medical-grade formulas designed to improve the most common skin conditions, such as fine lines, acne, scarring, age spots, and uneven skin tone. Using gentle yet powerful ingredients, the VI Peel works on any skin type, and it is the only chemical peel safe for the under-eye area.
While chemical peels are known for eliminating the dull and damaged layer of the skin to reveal smoother and more radiant skin, they can be harsh and require some downtime. But not all peels are created equal. The VI Peel is a new generation of chemical peels that offer a gentler approach to skin renewal.
What is the VI Peel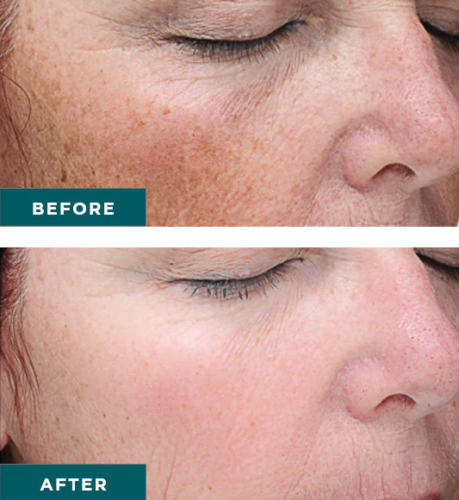 The VI Peel consists of a proprietary blend of active ingredients such as retinoic acid, salicylic acid, phenol, vitamin C, trichloroacetic acid (TCA), and minerals to improve skin texture, tone, and clarity, and prevent further damage. It also contains pain-numbing ingredients to ensure a comfortable treatment with little downtime. What makes the VI Peel unique is its ability to rejuvenate the skin by infusing it with beneficial ingredients, rather than just peeling off old, damaged skin.
VI Peel has developed five custom peels to treat a wide variety of skin concerns:
VI Peel for anti-aging, skin rejuvenation, and skin restoration

VI Peel with Precision for collagen stimulation and the treatment of more advanced signs of aging and sun damage 

VI Peel with Precision Plus for stubborn pigmentation (including melasma), acne scarring, age spots, and lightening

VI Peel Purify Peel for active acne (acne-prone skin), acne scarring, and oily skin 

VI Peel Purify with Precision Plus for acne, acne scarring, and post-inflammatory pigmentation from acne
Benefits of the VI Peel
The VI Peel offers a myriad of benefits for the skin, including: 
Improves skin tone and texture

Reduces age spots and hyperpigmentation

Smooths lines and wrinkles

Clears acne and reduces acne scars

Stimulates collagen production for firmer skin

Is virtually painless

Requires little to no downtime

Works safely for all skin types
What to Expect
What is a VI Peel treatment like?
After cleansing your skin, your provider applies the VI Peel solution topically in two layers. You may experience slight stinging after the first application, but it should subside quickly. The peel also contains ingredients that help numb the skin. Once the second layer is applied, your skin "frosts" or turns white. The peel is left to dry for about 4-6 hours which you can wash off at home. The application process of the peel typically takes half an hour or less to complete.
Side Effects and Recovery Time
You may return to your normal activities following your treatment. It is recommended to avoid exercise and other strenuous activities until you've washed off the applied solution. You may notice mild and temporary darkening and tightening of the skin immediately following the procedure.
Within three days, your skin will begin to peel and flake as dead skin cells are shed. Unlike regular chemical peels, soreness and irritation are not common side effects of the VI Peel. You may apply moisturizer or makeup after your VI Peel. Avoid sun exposure to prevent damage and allow your skin time to heal fully.
Around four days after treatment, your skin will stop flaking, and you'll begin to see a fresh layer of smooth and clear skin surfacing below.
Get Your VI Peel in San Diego
At Cosmetic Laser Dermatology, our medical aesthetician Farzaneh Momeni-Salami brings more than 30 years of experience to the treatment table. She offers a wide range of aesthetic treatments to ensure she can address each of her patient's unique concerns and produce the best possible results for them. 
To learn more about the VI Peel procedure and our other aesthetic treatments, contact Cosmetic Laser Dermatology in San Diego and see how this treatment can deliver the anti-aging results you desire.
FAQs
Q: Is the VI Peel the right treatment for me?
A:
Ideal candidates for VI Peel are men and women who want to reverse mild to moderate signs of aging, acne, acne scarring, and sun damage. It is not recommended for those with active skin damage (burns or wounds) and skin infections, and those who are pregnant and breastfeeding.
To best determine if the Vi Peel is right for you, consult with a board-certified dermatologist.
Q: What can the VI Peel treat?
A:
The VI Peel can safely and effectively treat the following common skin concerns:
-Signs of aging (fine lines, leathery skin, skin laxity)
-Hyperpigmentation (melasma, rosacea, age spots, rosacea, broken capillaries)
-Acne, acne scarring, redness from acne
-Eczema and psoriasis
Q: Is the VI Peel painful?
A:
You will feel a slight stinging sensation, which subsides almost immediately, and your skin will feel numb after the first pass. A fan or cold air is available to ensure a more comfortable experience.
Q: How soon will I see results?
A:
Patients begin to see minor improvements once the skin completes its peeling process, which is approximately 4-6 days after treatment. Full results are generally achieved in 4-6 weeks, at which point your skin appears clearer, firmer, and smoother with a radiant glow.
Q: How long will my results last?
A:
Results last for at least 6 months. To maintain results, we recommend having a follow-up treatment. Regular VI Peel treatments ensure consistent collagen production to prevent the formation of new lines and other skin problems.
Your dermatologist will recommend the best treatment plan for your needs and goals.
Q: Can I repeat the VI Peel treatment?
A:
The frequency of undergoing the VI Peel depends on various factors and will be determined by your skin care specialist. For more severe skin issues, the VI Peel can initially be done once a month for faster onset of results.