Lumenis UltraPulse System Overview
The UltraPulse Encore laser is one of the most versatile resurfacing lasers offered at Cosmetic Laser Dermatology that can be adapted to meet your aesthetic goals and treat a wide range of skin conditions on the face and body, including:
Sun damage
Hyperpigmentation
Acne scars
Benign growths (ie. Dermatosis Papulosa Nigra, Sebaceous Hyperplasia)
Ablative lasers like the UltraPulse effectively treat a broad range of skin conditions by gently removing all or part of the skin. The body's natural healing processes then replace the damaged skin with new and healthy tissue. Although several types of ablative lasers exist, differing mainly by wavelength, CO2 lasers have long been considered the industry's 'Gold Standard' for resurfacing with the UtraPulse CO2 the "top of the line."
Cosmetic Laser Dermatology's Drs. Mitchel Goldman and the late Richard Fitzpatrick have been involved in the development of the UltraPulse laser as well as many clinical trials making them the most experienced practice with this device worldwide.
With over 50+ lasers, the doctors at Cosmetic Laser Dermatology are experts in laser treatments. The UltraPulse CO2 is a favorite to use because not only is it well-tolerated, but it provides patients with excellent results. Not only can it be used alone, but it can be used with the Sciton Erbium:YAG, Alexandrite, IPL and Pulse Dye lasers for a combination laser resurfacing treatment that provides significant improvement for diverse issues like fine lines, pigmentation, sun damage, etc.
The Advantage of the UltraPulse Encore CO2 Treatment
The UltraPulse uses high-power-short duration pulse technology to increase patient comfort and minimize adverse effects. As the results settle over 7-10 days, you'll notice an immediate improvement in fine lines, skin laxity, and pigmentation.
What to Expect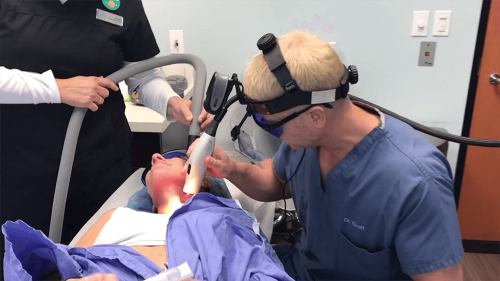 The UltraPulse Encore uses infrared light to target the tissues in a chosen area to provide comprehensive treatment. The advantage of the UltraPulse is the treatment can be customized to treat either superficial skin concerns like brown pigmentation or deeper tissue issues like acne scarring, wrinkling, and benign growths.
At Cosmetic Laser Dermatology, The Lumenis UltraPulse treatment is performed in their operating room. Treatments tend to last 30 minutes to an hour depending on the desired area and desired outcomes. Approved by aad.org, as an advanced fractional CO2 laser, the UltraPulse is both safe and effective. Temporary side effects may include mild redness and swelling in the treated area that will gradually resolve over 1-4 weeks.
We offer top lines in professional skincare that allow you to extend the results from your Lumenis UltraPulse treatment. With a variety of formulations to choose from, you can customize your treatment program to your precise needs and goals. Our staff is ready to help you design the best home treatment plan for you.
Read our pre/post-treatment guidelines for the UltraPulse Encore treatment. 
Customized Facial Rejuvenation with Lumenis UltraPulse Encore CO2
The UltraPulse Encore treatment can be completely customized because it offers different modes that can provide fast rejuvenation or significant improvement for more complex lesions.
DeepFX™ | ActiveFX™ Fractional Modes
Versatile and precise resurfacing with CoolScan™ technology for enhanced patient comfort
SCAAR FX™ Mode
Perfect for scarring, this mode allows the laser to penetrate up to 4mm in a single pulse
TotalFX
Offers the full range of treatment for a wide range of skin conditions, from improving acne scarring and fine lines to reducing pigmentation and benign growths.
Treatment Guidelines
Before your treatment: 
You will have a pre-op appointment, in office or on the phone, with our pre-op nurse.
Please come to the office with absolutely no facial make-up, sunscreen, moisturizer, or artificial eyelashes/extensions.
Male patients must shave the night before the procedure.
No jewelry, please. No earrings or facial piercings.
Do not wear contact lenses. Please wear eyeglasses if needed to read consents on the day of surgery.
Wear comfortable clothing such as sweat pants and a zip or button top; bring a pair of warm socks.
If you are scheduled for IV conscious sedation- you will be advised to fast before your procedure.
For safety reasons, we recommend that you have a RESPONSIBLE ADULT to drive you home after surgery. We cannot permit you to leave in an Uber or Taxi. We can recommend a trusted professional driving service if necessary.
You will be given a pack of disposable gauze pads (for vinegar soaks), Vaniply ointment, and any other post-procedure products recommended by your doctor on the day of your procedure.
After your treatment: 
The sensation of heat/sunburn is normal. It is OK to take Tylenol.
You will be instructed to do wet soaks with a vinegar solution every 2-4 waking hours until all the peeling has subsided (approximately 10-14 days).
Redness, oozing, crusting & swelling will occur immediately after treatment. These symptoms typically peak at 48-72 hours, with the crusting/peeling lasting approximately 7-10 days and redness lasting approximately 2-4 weeks. You will not be able to wear make-up during this time or until approved by your doctor.
You will be prescribed an antibiotic and possibly an antiviral or pain relief medication. This will be determined during your Pre-Op appointment.
Your doctor will advise you on when it is OK to start cleansing the face.
Read the soak instructions here.
Photos
Videos
FAQs
Q: What is the recovery with the Lumenis UltraPulse Encore treatment?
A:
You may experience swelling and crusting during the healing process, but you should be completely healed in 1-2 weeks. Your board-certified dermatologist will give you post-treatment instructions to help mitigate these temporary side effects.
Q: Can Lumenis UltraPulse improve Pearly Penile Papules?
A:
The UltraPulse Encore CO2 laser treatment is the only method proven safe and effective for removing PPP in a single, simple, non-invasive treatment session.
Q: Can the UltraPulse CO2 help hyperpigmentation?
A:
Yes! In addition to improving the skin's texture, it can also help correct brown spots or sun spots. Since the UltraPulse has different modes, treatment can be completely customized to your unique skin's needs.
Promotions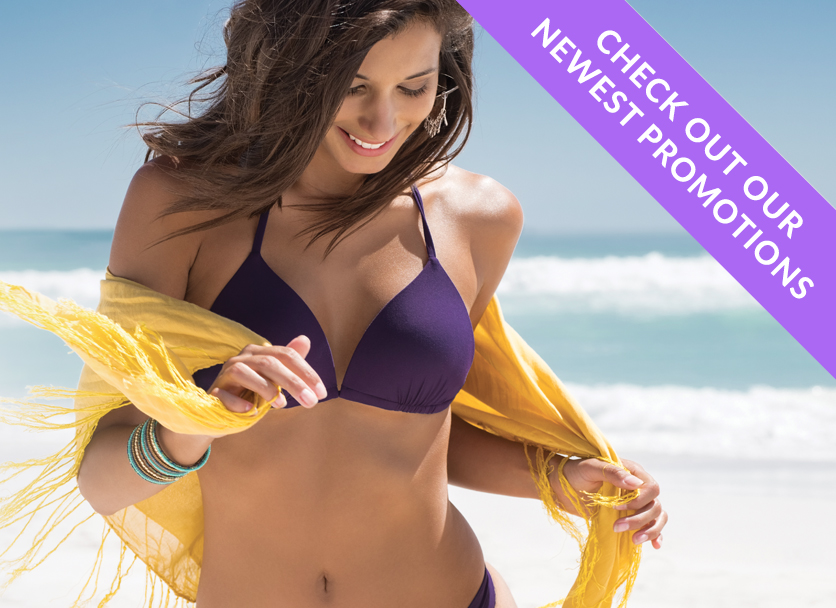 For more information about the monthly specials offered at Cosmetic Laser Dermatology, visit our Promotions page.
Other Options
With over 50 lasers at our doctor's disposal, if you're not a candidate for the Lumenis UltraPulse CO2, our doctors have access to the perfect laser to meet your unique needs and achieve your aesthetic goals. Contact our laser experts at Cosmetic Laser Dermatology today for a consultation.