Written Testimonials
*Disclaimer: Results vary from patient to patient. Results are not guaranteed.
" My procedure with Dr. Groff was one of the best cosmetic procedures I have ever had. His expertise and kind bed-side manner was a pleasure. I has loss of volume to my cheeks, and felt my face was starting to sag. Dr. Groff recommended that I have Voluma to my cheeks. He was very thorough with explaining the procedure and assured me that I would not look overdone. I absolutely love the results! I now have a more youthful cheeks with a great contour. I have gotten lots of compliments since my treatment. I have recommended Dr. Groff to several of my friends." " Dear Dr. Goldman, thank you so much for your help on Daniel's birthmark. He is doing great. You are absolutely the best doctor we have ever seen. We are all overwhelmed by your outpouring of professional attitude and knowledge. No matter how long the flight might take, we will definetly come back to see you again for the additional treatments. Thank you so much, Dr. Goldman!!!" "Dearest Mitch, Thank you as always for your keen and conservative eye for natural elegance. I so appreciate you and your approach to treatment. Love and many thanks." "Dr. Goldman THANK YOU for such a great experience, due to your and Dr. Butterwick's generous May & June free skin cancer screen i found out i have Melanoma. I am so thankful i scheduled an appointment, and Dr. Isabela Jones has treated me great! What a great and caring Doctor, your entire staff is awesome. Thanks to your amazing staff and beautiful facility. Special thanks also to Charlene, Jacob and Dr. Jones. Sure has made a scary experience a lot easier, THANKS!"
"Cosmetic Laser Dermatology is a rare gift to the medical profession"
"The front desk was on the ball and observant. They greeted me promptly and were very helpful"
"I have been seen by Dr. Fabi since she first started at Goldman, Butterwick, Fitzpatrick, Groff and Fabi. I have had several IPL treatments from her, and have been very happy with the results. She has also treated spots on my hands, and my hands look so much better. In addition to being a great doctor, Dr. Fabi is so nice. I highly recommend her." "I was stunned to read one single negative review. Clearly they are not real reviews!! The staff is very friendly, the office is lovely and they host awesome information nights complete with great yummies. I have been a patient of Dr. Fitzpatrick's for many years and would not even think of going anywhere else except to Goldman, Butterwick, Fitzpatrick, Groff & Fabi Dermatology . It is 5 +++ stars across the board and I love nurse Carrie."
"I just saw Dr. Fabi at Cosmetic Laser Dermatology and had to write about the exceptional experience and care that I had at this clinic!! I was greeted right away upon arrival for my second IPL treatment and taken promptly to my room where Scott took before photos of my skin again to see the tremendous change in my condition of my skin from the juviderm and Radiesse fillers to build up my bone structure from age along with the wonderful Botox to decrease the fine lines and wrinkles. Dr. Fabi's assistants Maria and Antonio were so professional and explained everything about each of the procedures beforehand so I would know what to expect! Dr. Fabi's warm and caring demeanor made me feel at ease and I knew I was in good hands!! I did not feel any pressure and just that she wanted me to have the best most natural skin care 🙂 As she was performing my treatment she was constantly checking to make sure I was comfortable or she could stop etc and when she was finished she went over all the care and what to expect for my skin as well as any products for skin repair and the brilliant distinctions program to earn points towards future treatments and products!!! Will come back in a month for my follow up appointment and I will look forward to a call tomorrow to see how I'm doing after my treatment today!! I must say it is such a pleasure to have such a professional and beautiful bunch of people along with Dr. Fabi to take care of you 🙂 a definite FIVE star experience!! Thanks again!!!"
From Yelp:

Date: 01/05/2021
Review: I have been to Dr. Groff for a few different laser treatments and have been highly satisfied with the results. He's very knowledgeable on the many choices of lasers available. He's honest and does not recommend procedures that are unnecessary. This is something I really appreciate. Dr. Groff has a great personality and knows how to make a patient feel comfortable. I highly recommend him!

Date: 12/01/2020
Review: I have been searching many years for an excellent doctor to treat my spider veins. I finally found Dr. Boen. She was upfront regarding the number of treatments I would need and the severity of my veins. She was kind and compassionate during my treatments and explained what she was doing and warned me if I would have some discomfort. She also explained my home follow-up care. My legs are looking the best they have in years! Thank you.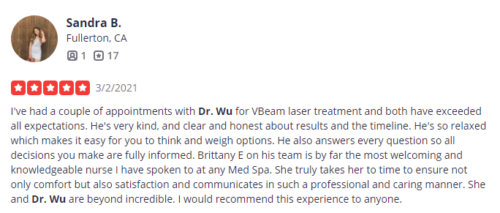 Date: 3/2/21
Review: I've had a couple of appointments with Dr. Wu for VBeam laser treatment and both have exceeded all expectations. He's very kind, and clear and honest about results and the timeline. He's so relaxed which makes it easy for you to think and weigh options. He also answers every question so all decisions you make are fully informed. Brittany E on his team is by far the most welcoming and knowledgeable nurse I have spoken to at any Med Spa. She truly takes her to time to ensure not only comfort but also satisfaction and communicates in such a professional and caring manner. She and Dr. Wu are beyond incredible. I would recommend this experience to anyone.

Date: 10/11/19
Review: I always feel welcomed and cared for by all the staff. Dr Goldman is absolutely the best & all the staff, from his assistant Jacob to check in and checkout are top notch and make sure I am happy. Thank you!
From Google:
Name: Susan Williams
Date: 1/15/21
Review: Dr. Goldman and his team are so caring, professional and dedicated! I highly recommend CLD to anyone considering their services!
Name: Goldie Claus
Date: 3/5/21
Review: Dr. Butterwick is brilliant in her work to transform my face using Botox and fillers as well as threading. The results took years off my face and looks natural and subtle. I could not be happier with the results and love the compliments I get. I recommend her highly. Her staff is friendly and efficient.
Name: Gordon Cruse
Date: 10/30/19
Review: Dr. Goldman and his team treated me like a welcome guest, a close friend. Outstanding care before, during, and after the procedure. My results exceeded my expectations. I give Cosmetic Laser Dermatology the highest marks. See them, you'll be the best hands.
Name: Erica Cueto
Date: 4/9/21
Review: Dr. Fabi is incredibly talented, artistry at it finest. She has a natural aesthetic eye and the knowledge to sculpt, enhance and define the face. I have had several treatments ranging from fillers to lasers. Dr. Fabi has always been honest and conservative with her approach. I'm so grateful to have access to such a talented and genuinely kind cosmetic dermatologist. Love, love, love her. She is truly one of the best!
Name: Joyce Schlachter
Date: 8/28/20
Review: This is a great practice. Everyone is professional, knowledgeable and very accommodating. Thank you CLD!
Name: Latrice Rubenstein
Date: 3/19/21
Review: Excellent treatments and services. All staff is friendly, professional, and have a wealth of knowledge.
From Solutionreach:
https://reviews.solutionreach.com/vs/cosmetic_laser_dermatology

"Very nice and courteous employess"