Written Testimonials
*Disclaimer: Results vary from patient to patient. Results are not guaranteed.
"My procedure with Dr. Groff was one of the best cosmetic procedures I have ever had. His expertise and kind bedside manner was a pleasure. I has loss of volume in my cheeks and felt my face was starting to sag. Dr. Groff recommended that I have Voluma to my cheeks. He was very thorough in explaining the procedure and assured me that I would not look overdone. I absolutely love the results! I now have more youthful cheeks with a great contour. I have gotten lots of compliments since my treatment. I have recommended Dr. Groff to several of my friends." " Dear Dr. Goldman, thank you so much for your help on Daniel's birthmark. He is doing great. You are absolutely the best doctor we have ever seen. We are all overwhelmed by your outpouring of professional attitude and knowledge. No matter how long the flight might take, we will definitely come back to see you again for the additional treatments. Thank you so much, Dr. Goldman!!!" "Dearest Mitch, Thank you as always for your keen and conservative eye for natural elegance. I so appreciate you and your approach to treatment. Love and many thanks."
"Cosmetic Laser Dermatology is a rare gift to the medical profession"
"The front desk was on the ball and observant. They greeted me promptly and were very helpful"
"I have been seen by Dr. Fabi since she first started at Cosmetic Laser Dermatology. I have had several IPL treatments from her, and have been very happy with the results. She has also treated spots on my hands, and my hands look so much better. In addition to being a great doctor, Dr. Fabi is so nice. I highly recommend her."
"I just saw Dr. Fabi at Cosmetic Laser Dermatology and had to write about the exceptional experience and care that I had at this clinic!! I was greeted right away upon arrival for my second IPL treatment and taken promptly to my room where Scott took before photos of my skin again to see the tremendous change in the condition of my skin from the Juvederm and Radiesse fillers to build up my bone structure from age along with the wonderful Botox to decrease the fine lines and wrinkles. Dr. Fabi's assistants were so professional and explained everything about each of the procedures beforehand so I would know what to expect! Dr. Fabi's warm and caring demeanor made me feel at ease and I knew I was in good hands!! I did not feel any pressure and just that she wanted me to have the best most natural skincare 🙂 As she was performing my treatment she was constantly checking to make sure I was comfortable or she could stop etc and when she was finished she went over all the care and what to expect for my skin as well as any products for skin repair and the Allē program to earn points towards future treatments and products!!! I must say it is such a pleasure to have such a professional and beautiful bunch of people along with Dr. Fabi to take care of you 🙂 a definite FIVE-star experience!! Thanks again!!!"
From Yelp: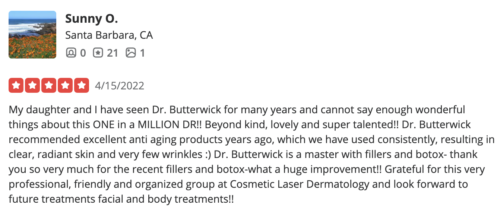 Date: 04/15/2022
Review: My daughter and I have seen Dr. Butterwick for many years and cannot say enough wonderful things about this ONE in a MILLION DR!! Beyond kind, lovely and super talented!! Dr. Butterwick recommended excellent anti aging products years ago, which we have used consistently, resulting in clear, radiant skin and very few wrinkles 🙂 Dr. Butterwick is a master with fillers and botox- thank you so very much for the recent fillers and botox-what a huge improvement!! Grateful for this very professional, friendly and organized group at Cosmetic Laser Dermatology and look forward to future treatments facial and body treatments!!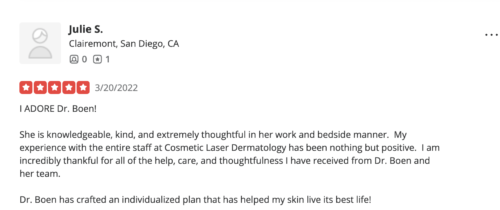 Date: 03/20/2022
Review: I ADORE Dr. Boen! She is knowledgeable, kind, and extremely thoughtful in her work and bedside manner.  My experience with the entire staff at Cosmetic Laser Dermatology has been nothing but positive.  I am incredibly thankful for all of the help, care, and thoughtfulness I have received from Dr. Boen and her team. Dr. Boen has crafted an individualized plan that has helped my skin live its best life!

Date: 03/20/2022
Review: Dr Sabrina Fabi is genius !  Her technique is unlike anyone , her eye is precise, and her kindness and caring manner comes from the depth of her soul . She's simply brilliant !  It's no wonder people travel the country just to be treated by her .

Date: 03/17/2022
Review: This office is awesome. My visit today was with Dr Groff. His bed side manner is so fun and welcoming. He understood my concerns and recommended a treatment plan that I feel was reasonable. I love his staff! They take there time to make sure you understand the treatment and after care. Everyone in the office, from the front desk to the nurses in the back, are so friendly and beautiful. They are very prompt and I trust my care with CLD. I can't wait for my next visit. See you guys in a few weeks!

Date: 03/17/2022
Review: I love coming to Cosmetic Laser Dermatology. The staff is super friendly and helpful. I appreciate there support during my elected procedures. They help me feel comfortable, and relaxed. The staff always does a great job of accommodating me and my schedule as well. I think it's very important to feel welcomed and I also love knowing that I'm in great hands with a facility that knows everything about anything! Love coming here! My favorite staff member Is Marie, she is one of the main reasons I keep coming back.

Date: 03/04/2022
Review: I am currently going to Dr Fabi, taking part in a wonderful study she is doing with fillers. Honestly, I would not do this with just anyone. Dr Fabi and her staff are caring and through in their work. I can also say that I did a full laser peel with Dr Groff in 2008, so knew the quality of the work done in this practice. It is not worth it to me to stay local when the best is just 10 miles away…Love this group!

Date: 02/17/2022
Review: Dr. Goldman is amazing! I came here for my permanent eyeliner removal (which is not offered anywhere near me), and they are completely removed in just one session. They use a special contact lens to protect your eyes from the laser, and there are no damages to my eyelashes. The healing was also nice and smooth. They have everything you need. I live almost 3 hours away, but it was totally worth the trip. For anyone who is looking to remove their permanent makeup, this is the right place to go 🙂

Date: 11/01/2021
Review: This place is amazing! I love the people that work here and the ambiance! They do a great job at laser! Thank you!!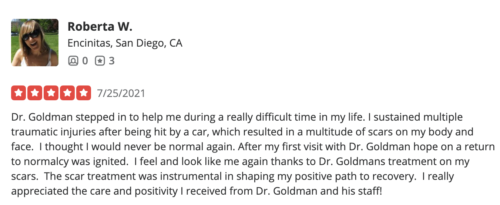 Date: 07/25/2021
Review: Dr. Goldman stepped in to help me during a really difficult time in my life. I sustained multiple traumatic injuries after being hit by a car, which resulted in a multitude of scars on my body and face. I thought I would never be normal again. After my first visit with Dr. Goldman hope on a return to normalcy was ignited. I feel and look like me again thanks to Dr. Goldmans treatment on my scars. The scar treatment was instrumental in shaping my positive path to recovery. I really appreciated the care and positivity I received from Dr. Goldman and his staff!
From Google:
Name: Tanya Medina
Date: 04/2022
Review: I have been seeing Dr. Butterwick for 30+ years, following her around SD. I appreciate her upgrading her skills consistently with new innovations. She has a good eye for what the face needs. Also she's aware of numbing details so the procedures don't hurt. Her assistant Isabel knows how to tap to distract me while procedures are performed. Very happy with professional results not even my friends notice!
Name: Amanda Laden
Date: 04/2022
Review: Dr. Boen is an amazing doctor who is patient and great at what she does. She listens to her patients, takes her time, and understands any apprehension you may have. I would highly recommend her and the practice overall.
Name: E Vv
Date: 03/2022
Review: The experience I had with Dr. Groff was absolutely spectacular. Very informative, very attentive, very personable. There was this aire of expertise that made me feel very comfortable and while I won't mention what I went in for because it is very personal, I will say that my laser treatment was literally 100% painless. HIGHLY recommend. I am more than satisfied with my experience.
Name: Cheyenne Schroeder
Date: 03/2022
Review:I have been a patient of Dr. Wu, for over 7 years now. I go to him for all my skin concerns and or cosmetic inquires. Not only is Dr. Wu, professional, experienced, and thorough, but he is incredibly kind, caring, and honest. I would follow him anywhere. I highly recommend him!
Name: Nicole Anderson
Date: 01/2022
Review: This is a state of the art facility for any of your aesthetic needs. This review is specifically for Dr. Douglas Wu. Dr. Wu has done all my facial injectables and I can't compliment him enough on his expertise. Everyone always states I look rested or refreshed and can never guess I got injected. I love his work and how he enhances your natural beauty verse making you look overfilled or someone you are not. He listens and is highly educated on all products.I recently got the micro needling RF from him and run do not walk to this practice to get your treatment! My skin was very dull from just having a baby and he recommended this procedure. The downtime was only a few hours and I was able to return to work the next day with makeup on. I am one week post procedure and my skin is radiant and I have gotten countless compliments on how I am "glowing". I am hooked on this procedure and will be back for more. Thank you Dr. Wu!!!!
Name: Karen Cabera
Date: 02/2022
Review: I have been to several dermatology groups over the years but I have never felt so valued and so comfortable than I feel with CLD. All of the staff and doctors I have worked with have been exceptional!! They are all professional and kind. I would not hesitate is recommending this office to anyone. Thank You!!!
Name: A M
Date: 11/2021
Review: Leysin is the reason I come back. She is extremely professional and an asset to clderm! She always goes out of her way to explain something and really takes her job seriously. I would recommend going to Leysin for anyone! Her assistant Kara is extremely diligent and takes care of me when I am there as well.
Name: Josette Short
Date: 11/2021
Review: I have been seeing Leysin for a little over a year for a few different procedures. She is very professional and a master at her craft. She is very knowledgeable at what she does, and truley cares about he patient's. My skin has improved tremendously since seeing Leysin. I highly recommend her!
Name: Catherine Hatfield
Date: 07/2021
Review: Dr. Goldman is an expert. He is professional, and he is extremely proficient with my appointments. Dr. Goldman's work is a true testament to his craft that can be seen on my face. If you could see the before and after from my accident, you would agree that he has done an exceptional job and I will be eternally grateful. Truly a pleasant experience with great staff. Thank you!
Name: Renee Fatale
Date: 05/2021
Review: Cosmetic laser Dermatology is a fantastic practice! I have been there for cosmetic procedures such as Dysport injections as well as participated in a research study. This office is impeccably clean and the medical staff there is the perfect mix of super professional and caring. They never push you to buy things you don't need and approach cosmetic procedures with care. This is the kind of place where you get work done and people only ask you why you look so revived or happy, nothing over the top or trashy. It seems like the main concern here is keeping skin healthy and keeping you looking your best. Can't wait to see them again 🤩
From Healthgrades:
Name: Sandy
Date: 07/2021
Review: Dr Fabi is magical! I don't even know where to start. I actually look better in my 50s than I did in my 40s. She introduced me to a variety of non surgical options that I didn't even know existed. She studies your face in it's entirety and suggests what we could do to get better results. And I'm totally blown away by her expertise. Not to mention, she's an absolute delight to meet with every time. It took me a while (and several disappointing experiences) to find her, and I feel so lucky, and now I recommend her to everyone I know. She truly does magic with her hands:)
"Very nice and courteous employees"