Radiant, smooth, natural, and youthful-looking. These are qualities we always want to use to describe our skin. Unfortunately, with aging comes a decline in facial volume and elasticity. Loss of fat, thinning skin, smaller or larger muscles, and loss of bone density often lead to unattractive, wrinkled, loose, and sagging skin. The good news is, advances in non-invasive and minimally-invasive cosmetic technologies are here to help you hold onto your youthful features for longer, without having an extreme procedure like a facelift.
Available options today offer excellent results with minimal downtime. But how do you select the right procedure? We've broken down the most popular non-surgical face tightening procedures to let you know which ones are good, better, and best. Our Dermatologic Surgeons here in San Diego are best able to advise you of the procedure or combination of procedures that is best for you to achieve your desired outcome.
| GOOD Face Tightening Options | BETTER Face Tightening Options | BEST Face Tightening Options |
| --- | --- | --- |
| Dermal Fillers | Laser Treatments | Silhouette Instalift |
| Hyaluronic Acid Fillers | | ThermiTight  |
| Sculptra | | Ultherapy |
| | | Thermage |
GOOD Face Tightening Options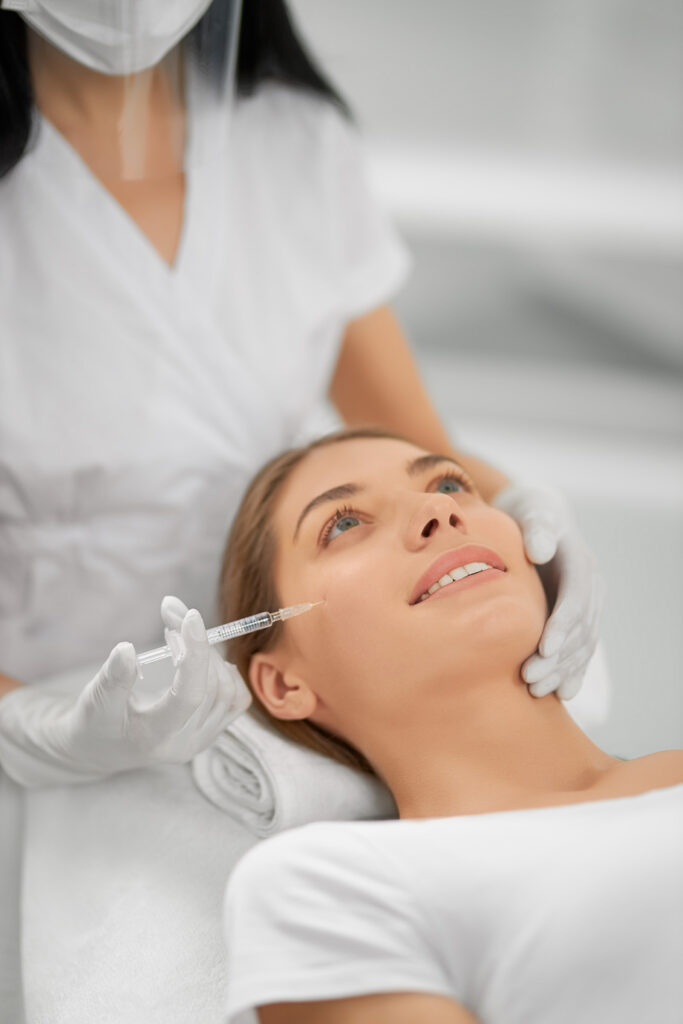 Dermal Fillers
Injectable dermal fillers and/or biostimulatory fillers like Sculptra and Radiesse effectively diminish fine lines and wrinkles, tighten skin laxity, and restore volume to your face. At Cosmetic Laser Dermatology in San Diego, experienced board-certified dermatologists meticulously inject dermal fillers, providing instant volume to your face with overall results that improve over time.
Hyaluronic Acid Fillers
These soft and gel-like injectables contain Hyaluronic Acid (HA) that is already found in your skin and works to keep skin plump and hydrated. As you age, skin and muscles in your face begin to thin, with volume loss leading to a sagging or sunken appearance along with folds, lines, wrinkles, and thin lips. HA fillers can be used to soften and fill in these wrinkles and deep folds, creating structure, definition, and volume to the face and lips. Examples of HA fillers include Juvéderm, Restylane, and Belotero Balance.
Sculptra
Sculptra works as a collagen stimulator. By replacing lost collagen, this injectable will give you a more youthful-looking appearance by treating deep lines and folds without making you look like you've had any work done. Sculptra effectively addresses skin issues such as smile lines, nasolabial folds, marionette lines, and chin wrinkles.
BETTER Face Tightening Options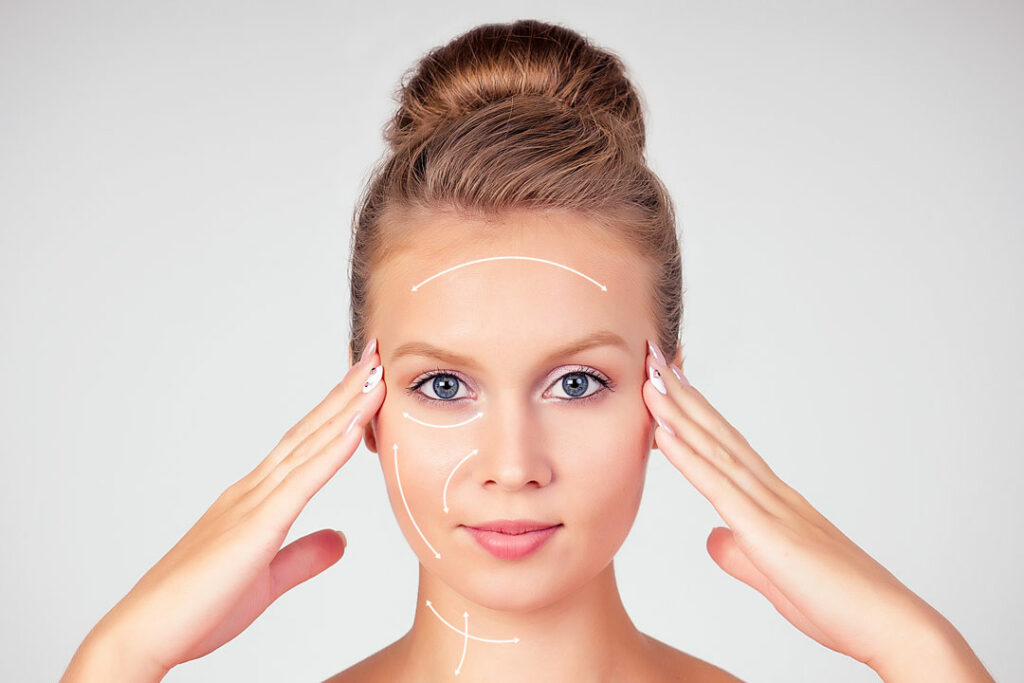 Laser Treatments
Cosmetic Laser Dermatology has over 50 lasers lights and energy and devices that can be used to treat an array of skincare issues. Using their advanced technology, customized treatment plans can be made for every patient.
Lasers and intense pulsed light provide safe, non-invasive treatments for improving the appearance of your face by targeting the superficial layers of skin that contain fine lines, wrinkles, and hyperpigmentation. Lasers and intense pulsed light also stimulate collagen production, allowing old and damaged skin to be replaced with new and healthy skin. Lasers like Fraxel Re:Pair and Fraxel Re:Store, Active and Deep FX, Sciton Er:YAG and Lumenis ResurFX effectively treat wrinkles, scars, and other skin irregularities, resulting in smooth, radiant, and tighter-looking skin. Fraxel Re:Store Dual, Clear + Brilliant, Active FX and Deep FX, Intense Pulsed Light, Q-switched Alexandrite and Ruby lasers in addition to a variety of Picosecond lasers, like the Picosure, Picoway, and PiQ4 effectively treat sun damage and brown spots, giving the face a fresh and rejuvenated appearance. As for acne treatment, The Lumenis M22 IPL and Microneedling RF are some of the light and energy source procedures that can help address dull skin, scars, large pores, and textural irregularities.
BEST Face Tightening Options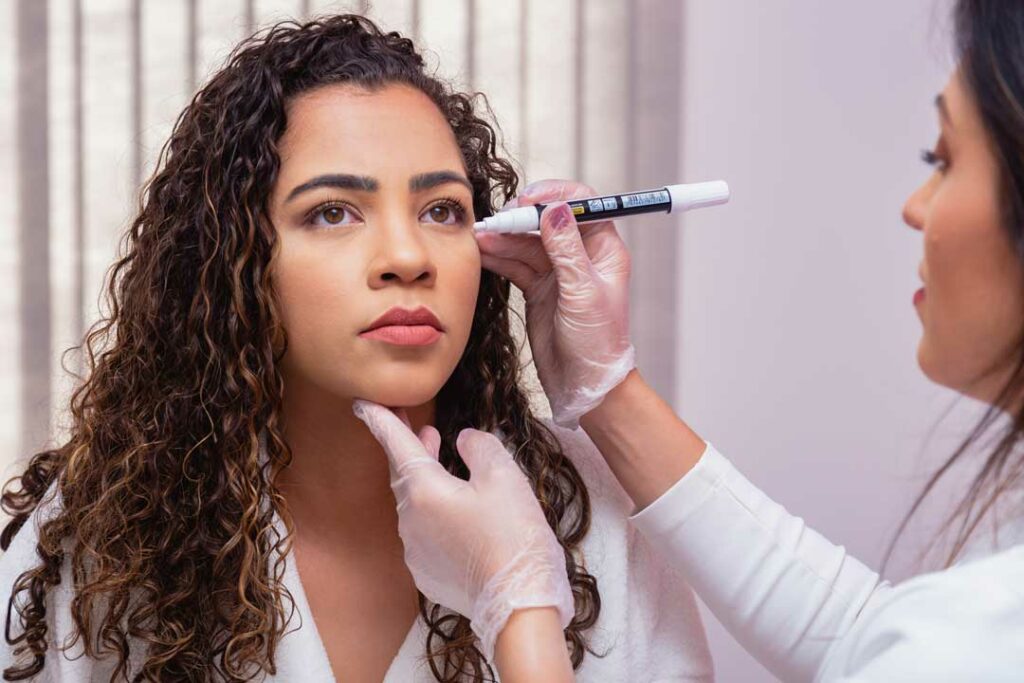 The most successful approach to achieving smoother, younger-looking skin is a combination of procedures and treatments for a comprehensive facial rejuvenation strategy. Here are procedures that can be combined to produce a non-surgical facelift.
Silhouette Instalift
Silhouette Instalift is a non-invasive and non-surgical facelift that uses dissolvable sutures with tiny cones under the skin to reposition and physically lift areas of the face. It takes only 45 minutes to perform and instantly reveals long-lasting results that only improve over time.
Cosmetic Laser Dermatology is one of the very first practices in the United States to offer this recently FDA-approved procedure.
ThermiTight
ThermiTight is a non-surgical procedure designed to reduce wrinkles while tightening any loose or sagging skin around the face and body. It uses safe and effective radiofrequency energy via the Thermi system to heat tissue underneath the surface of the skin, which causes contraction and tightening of loose skin and collagen growth.
Ultherapy
Ultherapy uses innovative fractionated ultrasound technology that gently penetrates the skin with heat, tightening the deep underlying tissues of the skin and creating a subtle lifting and tightening effect. Full results, however, are not immediate. Effects are gradually seen over the course of a few months as collagen production is renewed. As your skin gradually firms and tightens, your face will develop a contoured appearance that still looks very natural.
Thermage
Thermage is a non-invasive treatment that uses radiofrequency technology to heat the deep layers of the skin, which causes collagen to contract and increase its production. This helps create smoother skin after just one treatment with results gradually improving over time. Thermage can target facial problems such as:
Sagging skin

"Turkey neck"

Lack of definition in the jawline

Wrinkles and fine lines around the mouth, eyes, and forehead
Receive Your Free Consultation at our Medical Spa in San Diego Today
According to the American Academy of Dermatology, the best results from a non-surgical skin tightening procedure can be achieved by maintaining a healthy weight, living a generally healthy lifestyle (non-smoker, moderate alcohol consumption, healthy diet), protecting your skin from the sun, and only having a small amount of sagging skin.
Whether you are just beginning to see signs of skin laxity or are already being bothered by adverse aging effects, the highly experienced board-certified dermatologists at San Diego's Cosmetic Laser Dermatology are here to help. With over one hundred years of combined experience, as well as access to 50 lasers and other devices, we are ready to help you find the best treatment plan to meet your aesthetic goals and give you the best natural-looking results. To learn more, schedule a consultation today by calling (858)943-2113.