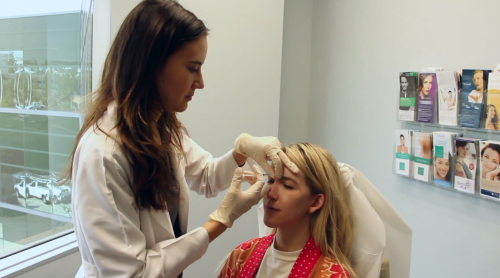 Often patients ask when the best age is to start Botox or other anti-aging injectable treatments. While there is no magic age, it depends more on when wrinkles begin to form on the face, specifically around the eyes and on the forehead. For most people, those wrinkles begin to appear in the late 20s and early 30s. Botox for wrinkle reduction has been studied in and deemed appropriate for patients between the ages of 18 and 65, although Botox to treat other medical conditions, such as hyperhidrosis and TMJ disorder, might be appropriate for patients under 18.
Botox for Wrinkles in Teens
Many factors can lead to wrinkle formation including genetics and prolonged sun exposure. Living in sunny San Diego has its benefits, but too much sun exposure can lead to the appearance of fine lines and wrinkles as well as sunspots. That's why wearing a sunblock to protect your skin from the sun's harmful rays is important. And sometimes, it all comes down to genetics – some people may just start seeing wrinkles at a younger age than others.
Botox and other neuromodulators, such as Dysport and Xeomin, work by relaxing the muscles in the face. As the muscles cannot flex and move, wrinkles on the surface fade. Starting Botox injections before wrinkles appear prominently can help to prevent the formation of deeper wrinkles. Botox lasts about three to six months, so to keep wrinkles at bay, regular treatments every are recommended.
Many patients begin their Botox routine in their late 20s when wrinkles first begin to appear on the face. When someone starts their Botox injections at a younger age, it can help to keep wrinkles from getting deeper and since the muscles aren't able to fully contract, new wrinkles are not able to form. After a Botox injection, it takes just two to seven days for the full effect to show.
Botox injections are not going to stop or reverse the aging process, but it will certainly slow the formation of new wrinkles and smooth out existing ones. Over time, the skin will lose collagen and elastin – essential support structures that keep the skin plump and youthful. As these skin components begin to diminish with age, it may become necessary to combine Botox treatments with other anti-aging treatments toe maintain beauty over time, such as injectable wrinkle fillers and skin tightening lasers like Ulthera.
Contact the Top Botox Specialists at our Medical Spa in San Diego Today
It is never too early, or too late, to start treating wrinkles and lines on the face for those 18 and older. In patients with deeper wrinkles, it may be optimal to combine Botox treatments with a wrinkle filler treatment such as Juvederm or Restylane.
Learn more about Cosmetic Laser Dermatology's complete facial rejuvenation technique – the Ultra Repair to see if it is right for you! This non-invasive approach uses injectables and lasers combined for amazing results. If you think you are the right age to start your Botox regimen, schedule an appointment with one of our expert cosmetic dermatologists today by calling (858) 943-2113!