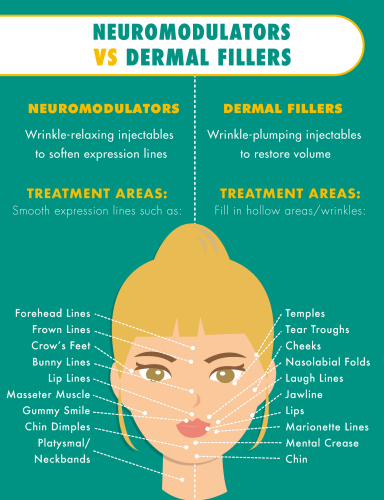 Not all injectables are created equal. Sure, they are all administered through needles and effectively soften lines and rejuvenate your look. They are also complementary to each other but work in different ways. Thanks to magazine features and blogs, these not-so-secret, non-surgical facelifts aren't really shrouded in mystery anymore, but there is still a lot of confusion over the different types of injectables that are available now. We wanted to create a guide for our patients in San Diego considering making their first appointment to help educate them on what options are available before making the call. 
And what is the first lesson about injectables you must learn? Know the difference between a neuromodulator and a dermal filler.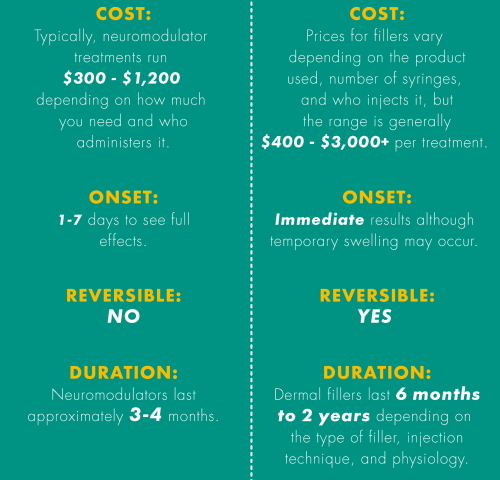 Neuromodulators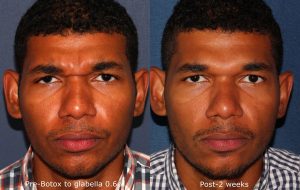 Also known as wrinkle-relaxing injectables, neuromodulators (like Botox, Dysport, Xeomin and Jeuveau) are used to relax the muscles in the face responsible for the development of dynamic lines and wrinkles. When injected directly into the underlying muscle, it causes it to relax, smoothing out the appearance of the skin and softening expression lines. 
Specifically, neuromodulators smooth expression lines such as:
Crow's feet

Bunny lines

Masseter muscle (where the jawbone meets the cheek bone)

Gummy smile

Chin dimples

Platysmal/neck bands
It generally takes 1-7 days to take full effect and will last 3-6 months. As muscle action on your face gradually returns, your lines and wrinkles will begin to reappear. Follow-up treatments are needed to maintain the effect. After regular sessions, you will notice that lines and wrinkles will appear less severe. This is because your muscles are already being trained to relax. Neuromodulator results are irreversible, which is why it is important to only be injected by an expert!
While results are immediate, there are possible minor complications. Side effects include temporary swelling, bruising, and slight pain on the injection site, but the good news is they all normally subside within a few hours.
Neuromodulators are commercially known as Botox, Dysport, Xeomin or Jeuveau, and treatments can run between $300 -$1,200 depending on the amount needed.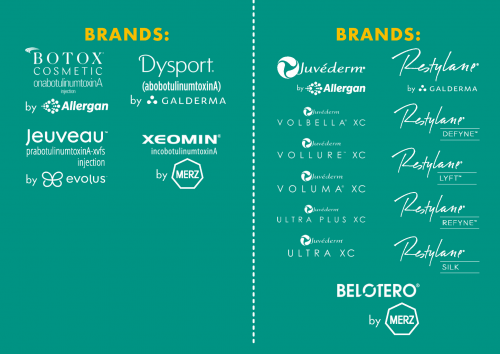 Dermal Fillers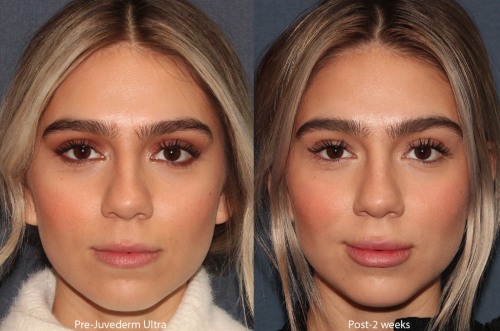 Dermal fillers are injections of gel that help restore facial volume and fullness, soften facial lines and creases, lift sagging skin, improve the appearance of recessed scars, and plump thin lips.
These cosmetic injectables can fill in hollow areas and soften lines on the following areas:
Temples

Tear troughs

Cheeks

Nasolabial folds

Laugh lines

Jawline

Lips

Marionette lines

Mental crease

Chin

Frown lines
Dermal fillers provide immediate results and can last 6 months up to 2 years depending on the type of filler used, the injection technique, the area being treated, and the individual patient. Possible side effects include mild swelling or bruising, and temporary numbness or redness.
Unlike neuromodulators, almost all dermal filler results are reversible. If you are displeased with your results, a skilled dermatologist can make corrections and improve the outcome. Injectables made from hyaluronic acid can be partially or completely removed with an enzyme called hyaluronidase. When injected, it dissolves the HA filler particles, helping correct issues such as overfilling, excessive swelling, infection, or lumpy, irregular texture on the skin.
Dermal fillers are commercially known as Juvéderm (Voluma, Volbella, Vollure, Ultra, and Ultra Plus), Restylane (Restylane Silk, Restylane Lyft, Restylane Refyne, Restylane Defyne), and Belotero. These cosmetic injectables also cost more than neuromodulators. Prices for filler injections range from $400-$3,000 per treatment and will depend on the product used, the number of syringes used, and who performs the procedure.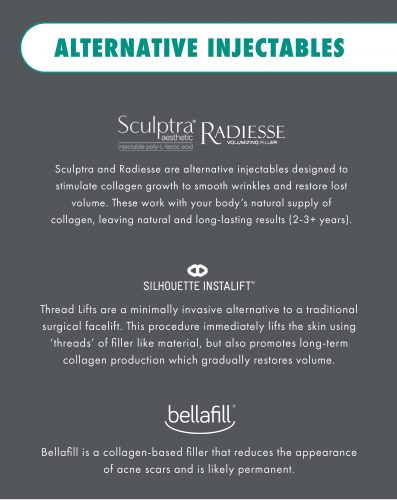 Alternative Injectables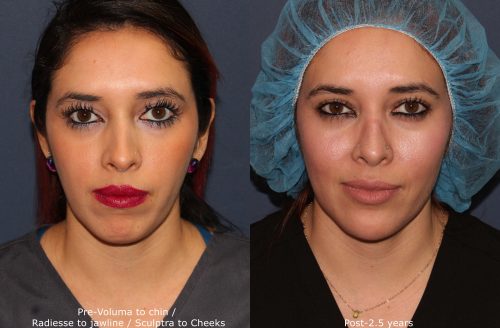 While injectables like Juvéderm and Restylane use Hyaluronic Acid to keep skin hydrated and plump, other injectables will use other naturally occurring substances or biocompatible synthetic substances to stimulate collagen growth to smooth wrinkles, enhance the fullness of the cheeks and other facial contours. 
Sculptra Aesthetic
Sculptra Aesthetic is a filler that can be used to restore facial volume loss due to aging. It contains poly-L-lactic acid (PLLA), a biocompatible synthetic substance that stimulates collagen production. 
Radiesse
Radiesse also works with your body's natural supply of collagen, producing natural results that can last for 2-3 years using collagen and calcium hydroxyapatite.. 
Bellafill
Bellafill is a collagen-based filler with biocompatible acrylic beads that not only corrects lines and folds and enhances the lips, but is also used to reduce the appearance of acne scars. The results are nearly permanent.
Thread Lifts
Thread Lifts.  To instantly lift and add volume to the face without surgery, you can try the Silhouette InstaLift which makes use of "threads" or absorbable (dissolving) sutures that lift sagging skin, restore volume, and promote long-term collagen production.
What Is The Right Injectable For You?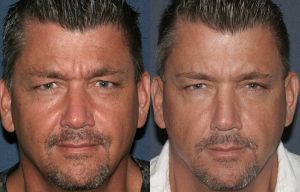 Finding the right injectable for you will depend on your aesthetic goals, budget, the condition of your skin, and your doctor's recommendation and experience. Keep in mind that what works for your friend may not be the best option for you. Each injectable has a unique formulation and will differ in density and texture. Certain fillers, therefore, will work better for certain areas of concern. A dermatologist can help figure out which filler would be best for you and your goals.
Botox is currently the top minimally invasive cosmetic procedure in the United States. This means, there will be a lot of clinics to choose from. Limit your search to dermatologists who are board-certified, like the ones in our San Diego office. These professionals are experts in facial anatomy and are highly trained in safely and precisely injecting fillers to achieve beautiful and natural-looking results, as well as recommending the best combination of treatments that will help you achieve your aesthetic goals. 
More like this,
Injectables: Fact or Fiction