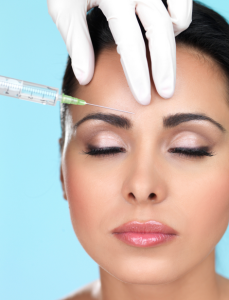 Right now is a very exciting time in cosmetic dermatology. There are so many new products to use to enhance our natural beauty and give us the look that we desire. In addition, Cosmetic Laser Dermatology in San Diego, CA have many new and cutting-edge techniques that we are using with these injectable products. The techniques can be used in a way the yields natural results and gives our patients little to no downtime!
Volume loss in the face is a very telltale sign of aging.  As we lose volume in the face, lines and folds are exaggerated and jowling begins to occur.  We now have fillers that can be used safely and effectively to add volume to areas that have been traditionally ignored. These areas include the temples, which are usually not considered when attempting to restore volume to the aging face. Hollowed out temples give a skeletonized appearance to the face and can add to the sagging appearance of the skin.
Another area that suffers volume loss as we age is the cheeks. If you look in the mirror and you see flattening of the cheeks or a break or split in the cheek pad, you could be an excellent candidate for volume replacement in this area. Adding volume in this area can also help lift the lower face and alleviate jowling along the jawline. In addition, we can place various fillers along the jawline to minimize the appearance of the jowls.
The area around the mouth is a great place to add volume and restore the beautiful appearance of this area. Injectable treatments can be used to enhance the lips, reduce lines around the mouth, add volume to the chin, and soften the folds that occur between the nose and the corner of the mouth. Adding volume to these areas, as well as the areas mentioned earlier, will help lift the sagging face and give a more youthful appearance.
When Botox Cosmetic or Dysport are used in combination with volumizing fillers, skin can be gently lifted and wrinkles reduced. Facial features can be subtly redefined, taking years of the appearance of our patients, all with no downtime and no surgery. This is commonly referred to ask a `Liquid Facelift`.  The dermatologists at CLDerm are all certified Liquid Facelift experts. To lear more about liquid facelifts, visit clinicaltrials.gov
Because CLDerm is committed to medical research and has numerous studies be conducted, we have the latest and greatest treatments and will customize a treatment plan for you. We are consistently one of the highest volume cosmetic injectable practices in the country. You will always be in expert hands that you can trust! Contact us today to schedule your initial consultation at our San Diego office.
Next, learn about The Amazing Benefits of Liposuction for Both Men and Women.