At Cosmetic Laser Dermatology, our Clinical Director, Mitchel P. Goldman, MD, has authored dozens of publications on sclerotherapy, the surgical and laser treatment of unwanted leg veins from telangiectasia to large varicose veins. Pioneering and leading in the field of Phlebology (the treatment of veins), laser and sclerotherapy treatment, Dr. Goldman founded as well as served as a past president of the National Vein and Lymphatic Society (formerly the American College of Phlebology). He and the dermatologists at Cosmetic Laser Dermatology possess a wealth of knowledge within the field. Dr. Goldman has written and edited numerous medical textbooks on vein treatments, some of which have been translated into five different languages.
With an unsurpassable wealth of knowledge on sclerotherapy, Cosmetic Laser Dermatology is the ideal practice with which to schedule your treatment for leg veins in the San Diego, California area. With several of the country's leading experts in the treatment of visible, enlarged or painful spider and varicose veins, and more than fifty lasers available for treatment, you can trust that you're in capable and expert hands. Learn more by watching Dr. Goldman's webinar about everything you need to know to eliminate leg veins.
Treatment Options
In the form of an analogy, treating spider veins and varicose veins is much like trimming a tree to view the sunset. While it may be easy to remove leaves to obtain a better view, the tree only gets larger each spring. By removing the branches, you get the best chance at really viewing the sunset and ensuring this is possible next summer. The veins that most patients want to be removed are not the target of treatment; they serve as the leaves in the analogy. Rather, our expert dermatologists treat the feeding vein as the source of the problem, which is what causes other spider veins to appear. In essence, they trim the branch to provide a better view in the long-term. 
Sclerotherapy Treatment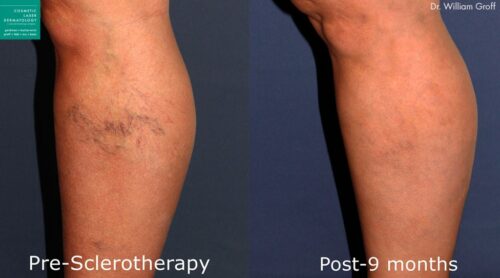 Derived from the Greek word sclero, meaning hardening, sclerotherapy involves a series of injections into the vein with a sclerosing agent, using a tiny needle (the size of an acupuncture needle). The injected solution displaces the blood and causes the vein to scar, which forces blood to reroute through other, healthier veins. Eventually, the collapsed vein fades after being reabsorbed into the local tissue. Since this treatment does not strip away a vein but instead irritates it, total disappearance can take a few months.
Candidates for sclerotherapy vein treatment are those who are currently experiencing issues with leg veins, chest veins or hand veins. At times, people with these issues may not be deemed a candidate for sclerotherapy, there are several other vein treatments including vascular surgery, laser treatment, and endovenous vein ablation available to treat these concerns. 
Sclerotherapy, aside from offering the option to wear shorts and skirts again with confidence, has several benefits which include clear, smooth skin and reduced pain and discomfort. Sclerotherapy begins showing results in as little as two months, with optimal results appearing within three to four months. The recommended number of sessions per leg for optimal results is about two, with maintenance scheduled every few years as needed. Often-times, one treatment session  is all you need for decades! Laughing gas is offered as some patients do not like the concept of needles entering their veins, but the procedure itself is not painful. The procedure does not cause any side effects, but for some patients, minor swelling, discoloration, and bruising may occur. This dissipates within seven to ten days.
Both telangiectasias (spider veins) and varicose veins (about the size of your finger) can be treated by sclerotherapy using the solution. Smaller unwanted veins can also be removed through glycerin injections. 
Endovenous Laser Treatment
Pioneered by Dr. Mitchel P. Goldman of Cosmetic Laser Dermatology and colleague Dr. Robert Weiss, endovenous laser treatment is another alternative to eliminating leg veins. This revolutionary technique is best suited for incompetent great saphenous veins, a more severe protruding leg vein, which was originally treated by stripping. Learn more about Dr. Goldman's and Dr. Weiss' research by visiting pubmed.gov. 
By inserting a laser fiber directly into the vein that was previously stripped, the laser successfully shrinks and closes the problem vein, all under local anesthesia without the need for general anesthesia. Recovery is rapid with most patients returning to their previous activity within a day, including running, tennis, hiking, and cycling! 
A common misconception in treating leg veins is that laser treatment is preferable. Though laser treatment, like IPL or long-pulsed Nd:YAG, can address some small leg veins, it is often the last resort at Cosmetic Laser Dermatology to ensure minimal pain and maximum comfort for our patients. 

Ambulatory Phleb
ectomy Treatment 
In previous times, vascular surgeons would treat spider and varicose veins by stripping them or surgically removing them under general anesthesia with large incision scars. Though stripping veins was the go-to solution for leg veins in the past, the scarring and need for anesthesia was a deterrent that led many physicians to seek better treatment. A phlebectomy is a suitable alternative to treating ghastly veins, especially those that are painful and enlarged. 
With a few minor incisions so small that they do not need to be sutured closed, unwanted veins can be removed through this procedure. Done with a local anesthetic and the patient being awake throughout the treatment, this procedure is virtually scarless. Visit pubmed.gov to learn more.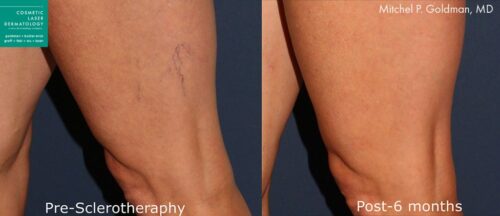 What To Expect From Sclerotherapy
At Cosmetic Laser Dermatology, we push for realistic expectations. For each patient, we have discussions to ensure each person leaves feeling satisfied. Additionally, we like to prep our patients so that sclerotherapy treatment provides the best results possible. Some required prepping on the patient's end includes:
Eating before treatment to avoid vasovagal response (fainting) 

Avoiding using moisturizers and shaving legs before treatment (shaving might result in stinging, and for treatment we like to avoid any cuts)

Wearing short on treatment days 
Wearing compression socks is a must after treatment. Using medical grade graduated support stockings post treatment will decrease the inflammation that occurs and allow the treated veins to heal fast. At Cosmetic Laser Dermatology, our staff will fit you with the correct, medical pair that you need.
Book Your Sclerotherapy Appointment Today 
Turn to the experts on treating leg veins, and the man considered by many to be the godfather of this treatment, Dr. Mitchel Goldman, at Cosmetic Laser Dermatology. Entrust your results with the skilled, board certified dermatologists at Cosmetic Laser Dermatology. Book your appointment at our San Diego office today.