Radiofrequency (RF) skin tightening is an effective method for addressing loose skin on the face and neck. It utilizes radiofrequency technology to heat the deep dermal tissue and stimulate the body's natural healing process to reduce sagging skin, wrinkles, and fine lines.
What Is RF Skin Tightening and How Does It Work?
RF skin tightening is a simple, non-invasive procedure that uses radiofrequency technology to stimulate collagen and elastic fiber production deep beneath the skin's surface. Collagen and elastin are naturally occurring proteins found in the body that help keep your skin healthy and strong. Collagen and elastin levels decline as we age, resulting in sagging skin, wrinkles, and other signs of aging. With RF skin tightening, the radiofrequency energy stimulates collagen and elastic fiber production, which helps to improve the skin's texture and firmness.
During the procedure, your board-certified dermatologist carefully moves a handheld device over the treatment area, gradually heating the skin in the dermis to precise temperatures. As collagen and elastic fiber production increases in the weeks and months following treatment, patients can see significant skin tightening and healthier skin.
What Are the Benefits of RF Skin Tightening Treatments?
RF skin tightening treatments offer many benefits, including:
Firmer skin without surgery
Minimal downtime and recovery
Face and neck contouring
Reduction in fine lines and wrinkles
Improvement in skin texture and tone
Decrease in acne scarring
What are my options in RF skin tightening treatments?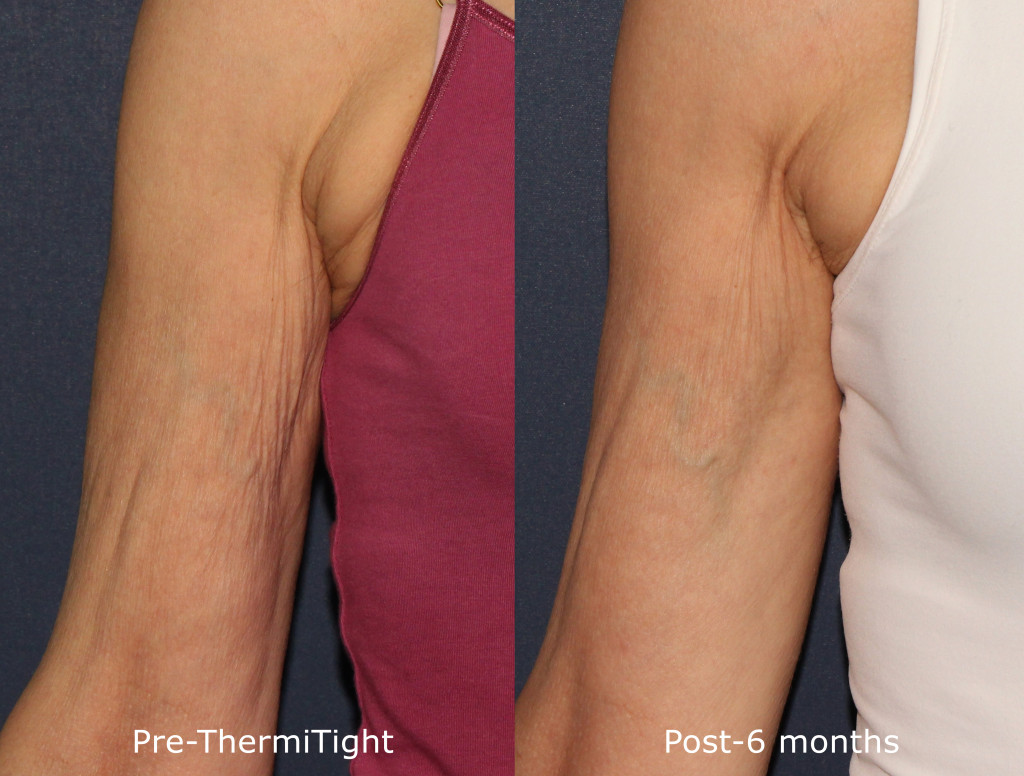 Patients have several RF skin tightening options, depending on their needs and beauty goals. Popular treatment options include:
RF microneedling: Hair-thin needles create micro-channels in the skin, which allow the RF energy to penetrate the deeper dermal tissue, resulting in more effective heating and collagen/elastic fiber production. This combination treatment can target specific areas, such as around the eyes, mouth, and neck, to create a more youthful look with improved texture, tone, and elasticity. We have the latest in RF microneedling, the Potenza device, which offers 4 different modes and enhanced penetration for superior results.
Thermage®: Thermage is an innovative RF treatment that can treat loose skin on the face and body and is an effective non-surgical eye lift. The treatment uses deep heating in the dermis and subcutaneous tissue to stimulate collagen and elastic fiber production while leveraging integrated cooling to protect the epidermis.
ThermiTight: This RF skin tightening treatment targets loose skin on the face, neck, arms, stomach, breasts, and other body areas. This treatment involves the insertion of an RF energy probe under the skin at precise temperatures to increase collagen and elastic fiber production and tighten the skin.
Cosmetic Laser Dermatology offers a proprietary treatment that provides dramatic results without surgery. ThermiSculpt³ combines ThermiTight, facial liposculpture, and dermal fillers to reduce submental fat and tighten loose skin on the face and jawline. The advanced procedure can significantly alter the jawline and contour the face for a more youthful appearance without a surgical facelift.
How Long Does the Treatment Take?
RF skin tightening treatments typically take under one hour, depending on the size of the treatment area. During the procedure, the patient may experience a temporary warming sensation, which should not be painful. Following the treatment, patients typically experience mild redness, which usually subsides within a few hours. Your expert dermatologist will assess your skin and needs and discuss treatment options and expectations.
What Is the Recovery Time Like Afterward?
After the procedure, patients can often resume their normal activities immediately afterward. Some treatments may require a day or two of downtime, however. Most patients will not experience any significant side effects, though some may notice temporary redness, swelling, or tenderness in the treatment areas.
Over time, the effects of RF skin tightening treatments should become more visible as the body produces more collagen. Your dermatologist can create a custom plan to maintain your desired results with regular treatment sessions.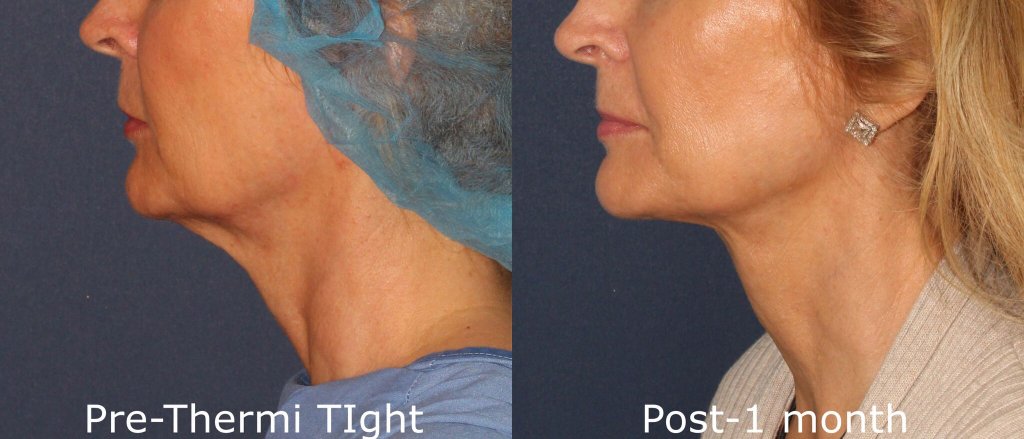 Who Is a Good Candidate for RF Skin Tightening Treatments in San Diego?
Many men and women in good health are candidates for RF skin tightening. The best candidates for RF skin tightening are typically individuals with mild to moderate skin sagging or wrinkles who want a more youthful look without resorting to surgery. This procedure can treat many different body areas, including the face, neck, and abdomen, to address skin laxity and other aging symptoms.
Cosmetic Laser Dermatology is a world-renowned cosmetic dermatology practice with seven board-certified dermatologists who boast more than 125 years of combined experience. Our experts provide advanced treatments that create natural and beautiful results without surgical procedures. Contact us to schedule a consultation and learn more about RF skin tightening treatments.