Deep facial wrinkles can be challenging to treat, but options are available. The best treatment for these stubborn creases is often a combination of non-surgical procedures customized to your precise needs and goals.
What Causes Deep Facial Wrinkles?
Wrinkles are a natural part of the aging process. Creases that appear in the lower half of the face are often the result of collagen depletion and are known as static wrinkles. Collagen is an essential protein found in the dermal structure that makes our skin look smooth and supple. Over time, our bodies produce less collagen, resulting in skin laxity and wrinkle formation.
Certain factors can accelerate collagen depletion and the formation of deep facial wrinkles, including genetics, sun exposure, smoking, and environmental pollutants. UV light speeds up the aging process, breaking down collagen and elastin that keep skin tight. Once the damage occurs, deep facial wrinkle treatment is the only way to reverse the lines and creases.
Using Neuromodulators
Neuromodulators work best for the treatment of dynamic wrinkles. These lines develop when you smile, squint, or frown. At first, the lines are only visible when you make the facial expression, but they can become a permanent fixture on the face over time. They commonly form between the eyebrows (frown lines), in the outer corners of the eyes (crow's feet), or across the forehead.
Neuromodulators effectively relax facial muscles to smooth away the lines they form. They offer results that last 3-4 months, but patients can maintain their improvement indefinitely with a regular treatment schedule.
Botox, Dysport, Xeomin, and Daxxify for Deep Facial Wrinkles
Cosmetic Laser Dermatology, located in San Diego, boasts a team of board-certified dermatologists who are also national Botox trainers. We use Botox® Cosmetic, Dysport®, Xeomin®, Jeuveau®, and the newest neuromodulator Daxxify®, which offers the most long-lasting results. We understand how to leverage the unique attributes of each product to best suit our patient's individual needs. 
Our staff has been actively involved in research studies for neuromodulators and continues to conduct clinical trials at our fully equipped research center. We are one of the first in the area to offer Daxxify treatments to our patients.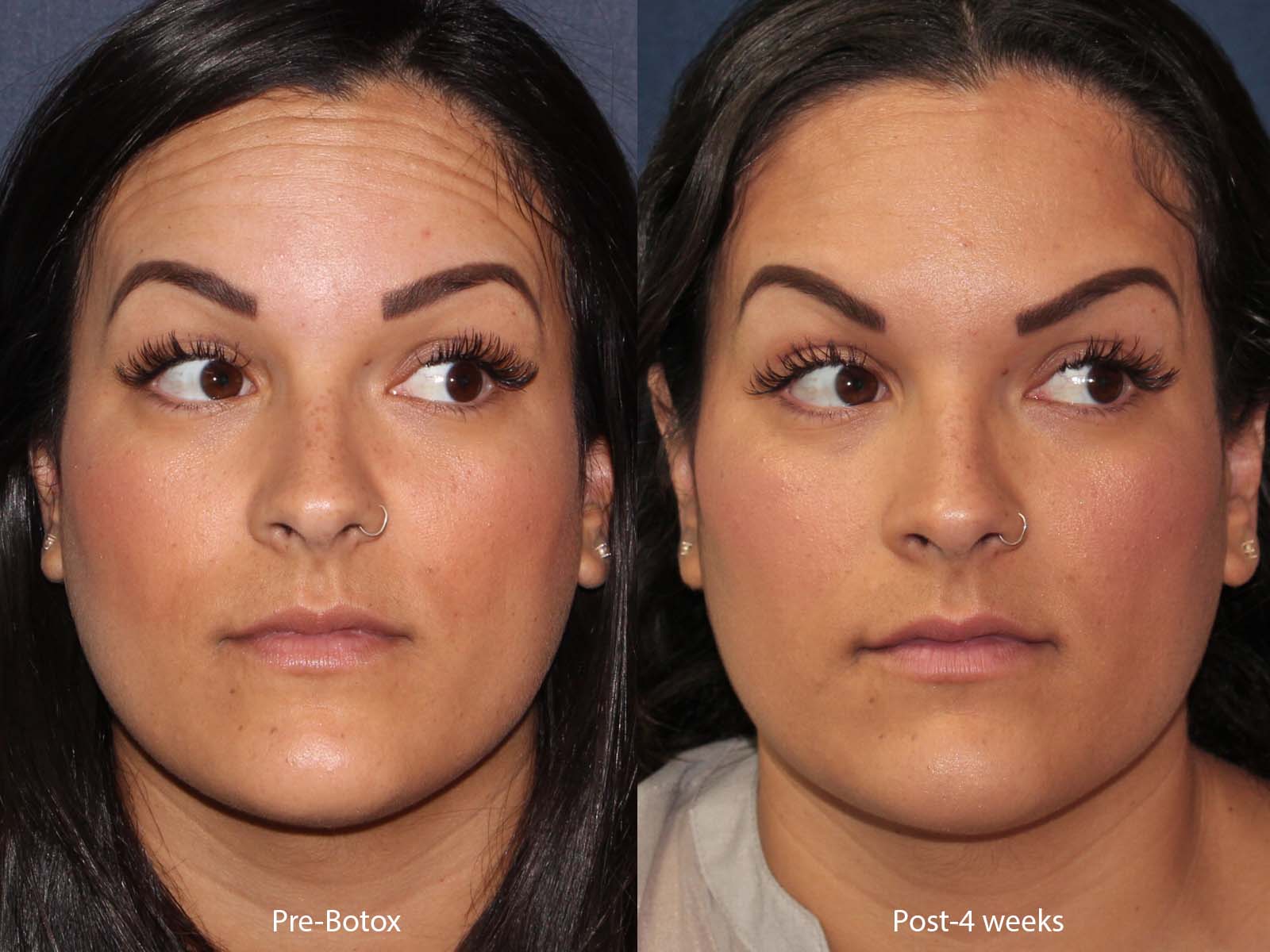 Dermal Fillers and Injectables
Dermal fillers are an effective solution for addressing static wrinkles by restoring lost volume and plumping up the skin. The procedure involves injecting a gel-like substance, typically made of hyaluronic acid, into the targeted area. This substance fills the creases from the inside out, creating a smooth and youthful appearance.
Dermal filler treatments can be done in a matter of minutes. Results are visible immediately, and the effects can last up to several months depending on the type of filler used and the individual's metabolism. These injectables work well on nasolabial folds, smile lines, and marionette lines. They can also be placed in the tear troughs to refresh the eyes and around the mouth to address fine lines and plump up the lips.
How Juvéderm and Restylane Can Help Fill Deep Wrinkles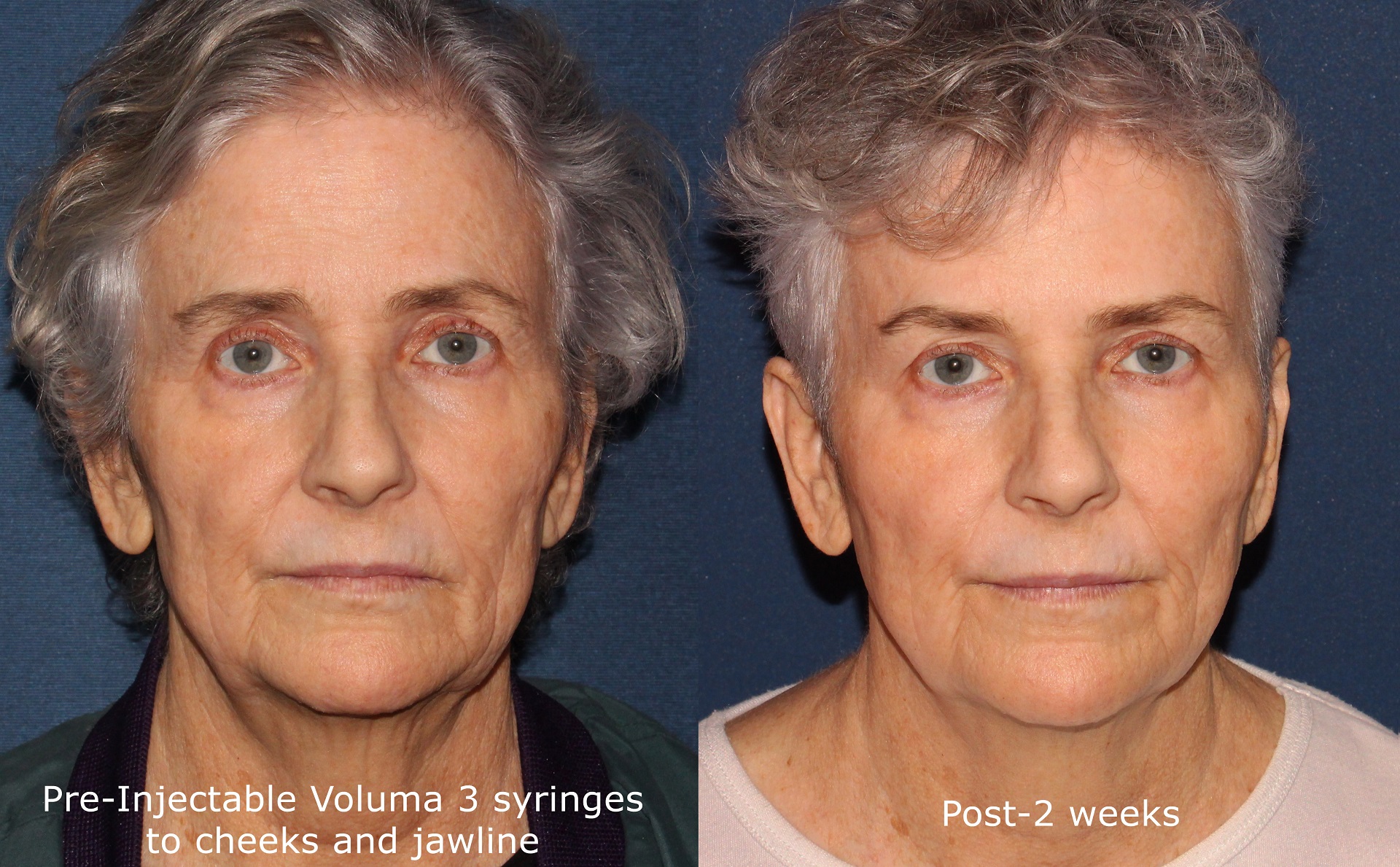 Juvedérm® is a line of dermal fillers that uses hyaluronic acid to smooth out wrinkles and restore lost volume in various areas of the face. Specific products include:
Juvedérm® XC
Juvederm Volux
Each formulation is designed for a different treatment area. While Juvedérm XC and Voluma tend to work best on deep wrinkles, our dermatologists will determine the best product for you based on your precise needs and goals.
Restylane® is another line of dermal fillers containing hyaluronic acid as the active ingredient. These injectable gels are specially designed to fill in deep wrinkles and fine lines, enhance facial contours, and add volume to areas such as the cheeks and lips. Products include:
Restylane Defyne is often a popular choice for deep wrinkles in the lower face since it offers extra support and firmness while ensuring natural facial movement in the treatment area.
RHA® dermal fillers are also a good option for deep wrinkles, particularly around the nose and mouth. These products are uniquely formulated to fill in lines while preserving the natural movement of the face. They are the only filler that can replace neuromodulators for dynamic wrinkles around the forehead and eyes as well.
Biostimulatory agents like Sculptra and Radiesse stimulate the body to increase the production of collagen and elastic fibers to plump and smooth the skin at a cellular level. The injectable treatments take more time to produce the desired effect, but once results are apparent, they can last up to two years.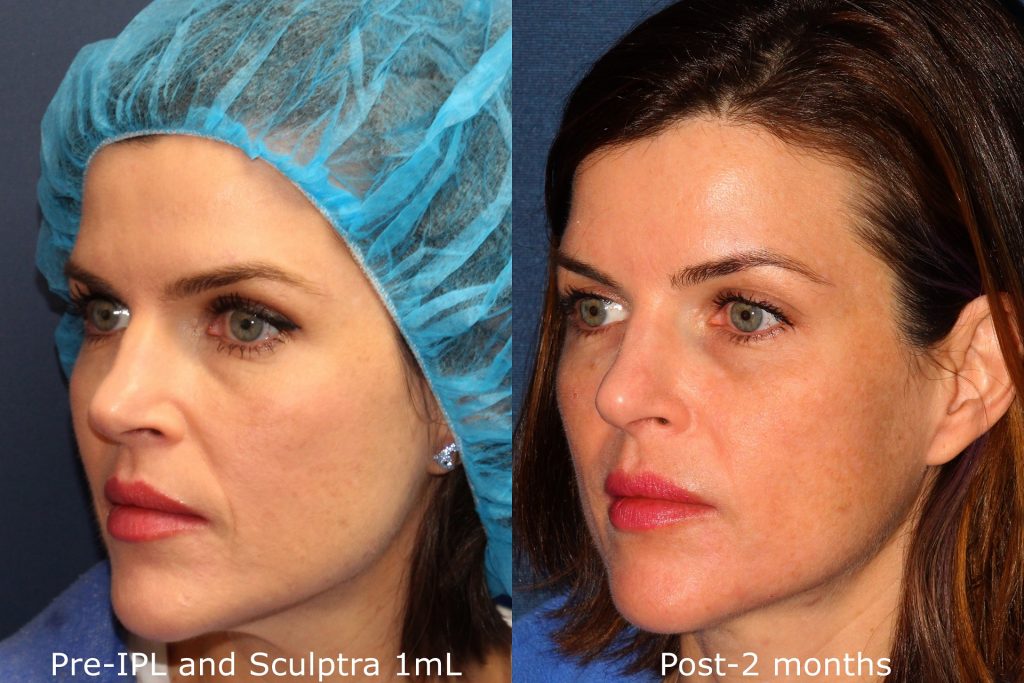 Laser Options
Very deep facial wrinkles can also be addressed with a variety of laser treatments. Fractional laser skin resurfacing creates micro-injuries in the skin, triggering the body's natural regenerative processes and boosting collagen production. Ablative lasers remove precise layers of skin, revealing softer, smoother skin below. We offer more than 60 laser and energy devices so we can customize treatments with the precision necessary to achieve the best possible results for our patients.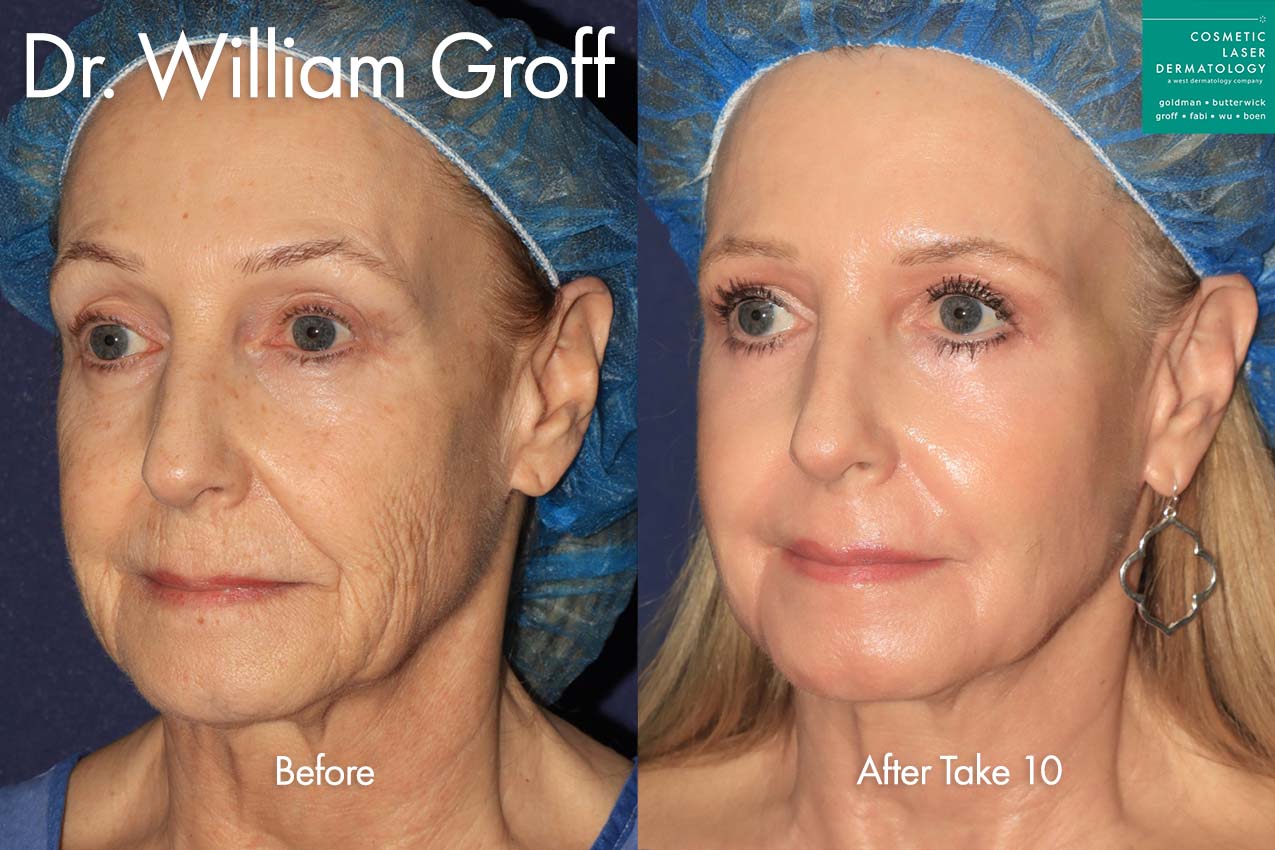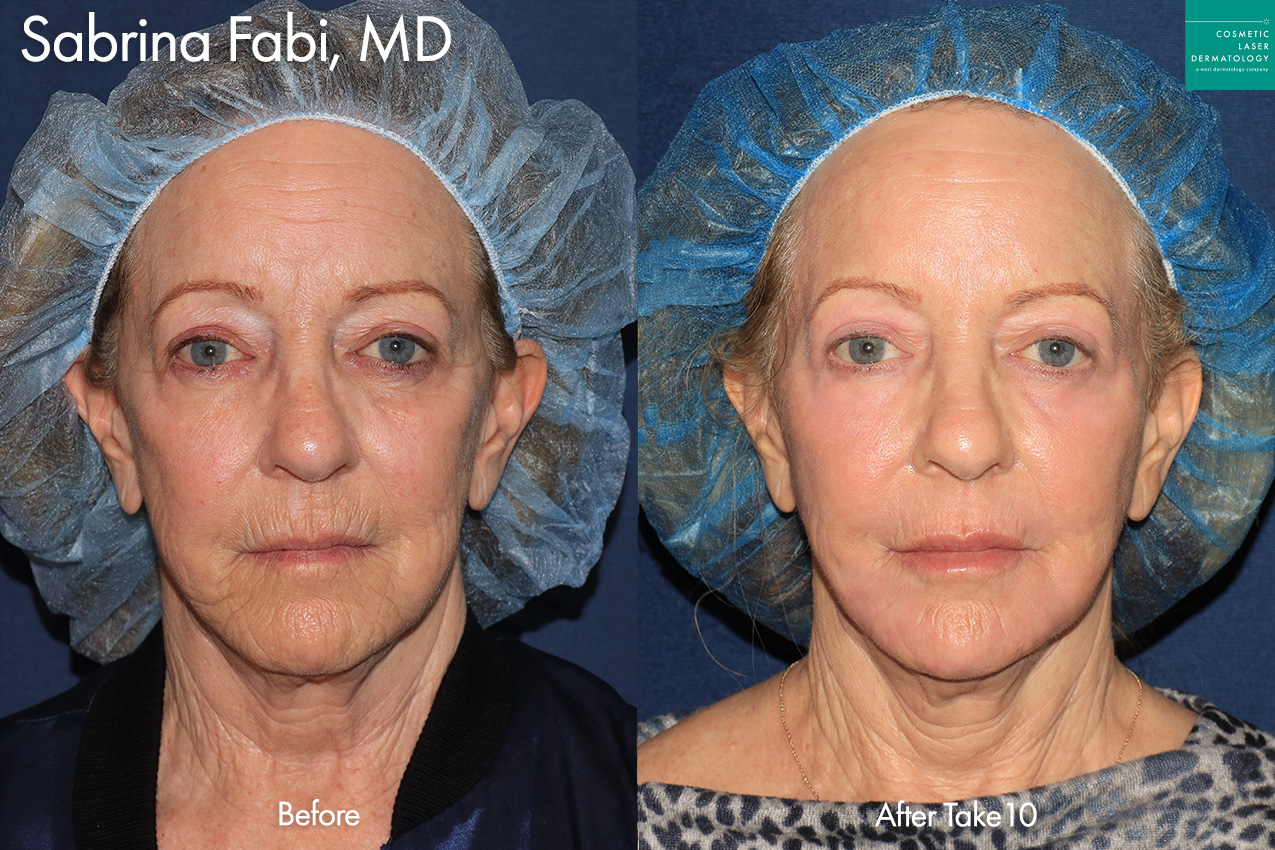 Fraxel, Active/Deep FX, Sciton – Take10
Fraxel Re:pair is effective in treating deep wrinkles as well as hyperpigmentation and scarring. This fractional laser produces dramatic results with about 7-10 days of downtime. Improvements can be quite noticeable and long-lasting.
Active/Deep FX is a combination of 2 lasers that offer fractional CO2 resurfacing to treat deep wrinkles. This treatment stimulates collagen production for natural, long-lasting results. Recovery time tends to be quicker and improvements continue in the weeks and months after treatment.
Sciton Er:YAG Laser is a versatile device that is highly effective in skin resurfacing. The laser removes very precise layers of dermal tissue to rejuvenate the skin without scarring. The treatment depth can be adjusted from shallow to remove early lines of sun damage to deeper treatments that work on even the most severe facial creases.
Take10 is our proprietary laser treatment available only at Cosmetic Laser Dermatology. Using a combination of three or more lasers, we can take up to 10 years off a patient's appearance without surgery. We can also combine this treatment with injectable neuromodulators and dermal fillers to further enhance results.
What to Expect During and After Your Treatment in San Diego, CA
At Cosmetic Laser Dermatology, all of our injectable and laser treatments are performed by one of our 7 board-certified dermatologists. With over 125 years of combined experience, patients can rest assured they are in the best possible hands when they book a treatment with us.
If you are unhappy with deep wrinkles, help is available. Contact our San Diego office today to discover the best deep wrinkle treatment for you.