Are Aging Symptoms Putting a Damper on Your Holiday Spirit?
The holidays are only weeks away, bringing days packed with activities and social events. Extended families gather to celebrate. Employers and friends throw parties. And everywhere you go, people are taking pictures of the festivities on their camera phones. 
It's a time of year when you want to look your best. If lines, wrinkles, sun damage, discoloration, facial veins, or loose, sagging skin are dampening your holiday spirit, you still have time to do something about it. 
How would you like to take ten or more years off your appearance before the holiday season begins? Our board-certified dermatologists and laser experts at Cosmetic Laser Dermatology in San Diego, CA can help you do exactly that, with our proprietary Take10 treatment. 
Introducing the Take10
Developed and offered only at Cosmetic Laser Dermatology, Take10—previously called Ultra Repair—is a revolutionary, non-surgical alternative to a facelift. Take10 can remove ten or more years from your appearance, with no surgery required. 
Take10 provides patients with remarkable results, dramatically reducing the signs of aging. The treatment uses three or more effective lasers, often combined with injectable treatments to quickly and effectively erase 10 or more years from your appearance. All in a single anti-aging treatment without invasive surgery, incisions, or post-treatment scarring. 
What Symptoms of Aging Can the Take10 treat?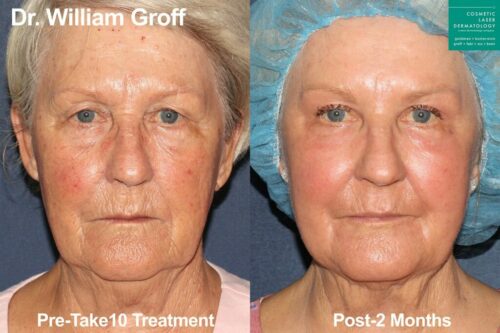 By combining Botox Cosmetic®, Xeomin®, Jeuveau®, or Dysport® injectable dermal fillers, and treatment with various lasers to meet your specific needs, a Take10 treatment can produce the following results: 
Repair dark spots, discoloration, and sun damage

Improve skin texture and tone

Smooth fine lines and wrinkles

Erase veins around the cheeks, nose, and eyes

Add volume to marionette lines and nasolabial folds

Firm and tighten loose, sagging skin for a lifted appearance
Customized Solutions for Your Unique Needs
Because Cosmetic Laser Dermatology has in-house access to over 50 laser, light, and energy devices at our San Diego medical spa, our board-certified dermatologists are uniquely able to customize a combination laser treatment plan specifically for you. 
Multiple lasers used in combination effectively target all of your skin concerns. Treatments can be performed on the full face, neck, and chest. Along with the results from Botox Cosmetic, Xeomin®, Jeuveau®, or Dysport®   and dermal fillers, you'll notice a fresh, youthful appearance. 
During your consultation, we'll examine your skin, discuss your desired results, and work with you to determine which combination of treatments will provide optimal results.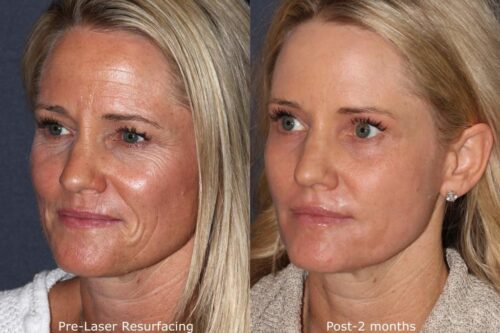 Take10 treatment options might include a combination of any of the following devices and treatments:
Fraxel Re:pair laser for collagen remodeling

Ultra Pulse CO2 and Erbium lasers for fine lines and wrinkles

Alexandrite TriVantage to eliminate unwanted brown spots

Vbeam Perfecta laser for treatment of red patches and broken blood vessels on the face, neck, and chest

IPL and Nd:YAG lasers to help minimize the visibility of facial veins and capillaries around the eyes and temples

Active/Deep FX lasers to provide fractional CO2 resurfacing

Dermal fillers, like Restylane, Juvéderm, RHA, Sculptra or Radiesse, to add volume to nasolabial folds and marionette lines

Botox Cosmetic, Xeomin®, Jeuveau®, or Dysport® treatments a week before the Take10 to prevent new wrinkles from forming

SkinMedica, Alastin, Calecim post-laser skincare
Schedule Time to Heal Following Your Treatment
You'll want to schedule some social downtime after your Take10 treatment to allow redness and swelling, similar to a bad sunburn, in the treated areas to heal. For most patients, full recovery takes between 7-10 days—far less than you'd need following a surgical procedure. 
Age is a factor in the amount of recovery time needed. The less aggressive the treatment, the less time necessary for healing. Younger patients may only need 5-6 days to recover after a Take10 while older patients with more extensive treatment may take 1-2 weeks to fully recover. For patients that cannot afford any social downtime, our medical spa also offers treatments like intense pulsed light (IPL) therapy, the Clear + Brilliant laser, chemical peels, injectables, JetPeel and hydrafacials to improve the appearance of your skin with almost no downtime afterward.
A New Year, a New You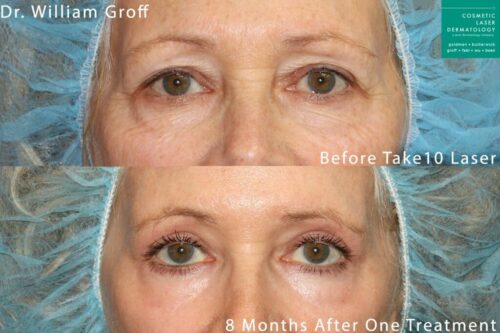 Soon after your Take10 treatment, you'll notice healthier, rejuvenated skin. You can expect long-lasting results from the laser treatments, although the results will not be permanent. 
Take measures to protect your skin from future sun damage for the longest-lasting results. 
You'll see visible results from Botox Cosmetic, Xeomin®, Jeuveau®, or Dysport®  injections within about a week following treatment, typically lasting between 3-6 months. 
Your results from dermal fillers will vary depending on the type used in your Take10 treatment. Juvéderm, RHA, Radiesse and Restylane produce visible results immediately following treatment. You can expect results from facial fillers to last 6-18 months, depending on the filler used and the area treated. 
If Sculptra® injections are part of your treatment, the effects will take about six months to become fully evident, but improvements can last for  years. 
Now's the Time to Schedule Your Pre-Holiday Season Take10 at Our Medical Spa
Treat yourself to the gift of a Take10 now, and experience remarkable results with this exclusive, non-surgical treatment. You'll head into the holiday season in great spirits, looking 10 years younger and feeling rejuvenated and confident. 
Let our highly regarded dermatologists customize a Take10 treatment plan for your needs and desired results. Contact Cosmetic Laser Dermatology in San Diego, CA, to schedule your consultation today.