Are you ready to turn back time on your appearance, but not ready to commit to surgery? CLDerm has the solution for you! 
At Cosmetic Laser Dermatology in San Diego, our board-certified dermatologists have pioneered a non-surgical treatment plan known as the "Take10." Through a combination of customized laser and injectable procedures, our doctors can address even advanced signs of aging to make you look 10-15 years younger without surgical incisions or the need for general anesthesia. 
Dr. Groff recently hosted a Take10 Rejuvenation Event via webinar to explain the treatment and to demonstrate just how dramatic the results can be.
What is the Take 10?
The Take10 procedure is uniquely designed to address aging symptoms without surgery. If you have become dissatisfied with your appearance over time due to wrinkles, crepey skin, sagging skin, and brown spots, Take10 could be the right option for you. Keep in mind that this innovative treatment is only available at Cosmetic Laser Dermatology!
In his recent webinar, Dr. Groff explained that the Take10 procedure utilizes a combination of lasers to address various signs of aging in a single treatment session. The procedure can take up to 10-15  years off your appearance with a downtime of 10 days or less. When you consider that downtime from a facelift or neck lift can be up to 2 weeks, requires general anesthesia, and can leave some visible scarring behind, you can see why Take10 is an attractive alternative for many patients today. To learn more about laser and injectable treatments, visit ncbi.nlm.nih.gov
Expertise, Experience, Personal Approach
What makes the Take10 treatment so successful? The answer lies in Dr.Groff's 20 years of experience and expertise, which allows him to customize treatments to the precise needs of each patient. Dr. Groff listed the benefits of working with Cosmetic Laser Dermatology in his webinar, including:
Over 50 lasers and devices

6 dermatologic surgeons

Cutting-edge treatments and a research center

More lasers and energy devices than any practice in the world
As a Board Certified Dermatologist, Dr. Groff has been able to harness the resources available at Cosmetic Laser Dermatology in San DIego and integrate them with his own 20 years of laser experience to produce a treatment approach that is both revolutionary and highly effective. 
A Comprehensive Approach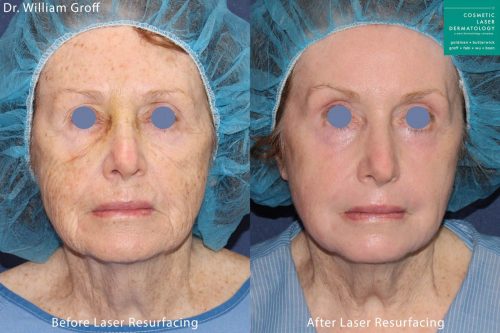 Dr. Groff knows that anti-aging isn't just about attacking fine lines and wrinkles. His Take10 treatments can address any and all of the following age-related concerns: 
While many doctors can treat one or two of these concerns at the same time, Dr. Groff's unique approach allows him to improve all of these concerns in a single session. Convenience, safety, and results are what the Take10 treatment is all about. 
The Right Procedure at the Right Time for the Right Skin 
Take10 treatment packages vary considerably, based on the specific concerns and goals of each patient. Dr. Groff takes the time to hear your concerns, examine your skin, and discuss your goals in detail. With the knowledge he collects, he could integrate any of the following devices into your treatment plan:
Ultra Pulse CO2

and Erbium lasers for lines and wrinkles

Fraxel Re:pair

and

Active/Deep FX

lasers for collagen remodeling and texture improvement

Vbeam Perfecta

laser for redness and visible blood vessels

Alexandrite TriVantage for brown spots and sun damage

ND: YAG lasers for larger blue veins around the eyes and temples
Lasers are versatile tools that work in a variety of ways. Fractional lasers like Fraxel and Active/Deep FX create micro-injuries in the skin to boost collagen levels. Our skin has an abundance of these essential building blocks in our youth, but as early as our 20s, our bodies start producing less collagen. This leads to line formation and skin laxity. Restoring collagen can reverse some of these aging signs.
Ablative lasers remove full layers of skin in very precise layers for complete rejuvenation in the treatment area. Deeper layers produce more dramatic results but also require more downtime. Dr. Groff will determine the right depth for you based on the severity of your aging symptoms and the goals you hope to achieve.  
More Options for Take10
Lasers are not the only options for a Take10 treatment. Dr. Groff may also recommend injectable fillers to reduce wrinkles in the lower face or restore youthful volume. Neuromodulators like Botox and Dysport relax facial muscles that lead to wrinkle formation in the upper face. 
Patients will receive recommendations on medical-grade skincare they can use at home. These products support the healing process after a procedure and help you maintain your positive results long after your procedure is complete.
Unmistakable Results  
In his webinar, Dr. Groff featured many before and after photos of patients who have undergone a Take10 treatment with him. With the Take10 procedure, the results are seen immediately after the healing is complete.  Patients continue to see improvement in their skin for at least a year and results last for many years. You can find Dr. Groff's extensive collection of before and after photos on the clderm website, Realself.com, Instagram and Facebook @drwilliamgroff and @clderm.
Take 10 Years Off Your Face Today!
Aging may be inevitable, but flaunting those wrinkles and age spots is purely optional. If you are ready to turn back time, contact Cosmetic Laser Dermatology in San Diego today online or by calling 858.943.2113 to find out if a Take10 treatment is the right choice for you. 
Next, read how to prepare for the upcoming season with How to Take Care of Your Skin Through Changing Weather.