There's a lot to get excited about as we enter a new season – it could be a much-awaited beach holiday or a ski adventure at a local peak. But as you transition into summer or winter, the way your skin reacts to the new weather changes too – and your go-to 3-step beauty regimen may not be enough to protect your complexion against the elements all year round.
Even the minor changes in climate can impact your skin. While there's nothing you can do about the weather, this does not mean your skin has to suffer its effects. The board-certified dermatologists of Cosmetic Laser Dermatology offer patients the best skincare services in San Diego. We combine major cosmetic breakthroughs in science and medicine to bring you the ultimate in rejuvenation. With 100,000+ satisfied patients and 100+ years of combined experience, we can provide customized care with the most innovative laser, injectable, and aesthetic treatments available. Therefore, we can help you keep your skin looking beautiful and ageless – no matter the season.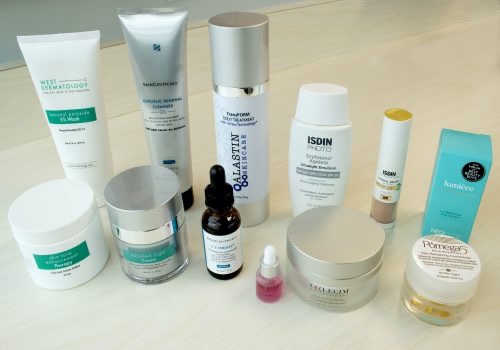 Skincare Tips 
At Cosmetic Laser Dermatology, we consistently urge our patients to practice good daily skincare. As dermatology experts, we know that a proper skincare regimen can help reduce the signs of aging, maintain and improve the health of your skin, and prolong the results of your dermatologic treatments. 
We can also blend multiple dermatology treatments and technologies to provide you with natural and beautiful results, all year long without the need for surgery. 
Cleansing
In the summer months, choose a cleanser with the lightest base possible and one that balances excess oil. Seek formulas infused with antioxidants and soothing ingredients like aloe which is good for sunny and humid weather. As the season shifts to cooler and drier weather, you can transition to heavier formulas such as creams for days where skin needs extra hydration.
Exfoliating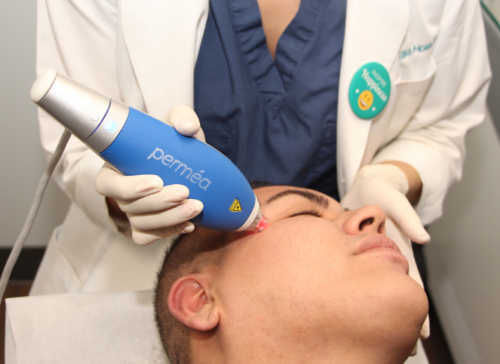 Exfoliating is a must for every season, but most especially during the summer. When you start to build up oil and sweat, you need to make sure you get to eliminate all that from your skin so you don't get clogged pores. Exfoliating the skin will help remove dead skin cells and promote new cell regeneration, leaving your skin healthy and glowing.
A great way to truly rebuild the skin would be through a laser treatment. A fractional laser device such as the Clear + Brilliant works by creating micro-injuries in the skin to trigger the body to regenerate more cells and to boost collagen production. This results in skin that is clearer, smoother, and more youthful-looking as sun damage and pigmentation irregularities are addressed.
Dermasweep utilizes bristle-powered gentle exfoliation which both smooths the surface of the skin and promotes enhanced circulation. After exfoliation, our medical aesthetician Farzaneh will follow up with a SkinFusion addressing your specific skin concerns. If you're looking for a way to treat fine lines, wrinkles, acne scarring, and skin laxity, without being irritating to sensitive skin, Dermasweep is your answer! This is a completely customizable treatment, able to deliver tailored results to each individual patient in San Diego. 
Moisturizing
Whether you have oily or dry skin, your skin will always benefit from a good moisturizer. It helps control oil as the weather warms up by hydrating your skin as it recovers from winter's drying effects, especially since your complexion tends to be oilier in the summer and drier in the winter. This also means that your rich and creamy cold-weather moisturizers will be too heavy on the skin when the weather gets too hot. So for the summer, choose moisturizers that are light, cooling, soothing, won't make you feel sticky, and won't make your oil glands more active. In the cooler months, opt for heavier and richer bases that can protect your skin against the wind and cold weather. To learn more about moisturizers, visit ncbi.nlm.nih.gov
For a quick, safe, and effective way to make skin look smooth, plump, hydrated, and wrinkle-free, you can undergo an injectable treatment. While neuromodulators like Botox, Dysport, Xeomin, and Jeuveau work on smoothing away fine lines, dermal fillers, such as Restylane and Juvéderm, and collagen stimulators, such as Sculptra, will restore lost volume in areas such as the cheeks and along the jawline. The combination of these injectables can result in what is called a liquid facelift. 
Layering
The rule of layering skin products is starting with the lightest products to the heaviest, with the more potent products closer to the skin. During the summer, however, you want to avoid piling on all those creams and serums. For warm weather, you can switch to a summer serum – a light formula that's packed with all the skin benefits you need, giving your skin a powerful boost without the weight of heavier creams. If you need help developing a skincare regimen for your skin type, schedule a consultation with our medical aesthetician Farzaneh who specializes in customized skin treatments. 
Addressing Specific Skin Issues
Choose specific products that will address your current skincare issues. Hot weather can cause more breakouts, so incorporate acne prevention treatment during those months. And when the weather is cold and dry, you may need products that will firm and plump up your skin or specific ingredients that will calm your skin when it's showing redness and irritation.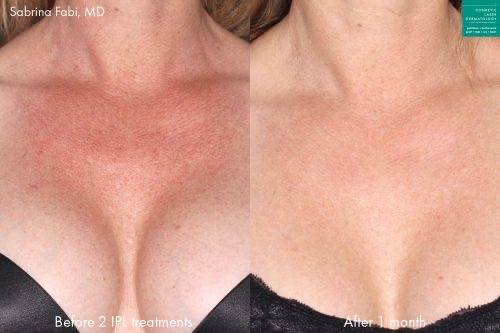 The summer months can cause a lot of sun damage, and an effective way to rejuvenate the skin is with an IPL Photofacial treatment. A minimally-invasive treatment that requires little to no downtime, IPL (Intense Pulsed Light) uses high-intensity pulses of light to penetrate the skin and trigger your skin's natural healing process, giving you smoother, clearer, and healthier skin.
Another procedure that can treat sun damage and unwanted dark spots that are more pronounced during the summertime is the Clear + Brilliant laser treatment. Clear + Brilliant is a laser skin resurfacing treatment that combats the signs of aging by providing a smoother skin tone and texture. It uses focused and precise laser energy to help minimize and refine the pores, as well as reduce the appearance of brown spots, large pores, fine lines, and wrinkles, giving the face a fresh and rejuvenated appearance.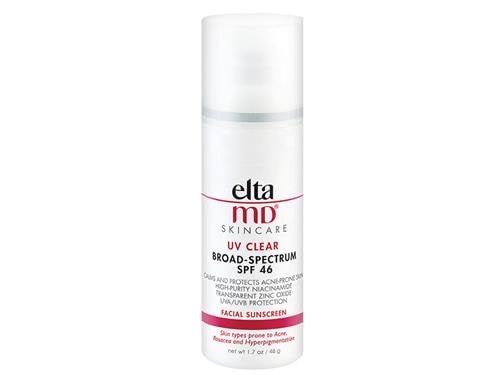 Wearing Sunscreen
Remember: SPF always. Sunscreen should be a staple in your skincare routine all year long. Whether you're on the beach or having a cozy stay at a winter cabin, you must protect your skin from harmful UV rays all the time. There are many amazing formulas available that leave no sticky feeling or filmy residue, and won't make you feel like you're wearing sunscreen at all.
Schedule A Skin Treatment Today
The shifting of seasons is a good time to not only take a look at your personal skincare routine but to also seek help from the experts. To learn more about how you can maintain beautiful, healthy, and younger-looking skin regardless of the weather, contact our San Diego office to schedule a consultation.
Next, read how to refresh your skin with a custom medical facial.