There is nothing like the looming prospect of a social calendar packed with parties and reunions to make one reassess their beauty regime. And the secret to surviving this hectic season with your best face (and hair, nails, etc.) forward? Creating a beauty checklist and checking it twice, to make sure you are prepped and primed for the times when mingling is mandatory and holiday close-ups will get you tagged on social media. 
It is the goal of our team of board-certified dermatologists at Cosmetic Laser Dermatology to ensure you're on top of your beauty game this party season. Committed to providing the best skincare services in San Diego, we offer state-of-the-art, cutting-edge treatments that give you instant results with no downtime required. To look your holiday best in every photo and social gathering, we've come up with a skin and beauty countdown that will help you look and feel amazing.
Two Weeks Before
Fortify Your Skincare Arsenal 
Practicing good daily skincare will not only help keep your skin in top shape, but it will also prolong the results of all your dermatologic treatments and provide long-term benefits. So, update your regimen with products you can trust. Our expert dermatologists not only use authentic, research-supported, and dermatologist-tested skincare products but have also participated in numerous clinical trials to research their efficacy. 
One of the most advanced skincare lines available on the market today is SkinMedica, which was developed by two of Cosmetic Laser Dermatology's world-class dermatologists – Mitchel Goldman MD and the late Dr. Richard Fitzpatrick. Rigorously-researched and uniquely crafted with carefully-selected ingredients, the SkinMedica line can repair damaged skin, clean clogged pores, brighten dull, lifeless skin, minimize fine lines and wrinkles, lighten and erase irregular skin pigmentation, and rejuvenate every type of skin.
Our Dermatologists are also consultants for other outstanding skincare companies like SkinCeuticals, Calicem, Pomega, Isdin, Neocutis, and Topix. The reason we have more than one skincare line is to choose the best product or combination of products to address your specific needs.
One Week Before
Plump Your Lips And Lines With Fillers
We all could use a little "lift' in our faces and lips, and we'll take any opportunity to look refreshed and rejuvenated without having to undergo surgery and its associated recovery time, right? Hyaluronic acid dermal fillers to the rescue. These injectables help restore volume and fullness, soften facial lines and creases, lift sagging skin, and improve the appearance of recessed scars. Examples of dermal fillers include Juvederm Voluma, Restylane, and Belotero. 
In addition to enhancing your facial contours, dermal fillers can also be used for lip augmentation. Complete your beauty look with the help of lip fillers (Juvederm Volbella, Restylane Silk, or Belotero) to give you full, plump, and luscious lips that will highlight your best features. 
While a filler treatment can be done a day before an event, it's still best to undergo the procedure a week before to allow the product to settle fully and to give enough time for any tenderness and swelling to be resolved.
Renew Your Skin With A Chemical Peel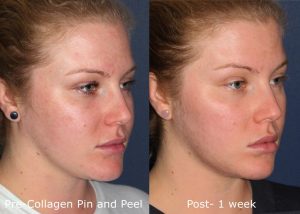 Out with the old and in with the new, the old New Year's expression goes. It applies to your skin too. Get rid of the damage that the sun, dirt, and makeup have done to your skin with a chemical peel. This treatment will encourage your skin to slough off old, damaged cells to reveal new, healthier skin underneath. It involves the application of a solution to the skin to prompt the exfoliation process. The result is tighter, clearer, and more radiant skin with reduced wrinkles.
Rejuvenate Your Face With A Facial 
To make your skin glow just in time for all the festivities, get a good facial. A HydraFacial in our San Diego office offers a quick, safe, and comprehensive rejuvenation treatment that will improve your skin and refresh your appearance. Regardless of your age or skin type, a HydraFacial can smooth and soften your skin. Specifically, its innovative multi-step technology can deep-clean your pores, exfoliate and resurface your skin, painlessly remove blackheads and whiteheads, hydrate skin, and improve skin tone.
While a facial can be done a day before a party, we recommend getting one a week before. This allows you time to combine it with a chemical peel for the best results. 
One Day Before
Get Your Nails Party-Ready With A Manicure And Pedicure
Your holiday look would not be complete without neat, clean, and painted nails. If using regular nail polish, schedule your mani-pedi session a day or two before the party to ensure your nails are still looking pristine. If you're worried about chipping, get a gel mani-pedi that can last for up to 2 weeks. So, if you time it right, you can enjoy chip-free nails until the New Year. 
Schedule Your Beauty Treatments at our Medical Spa Today
Getting party-ready with beautiful skin can be quick and easy without any downtime needed. To learn more about the skin rejuvenating treatments we offer at Cosmetic Laser Dermatology, schedule a consultation in our San Diego office today.