With cooler weather on the horizon, updating your fall wardrobe is likely at the top of your priority list. But what about your skin? While investing in a high-end moisturizer is a great way to prevent the dry, flaky skin that often accompanies chilly weather, now is the perfect time for a more comprehensive upgrade. 
Most people spend more time at home during fall and winter, so they don't have to brave the cold weather, rain, and snow. With more time at home, you have an opportunity to rest and avoid sun exposure after aesthetic treatments, such as laser therapy, injectables, or microneedling. By the time the holidays roll around, you'll look more youthful and fresh-faced.
At Cosmetic Laser Dermatology in San Diego, our board-certified dermatologists have more than 50 laser and energy devices, an exhaustive list of injectables, and plenty of cutting-edge minimally invasive cosmetic dermatology treatments to transform your skin this fall. 
Our dermatologists are pioneers in the cosmetic dermatology industry. They understand how quickly summer weather can take a toll on your skin, leading to sun damage, hyperpigmentation, brown spots, and even wrinkles. From combination injectable treatments to Cosmetic Laser Dermatology's proprietary Take10 treatment, the dermatologic team can help you look your best just in time for the holidays.
Injectables for Quick Improvement 
Injectables are simple solutions for many different types of skin concerns, including fine lines and wrinkles, hollow cheeks, and thin lips. Our medical spa offers several injectable treatments to improve your skin this fall:
Neuromodulators
Neuromodulators smooth fine lines and wrinkles by temporarily paralyzing the facial muscles that cause them. They primarily treat dynamic wrinkles, which are caused by expression and muscle movement.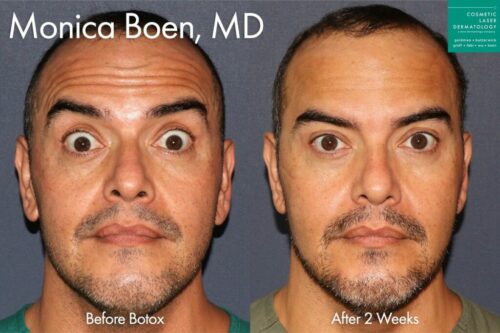 Once we inject the neuromodulator into the facial muscle, the muscle can't contract as it once did. As a result, the wrinkle softens. For individuals with minor fine lines, neuromodulators can prevent the formation of new wrinkles as well.
Types of neuromodulators include:
Most neuromodulators deliver their best results within 2-3 weeks of treatment. The effects of your treatment will gradually wear off over 3-6 months, at which time you can return for additional treatments.
Dermal Fillers
Dermal fillers are gel-like materials that mimic substances your body already creates, such as hyaluronic acid (HA). Unlike neuromodulators, dermal fillers treat static wrinkles, which are caused by volume loss. Deep nasolabial folds, hollow cheeks, and saggy jowls respond well to dermal fillers. 
Fillers also work well for facial contouring and lip enhancements. Dermal fillers are likely your best solution if you want sculpted cheekbones or voluminous lips for beautiful holiday photos.
Cosmetic Laser Dermatology in San Diego offers several types of dermal fillers, such as:
Dermal fillers deliver instant results that typically last anywhere from 6-18 months, depending on the type you choose.
Since neuromodulators and fillers are both minimally invasive treatments that target different types of wrinkles, your dermatologist can combine these procedures to dramatically enhance your skin.
Biostimulatory Agents
Like dermal fillers, biostimulatory agents like Sculptra, Radiesse and Bellifill replace lost volume by stimulating your own collagen production. These products are used for skin tightening as well as correction of acne scars.
IPL Photofacial for Sun Damaged Skin 
IPL photofacial uses bursts of intense pulsed light to repair skin damage that tends to worsen during the summer months. With the Lumenis® Stellar M22™, your dermatologist can use IPL therapy to penetrate the deepest layers of your skin without harming the surface layer. 
These intense pulses of light trigger your body's natural healing response, which then breaks up and eliminates unwanted pigmentation and excessive blood vessels while diminishing pore size and fine lines.
What IPL Photofacial Treats
IPL photofacial treatments may be right for you if you have:
Brown spots

Hyperpigmentation

Redness

Enlarged pores

Spider veins

Vascular lesions

Rosacea

Uneven skin tone or texture

Dull skin
IPL is also an excellent treatment if you've recently started to develop fine lines.
IPL Photofacial Treatment Process
IPL treatments are perfect for busy individuals on the go. Each treatment takes just 10-15 minutes and requires no downtime. Most patients see their best results after 1-3 treatments, spaced about 4 weeks apart.
RF Microneedling to Restore Your Healthy Glow 
RF microneedling combines two collagen-stimulating treatments to improve the tone and texture of your skin dramatically. 
Radiofrequency Microneedling, penetrates your skin with hair-thin needles to stimulate your body's healing response. This process triggers a release of new collagen and cell growth to firm and tighten your skin while repairing surface damage, such as fine lines and scarring. Healing takes 1-2 days.
What RF Microneedling Treats
RF microneedling may be the proper treatment for you before the holidays if you have:
Stretch marks

Acne

Acne scars

Fine lines and wrinkles
RF Microneedling Treatment Process
Swelling, redness, and bruising are common side effects of RF microneedling that should disappear within a few days of treatment. You may start to see visible changes in your skin after just one treatment, but most patients need 3-5 to see significant results.
Fractional Lasers to Turn Back the Clock 
Laser therapy is an excellent treatment to repair nearly any skin concern, from pigmented lesions to fine lines and wrinkles. During this procedure, your dermatologist uses a fractional ablative or non-ablative laser to target your areas of concern. 
The production of new collagen and cell growth helps your body get rid of old, damaged skin and replaces it with fresh, tighter skin.
What Fractional Lasers Treat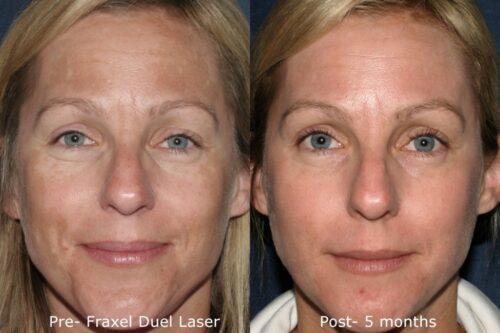 We use fractional lasers to treat a wide range of common skin concerns, including:
Fine lines and wrinkles

Hyperpigmentation

Brown spots

Lip lines

Acne scars

Sun damage

Uneven tone and texture
Cosmetic Laser Dermatology also offers their proprietary Take10 treatment, which combines multiple lasers treatments and injectables to take up to 10 years off your appearance.
Fractional Laser Treatment Process
Most laser treatments take anywhere from 30 minutes to one hour to complete. Depending on your individual needs as well as the specific laser/s used, you may need 1 or 3-5 treatments, spaced 4 weeks apart, to achieve your desired results.
It's common to experience redness, swelling, and discomfort after fractional laser treatments. While these side effects should subside within 1-7 days, you may experience peeling for one week after treatment. Fall is the perfect time to rest and recover at home while your skin repairs itself.
Sclerotherapy to Eliminate Visible Leg Veins 
If spider and varicose veins prevented you from feeling confident in shorts this summer, you're not alone. As we age, varicose, reticular and telangiectatic veins grow, darken, and become more apparent. Fortunately, sclerotherapy is a simple solution to get rid of unsightly leg veins.
During sclerotherapy, your dermatologist injects a medication directly into your bulging vein. The solution irritates the vein, which ultimately causes it to be resorbed and disappear. To learn more about sclerotherapy, please visit ncbi.gov.
Sclerotherapy Treatment Process
Dr. Mitchel Goldman, the Medical Director of Cosmetic Laser Dermatology and West Dermatology, is often called the "godfather of sclerotherapy," so you can rest assured that you're in the right hands for your treatment. Each treatment takes about 15 minutes to complete, and most patients see visible results right away. However, you may need 2-3 treatments for your unwanted veins to disappear completely.
While downtime is minimal with sclerotherapy, you need to wear graduated compression stockings for one week after your procedure. Luckily, cooler weather in fall and winter means you can wear long pants and stockings for a discreet recovery.
Get Ready for Fall with Cosmetic Treatments from Our Medical Spa!
Cosmetic Laser Dermatology in San Diego offers customized solutions to revitalize your skin before the holidays. Contact our medical spa today online or by calling us at 858.943.2113 to learn more about your skin rejuvenation options. You can also book your appointment online here.