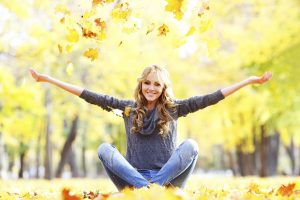 Admit it, you probably spend a good portion of the winter months thinking about how you're going to look once swimsuit season returns. You probably work hard in the gym or test your self-control with a proper diet and few (if any) cheat days.
But have you thought about going into "winter dermatology" mode? Specifically, now that it's the end of summer and the onset of fall, it's the ideal time to undergo one of many cosmetic treatments. At Cosmetic Laser Dermatology, located in San Diego, CA, one reason we commonly hear for receiving such treatments is the colder months allow for more recovery time due to more flexibility in your schedule. Another one is that the layers of clothing you wear to ward off the cold actually help protect your skin better from the sun, which itself is also weaker during these months.
Preparing for Colder Weather
Accordingly, winter is a great time to undergo a procedure for wrinkle or vein treatment, fat reduction, skin rejuvenation, or body hair treatment. Here are five winter dermatology treatments that you should consider for the ensuing cold months so you'll be ready for next spring and summer.
Treatment 1: Liposuction for Fat Reduction
One obvious reason to undergo a fat reduction procedure like liposuction is so that you'll be ready to flaunt your fab once swimsuit season returns. Another reason, tied to the first one, is that it could take several weeks for the swelling to subside, sometimes even longer. The final results of this fat reduction procedure aren't often realized for several months, either.
Also, if you're like many of our patients, you might want to wear a compression garment to help support your healing. Winter is the perfect time to wear these types of garments since they can easily be concealed under layers of warm clothing. (Plus, we don't think it will be trendy anytime soon to wear such a garment with a killer swimsuit in San Diego!)
Treatment 2: Intense Pulsed Laser (IPL) for Complexion
Intense pulsed light (IPL) therapy is an excellent treatment to reduce or even erase unsightly scars, age spots, and fine lines on your face, neck, chest, hands, and legs. Multiple treatments spaced a month apart are a common plan to eliminate blemishes, and protection from sun exposure is essential to your healing because sunlight can complicate your recovery and affect your final results. So the colder months are ideal for undergoing IPL treatment.
Treatment 3: Laser Dermatology
You can choose from a range of laser procedures we offer in our San Diego office, which are best to undergo when you know you'll be out of the sun for two to three months. The results you want from laser dermatology depend on your exposure to the sun in the months following your treatment. Undergoing a laser treatment in the fall or early winter will allow you enough time to recover and get the results you want.
Fraxel laser treatment for fine lines and wrinkles, hyperpigmentation, acne scarring, and age spots or melasma is ideal for winter treatment. While recovery from bruising, swelling, or sensitive skin takes a week or less, sun exposure on your skin after being treated for melasma or age spots can cause the condition to flare up again. The laser causes your skin to become very sensitive to sunlight, skyrocketing your risk for sunburn or unwanted changes in skin color, both of which slow or hamper your healing.
Another laser, the CO2 laser, is versatile and effective for skin resurfacing to reduce the effects of fine lines and wrinkles, age spots, texture changes, acne scars, and discoloration. Although you might only need one treatment, your downtime can last for several weeks. Redness, swelling, and tender, sensitive skin all can result from one CO2 laser session, making you extremely sensitive to sun exposure.
Learn more about C02 laser treatments at ncbi.nlm.nih.gov
Treatment 4: Chemical Peels
Chemical peels are ideal for restoring balance to your skin tone, reducing acne or acne scars, resurfacing your skin, or treating sun damage. The feature of chemical peels that many of our patients like is that they can be used at any depth, from the surface of your skin all the way down to the depths of your dermis. This makes your skin very sensitive during recovery, so exposure to the sun can undo all the benefits you wanted from the chemical peel, especially if it's a deep one, which could take two to three months. Even undergoing a superficial peel requires you to avoid sun exposure for a week or so.
Treatment 5: Laser Hair Removal
Even though you might not be flashing as much skin in public during the cold winter months, this is still a good time to undergo laser treatment for hair removal. Because you require four to six treatments every one to two months to rid yourself of unwanted body hair, it's better to do it during the months you aren't running around in short shorts, short skirts, or a swimsuit.
What's more is that you cannot undergo laser hair removal while your skin is tan because it's harder to see, target, and destroy the follicles of the hair you want to be removed, which is usually darker. Furthermore, the hair grows back slowly, often much thinner and finer than before. Altogether, while there isn't much downtime to laser hair removal, getting the results you want means spending less time in the sun.
Considering a Winter Dermatology Cosmetic Treatment? Cosmetic Laser Dermatology Can Help
Spring and summer are still a long way off, but it's not too early to start preparing for colder temperatures with a winter dermatology procedure. In addition to your regular exercise and diet routine, such a cosmetic procedure is a good idea, especially if you've been putting it off for some reason. Regardless of your cosmetic goals, Cosmetic Laser Dermatology has the procedure for you. Contact us today to schedule a consultation at our San Diego office.
Next, read  about the FDA's latest concern.