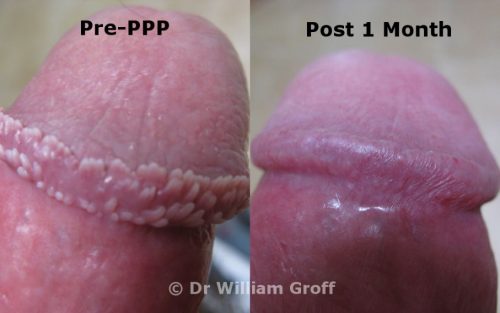 Pearly penile papules, known in the medical world as hirsuties papillaris genitalis, affect men around the world.  Usually embarrassing and extremely annoying for its sufferers, it's important to remember that PPP is treatable. Board certified dermatologist Dr. William Groff, expert in the treatment of PPP, is ready to help men in southern California better understand the truth behind pearly penile papules and dismiss common myths about the disorder.
What Is PPP?
Though the cause of pearly penile papules remains unknown, PPP is generally seen in men who are in their mid-twenties to thirties and are also more prevalent in men who are not circumcised. Pearly penile papules present themselves as small bumps that usually occur around the circumference of the corona on the penis. Most often, they are skin colored or a slightly lighter white. Because of the misconceptions surrounding PPP, some men never see a dermatologist due to embarrassment. You can learn more about PPP on a recent research on the topic.
Common Misconceptions About Pearly Penile Papules
Because people are usually uneducated about pearly penile papules, it's important to address the common misconceptions that often times surround the disorder. Dr. Groff, a cosmetic laser dermatologist in San Diego, wants his patients to understand the truths surrounding PPP.
1. PPP Are Not An STD
Because of their strange appearance and sometimes sudden onset, it's common for people to think that PPP may be an STD, though this is never the case.
2. PPP Are Not A Disease
There is no known cause to the appearance of pearly penile papules and there are no side-effects of being afflicted with PPP aside from an unsightly look.
3. PPP Are Not Warts
PPP should not be removed with over the counter wart removal products, as this will do more harm than good since pearly penile papules are absolutely not genital warts.
4. PPP Are Not Life Threatening
Treatment for PPP is a choice. It's entirely possible to lead a perfectly healthy life if you choose to not have your pearly penile papules treated.
Treatment Options For PPP
Dr. William Groff, board-certified dermatologist in San Diego, is extremely experienced in the treatment of pearly penile papules using a C02 Laser. This treatment is performed in-office and as an outpatient procedure, leaving the patient to experience absolutely no pain during or after the process. Before your laser removal treatment begins, the afflicted area will be cleaned and a numbing cream will be applied. The C02 Laser works by targeting the papules and diminishing their appearance.
Following your treatment, it's common to experience swelling, redness, and scabbing or discomfort for the first few days. In just one to two weeks, most patients are completely healed.
Schedule Your Appointment With An Expert Today
If you think that you may be suffering from pearly penile papules in San Diego, cosmetic dermatologist, Dr. William Groff is ready to help you today. For more information and to better understand the treatments that will best benefit you, please schedule your initial consultation today.
Next, read our blog, The Truth Behind Dark Under Eye Circles.