Vanquish Overview

At Cosmetic Laser Dermatology in San Diego, our cosmetic dermatologists are experts in the most advanced non-surgical fat reduction procedures. As one of the first practices in the country to offer the revolutionary Vanquish system, Cosmetic Laser Dermatology patients can be assured that they will receive the highest quality fat reduction treatment, especially as most Vanquish treatments are done by the doctors themselves, not a nurse or PA.
Vanquish is a one-of-a-kind fat reduction system that works by effectively heating and killing stubborn fat cells in the waist and stomach area. Using radio frequency, Vanquish heats the fat cells to 120 degrees and destroys them without harming the skin or surrounding tissue. During the procedure, the system is suspended above the body so that it does not touch the patient's skin. This non-invasive procedure is not painful and patients only feel a warm sensation on the treatment area.
What to Expect
For ideal results, our doctors typically recommend that patients receive one 30 minute treatment per week over the course of 4 weeks. After all recommended treatment sessions are completed, most patients can expect to see 1-3 inches reduced from their waistline or stomach. Vanquish requires no downtime for patients as the skin around the treatment area will only be red and warm for a short time following the procedure. Our doctors encourage patients to drink ample amounts of water and stay hydrated before and after the treatment in order to see the best results.
While not a system for large amounts of weight loss, Vanquish is proven to be effective for those who are struggling to lose a few inches around the waist despite a healthy diet and exercise. Read about more about this treatment on allure.com.
Photos
FAQs
Q: What are the side effects of Vanquish?
A: As a result of the Vanquish system, the skin around the treatment area will be slightly red and warm, however it is not painful or long-lasting. Patients are able to return to their normal daily activities following the procedure.
Q: How soon can I see Vanquish results?
A: Many patients can see results after just one Vanquish treatment. The best results occur after the final Vanquish treatment is completed.
Q: What is the difference between Vanquish and CoolSculpting?
A: At Cosmetic Laser Dermatology in San Diego, our doctors are experts in both Vanquish and CoolSculpting which are both non-invasive fat reduction procedures. While Vanquish uses radio frequency to heat and eliminate fat cells, CoolSculpting uses cooling technology to freeze the fat cells. To find out which non-invasive fat reduction procedure is right for you, schedule a consultation with one of our expert dermatologists today!
Q: How much does Vanquish cost?
A: The cost of Vanquish varies depending on the patient. Our doctors work with each individual patient to determine the treatment plan that is best for them. The size of the treatment area and the number of recommended treatment sessions will affect the price of the treatment. Once patients meet with our doctors for a consultation, a price can be determined.
Q: Why choose Cosmetic Laser Dermatology for Vanquish fat reduction?
A: Only a few select medical practices utilize the Vanquish fat reduction system. At Cosmetic Laser Dermatology, our board-certified dermatologists are pioneers in their field and only employ the most cutting-edge technology to help achieve amazing results for their patients. Every patient can feel confident knowing that they are in the very best hands for fat reduction in San Diego at Cosmetic Laser Dermatology.
Other Options

For patients looking for an alternative fat-removal reduction technique, CoolSculpting provides our patients at with wonderful body contouring results for areas resistant to diet and exercise without surgery, anesthesia, or downtime.
Promotions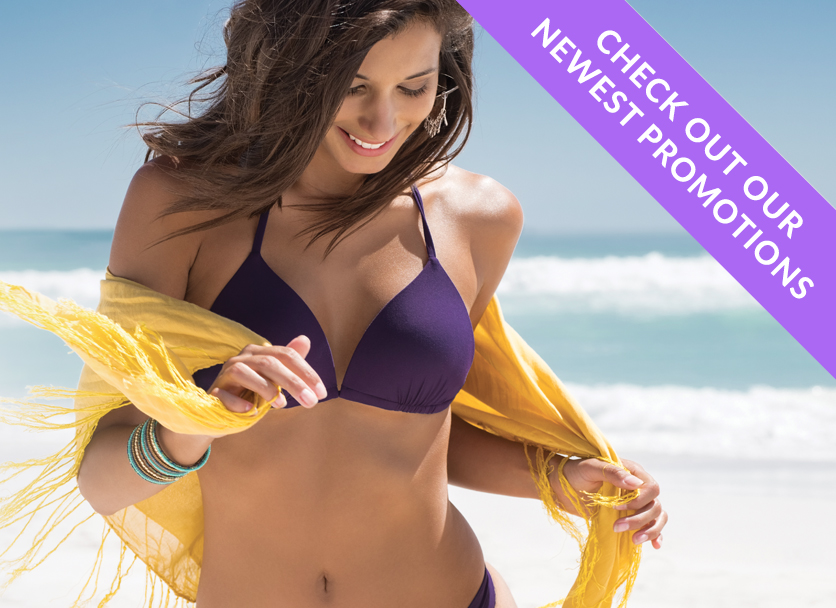 For more information about the monthly specials offered at Cosmetic Laser Dermatology, visit our Promotions page.