Without a doubt, everyone has heard of liposuction–it is one of the most popular cosmetic surgeries performed around the world, after all. Are you a suitable candidate for it? The trained Cosmetic Dermatologic Surgeons at Cosmetic Laser Dermatology in San Diego have the answers to all your liposuction questions.
What is Liposuction?
Also called lipoplasty, "lipo," liposculpture, and body contouring, liposuction is a surgical procedure used for removing excess fat that does not respond to diet and exercise. Doctors use a small hollow tube called a cannula to suction out fat from specific areas of the body, such as the abdomen, "muffin top," legs, neck, and arms. The procedure may sound intimidating, but it is actually minimally invasive, taking an hour or two, in many cases without the need for general anesthesia. Compared to more gradual treatments in a series, such as CoolSculpting and Vanquish, liposculpture provides natural-looking results after a single session.
Liposuction is an individualized procedure often used to sculpt the abdominal area since getting rid of stubborn belly fat will help reveal those coveted muscles. Cosmetic Laser Dermatology offers "awake" liposuction that only requires a local anesthetic. The numbing solution is slowly infused and also helps to liquify the fat, allowing us to use much smaller microcannulas. You are fully awake for the procedure, which is nearly totally painless, and therefore can go home and recover faster. It is less invasive, which means less pain and swelling. Of course, if you are nervous about the procedure or are very sensitive, we offer IV sedation if you so desire.
Other benefits of Awake Liposculpture:
Patients move to expose different treatment areas during the procedure while also being able to answer questions or provide feedback to the surgeon

Minimal if any swelling, bruising, or scarring 

Patients can go home within minutes after the procedure

Patients do not need to take prescription painkillers after the procedure

Local anesthesia is less expensive and safer than general anesthesia

Results are smoother due to the small microcannulas

Microcannulas do not disrupt connective tissue fibers, which allows the skin to retain its elasticity
Who are Good Candidates for Liposuction?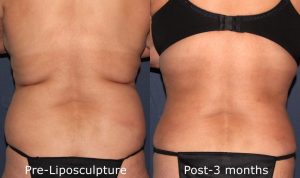 Those who have excess fat resistant to the effects of dieting and exercising are the best candidates for liposuction. 
You are a great candidate if you are in good physical shape, or within 30% of your ideal weight. You should have good muscle tone, as well as firm, elastic skin. For optimal results, your skin must be able to shrink after liposuction, because it should be able to mold itself into your body's new contours. For those with good skin tone and elasticity, the treated area will likely appear smoother and tighter. Because of the safety and ease of recovery, liposuction can be performed regardless of the patient's age. If the skin is loose with loss of elasticity, a tightening laser or device can be used in combination.
You must also have specific and realistic goals about your body, as well as positive disposition. Keep in mind that liposuction is not a weight-loss tool. It simply offers a way to achieve a trimmer, smoother, and well-proportioned body. Its results are permanent, just as long as your weight remains stable. 
Recovery after liposuction will vary from patient to patient. If you are worried about pain or have time constraints, tell your doctor. He or she may be able to suggest an alternative, non-invasive procedure for body-sculpting. 
What are the Benefits of Liposuction?
Aside from improving your trouble areas by targeting stubborn fatty deposits, liposuction effectively reshapes the body. Even if you've already achieved your ideal weight, you may still be unsatisfied with the overall shape of your body. Liposculpture can help. 
What Happens During Liposuction?
At our La Jolla, California offices, a liposuction procedure may take 1-4 hours to complete, depending on how many areas are treated. Throughout the procedure, the surgical team will be monitoring your blood pressure, blood oxygen level, and heart rate. 
You'll spend around 15-30 minutes in the recovery room where the medical staff will observe your recovery. 
What Happens After Liposuction?
Unlike more invasive liposuction performed under general anesthesia, you will have very little pain, bruising and swelling. Tylenol will usually be enough to control any discomfort.
Although your daily activities will be restricted for a few days, you will be encouraged to get up and walk around. Oftentimes you may be able to resume exercise and go back to work in a few days.
Are there Risks with Liposuction?
According to the American Society of Dermatologic Surgery, major complications are rare, and even less so when you go to a trained, board-certified doctor for this procedure. Be sure to bring up any concerns, conditions, and medical history before the procedure with your doctor.  This will be reviewed with you at the preoperative examination to ensure maximum safety. To learn more about the risks associated with Liposuction, visit asds.net.
Why Choose Cosmetic Laser Dermatology in San Diego?
When considering liposuction, only look for a board-certified cosmetic surgeon with specialized training and relevant experience. Our world-renowned dermatologists combine major cosmetic breakthroughs in science and medicine to bring our patients the ultimate in rejuvenation. We offer patients customized care including the most innovative laser, injectable, body sculpting, vein, botox, and aesthetics treatments available. For the best results, choose Cosmetic Laser Dermatology in  San Diego with its world-class reputation, skill, notable aesthetic sense, and expertise in non-invasive treatments. Schedule a consultation by contacting us online.