There are people who have a fear of pain that keeps them from achieving their cosmetic goals. However, most of our patients are surprised at how comfortable cosmetic procedures can be, and the results they now enjoy make every trip to our office worth that bit of initial anxiety.
At Cosmetic Laser Dermatology in La Jolla, we have designed our medical spa to be as relaxing as possible for a medical office with the highest level of expertise and care. We research and develop advanced techniques to maximize results with a comforting patient experience.
Our board-certified dermatologists perform all of our laser and injectable procedures, so you can rest assured your treatment experience will be safe, comfortable, and effective. 
Is Fear Keeping You from the Treatments You Want?
Fear of pain is natural, which is why most of today's procedures and devices are designed with patient comfort in mind. At our San Diego medical spa, we have seven options to minimize discomfort when you come in for your first (or next) treatment.
1. Cooling Methods
Laser, light, and energy devices utilize focused heat to reduce wrinkles, remove unwanted pigmented lesions, blood vessels, tattoos, and rejuvenate the skin.
Our goal is to balance the heat of the laser with cooling methods that keep your skin at a comfortable temperature throughout your procedure. In addition to ice packs, cooling is now integrated into most laser and energy systems.
The Zimmer cooler machines use cryotherapy to help minimize pain and cool down the skin during these procedures. These devices chill a target area through convection cooling, providing some numbing benefits as well as temperature control. The cooling of the top layer of the skin allows providers to safely increase the amount of energy delivered while minimizing pain and ensuring consistent results.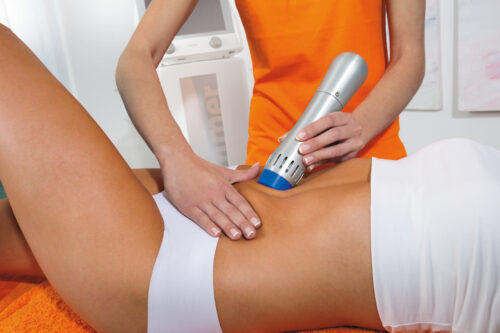 2. The Tapping Technique
The tapping technique is a powerful stress relief technique that can help patients feel more at ease during a procedure. The technique works by using the fingers to tap specific points of your body (similar to how acupuncture uses meridian points to help relieve stress). This tapping is like sending a Morse code signal that messages your brain to relax.
The Helfer skin tap technique is often used to make an injection treatment as painless as possible. The rhythmic tapping before and during the procedure over the injection sites helps relax the muscles. This mechanical stimulation also provides a pleasant distraction during an injection, thus helping to reduce any pain or discomfort.
3. Lidocaine in the Dermal Fillers
Lidocaine is a pain-numbing agent that diminishes discomfort felt by patients when the filler is injected into sensitive facial tissue.
Not only does lidocaine enable dermal fillers such as Juvederm®, RHA(R), Radiesse(R), Sculptra(R) and Restylane® to have a uniform consistency of numbing medicine throughout the product, but it also minimizes any pain from additional injections, allowing the injector to precisely correct and sculpt facial features.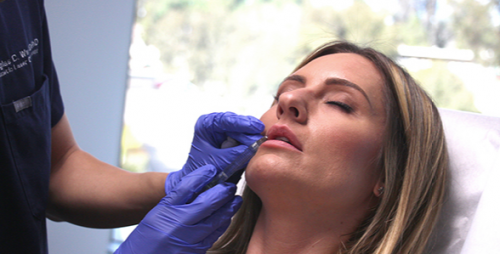 4. Topical Numbing Cream
Topical numbing creams function as a local anesthetic. Just like it sounds, numbing cream works to numb or reduce the sensation of pain in the area to which they are applied by blocking nerve signals in the body. Topical numbing cream will have active ingredients like lidocaine, benzocaine, pramoxine, dibucaine, or tetracaine and is applied to a treatment area at least 30 minutes before the procedure.
5. Pronox
Pronox is an inhaled, self-administered nitrous oxide (laughing gas) system you can request to help prevent or alleviate anxiety and discomfort during minimally invasive procedures. It is an analgesic you can inhale as needed and you have complete control of the dosage.
You will remain awake and aware while significantly decreasing anxiety and discomfort. You can take Pronox before the procedure, or wait until the treatment begins to determine if you truly need it.
6. Local Anesthetic
Local anesthetic can also be injected into the area to be treated, numbing nerves in the treatment area before the start of the procedure. It is a lower-risk alternative to general anesthesia with less recovery time afterward.
You will stay awake throughout the procedure. It usually takes a few minutes for local anesthesia to take effect, and it wears off after a few hours.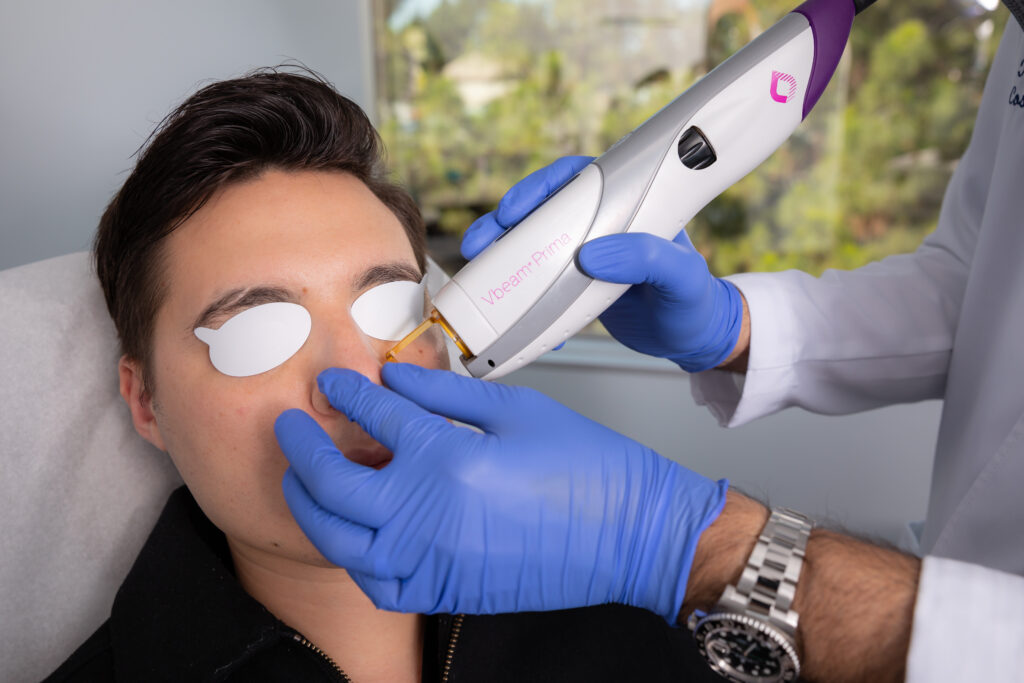 7. Sedation
Sedation is another option to control pain and relax you before a procedure. It can be administered orally through a pill or liquid form such as Valium (Diazepam) or intravenously. Also known as monitored anesthesia, conscious sedation, or "twilight sleep," intravenous (IV) sedation consists of both a sedative (to help you relax) and an anesthetic (to block pain) which you will receive through an intravenous line.
Intravenous sedation will put you into a highly relaxed or sleep-like state, ensuring you feel no pain during the procedure.
Schedule a Consultation at Our Medical Spa to Learn More
Don't let the fear of pain stop you from getting the beautiful results you want. We are here to not only guide you throughout your procedure but ensure you have a comfortable experience too. Contact Cosmetic Laser Dermatology in San Diego, where our board-certified dermatologists will help ease your fears and address your concerns. Together you can create the best treatment plan that meets your needs.