Your wedding day will be memorialized in official photos and maybe even video. All your friends and family will be there, and it's one of the biggest days of your life. Of course, you want to look your absolute best! While professional makeup and hair are a staple of wedding prep, to enhance these effects, your skin itself should be glowing and youthful. A simple facial is often not enough, though. With a trip to your local cosmetic dermatologist, who has all the latest anti-aging technologies on hand, you can achieve your best skin ever for the big day! 
Among the most popular treatments for brides-to-be are neuromodulators, dermal fillers, eyelash growth treatments, acne and skin treatments, and body contouring. Neuromodulators, including Botox, Dysport, Xeomin, and Jeuveau, are perfect for reversing forehead wrinkles, crow's feet, and frown lines. There is ZERO downtime required, but you should make sure to have it done at least a week before the wedding, as the effects don't begin to kick in until after three or four days! 
Dermal fillers are a wonderful option for brides of all ages. These versatile products can do everything from reducing dark circles (who wants to look tired on their wedding day?) to restoring volume in the mid-face for older brides who've seen some sagging, or even creating plump, kissable lips. Dermal fillers should be done at least two weeks prior to the big day, to allow potential swelling to subside.
Chemical peels, Intense Pulsed Light (IPL) and Clear & Brilliant are great for reducing dark spots and creating a beautiful, even skin tone and texture. Peels, light and laser treatments can also help reduce certain types of acne, so if you're worried about breaking out on your big day, this could be an option for you.
Everything You Need To Know About Neuromodulators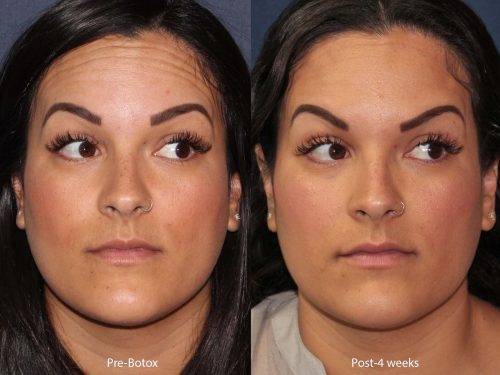 Botox, Dysport, Xeomin and Jeuveau are very popular treatments not only for brides-to-be, but also for the mother of the bride, bridesmaids, and recently even groomsmen and the groom have gotten in on Botox action! Neuromodulators are the gold standard for treating expression lines such as forehead creases, crow's feet, and the "11" lines you get between the brows, also known as frown lines. A quick treatment with Botox, Dysport, Jeuveau or Xeomin can smooth these lines while still leaving you looking natural. 
Not many people know this, but Botox can be used very effectively to prevent excessive sweating. If you're having a summer wedding and are worried about underarm stains on your dress, look into Botox to ensure you stay dry even in the hottest temperatures. In addition, they can also be used to give a slight lift to the eyebrows, slim the jawline, and correct a "gummy" smile. 
Many people ask the question, "will neuromodulators leave me looking frozen?" As long as you have it injected by an expert, you will absolutely not look frozen. A great injector will know how much to use and where to place it so that you look refreshed and beautiful, not frozen or unnatural. Always see a board-certified dermatologist with years of experience, especially when prepping for an event as big as your wedding!
For first time users, it's best to get neuromodulators four months ahead to ensure correct dosage and placement. If everything looks good the first time, the next time can be a week ahead of the wedding!
Here's How to Ensure Luscious Lips on Your Big Day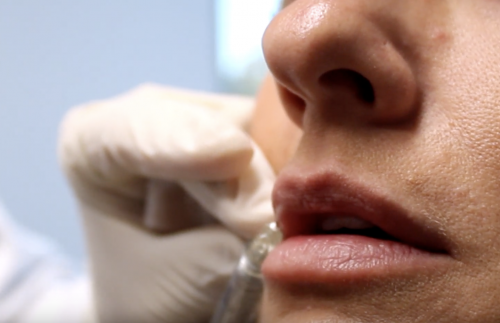 Regardless of age, your lips can lose volume and definition as well as develop lip lines that accentuate the mouth. You appear older, unhealthier, and constantly displeased. We know that's not the look you want on the day you've been dreaming about for years. Yet, being self-conscious about your thinning lips makes for smiles that look uncomfortable and stressed. If this sounds like you, visiting your local cosmetic dermatologist should be on your wedding prep "to do" agenda. Your dress will get a lot of attention on your wedding day, but that's only because you'll be the most beautiful woman in the room. Make sure your lips are as beautiful and irresistible. Even if you've had thin lips your whole life, yet have never pulled the trigger on correcting this, now might be the perfect time for it.
Although age can be a factor, thin or thinning lips also occur due to genetics, smoking, and excessive sun exposure. But don't despair – a dermal filler like Restylane Kysse or Juvederm Volbella is an ideal solution. Restylane and Juvederm both can help thin lips by gradually adding volume and definition to your lips for a natural-looking effect. Each is made with hyaluronic acid, a natural substance that doesn't cause allergic reactions. Your lips look more sculpted, more delicate, and more feminine – the model of bridal beauty!
To make sure your lips are at their kissable best, get them done at least 4 weeks before your big day. If you're worried about overdoing it, you could have a trial run by getting just a small amount injected, as many brides do. If you like the look yet want a more dramatic effect, the dosage can be increased. If this latter idea is to your liking, you'll want to do this about 2-3 months before the ceremony. You'll see the effects immediately, and they will continue improving over the next 4-6 weeks, after which your lips will look naturally fuller and more alluring. You may even see a reduction of fine lines around your lips, as well.
Although it's not uncommon to have mild side effects – such as soreness, inflammation, bruising, and swelling – they usually disappear within a week. The gel synthesizes well with your body to create supple lips lasting over a year depending on the filler used. The hydrating effects ensure rejuvenated, sensual lips that allow you to look younger and even more ravishing!
Volumize Your Eyelashes for a Picture-Perfect Look
An old adage says that when you lose an eyelash, you make a wish. If you're planning on getting married before the end of the year, you better wish it grows back fast (and brings some of its sisters, too!) because it usually takes three months for one lash to grow back. 
Although lashes are crucial for protecting your eyes from dust, debris, and other irritants, that's not your main wedding-day concern, right? Posing for photos and videos means you'll want your lashes looking lush so you look your best. And that's why a visit to your favorite cosmetic dermatologist should be high on your wedding day prep list.
Long, full eyelashes have been considered emblems of beauty for centuries, as they frame the eyes to make them appear wider, more attractive, and more alluring. So, why is it that the groom always seems to have the type of full, thick eyelashes that the bride desires?  
Some people are born with sparse lashes, while others lose lashes from stress, such as planning for your special day! Either way, sparse lashes make you look tired, unhealthy, or older than you are. But madarosis (eyelash loss) also happens due to certain daily beauty habits, including the following:
Makeup removal method

:

Gently

– not vigorously – remove mascara with an oil-based makeup remover. 

Mascara and sleep

: You're so busy with wedding planning that you barely sleep, but don't forget to remove your mascara, which hardens the lashes and makes them brittle.

Waterproof mascara

: We agree that it's awesome, but using it daily dries out your lashes more quickly and makes them brittle.
Many brides-to-be wear fake lashes and makeup as a substitute, but the effects are often not natural looking. And every time you remove them without an oil-based cleanser, you're damaging your lashes. 
The best solution for thickening your lashes and making your eyes as alluring and camera-worthy as possible? Latisse, which is FDA-approved to make your lashes longer, thicker, and darker. If you make Latisse part of your everyday routine now, you'll have noticeable growth and thickening in 8-10 weeks. In another 8-10 weeks, the full effects will become realized and you'll be ready for your special day. Don't stop treatment until after your honeymoon, or else your eyelashes will go back to previous sparseness in the ensuing weeks.
Cure Your Acne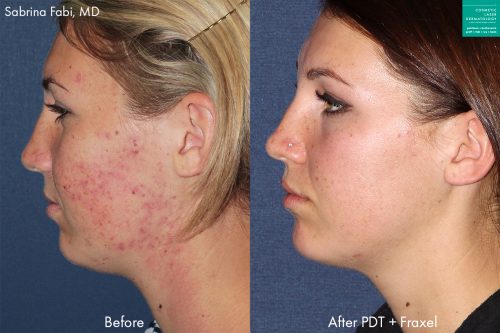 Are you in your 20's, 30's, or even 40's and still suffering from acne? We feel your pain. Acne is unsightly, embarrassing, and can cause major stress as you're wondering if you're going to have a breakout right before your wedding. Acne is the single most common skin condition in America, so of course, there are a variety of treatments available. At our practice, the most common and effective treatments are photodynamic therapy or Isolaz treatment.
Also called PDT, photodynamic therapy actually kills the bacteria that normalizes the oil glands that cause acne through the use of an FDA-approved medical special solution (amino levulinic acid, ALA) applied on the face that interacts with light energy to cause a photochemical reaction. It's incredibly effective, and you can see some amazing before and after photos on our website. In addition to the face, it can also be used to treat pesky back and body acne – perfect if you're afraid to wear a backless or strapless dress because of a stubborn breakout! It does take 4 weeks for the acne to resolve after treatment and 2-3 treatments every 4 weeks may be required to see an incredible improvement. In our office, we use 3-4 different lasers to activate the medical solution (ALA) after first preparing your skin with a microdermabrasion and alcohol scrub. Our technique is what makes this treatment so effective for acne treatment.
Isolaz is a laser developed specifically for the treatment of acne and excess oil. It uses a combination of suction and light therapy to clear pores and kill bacteria, reducing the amount of sebum produced to help prevent future breakouts as well as reducing active acne by up to 75% in just two months. The Isolaz does require multiple weekly treatments to have a meaningful effect.
Acne scars are difficult to treat and can take multiple sessions and treatments to see a difference, but we have seen great success in treating acne scars at our practice. It's best to get started early on the process – we'd recommend at least 6 months ahead. Treatments include injections with Belafill and subcision, non-ablative fractional lasers like ResurFX, radiofrequency microneedling, and ablative CO2 lasers like the Deep and Active FX.  Elevated and/or red acne scars can also be treated with a pulse dye laser.
Remove Acne Scars
Acne scars are difficult to treat and can take multiple sessions and treatments to see a difference, but we have seen great success in treating acne scars at our practice. It's best to get started early on the process – we'd recommend at least 6 months ahead. Treatments include injections with Belafill and subcision, non-ablative fractional lasers like ResurFX, radiofrequency microneedling, and ablative CO2 lasers like the Deep and Active FX.  Elevated and/or red acne scars can also be treated with a pulse dye laser.
Get Rid of Your Unwanted Hair
It's no secret that unwanted hair affects both men and women. Common solutions have typically included shaving, tweezing, or waxing, but these options aren't always effective or long-lasting and can cause irritating skin burns, bumps, or nicks. Laser hair removal is one of the most frequently performed procedures at Cosmetic Laser Dermatology in San Diego and is extremely popular before weddings. This treatment is a simple, safe, and effective way to remove unwanted hair before your big day! 
Laser hair removal can be used on the following parts of the body: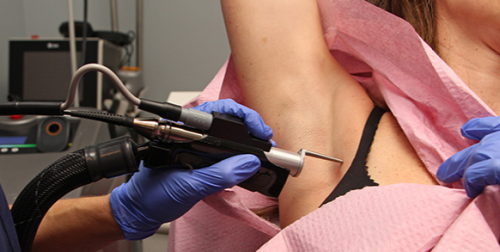 Face

Neck

Bikini area

Chest

Abdomen

Upper lip

Arms

Underarms

Back

Legs
You should allow at least 6 months before your wedding to allow enough time for multiple treatment sessions. Most patients need about 3-5 treatment sessions spaced 4-6 weeks apart to ensure the skin stays looking and feeling smooth.
Tips for Perfect Skin
Every bride wants to have amazing skin on her wedding day. Clear, supple, glowing skin will provide the best base for natural-looking makeup rather than having to layer on foundation and concealer to hide imperfections and end up with a heavy, artificial look. A trip to your dermatologist is essential so that you can start your skincare journey in good hands.
Pigmentation concerns are very common, especially here in Southern California where we get a lot of sunshine almost every day. Fortunately, there are many lasers and intense pulsed light (IPL) treatments available that can reverse sun damage and even out skin tone. Some of our favorites include Clear & Brilliant, Fraxel Dual, Picoway, Picosure, and our absolute favorite, the IPL, which is not technically a laser but rather a broad spectrum light treatment that does wonders for a bright, clear complexion in addition to treating unwanted blood vessels and blushing and enlarged pore size.
To keep your skin in the best shape, we recommend having regular facials and a tailored skincare regimen in the months leading up to your wedding day. Regular facials are an essential part of great skincare! We also offer some great services meant to be done a day or two before your big event for optimal glowing skin, dermaplaning, or micro-needling.
If you have started noticing some sagging along your jaw and neck, but don't want a facelift – no worries! There are many non-invasive skin tightening treatments for sagging skin that can make a dramatic difference with little to no downtime needed. Look into Ultherapy, ThermiRF, Thermage FLX, or micro-needling with RF to tighten up your skin and achieve a beautiful neck and jawline.
Ensuring a Perfect Wedding Dress Fit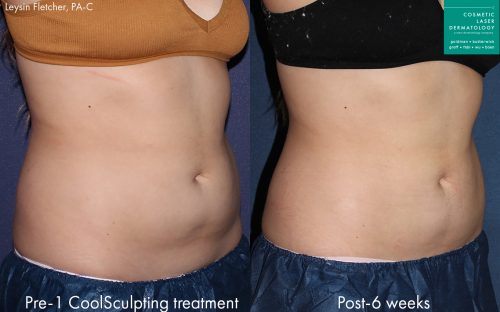 It's easy to gain weight through stress and skipping your normal exercise and diet routine in the months leading up to a wedding. But what can be done to make sure your wedding dress still fits?
It's very important to maintain a healthy lifestyle, even during times of change and stress, but we understand how easy it is to fall off the wagon temporarily. Luckily, advances in body sculpting technology have made it easier than ever to quickly lose a few inches. We offer a treatment called CoolSculpting that is completely non-invasive and painless but still provides great results. It can reduce up to 30% of unwanted, stubborn fat, and can help make sure that the wedding dress you bought a year ago still fits perfectly on the big day! Of course, it's not a substitute for healthy eating and exercise, so we encourage all of our patients to maintain healthy habits to receive the most benefit.
CoolSculpting uses cryolipolysis, which is a proprietary technology that "freezes" fat cells without damaging any surrounding tissue. The fat cells are then naturally eliminated by the body over the course of several weeks. The treatment only takes an hour, and aside from some initial discomfort as the applicator is put on, it's painless. This treatment can be applied to your thighs, arms, and abdomen. Our Physician Assistant, Leysin Fletcher, is one of only two Coolsculpting specialists in San Diego, so you can rest assured knowing that you are in the best hands at Cosmetic Laser Dermatology. We also combine CoolSculpting with the AcousticWave Zimmer to ensure optimal results. 
CoolSculpting needs some time to flush out all the frozen fat cells from the body. We would recommend that any bride (or groom!) considering the treatment has it at least three months ahead of the wedding date. If you think you might need more than one session, plan it six months ahead. We also combine CoolSculpting with CoolTone, an electromagnetic muscle stimulator that also helps melt fat as well as firming muscles, especially on the abdomen and buttock. In short, both our expertise as well as our wide variety of treatment methods combined ensure that you will receive the best possible results when we treat you. To learn more about CoolSculpting, visit ncbi.nlm.nih.gov
Schedule Your Pre-Wedding Treatment Today At Our San Diego Office
Want to explore the many ways you can achieve your best look for your big day? Learn more about the wide range of services we offer at Cosmetic Laser Dermatology by scheduling a consultation in our San Diego office today.