Injectables, such as Botox® Cosmetic and Juvéderm®, are popular treatments used to diminish the appearance of fine lines and wrinkles. While they are used to address common signs of aging, they have different formulations and functions to improve the skin. Botox is a neuromodulator that temporarily reduces muscle activity to prevent wrinkles during facial movements, and Juvéderm is a hyaluronic acid dermal filler that helps fill in wrinkles by adding volume to the treated area.
How Do They Work?
Botox is a neuromodulator with an active ingredient that targets selected facial muscles. The wrinkle treatment is injected into the muscle to reduce its activity and temporarily prevent the formation of dynamic wrinkles. The medication blocks signals to facial muscles to stop contractions and maintain smooth, wrinkle-free skin.
Juvéderm is a hyaluronic acid-based dermal filler that adds volume to the skin. Hyaluronic acid is a naturally occurring substance that hydrates and volumizes the skin for a healthy glow and reduces signs of aging. It works by binding water to the skin, which helps plump the skin and smoothes out wrinkles. It is most commonly used to add volume to lips, fill deep wrinkles and folds, and restore volume to sunken cheeks and temples.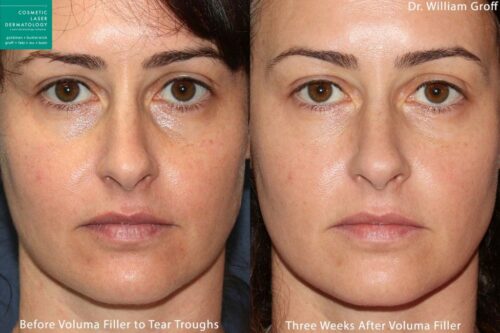 What Do They Treat?
Botox and other neuromodulators such as Jeuveau, Xeomin, and Daxxify treat dynamic wrinkles, which form due to repetitive facial expressions like squinting and smiling. The injectable commonly treats:
Frown lines
Forehead lines
Crow's feet
Bunny lines
Neckbands
Enlarged masseter muscle
Gummy smile
Botox can also be used to lift sagging eyebrows and the corners of the mouth. It can also treat excessive sweating by reducing the activity of the sweat glands and improve the symptoms of temporomandibular joint syndrome by decreasing the activity of the masseter muscle.
Juvéderm is a versatile treatment that can be used to restore volume, add definition and reduce the appearance of static wrinkles. Static wrinkles are visible even when the face is at rest, and they form due to the breakdown of collagen, elastin, and hyaluronic acid in the skin. Dynamic wrinkles appear with facial expressions, while static wrinkles are present even when your face is at rest. Juvéderm can help reduce the appearance of static wrinkles by adding volume and hydration to the skin. Juvéderm can treat:
Nasolabial folds
Marionette lines
Loss of cheek definition
Hollow temples
Lines around the mouth
Under-eye circles
Facial symmetry
Vertical lip lines
How Long Do The Results Last?
Botox results last 3 to 4 months and can be maintained with follow-up treatments. Many patients can see results within one week after an injection session, although it can take up to two weeks for full results to become apparent. Juvederm results are immediate and can last anywhere from 6 to 24 months. Patients can see changes following the first injection and can achieve optimal results with follow-up treatments. It is essential to consult with a board-certified dermatologist to schedule maintenance injections for long-lasting results.
How To Choose Which Injectable is Right For You
When deciding which injectable treatment is right for you, it is important to consult with a board-certified dermatologist. They can assess your needs and discuss the most suitable treatment. Botox is a better option for dynamic wrinkles, and Juvéderm can be used to address static wrinkles. However, both treatments can be used for various purposes depending on your individual needs. During your consultation, your dermatologist will provide a comprehensive review of your medical and cosmetic history and create a treatment plan tailored to your precise concerns. In many cases, Botox and dermal fillers like Juvederm are used in combination for a liquid facelift, resulting in comprehensive rejuvenation and youthful skin.
Schedule a Consultation at Our San Diego Medical Spa
Cosmetic Laser Dermatology is a top medical Spa in San Diego with 7 board-certified dermatologists who have a combined 125+ years of experience and are highly trained in injectable wrinkle treatments. We have an in-house research center to bring the safest and most innovative treatments to our patients before they are offered in other practices. We also participate regularly in research studies to remain abreast of the latest procedures and techniques. Our experts provide personalized care plans focusing on natural and beautiful results without surgery. Contact us to schedule a consultation and learn about Juvéderm vs. Botox.