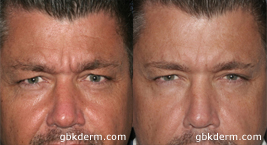 Current data is showing that more and more men are seeking Botox injections from their dermatologist. In fact, the trend seems to be growing so much for men that a new term has even been coined—"Brotox." The board-certified dermatologists at Cosmetic Laser Dermatology in San Diego perform Botox for men all the time who want to eliminate some of their deep wrinkles and look a little younger.
What is Botox?
Botox is a botulinum toxin injection that blocks the nerve impulses to muscles underneath a wrinkle. This causes the muscle to relax, thus making the skin look smoother and less wrinkled. The results of a Botox injection will gradually improve over the few days following treatment and could last for up to 6 months. When performed by an expert dermatologist, like those here at CLDerm in San Diego, Botox is very safe and highly effective. To learn more about Botox, visit fda.gov
Why Do Men Get Botox?
Men may want Botox for a variety of reasons. Many want to take a few years off the look of their face by reducing the appearance of their frown lines, or they're simply seeking a refreshed, well-rested appearance. With no downtime and little to no pain, it is a relatively easy way to erase the fine lines and wrinkles that are aging you without undergoing surgery.
It's also important to note that Botox in San Diego can be used to treat more than just wrinkles. Botox is FDA approved for use in patients with hyperhidrosis or excessive sweating. Just as the Botox blocks the nerve impulses to the muscles underneath wrinkles, it can temporarily block the nerve impulses that stimulate sweat production. Also, Botox has shown to be effective for migraine prevention. If a patient is suffering from chronic migraines, the doctor can inject Botox into certain areas on the head and neck to try to calm the nerve impulses that may be triggering, or add to the pain of, headaches. For these reasons, Botox for men is on the rise!
Male or Female, Contact CLDerm Today For a Botox Consultation
Whether you are a man or woman, call us today to schedule a consultation with one of our board-certified San Diego dermatologists to discuss Botox injections at (858) 943-2113. If you have unwanted wrinkles, are living with hyperhidrosis, or suffer from chronic headaches, the Botox experts at CLDerm can put together a treatment plan just for you to get you the results you've been longing for
For more information on Botox, contact Cosmetic Laser Dermatology today. 
Next, read oabout the New FDA Cleared Procedure Fraxel.