Whether it's taking care of your children, rushing to meetings, crushing deadlines at work, or managing a household, the responsibilities of being a mom seem to be endless – and the stress can be written all over your face through worry lines and creases. What's a busy mom to do? Prioritize some "me time" and make self-care a crucial element of life. By loving yourself as much as you love everyone else, you will feel more balanced and, yes, even more beautiful.
Our medical spa and skin care clinic offer the best cosmetic services in San Diego area, and we are proud to help moms like you look and feel your absolute best. Here are 6 treatments we recommend to help smooth out those lines, slim down your body and let you gain back your confidence.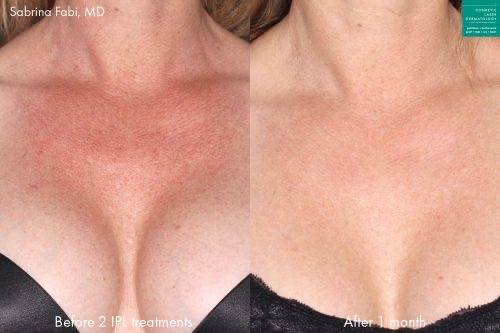 Intense Pulsed Light (IPL) Photofacial
To help restore your youthful appearance, an IPL Photofacial might be an ideal skin rejuvenation treatment for you. IPL, or Intense Pulsed Light Therapy, is a minimally-invasive procedure that uses high-intensity pulses of light to penetrate the skin and trigger its natural healing process, resulting in smoother, brighter, and healthier skin. 
And you can trust your skin to our laser experts. Our founder Mitchel P. Goldman M.D. helped develop the first intense pulsed light device for treating common skin issues, and our dermatologists have been involved in numerous research studies involving IPL, giving our team the most experience in performing IPL treatments than any other practice in the country.
Neuromodulators Injections
All the stress from your busy life certainly does not do any good for your anti-aging routine, as it can cause premature wrinkles. A popular anti-wrinkle treatment you can use to shed years off your face would be Botox injections. With a long track record of safety and effectiveness, Botox has helped millions of individuals, including moms like you, to reduce lines and wrinkles, achieve a rejuvenated appearance, and restore self-confidence. It works by blocking nerve impulses from entering the muscle to reduce its activity. As the muscle relaxes, crow's feet, frown lines, and other dynamic wrinkles will begin to smooth out. Other anti-wrinkles treatments include Dysport, Xeomin, and Jeuveau. To learn more about non-surgical wrinkle treatments, visit ncbi.nlm.nih.gov
Our board-certified dermatologists conducted the FDA approval studies for Botox in addition to many of the other neuromodulators and are national Botox trainers who are considered top experts in their field. This means that you'll be guaranteed precise placement and natural-looking results with every treatment.
In addition to Botox, you can also undergo dermal filler treatments to not just diminish facial lines and wrinkles, but to also address sagging skin, loss of volume, or thinning lips. Fillers such as Juvéderm and Restylane supplement your body's hyaluronic acid –a naturally-occurring substance in the body that keeps skin plump and hydrated. When injected to restore lost volume, your face will have new contours and definition.
Laser Hair Removal
Waxing, plucking, and shaving all take precious time from your already hectic schedule, so if you're dreaming of having permanently smooth, hairless skin, you could opt for laser hair removal. Among our over 50+ lasers, we have the latest devices with state-of-the-art technologies that provide simple, safe, and effective ways to remove unwanted hair. The laser hair removal procedure targets hair follicles with an intense pulsating beam of light, selectively targeting melanin, a dark pigment found in the hair. In doing so, the laser finds its way into the follicle, heating it up until it is destroyed and leaving the surrounding skin undamaged. Laser hair removal can be used almost anywhere on the body. Common areas include:
Face

Neck

Bikini area

Upper lip

Arms

Underarms

Legs
Clear + Brilliant
Another laser treatment that could help you combat the signs of aging and achieve smoother skin tone and texture would be Clear + Brilliant. It is a type of laser skin resurfacing treatment that is seen as a gentler alternative to traditional fractional laser resurfacing. This treatment can effectively address skin issues such as sun damage, uneven pigmentation, brown spots, and large spots, giving you a fresh, rejuvenated appearance without damaging the skin. This is a great solution if you are looking for a mild procedure that can effectively reduce lines and wrinkles while maintaining your skin's healthy, youthful look.
ThermiVa
After having children, you can't help but feel as though you've lost control of your body.  Achieve intimate health with ThermiVa –a non-invasive treatment that tightens loose vaginal skin, helping address issues such as incontinence and lack of sexual pleasure due to laxity in the vaginal canal.
Cosmetic Laser Dermatology is one of the first practices in the U.S. to offer ThermiVa treatment. We use ThermiVa to deliver controlled thermal energy to your desired areas –either external (labia) and/or internal (vaginal). It utilizes the same technology that has been used for years in ThermiLift and ThermiTight. 
Coolsculpting
You would know how challenging it is to try and get your body back after having a baby. Fortunately, there is a safe and effective solution for eliminating stubborn fat that doesn't require incisions or downtime. CoolSculpting is a non-surgical body sculpting treatment that uses cryolipolysis (precisely controlled cooling) to reduce fat and sculpt areas of your body. It works by freezing and destroying fat cells without harming or injuring the skin. Your body's natural mechanisms will then gradually and safely flush out the destroyed cells, resulting in a body with firmer skin and a more contoured shape that looks completely natural.
Schedule A Treatment at our Medispa in San Diego Today
All moms deserve to look and feel their best. Our team of board-certified dermatologists at Cosmetic Laser Dermatology looks forward to helping you take years off your appearance, achieve a slimmer physique, and gain newfound confidence. To learn more about our treatments or to schedule a consultation, contact our San Diego office today.