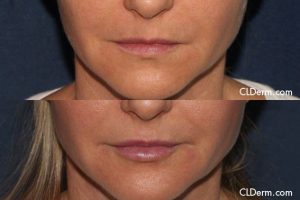 Your lips are among the first things people notice about you. When you're younger, your full lips are proportional and alluring, but as you age, they can lose their symmetry and fullness, which makes you appear displeased, austere, or older than you are. As a result, you might start considering a lip filler such as Restylane to restore plumpness to your lips.
At Cosmetic Laser Dermatology, we are proud to offer this effective and safe hyaluronic acid (HA) filler in San Diego. It's well known for its properties as an effective facial wrinkle treatment, but its advantages for lip augmentation are spreading like wildfire these days. In fact, it is so versatile that it's also common for nasolabial fold reduction and eye bag treatment, as well.
For your lips, though, Restylane dermal filler produces effects that restore lost volume due to aging or genes and can help restore lip symmetry, which erases years from your appearance.
The Benefits of Lip Fillers
Let's take a closer look at some of the advantages of Restylane and other lip fillers.
Beautiful Lip Augmentation
Restylane is a superb lip sculptor. The FDA-approved hyaluronic acid filler gel is injected into your lips line to reduce lipstick "bleed" into the fine lines that surround your lip. Your lips will look irresistible – and you'll look happier, rejuvenated, younger!
Noticeable Results Almost Instantly
Yes, the results are immediate, however, your lips may be swollen for a few weeks as a result of the injections. Don't panic if your lips appear bigger than you want as the swelling will subside. If after the swelling has subsided you decide you want even more volume, you can have a little more injected to achieve the desired look.
It's a good idea to keep in mind that individual results are based on your age, skin type, skin condition, overall health, and more.
Months of Effects
On average, you can expect your results to last six to nine months, which is not true of all lip fillers. In fact, many of our patients in La Jolla see results last for more than a year. This is why Restylane is unique – the hyaluronic acid that makes up the filler gel is also a substance in your body, so it synthesizes well to give you the contour you want. After that, yearly follow-up injections are recommended to maintain your youthful lips.
Skin That's More Supple
Although you might be focused on Restylane because of its penchant for delivering successful lip augmentation, it has indirect benefits that are tied to its versatility. For example, it is a very effective facial wrinkle treatment for reducing or erasing the effects of fine lines and wrinkles around your lips.
It also helps restore your skin's hydration, which reduces or even eliminates those mouth lines and shallow wrinkles. You'll have smoother, more supple skin around your mouth. Treatment also helps to enhance your lips and restore youthfulness to your appearance. Say goodbye to the sad, tired-looking you!
Improved Contouring
Once the lip filler treatment takes effect, your lips get back their symmetrical shape and contouring that you had when you were younger. Your thinning lips become fuller and plumper, which shaves years from your appearance in La Jolla.
Safe Ingredients and Few Side Effects
Unlike many lip filler treatment, Restylane doesn't have any animal-based matter, which virtually eliminates any allergy risk. And for all the benefits Restylane delivers, it leaves virtually all adverse side effects behind. You may have some reactions to the treatment, but they're mild and are limited to the area where you had treatment.
These reactions include the following:
   Soreness
   Inflammation
   General redness
   Bruising
   Swelling
   Itching
After a Restylane session for your lips in San Diego, any of the above side effects should vanish in approximately a week, although it's possible to see these disappear within 72 hours.
Learn more about other dermal filler injectables at fda.gov
Find Out More About Restylane by Contacting Cosmetic Laser Dermatology
If you're not happy with your thin or thinning lips, don't despair. If your lips are making you look older, sadder, or more austere than you'd like, you're in luck. Restylane lip filler gel is an ideal solution. It can add volume to your lips and restore your youthful appearance gradually and naturally. Furthermore, it's safe and versatile – it's excellent as facial wrinkle treatment as well as nasolabial fold reduction. It adds volume to both your lips and your overall appearance. It's truly a revolutionary facial rejuvenator.
To optimize treatment results and learn more about this lip augmentation filler, contact San Diego lip rejuvenation specialists Cosmetic Laser Dermatology. Schedule a consultation by contacting us online or giving us a call today at 858.943.2113.
Next, learn about the "Smartphone Squint".