Radiofrequency skin tightening is a safe and effective facial and body treatment. While it may be a non-surgical approach to skin rejuvenation and body sculpting, the results can be long-lasting, so you don't typically need frequent sessions to maintain its benefits.
Cosmetic Laser Dermatology in San Diego, CA, offers the most effective non-invasive RF skin tightening devices and treatments available, including their proprietary procedure, ThermiSculpt3. Are you interested in a radiofrequency skin tightening treatment but not sure which device to choose and how often you need treatments? Below, we explain what radiofrequency is and how it works to enhance the skin.
How Is Radiofrequency Used for Skin Tightening
Radiofrequency (RF) for skin tightening utilizes radiofrequency energy to gently heat the skin's deep dermal layer, known as the dermis, without causing damage to the overlying skin. The precise delivery of heat stimulates the production of collagen and elastic fibers.
Collagen and elastin are the body's building blocks that provide skin with firmness and elasticity. As you age, collagen and elastin production slows down, leading to wrinkles and sagging skin. Radiofrequency induces new collagen and elastic fiber production while encouraging cell turnover, helping skin become tighter, firmer, and more youthful looking.
Typically, a provider uses a wand that is passed over a treatment area to deliver RF energy deep into the dermal and subcutaneous tissue.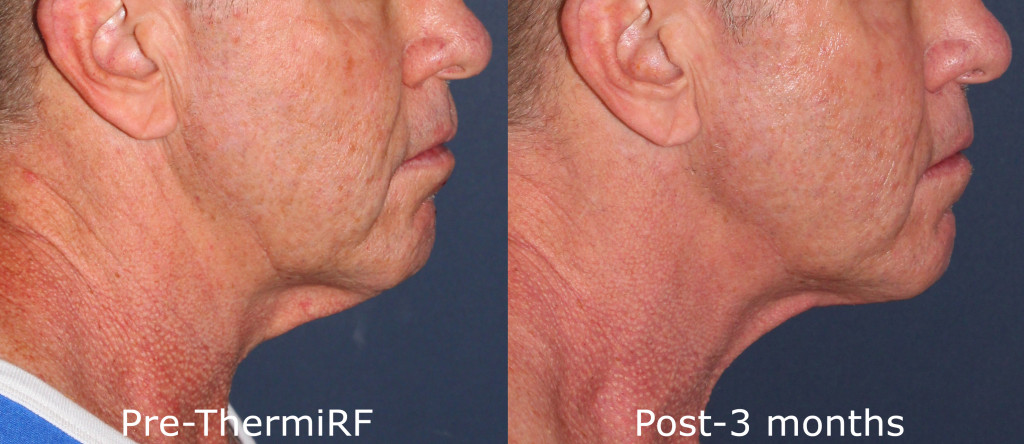 How Many Treatments Are Needed?
The number of radiofrequency laser skin tightening treatments required depends on several factors, including the device used, your overall skin condition, and your goals. One session may be sufficient for some procedures (Thermi and ThermiSculpt3), while others (RF microneedling) will need follow-up sessions.
At Cosmetic Laser Dermatology, our board-certified dermatologists will provide a personalized treatment plan according to your skin condition and desired results.
How Often Can I Get RF Skin Tightening?
You may not need RF skin tightening on a frequent basis. Since RF devices are designed to promote collagen production, results continue to improve over time and are typically long-lasting. Some devices may require 2-4 treatments spaced 4-6 weeks apart to achieve initial results. Some devices may produce full results in a single treatment session. Our board-certified dermatologists can help determine the best treatment plan for you, including a skincare regimen to help optimize your results at home.
What Is the Best Radiofrequency Skin Tightening Device?
Radiofrequency devices for skin tightening offer effective skin tightening for the face and body. Determining the best device depends on the treatment area, skin condition, and your aesthetic goals. At Cosmetic Laser Dermatology, we offer the following radiofrequency skin-tightening devices: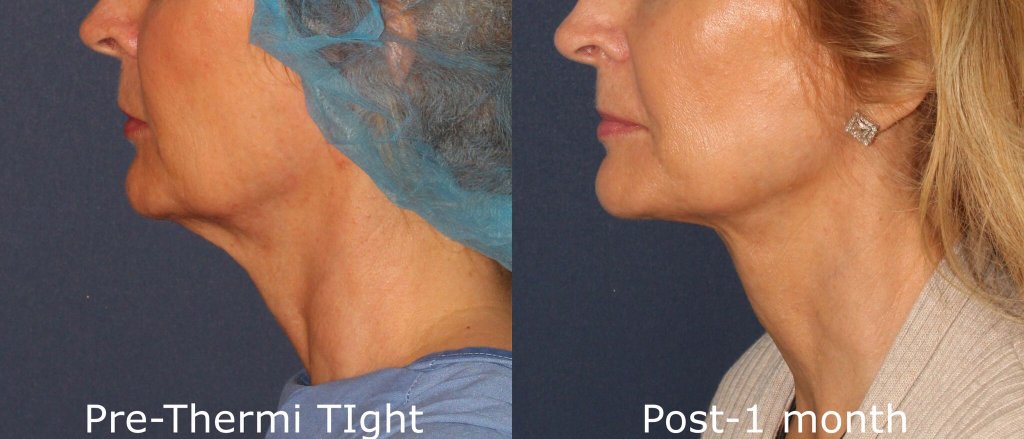 Potenza™ – Our newest RF microneedling device uses ultrafine needles and radiofrequency with four different modes for enhanced penetration. It reaches deeper into the skin to trigger the body's healing response to create more collagen and elastic fibers, resulting in firmer and tighter skin. 
Thermage® – This treatment delivers controlled RF energy to heat the deep layers of skin to tighten collagen structures while stimulating new collagen and elastic fibers. Over time, fresh collagen and elastin are produced to tighten the skin further, resulting in smoother, firmer, and younger-looking skin.
ThermiTight– This device sends targeted radiofrequency energy via a probe deep into the skin. The RF energy heats and contracts skin, producing collagen and elastic fiber. New collagen and elastin tighten loose, sagging skin for a more youthful appearance.
RF Microneedling – These devices use microneedles to create microchannels and electrodes to send RF energy into the underlying dermal tissue. The controlled damage triggers the body's natural healing response to stimulate collagen and elastic fiber production. As a result, skin becomes tighter and smoother.
ThermiSculpt3 – Exclusively offered at Cosmetic Laser Dermatology, this treatment combines the tightening power of ThermiTight with the sculpting abilities of facial liposculpture and dermal fillers to provide an effective non-surgical jaw contouring procedure.
What to Expect During Your Appointment
Topical numbing is often applied before treatment to ensure patient comfort throughout the procedure. Multiple passes are made over the treatment area using a handpiece. Typically, one session for the face lasts about 45 minutes. Patients can return to their regular activities the same or the next day in most cases.
Schedule Your Radiofrequency Skin Tightening Procedure Today
Whether you are beginning to see wrinkles and sagging or would like to prevent them from forming, our board-certified dermatologists are here to help design the best skin-tightening treatment plan to meet your goals. Contact Cosmetic Laser Dermatology in San Diego, CA, to learn more about the benefits of RF skin tightening or to schedule your appointment.